'Incredibles 2' team on the sequel's 14-year gap, and putting Elastigirl center stage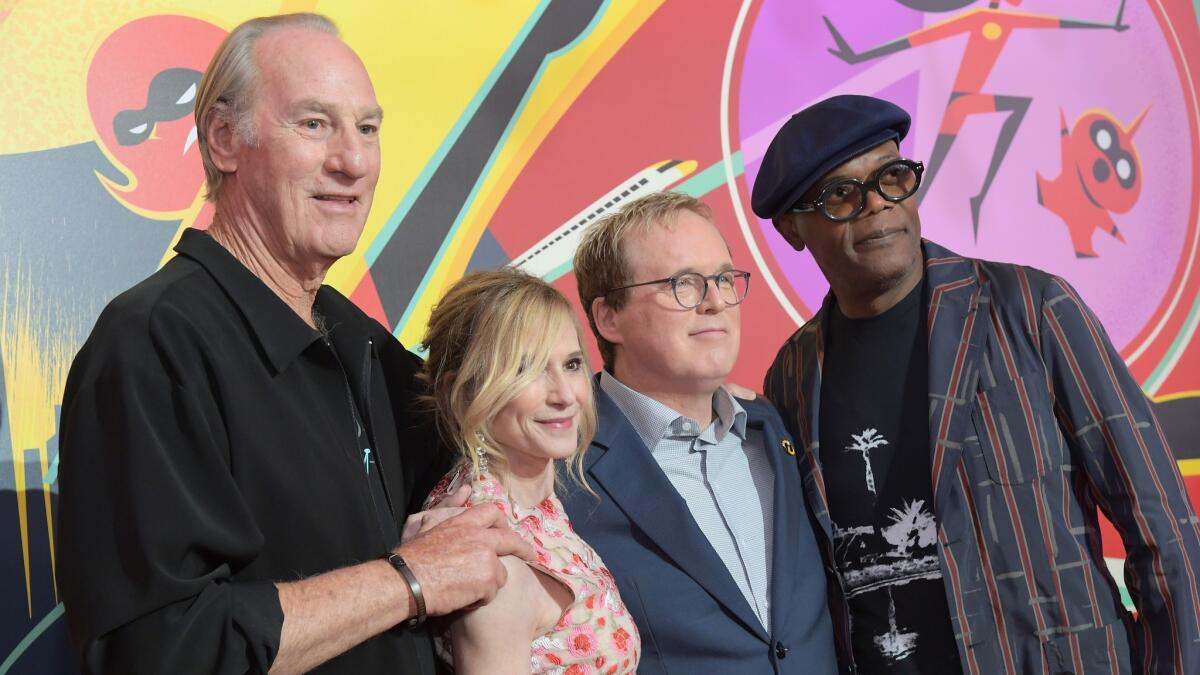 After a 14-year hiatus, the Parr family made their long-awaited return Tuesday at the world premiere of "Incredibles 2." The sequel, which debuted at Hollywood's El Capitan Theater, sees the return of writer-director Brad Bird (who also voices fan favorite Edna Mode), Craig T. Nelson (Bob), Holly Hunter (Helen), Sarah Vowell (Violet) and Samuel L. Jackson (Frozone). All were in attendance, along with newcomers Sophia Bush (Voyd), Bob Odenkirk (Winston Deavor) and the new Dash voice actor Huck Milner.
Amid the cast and crew reunion, there was one person visibly absent: John Lasseter, the Pixar exec who took a six-month leave after allegations of "missteps" in the workplace. Bird addressed the slight elephant in the room to reporters on the red carpet: "Truly, we only know what you know. John was very involved with this film. 'Incredibles' never would have been made at Disney if John hadn't defended us when we were kind of in our early days. So we don't know anymore than you know."
While the first movie led with Mr. Incredible and his midlife crisis, the sequel elevates Mrs. Incredible as the star. Moviegoers follow Holly Hunter's character as she saves the world while her husband is left to care for their volatile newborn Jack-Jack, with multiple, unpredictable powers; their lightning-fast son Dash and their invisible daughter Violet.
Bird explained the long journey to arrive at this plot. "I had the core idea that Bob and Helen would switch roles 14 years ago when I was publicizing the first film. Then I also knew that the audience knew that Jack-Jack had multiple powers, but the Parrs did not. So those two things I knew I had going in," he told the Times. "The plot part with the villain — I had an 'aha' moment a few years ago and I pitched it, and Pixar went with it, and we started making that and it didn't work out. So I had to keep changing that story over and over until we got the one we have now."
With everything that's going on with Me Too and Time's Up it's fun to see a woman in all of her glory.
— Holly Hunter
The irony, he says, is that he was met with similar challenges in developing the first movie, which went onto win two Academy Awards. "I had a villain! I had two! They weren't the right ones. So the films kind of tell you what they want to be at a certain point."
For Hunter, she was thankful for where the creative team took her character Elastigirl in the sequel. "With everything that's going on with Me Too and Time's Up it's fun to see a woman in all of her glory … to be kind of a savior," she told The Times. "To be someone who is living up to her potential. Living up to her own personal gift that she possesses as a woman."
Odenkirk, new to the cast as Winston Deaver, also praised the decision to put Elastigirl center stage: "I think all the characters are important, but a female character who is kind of the most powerful character in the movie is wonderful right now for young girls to see that."
Despite the time gap between projects, Hunter had full confidence in Bird. "When [Bird] allowed this amount of time to go by, and then he went, 'Oh hey, I've got another one.' Then, I think everyone trusted him, because the impetus was pure. It was not going to be based on money, it was going to be based on the real story. So we all came calling."
Although 14 years have passed since the first film was released, Bird opted not to age the characters in the sequel — a creative decision Vowell, who voices the eldest Incredible child, praised. "I think just starting right back up again gives us a chance to see how the events of the first movie affected these characters," she said.
"My character grew so much in the first movie. I don't know that she needs to be a college student now. They all grew so much in that story, you kind of want to see what happens after that."
"Incredibles 2" opens nationwide June 15.
Get our L.A. Goes Out newsletter, with the week's best events, to help you explore and experience our city.
You may occasionally receive promotional content from the Los Angeles Times.