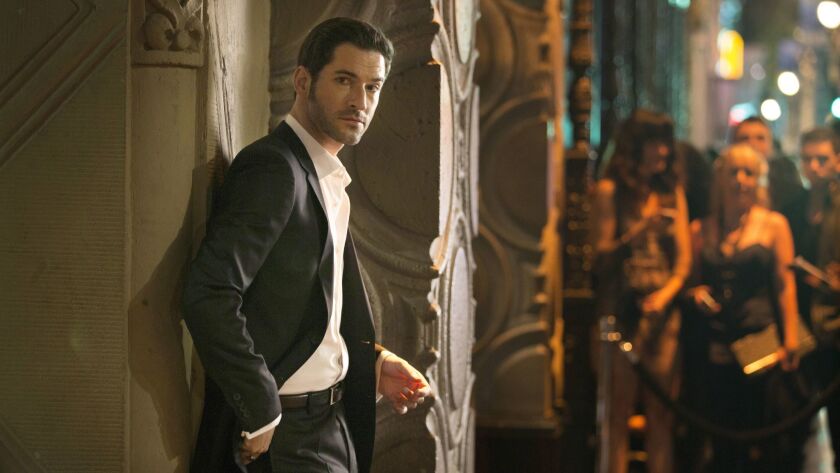 "Brooklyn Nine-Nine" was just the beginning.
A day after Fox caused a social media uproar by canceling the Andy Samberg cop comedy after five seasons, several more fan favorites got the ax. Among the casualties were Fox's devilish "Lucifer" and ABC's presidential drama "Designated Survivor."
The cancellations were announced ahead of next week's annual upfront presentations to advertisers, where broadcast networks unveil their new shows, new stars and new schedules for the 2018-19 TV season.
Although more and more shows are getting "final farewell seasons" rather than an unceremonious boot out the door, not every series is so lucky. Thankfully, the Los Angeles Times has devised a list to help viewers keep track of all of Friday's cancellations and reactions from talent.
R.I.P.
"Alex, Inc.," ABC
The Zach Braff podcast comedy will not return for a second season.
"The Brave," NBC
One of three military dramas ordered for the 2017-18 season, the series won't return for a sophomore outing.
"The Crossing," ABC
The midseason mystery drama was canceled after one season.
"Deception," ABC
This midseason entry followed a Las Vegas magician who, after a scandal ruins his career, becomes a consulting illionist for the FBI.
"Designated Survivor," ABC
The Kiefer Sutherland drama about a lower-level cabinet member who becomes president of the United States after a deadly attack during the State of the Union address ran for two seasons.
Thank you to all of the Designated Survivor fans. You've been passionate and engaging. I have had an amazing time being a part of this show. Wish we had more to tell. Until I see you again. xo pic.twitter.com/1c5fiEOXtN

— Italia Ricci (@italiaricci) May 11, 2018
"The Exorcist," Fox
The horror anthology series based on the book and the film of the same name lasted two seasons.
"Great News," NBC
The workplace comedy from executive producer Tina Fey will not return for a third season.
"Kevin (Probably) Saves the World," ABC
This first-year light drama starred Jason Ritter as a man who is tasked with saving the world by a celestial being.
"Lucifer," Fox
The drama, based on the comic book of the same name, was canceled after three seasons. Like "Brooklyn Nine-Nine" on Thursday, "Lucifer" began trending on Twitter shortly after news of its demise broke and continued trending for several hours afterward.
It has been the most amazing experience over the past 3 years playing Lucifer and falling in love with you, the fans. It fills me with great sadness to confirm the rumours that some of you have been asking. Fox has indeed cancelled #lucifer I'm so sorry guys. #gutted

— tom ellis (@tomellis17) May 11, 2018
I've just been trying to tweet my thanks about your overwhelming response and I can't because my twitter keeps crashing on my phone. #lucifer is trending #1 worldwide.😳 😈

— tom ellis (@tomellis17) May 11, 2018
We created a season finale with a huge cliffhanger so that there was no way Fox could cancel us. Instead, we're going to frustrate the hell out of you fans. I'm so sorry for that. #Lucifer

— Joe Henderson (@Henderson_Joe) May 11, 2018
"Quantico," ABC
Despite a Season 3 retooling, the drama starring Priyanka Chopra won't return for a fourth season.
"Rise," NBC
Billed as "Friday Night Lights" the series meets "Glee," the drama about a high school theater program was canceled after one season.
"Taken," NBC
The TV adaptation of the hit Liam Neeson film franchise was canceled after two seasons.
---