Obama leaves Asia for the final time as president, with many objectives still works in progress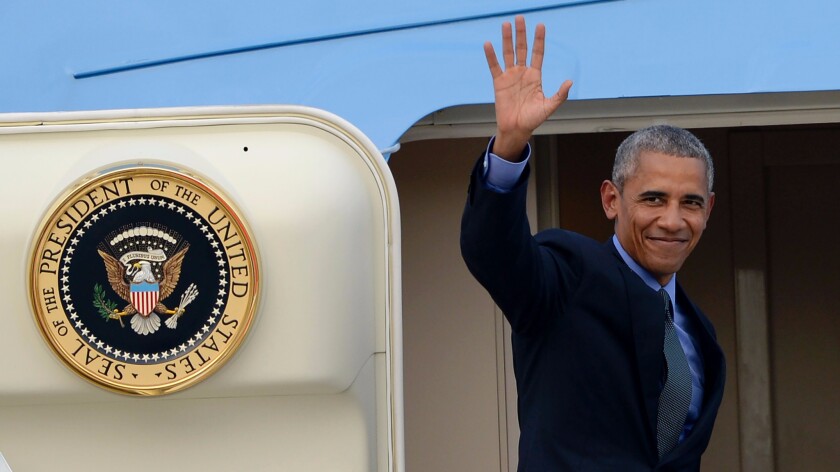 Reporting from Vientiane, LAOS —
President Obama's last tour of Asia while in office was marked by a series of provocations, punctuated by North Korea's fifth nuclear test Friday.
Obama condemned the test but minimized other slights, including a rude welcome by China and a vulgarity from the new Philippine president, highlighting instead a step forward in the fight on climate change with Chinese President Xi Jinping.
As Obama prepares to leave office, his 10th and final trip to the continent underscored his mixed record on the cornerstone of his foreign policy, a repositioning of diplomatic and military resources toward Asia, in part to counter the increased power of China.
Obama has touted successes, such as improved diplomatic relationships with Vietnam and Myanmar and a 2014 climate deal with China that served as something of a model for the global accord reached in Paris last year. Obama opened his trip by ratifying the deal alongside Xi, who did the same for China. But he ended it, even before North Korea conducted a test, by lamenting the work ahead on the rogue nation, perhaps the most prominent example of goals he's leaving unmet.
He also stressed that the alliances he helped shore up need tending even after he leaves office. Some Southeast Asian leaders are worried by China, which has grown more hostile to its neighbors during Obama's presidency.
"The concern that I've heard is not that what we have done hasn't been important and successful," Obama told reporters as he wrapped up the trip. Rather, he said, leaders one after another told him, "We hope that America's interest and presence and engagement is sustained."
Obama has tried to deepen engagement to Southeast Asian countries — he is the first president to meet with leaders of all 10 — chiefly by strengthening trade ties with the 12-nation Trans-Pacific Partnership pact in the works for years.
But if Obama can't persuade Congress to ratify the trade deal, it could send a message that the U.S. is turning away from the region. Both presidential nominees have come out against the deal.
"Our leadership in Asia depends on how well we manage great power relations, and trade is a big part of our credibility in Asia," said Michael Green, a former security advisor of the Bush administration and Asia analyst at the Center for Strategic and International Studies. "He has expanded our engagement, has built it up in Southeast Asia. If our economy grows, that counts. Trade counts."
China, for its part, appears to be starting to understand that it probably can't advance its interests if it is hostile toward the U.S.
China helped the U.S. negotiate an agreement with Iran to limit its nuclear capabilities and has provided some aid in the effort to pressure North Korea to follow suit.
Obama spoke privately with Chinese leaders about human rights issues but steered clear of publicly raising specific instances of repeated violations in China, which has embarked on a vigorous campaign to close political space for opposition and civil society organizations, a reversal of a gradual awakening seen nearly a decade ago. And little has been done to make it easier for American and European businesses to work in China.
"This undermines the two pillars of the U.S.-China relationship," said Elizabeth Economy, director of Asia Studies at the Council on Foreign Relations in New York. "It is contrary to everything we anticipated in 2010, 2011, even 2012."
Back home, Republican Donald Trump complained of a "humiliation" for the president when Obama was forced to walk down the short set of stairs from Air Force One for his official arrival in China rather than the tall one he customarily uses on such occasions. It wasn't made clear why China failed to provide a set of stairs for him.
Obama responded by describing the "breadth and depth" of the relationships he has fostered with China and with the 10 Southeast Asian nations looking for a world power that can stand up to China.
"If this theory about my reception and my rebalance policy is based on me going down the short stairs in China, I think that is overblown," he said. "Any reasonable person … would be puzzled as to how this became somehow indicative of the work that we've done here."
Another troubling sign this week came in the public insult from Philippine President Rodrigo Duterte, who, as head of a treaty ally nation, had been scheduled to hold a bilateral meeting with Obama on the sidelines of a leaders' summit in Laos.
The day before, Duterte announced that, if Obama dared to broach the subject of his government's extrajudicial crackdown on the drug trade, he would call him a coarse name to his face.
Obama parried with success, at least in the short term. He announced that he did intend to bring up the question of human rights and due process whenever he sat down with Duterte, and that perhaps the two should find a more "constructive" atmosphere in which to convene. Duterte said he regretted his comment, but the meeting was canceled.
But the insult highlighted a concern with such a valuable partner as the Philippines, and with most of the rest of the region. China is their leading trading partner and their close neighbor, significant advantages should it choose to bring those nations more closely into the fold.
But a lot depends on what the next U.S. president does, Green said.
"The piece that President Obama filled in is Southeast Asia. He did a lot of shoring up of relationships that the next president will have to continue."
Times staff writer Tracy Wilkinson in Washington contributed to this report.
Follow @cparsons for news about the White House.
North Korea's 'higher-level' nuclear test explosion sets the region on edge
Obama pays tribute to victims of U.S. bombings during the 'secret war' in Laos
Syria stalemate and Philippine leader's cursing vex Obama on Asia trip
---