Dr. Richard Ellenbogen ('Dr. 90210') lists Sunset Strip home for $3,495,000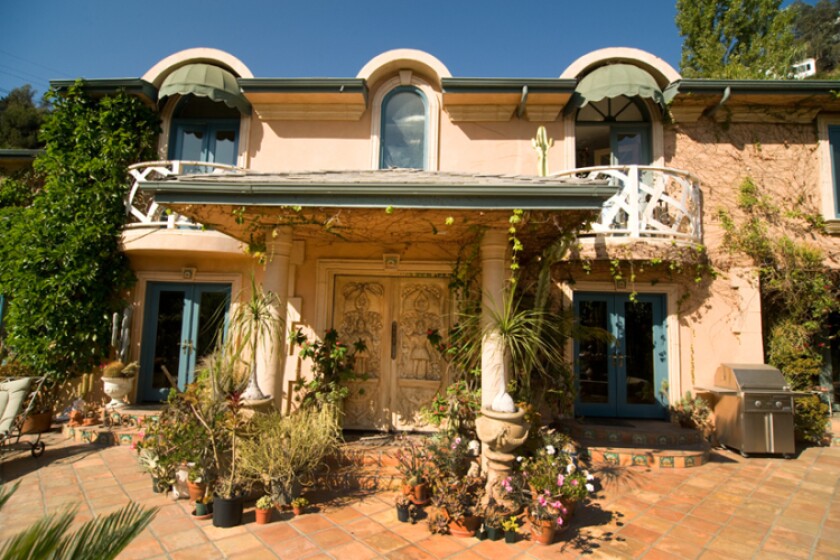 Dr. Richard Ellenbogen of "Dr. 90210" has listed his midcentury Los Angeles home. "Vines have been carefully trained over the house to make it look ancient," he said.
(Marco Franchina)
An ornate front door and pavers add character to the entry.
(Marco Franchina)
"It is probably the most romantic house in Los Angeles," Dr. Ellenbogen said of the 3,405-square-foot house. The kitchen, background and formal dining room sit off a main hallway.
(Marco Franchina)
The stately two-story house has city views.
(Marco Franchina)
Dr. Richard Ellenbogen, one of the surgeons featured in "Dr. 90210," has listed his Sunset Strip-area home for $3,495,000.
Update: This version includes additional details.
The walled and gated villa has three bedrooms, a maid's room and three bathrooms in 3,405 square feet. There are city views from balconies off the bedrooms.
Built in 1953, the two-story house has a subterranean wine cellar, a media room and formal living and dining rooms. The grounds include wrought-iron gazebos, antique fountains, a koi pond, a waterfall, mature trees and a swimming pool.
Before buying the house more than a decade ago, Ellenbogen lived on a 118-acre oceanfront cattle ranch with year-round streams and a 3-acre pond in Gaviota, 30 miles west of Santa Barbara. "It was hard to leave," he said. "But a busy cosmetic plastic surgery practice is not an Internet job, so I moved back to L.A., close to my office."
He raised his son in the vine-covered house. Ellenbogen kept rare koi as large as 30 inches, and as an avid gardener, he had nearly 60 varieties of cactuses and succulents among the flowering plants.
"I have planted the garden so there is color 12 months a year," he said.
The stately home sits on a raised precipice and can accommodate an outdoor party of up to 150.
Ellenbogen, a board-certified plastic surgeon, appeared on the reality TV show in 2004 and 2005. "I was the balance they needed," he said of his role as an experienced and credentialed physician. He is still very active in his Beverly Hills practice, has a patent pending on a technique using stem cells and travels to Mexico and Colombia to do pro bono cleft lip work.
Juli LaVene of Keller Williams Realty, Beverly Hills, has the listing.
---