A house that claimed his fame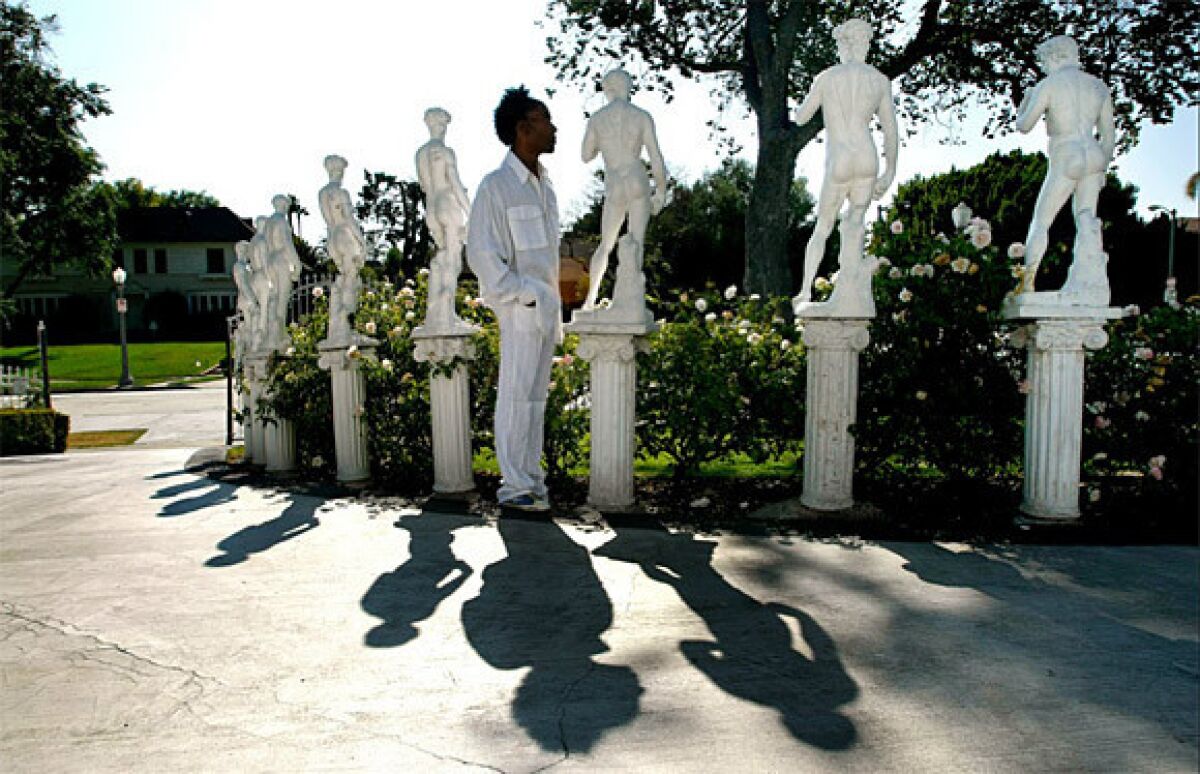 There are many ways you could list the well-known white house in Hancock Park that is on sale for $2.1 million:
It has a pool, a sauna and a steam room.
A home theater with a bar.
Six bedrooms and six baths.
Nineteen Michelangelo's Davids lined up along the curve of its front lawn.
Like the statues? Keep them. Don't like them? Ditch them.
Norwood Young couldn't care less.
The House of Davids became a pop landmark almost the instant Young startled his sedate street by putting the white statues up on pedestals.
Fourteen years later, cars still slow as they pass. Double-decker tour buses lumber by so tourists can snap photos.
Young used to love turning heads -- lighting up the lawn, throwing over-the-top theme parties, dressing his naked giant slayers in long red Santa hats for Christmas and "Thriller" jackets in tribute to the late King of Pop.
But now he is done with the Davids, he says.
As long as the people who buy the house pay him, so be it if they strip it back to basic ranch.
"I wouldn't give a rat's behind what they did," says this man who has been singing professionally all his life and has grown tired of being known not for his voice but for his house.
::
When Young first set foot in the sprawling house on South Muirfield Road in the mid-1990s, he says, "Every room was pink, Pepto-Bismol pink. Every room. Carpets: pink. Walls: pink.
"Baby, that pink was gone in four days," he says, replaced by white.
"I would be silly to think that someone should even want to keep what my taste is.... It's practice what I preach, right? Stay in your lane. Mind your business."
Young is a fashion plate who, as a child, charted his school outfits so he wouldn't repeat. He has a dry cleaner's revolving numbered rack in his closet.
He loves decorating too. But for the first two years, he rented, which limited him to interior tweaks. Then he bought the house and tackled "the ugliest juniper trees," squeezed together where the lawn met the sidewalk. He had the trees chopped down.
"And then it was really barren and really, you know, not great-looking. So I said, 'Statuary, statuary. Let's do statuary.' "
On his church-quiet block, people conduct their lives privately in homes set well back from the street. But Young grew up in a family that lived out loud and decorated huge -- especially for Christmas.
Of the Davids, he says, "That statue represents myself and things that I've had to defeat in my life. So it wasn't like I was just this wacky guy who wanted 20 penises on his lawn. That's not the way I roll.... Unfortunately, the neighbors and other people never took the time to wonder if there was a reason...."
This could be the point in the story at which, if Young were telling it, he'd say, "Enough about the house."
He is sick of the house because he's jealous of the house, because every time someone asks to talk to him, it's not really about him but about the house.
Young calls his home Youngwood Court. The name's in among the fleur-de-lis, twining roses and golden lion heads on the property's white wrought-iron fence. It's on the driveway with the large musical clefs and the swirling Ns for Norwood, which were meant as a calling card for a self-described "regal kind of guy."
But most people don't see the house and think Norwood Young, he says. Most people think Davids.
Young came to L.A. in 1994 seeking success and fame. When the Davids made news, he thought he'd found them.
It wasn't his first thought, granted, on that November 1997 day when neighbors' complaints brought the media.
TV trucks lined the curb. Helicopters thwacked overhead. Young was often high at the time. His first thought was that he'd been busted.
His second thought: "By no means, within my home, was I going to alter or quiet or tone down the person that I am."
Then: Why not play it up, try to stay in the cameras, see what happens?
"The idea was to ride the wave of the house and segue that into my music," he says. "But it didn't quite pan out that way."
The House of Davids became an L.A. celebrity. Norwood Young the singer did not.
"That's my fault," he adds. "That's my fault."
Some think he sprang out of nowhere, with no history. In fact, Young, who in true Hollywood fashion declines to state his age, had his share of show business breaks in the 1980s and early 1990s.
A beautiful child with a beautiful voice, he first sang at 6 in his church choir in Ewing Township, N.J. At 16, he signed his first record contract, which was followed by an album deal, touring abroad, stints in musicals off and on Broadway, and a part in a rock opera in Germany.
In Cologne, he got a gig singing in a big club, then opened his own club, he says, and made a lot of money fast. Unable to stay there legally, he came home, where he sang lead on an album for the Philadelphia rhythm and blues band Pieces of a Dream, won a spot on the TV talent show "Star Search" and recorded a duet with R&B star Millie Jackson.
When he came to L.A. in a touring musical and stayed, he seemed primed for the next career leap.
You think you know someone from the outside, he says. But you may miss the heart of the matter.
Last year, Young self-published "Getting Back to My Me," a memoir with a secret he kept for decades. In it, he describes how as a child he was frequently thrown together with an older male cousin, who raped and tormented him for years.
He also zones in on what the abuse left: a person prone to risk, who tried to escape himself in any way he could.
His frenetic life in the House of Davids, he says, helped him stay in that self-avoiding blur.
He didn't work on his singing. But in 2007, he appeared on an E! Entertainment TV reality show, "High Maintenance 90210," ordering around a butler. He was on his way to becoming an Angelyne, famous only for pursuit of fame.
"My love for music never changed. My commitment to it did -- " he says. "With the house came parties. With the parties came drugs. The drugs meant you didn't get up the next day at a decent hour, so life just went by. So for me, I just lived vicariously through the house."
Norwood Young's face is strong, sculpted -- and scarred around the eyes. It's hard to recognize in it the face smiling out from childhood photos and YouTube videos of his early performances.
The cousin who abused him called him "pretty boy." So over the years, he changed his nose, his chin, his cheekbones and the shape of his eyes.
In his major life course correction, his return to true, he has slowly, painfully undone some of that damage.
He now speaks out on sexual abuse for the National Coalition Against Domestic Violence. He started a volunteer network, Feed His People, to gather food for those in need.
He says he stopped drinking and taking drugs four years ago, spends a lot of time worshiping God, and fasts as a way of heightening his spiritual commitment and clarity.
Part of the clarity is about the people he once gathered around him -- very few of whom, he says, showed support for his decision to change.
Part of it is about his lifestyle.
When the lease runs out on his convertible Rolls-Royce Phantom, he's turning it in, he says.
As for Youngwood Court: "There's 22 rooms in my home. I utilize five of them. I see myself in a smaller place, most certainly."
The House of Davids has no Davids inside. Not that it is short on pizazz.
There are plenty of chandeliers. There's a white baby grand. In the dining room, four round glass tables float suspended from the ceiling between rows of high-backed Lucite chairs. Nearly filling the room's front window, an enormous version of Michael Jackson's glittery glove sits swathed at its base in purple velvet -- left over from one of Young's big parties.
Portraits of Young are plentiful. One is painted on the bottom of the pool. His heavily gilded bedroom, he admits, is a little like "Liberace lives in Vegas."
But Young also likes comfy and quaint.
Old-fashioned canisters for flour, sugar and coffee sit on the window ledge of his cozy, dark-oak-cabineted kitchen.
For his visiting mother, sisters and nieces, he fashioned what he calls The Ivy Room, with a gauzy canopy bed, a table set for tea, and a wall of treasured memorabilia -- photos, lunchboxes, a talking can opener -- from Young's favorite TV show, "I Love Lucy." (When he pushes a button on a talking Lucy doll to hear her "Vitameatavegamin" skit, he recites the lines along with her.)
At heart, he says, he is shy and a homebody, who now thinks he should probably move back East to live closer to his family.
"What's next is to be totally committed to what I think my purpose is -- what I know my purpose is -- and that's my music," he says. "Whatever celebrity comes from that, then it's fine -- but not based on the house. I'm ready for an existence without the house."
Get our L.A. Goes Out newsletter, with the week's best events, to help you explore and experience our city.
You may occasionally receive promotional content from the Los Angeles Times.