Mongols biker club hit with hefty fine, but holds on to trademarked logo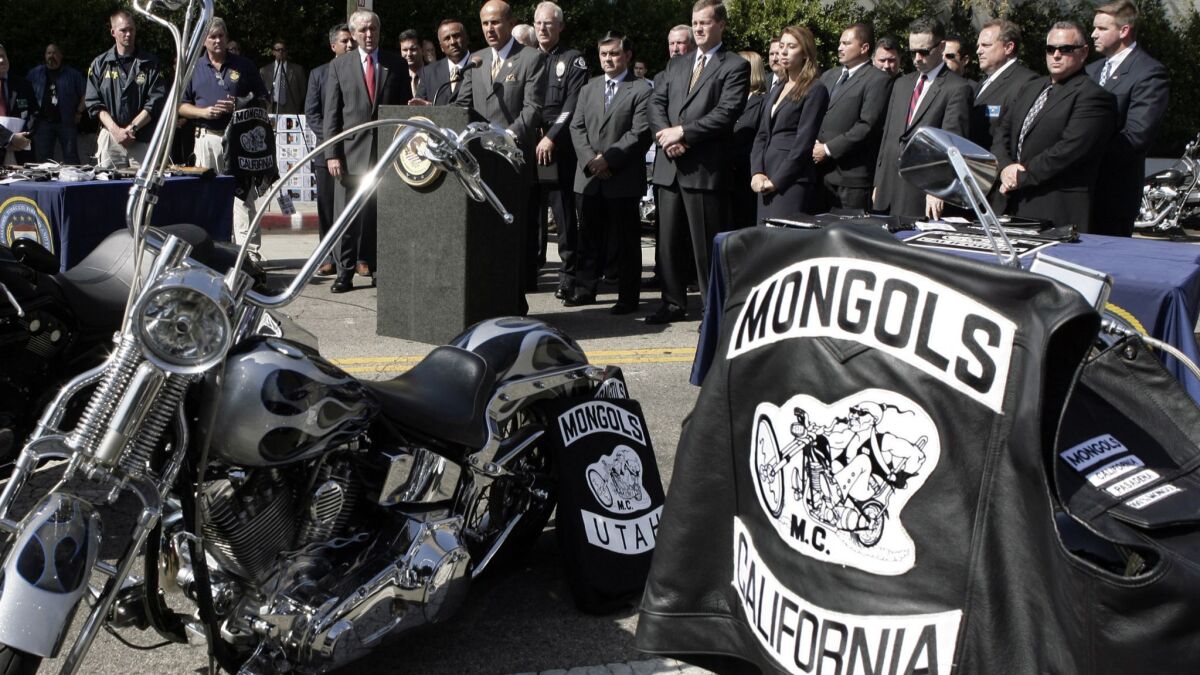 A federal judge Friday slapped the Mongols motorcycle club with a sizable fine and probation as punishment in a racketeering case, but rebuffed another attempt by prosecutors to strip the notoriously violent group of trademarks it holds on its logo.
At a sentencing hearing in Santa Ana, U.S. District Judge David O. Carter fined the Mongols $500,000 and put the club on probation for five years, a spokesman for the U.S. attorney's office said. Prosecutors had asked Carter to fine the club $1 million, the maximum amount allowed under the law.
A jury in December convicted the Mongols organization of racketeering and conspiracy charges, finding that it shared responsibility for murder, attempted murder and drug crimes committed by individual members.
The government put the organization as a whole on trial in an unusual attempt to take control of trademarks the club owns that gives it legal control over its insignia — a Genghis Khan-inspired figure in sunglasses riding a motorcycle beneath the group's name. The image, which only members are permitted to display on riding jackets, is a crucial part of the group's identity and prosecutors believed losing control of it would go a long way toward dismantling the Mongols.
The jury in the case sided with prosecutors, finding the trademarked image was tied closely enough to the racketeering conspiracy the club carried out that it should be forfeited to the government.
But Carter intervened, refusing to approve the forfeiture. In a March order, the judge said denying Mongol members the ability to display the logo would overstep the right to free expression embedded in the 1st Amendment, as well as the 8th Amendment's ban on excessive penalties.
In the lead-up to Friday's sentencing hearing, prosecutors tried again, suggesting a compromise of sorts. In a written filing, they asked Carter to order the Mongols to forfeit its trademarks so it would no longer be able to prevent others from using the image. Such an order, the prosecutors argued, would not prevent Mongol members from displaying the image as well and, so, would not cross any constitutional lines.
Carter was not persuaded and denied the request.
Thom Mrozak, the spokesman for the U.S. attorney's office, declined to comment on whether the government planned to appeal.
The stories shaping California
Get up to speed with our Essential California newsletter, sent six days a week.
You may occasionally receive promotional content from the Los Angeles Times.