Brewery living spaces put art in the heart of the city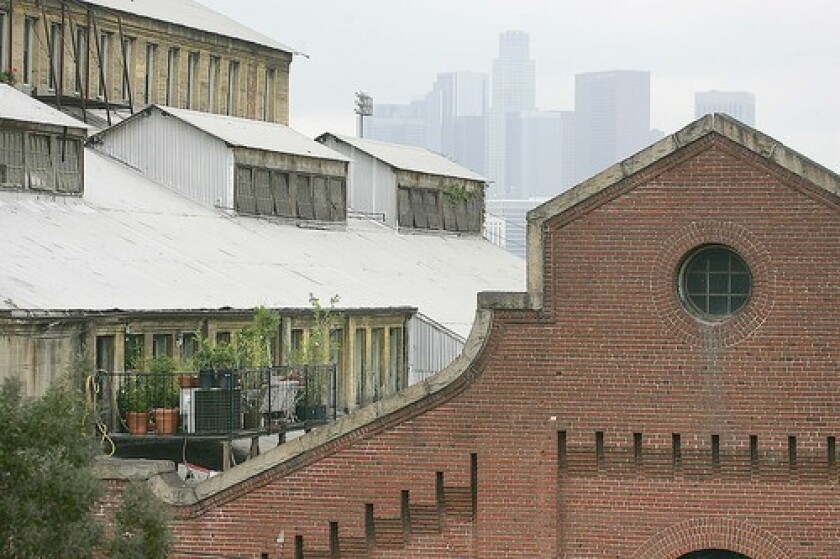 Times Staff Writer
Attention, starving and not-so-starving artists: No need to head for East Coast digs in Greenwich Village or the upper-coast dwellings of San Francisco's Haight-Ashbury district. Los Angeles has its own place where the freedom to express is alive and thriving — the Brewery Art Colony in downtown Los Angeles.
*
Beginnings
At the edge of downtown looms the cement-gray smokestack of the Brewery. Thousands of motorists on the 5 Freeway whiz by each day, giving it nary a glance.
But just beyond the Main Street exit, a neighborhood thrives — an eclectic mix of painters, performance artists, sculptors, potters, weavers and filmmakers, plus a few tattoo artists and taxidermists.
It's called the Brewery Art Colony because it includes the old Eastside and Pabst Blue Ribbon breweries. Carlson Industries bought the Brewery site in 1980 and spent two years gutting the place, removing large tanks and pipes as it reshaped each building into workable spaces.
Originally, the idea was to rent space to any kind of business, but the developer decided 10 years ago to open it up as a place for about 300 artists to gather and get creative.
Anybody famous live there?
Management wouldn't say, but talk has it that actor Giovanni Ribisi, best known for his recurring role as Phoebe's (Lisa Kudrow) brother on the NBC sitcom "Friends," has rented space there.
What it's about
The Brewery Art Colony sits on 18 acres. Twenty-one former warehouses — with an old Edison power plant chimney dating to 1903 — house work studios, living lofts, one restaurant and endless galleries.
The Brewery colony feels very much like the campus of an alternative college, filled with youthful energy and an artsy experimental subculture.
With practitioners of a variety of mediums, the common message seems to be: Create.
Button-down types need not apply unless they harbor a secret passion to pursue the arts. In fact, the owner and business managers of the property won't rent to those without artistic ambitions.
And that's if there are lofts available, which hasn't been the case for years. In fact, the demand was so high, the waiting list was simply dropped.
There's a bustling nightlife on the premises, filled with shop talk — mostly about art, of course. But be prepared to explain any pro-Bush bumper stickers on your car; this is strictly a liberal crowd.
Billed as the largest live-and-work artists' colony in the world, there are about 300 studios and 400 to 500 people living here.
Yolanda Ware of Carlson Industries said she doesn't keep demographic statistics but surmises that most residents are men, no one close to Medicare age, and you would have a tough time finding residents who are interested in Mommy and Me classes — there's not a playground in sight.
Housing stock
Think different. Think way outside the box.
These are leased apartment lofts ranging in size from 1,200 square feet to 6,000 square feet. Monthly rents are about $1 to $1.25 per square foot, depending on the size of the unit. Leases are for a minimum of one year.
The units are industrial-looking and barebones, which make them easier to customize to individual tastes. Some have more structure — you know, walls and things — but the design is up to the individual tenant.
Ware said the idea is to give each artist an empty canvas and let him or her put a unique stamp on the space.
When Joe Dunn, the creator and head of the Re-Establishment Theatre, moved in three years ago, he paid a rent of $1,065 a month. He now pays $1,100 a month, and that's without rent control.
"Carlson Industries has a policy of keeping the rental spaces a good 10% lower than the average price in other downtown lofts," Ware said.
Even people who have lived there more than three years have only had rent increases of 7% to 10%.
Dunn said he likes his 13-foot-high ceilings, even though they raise his heating and cooling costs. There is no central air or heat in any building. He noted that he makes great use of window air-conditioning units in the summer and a slew of space heaters in the winter.
"And," he added, "the separation between neighbors — in my building anyway — consists of two thin sheets of drywall."
Outside the Brewery campus are the usual accouterments of a nearby 7-Eleven and Vons market. Most Brewery residents make the short drive to Silver Lake for groceries and entertainment.
Want to know more?
The Brewery hosts a biyearly event called the Arts Walk Festival, where studios and lofts are open to the public. The event, scheduled for next weekend, is free.
---