12 Southern California plant shops to take your mom to for Mother's Day
Moms are the hardest — and easiest — to shop for, especially on Mother's Day.
Honestly, all Mom really wants is to spend some extended quality time with you — and experience something more meaningful than a quick brunch at a noisy, crowded restaurant.
But you may feel like you probably should give Mom something more tangible than your time. (After all, she did go through 18 hours of labor bringing you into the world, paid for braces and gave you the car that you promptly totaled.)
With that in mind, the perfect Mother's Day experience for gardening moms may be to take her to a local nursery and treat her to the garden gift of her choice (within your budget). Here's how to pull this off:
First, set aside several hours. If you can't do it on Mother's Day, make a firm date for another time to get together (and make sure your chosen nursery is open that day).
Present Mom with a mushy card that includes a gift certificate or clear indication of how much she can spend as you accompany her to the nursery (gasp). Plan to wait patiently while she shops for her plant, patio furniture or yard art.
Finally, if you really want to do it right, accompany her home and offer to help plant and/or assemble her purchase.
Throw in a late lunch or early dinner gathering with the fam, and you'll fill her up for weeks to come.

Below, you'll find our list of SoCal nurseries that offer great opportunities for Mom gift giving, whether she's the most passionate of gardeners, a serious outdoor decorator or just loves collecting cute garden gloves and hats.
We've curated 12 nurseries we think are the best bet for Mother's Day excursions, but if you want a deeper dive into the region's indie garden centers, check out our list here.
With sales of houseplants soaring during the pandemic, we curated this list of our favorite places to shop for them in and around L.A.
Note that two of the region's most prominent native plant nurseries, Theodore Payne Foundation in Sun Valley and Tree of Life Nursery outside San Juan Capistrano, are both closed on Sundays, but if you can visit when they're open, both offer a wide selection of native plants and beautiful demonstration gardens.
Australian Native Plants
Casitas Springs
Drought-tolerant plants
This is a destination nursery for many of us (more travel time for talking with Mom!), but one that features a huge selection of unusual native to Australia. Owner Jo O'Connell is a Australian horticulturist who came to the U.S. to create the Australian wing of
Taft Gardens,
then found love, married and settled in nearby Casitas Springs, where she opened a nursery of drought-tolerant plants from Down Under outside her home. You need an appointment to visit in person, but it's usually easy to call and get directions to her extensive collection of exotic and mostly mature Australian plants. You can get a good idea of her offerings by browsing her website as well.
More Info
Avalon Nursery & Ceramics
South Park
Edible, native, drought-tolerant plants
South Los Angeles'
only enduring nursery
feels more like a wild botanic garden than a family-owned business on a busy corner. This is a full-service nursery — it even offers cut Christmas trees in late November — with a wide selection of trees (including fruit trees), shrubs, squares of sod, vegetable seedlings, roses, succulents, soil amendments and colorful ceramics, in addition to a lush "green room," where most of the houseplants reside. Closed on Tuesdays and rainy days.
More Info
Brita's Old Town Gardens
Seal Beach
Drought-tolerant plants
If Mom is looking for unusual drought-tolerant plants in a charming, intimate locale, put Brita's Old Town Gardens on your visit list. This little nursery, tucked into Seal Beach's Main Street, packs a lot of interesting plants into its small space, especially in the category of Mediterranean-climate plants from South Africa and Australia not typically found in local nurseries. It also has a fair selection of native plants and vegetable and herb seedlings, along with a good variety of annuals, perennials, shade plants and even small trees, chosen to do well in coastal landscapes. There's a sweet selection of garden knickknacks as well, if you're looking for decor.
More Info
Cal Poly Pomona Nursery at the Cal Poly Farm Store
If Mom is starting a vegetable garden, the nursery outside Cal Poly Pomona's Farm Store is a great place for browsing. The nursery has a huge selection of vegetable seedlings, berries and fruit trees, many of which were grown by students at Cal Poly's College of Agriculture. The nursery also offers a smaller but still notable collection of houseplants, succulents, landscaping trees, vines and shrubs. You can find gardening supplies at this nursery too, and while you're there, be sure to check out the Farm Store itself, which features student-grown organic produce and specialty foods. The nursery also hosts its own spring tomato extravaganza, "Tomatozania," featuring 220 varieties of tomatoes, plus a pepper plant version, offering about 130 varieties of hot and sweet peppers. A list of available varieties is on their website. When you're done shopping, take Mom to the nearby
Innovation Brew Works,
Cal Poly's excellent brewery "laboratory," for a pizza and beer.
More Info
Fig Earth Supply
Owner Conor Fitzpatrick packs a lot of charm into this small but fully stocked nursery devoted to edibles, herbs and plants for pollinators, including native plants. He offers a large seasonal selection of organic fruit trees (including citrus), medicinal plants, berries and vegetable seedlings, as well as a wide variety of houseplants. He also sells organic seeds, clever garden tools and decor, raised beds made from wood and a range of organic soils, amendments and containers.
More Info
Glendora Gardens
Glendora
Edible, native, drought-tolerant plants
If you're planning a nursery crawl with Mom, don't miss Glendora Gardens — you could easily spend a few hours shopping through its fragrant, well-laid out "aisles." This 4-acre nursery is part garden inspiration — with scenic paths and koi ponds (they give you food to feed the large and apparently insatiable fish) — and another 6 acres of growing grounds, where many of its ornamental trees, shrubs and perennials are grown. This must-see garden center is designed for strolling and exploring, with a large selection of California native and Mediterranean-climate plants, berries, veggies, fruit trees, roses, succulents and houseplants, along with bagged and bulk soils, pots and garden equipment. There's even a Little Free Library filled with children's books for antsy kids — between the koi, the books and a few wandering chickens, there's plenty to entertain little ones while Mom does some serious plant shopping.
More Info
Hahamongna Gardens Native Plant Nursery
This small but inspiring nursery is mostly devoted to raising California native plants to help restore habitat in the Arroyo Seco. But the nursery is open to the public on weekends from 9 a.m. to 3 p.m., and the surrounding grounds have plenty of mature native plants, so visitors can see what those tiny plants in the pots will look like once they grow to maturity. Plus, getting to the nursery is a lovely adventure that requires driving through the oak-strewn
Hahamongna Watershed Park
, past a youth camp and surrounding stables, into a serene little spot full of birdsong, equestrian whinnies and the constant scuttle of lizards and busy ground squirrels. The park has restrooms, tables and extensive paths for walking and hiking, so bring a picnic lunch and make sure Mom packs good walking shoes so you can take a stroll through the oaks after you visit the nursery.
More Info
Jackalope Pottery & Plants
North Hollywood
Drought-tolerant plants
If Mom's in the market for garden decor, Jackalope Pottery & Plants should be your destination. This longtime North Hollywood garden center offers fountains, pottery and houseplants, along with a variety of outdoor plants, including aquatic plants, trees, unique succulents and drought-tolerant plants "sourced locally from responsible growers." The selection of pots and fountains is particularly inspiring — especially if all you can afford to offer is some free labor. If Mom is interested in fountains, the nursery recommends bringing a photo of the area where she wants the fountain to go, the space dimensions and whether there is a power outlet nearby. Can't afford to buy Mom a fountain? Offer to cover the delivery and installation fee, or make your gift a firm commitment to help with its installation (and accompany her to the store, so you know just what you're getting into).
More Info
Lincoln Avenue Nursery
Pasadena
Edible, native, drought-tolerant plants
This century-plus-old destination nursery was started by a German immigrant family in 1903, then purchased in 1923 by the Takemura family, who owned it until it was sold in 2003 to the present owner, Ramon Franco, who immigrated from Mexico and became a landscape contractor and frequent customer before taking over the business. This is a great place to wander for inspiration and birdsong but the nursery also offers an enormous selection of garden pots, equipment and decor, as well as ornamental and fruit trees (including citrus), vegetable seedlings, herbs and other edibles, California native and drought-tolerant plants, roses, shrubs, shade-loving plants and houseplants. A passionate gardener could easily spend an hour looking around, so be patient while Mom browses. The garden shop offers lots of cute garden-themed gifts, but if you're done shopping, there are several spots to just sit in the shade and meditate in the midst of fragrance and green.
More Info
Otto & Sons Nursery
If Mom loves roses and fruits but Sundays aren't great for outings, this is the nursery for her. This family-owned nursery is closed Sundays — including Mother's Day — but open for retail customers Wednesday through Saturday. It's a bit of a drive from L.A. — about 22 miles north of Thousand Oaks — but the selection of roses, fruit trees and perennials is enormous. It also offers vegetable seedlings, dozens of varieties of berries, fruit and nut trees — even multiple types of lavender! But the real focus here is on roses — hundreds of varieties and types, including antique and species, climbers, David Austin, floribunda, grandiflora, ground cover, hybrid teas, miniatures, rugosa, shrub and tree roses. You can see all the varieties and their availability online and even order them for pickup at the store before Mother's Day. On your way back into L.A., stop for a relatively easy walk through
Conejo Valley Botanic Garden
, on Gainsborough Road in Thousand Oaks. The garden has some slightly steep paths but they're mostly in shady areas with occasional benches to sit and rest, if necessary. Admission and parking are free, so you can use your savings to treat Mom to a nice lunch.
More Info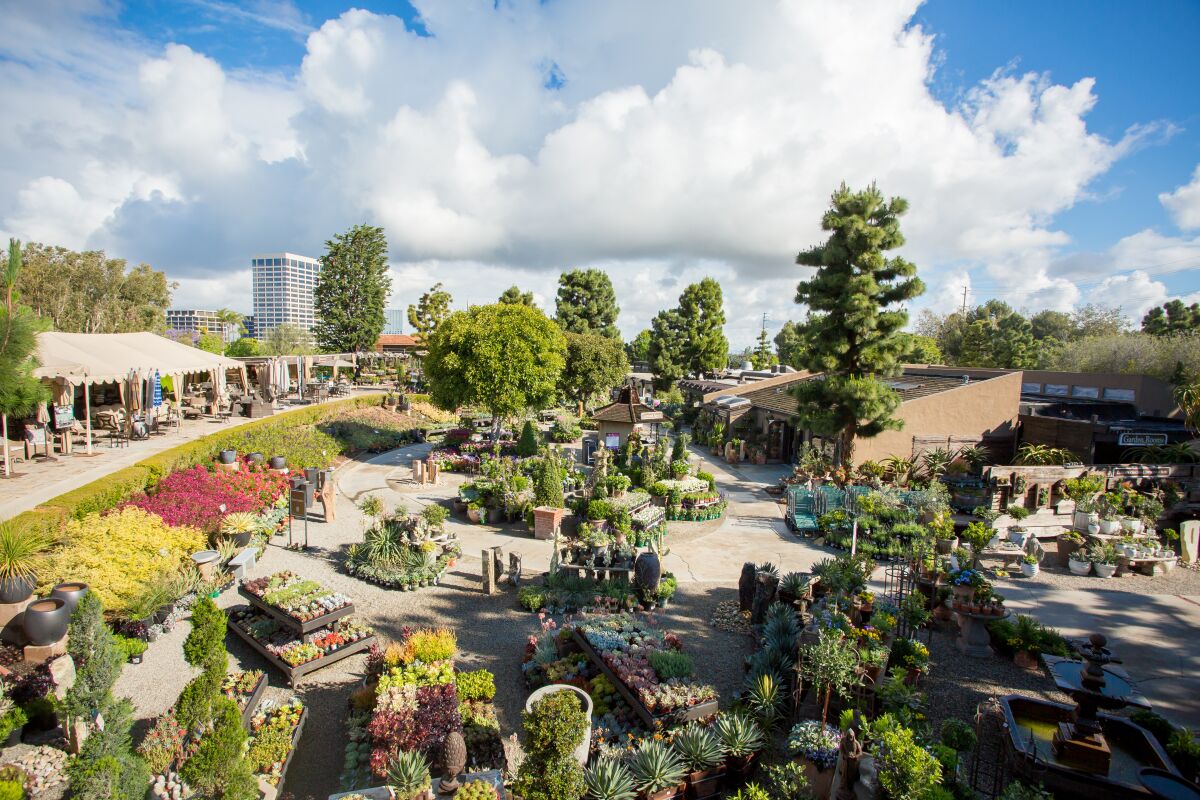 Roger's Gardens
Newport Beach
Edible, native, drought-tolerant plants
Every plant lover should visit Roger's Gardens at least once, just for the experience. So if Mom has never been, this should definitely be your Mother's Day excursion. This popular gardening and outdoor garden center has made a name for itself for themed displays, its on-site (and delicious)
Farmhouse restaurant
, gift store and elaborate holiday pop-ups — especially its
Halloween boutique
(it had the theme "Malice in Wonderland" in 2019). You can expect a big focus on tony "Mom" gifts in its boutique May 7-8 but this enormous destination nursery also offers a vast selection of all kinds of plants, from vegetable and herb starts to a sea of succulents, shrubs, annuals and perennial flowers, decorative and fruit trees, berries, indoor plants, shade-loving plants and natives. You'll also find gobs of furniture, fountains and a potting station, in case you want to select a pot from its huge selection. If Mom is looking for something unusual for her garden, it's hard to imagine there's
anything
plant-related she can't find here. Pro tip: If you want to treat Mom to a late lunch or early dinner at the nursery's Farmhouse restaurant, make reservations ASAP. And if you prefer to do some gentle walking, there are two options less than a mile away:
Newport Beach's Sculpture Exhibition in Civic Center Park
is a free and fun ramble through native grasslands and intriguing sculptures, and the charming and intimate
Sherman Library & Gardens
is just minutes away by car and modestly priced ($5 admission; children under 4 enter free and will be intrigued by the contained, easy-to-explore gardens).
More Info
Trancas Canyon Nursery
Malibu
Edibles, native plants
Offer to take Mom for a drive along the Malibu shoreline on PCH, and surprise her with a stop at this charming nursery just north of Zuma Beach, tucked away behind the smart shops in the rustic
Trancas Canyon Market
shopping center. The garden center has a small footprint and it's not easy to spot at first, but it still packs in a lot of plants, including roses, flowering perennials, succulents, vegetable and herb seedlings, native and drought-tolerant plants and houseplants, along with containers, gardening equipment and decor. After Mom has a chance to choose her gift, you can stop at
Vintage Grocers
across the parking lot and choose a picnic lunch from its extensive (and yummy) food-to-go deli. There are a few tables outside the market but with the beach nearby, bring a blanket and finish the day on the sand, beachcombing and even watching the sunset, making memories that can sustain you and Mom for a very long time.
More Info
Get our L.A. Goes Out newsletter, with the week's best events, to help you explore and experience our city.
You may occasionally receive promotional content from the Los Angeles Times.