Column: On the trail with the Latino Arab American candidate trying to oust Duncan Hunter
Retired FBI agent Jeff Iverson had his doubts about Ammar Campa-Najjar, the 29-year-old Democrat whose race to unseat Republican U.S. Rep. Duncan Hunter took on an unexpected importance after federal prosecutors charged Hunter and his wife with stealing $250,000 in campaign funds.
"It's not his politics, it's his age," Iverson, 67, told me as we stood on the porch of a stunning home overlooking Lake Hodges in Escondido.
But after listening to Campa-Najjar speak and take questions for more than an hour Sunday morning, Iverson's doubts disappeared like so much Hunter campaign cash.
"He's articulate, prepared, and given his background — growing up as a Palestinian — I think that gives you some life experience right out of the box," Iverson said. Campa-Najjar is a Palestinian Mexican American.
I spent about five hours with him Sunday at the campaign event in Escondido (which is in his district), at a meeting of the La Jolla Democratic Club (which is not), and at a late lunch at California Pizza Kitchen, where he seemed mellow from fatigue.
"It's been a long couple of days, but I've been doing this for 20 months," he said. He had flown to New York on a red-eye to attend a fundraiser on Thursday, flown back to Orange County to attend a Barack Obama rally in Anaheim on Saturday, then to Arizona for a fundraiser that evening, and back to San Diego for Sunday's events.
In Anaheim, he met with Obama, but was not invited onstage.
This may seem like a snub, but it's strategy. He's running in a Republican stronghold — California's 50th Congressional District — which voted for Donald Trump over Hillary Clinton by 15 percentage points in 2016. To win, he will have to sway the independent voters and disaffected Republicans who are turned off by Trump but who don't much care for Obama either.
DECISION CALIFORNIA: Full coverage of 2018 elections »
Among beleaguered Democrats in the 50th District, which includes the suburbs of northern and eastern San Diego County, there is hope that someone, finally, has come along to topple the ultra-conservative Hunter political dynasty. Ten years ago, Hunter replaced his father, also named Duncan Hunter, who held the seat for 28 years.
"This is the first time I have ever done anything like this," hostess Rhonda Farrar said as she introduced Campa-Najjar to her 40 or so guests. "And he's not too bad to look at either."
Campa-Najjar, in boot-cut jeans, a blue-and-white checked shirt with rolled up sleeves, smiled. He is tall and lean, and occasionally hooks his thumbs through his belt loops as he speaks. He is fashionably unshaven and single — "married to my campaign," he says.
I asked Campa-Najjar if voters had a hard time remembering his name.
"Well," he said, "a good memory device is 'camp in a jar.' At least I don't have 'Hussein' in my name."
As befits someone who has worked in communications at the Department of Labor and the Hispanic Chamber of Commerce, he is easy in front of a crowd — paraphrasing chestnuts from older politicians like Bob Dole. (The night Trump was elected, he said, he slept like a baby — "Woke up every two hours and cried.") He borrows Obama's famous riff, "Fired up? Ready to go!"
And he isn't above a cheesy joke or two:
"America," he said, "has never been at the mercy of one person, or president, whatever the color of their skin. Even if they're orange."
In a community room filled with La Jolla Democrats, Campa-Najjar clasped his hands and shut his eyes as he sang a folk song with his former philosophy professor Peter Bolland on guitar. It felt a little like church, which the candidate had skipped that day. "God help me," he said, "but I feel like this is the Lord's work."
Bolland, who had a profound influence on Campa-Najjar when he was a student at Southwestern College in Chula Vista, said he was proud of the young man, lauding "his kindness, his mercy, his insight, his virtue."
"You are doing your best to make me cry," said Campa-Najjar, whose attempt to hold back tears failed once he started talking about his mother, who struggled financially after his father left the family and moved back to Gaza. He swallowed hard, and his voice dropped.
"So this race is really personal for me. My mom's name is Abby and there are countless Abbies out there. I meet them every day. People who tell me 'I have to decide, do I get a gallon of gas to get to work tomorrow, or a gallon of milk to give my kids breakfast?'"
His father, who owned clothing boutiques in the San Diego area, he said, was fairly well off, and met his mother when she was a bank teller.
"He used to write poems on Post-its and leave them on her car," he told me. "I guess before text messaging and Tinder, that was a form of courtship."
In 1994, when Campa-Najjar was 5, his father returned to Gaza, leaving his wife and two sons in San Diego County. Three years later, she and the boys moved to Gaza, returning in 2001. Campa-Najjar attended Islamic school in San Diego, and Catholic school in Gaza.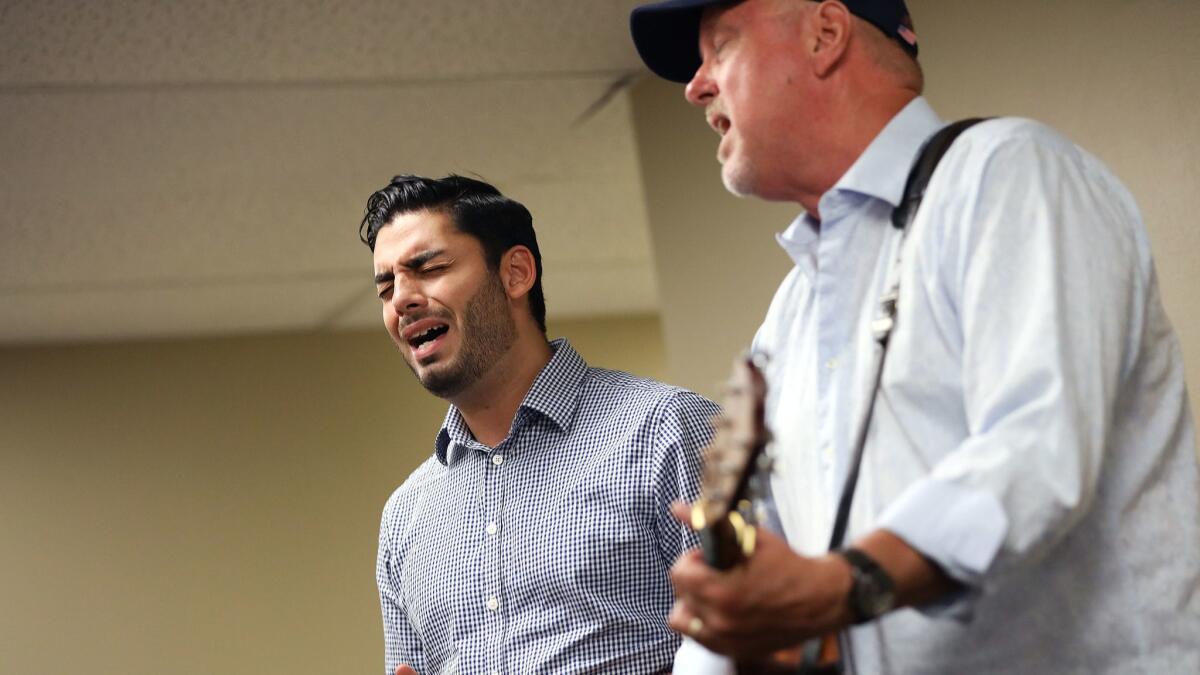 This is the kind of life story that tantalizes the dark imaginations of conspiracy theorists, xenophobes and racists, yet inspires people who believe in the beauty of the American melting pot, in not holding sons responsible for the sins of their forebears.
As has been widely reported, his grandfather was a mastermind of the murder of 11 Israelis at the 1972 Munich Olympics, and was killed by Israeli commandos in 1973.
In Escondido, 81-year-old Andy Pinto asked Campa-Najjar how he plans to handle his grandfather's "situation."
"That's a good question," Campa-Najjar said. "Well, I have a biological grandfather, and he died 16 years before I was born. So to those who are wondering about my relationship, I knew him as well as much as all of you did."
Sometimes on the trail, said Campa-Najjar, a Christian who is deeply involved in his church, people will come up to him and say, "I don't want you to bring Sharia law here. I say, 'Me neither. We have that in common.'"
Campa-Najjar won't let up until election day. If he wins, he said, his first two priorities will be an anti-corruption bill and a jobs program for his district. Democrats say the race has tightened.
It's hard to believe that San Diego County Republicans would rather elect an accused thief who might face years in jail than … a Democrat.
In American politics right now — for better or worse — anything is possible.
Twitter: @AbcarianLAT
Get our Essential Politics newsletter
The latest news, analysis and insights from our politics team.
You may occasionally receive promotional content from the Los Angeles Times.