A cannabis candymaker seeks to reassure worried parents as she prepares for California's post-legalization boom
Edibles manufacturer Kiva Confections tests its hash for potency and impurities. It also tests the chocolate after it's been infused and samples of the finished porject.
(Peter DaSilva / For The Times)
Jason Holyoke starts the process of coating espresso beans with cannabis-infused chocolate in a panning machine at the Kiva Confections factory in Oakland.
(Peter DaSilva / For The Times)
A Kiva worker prepare freshly molded cannabis-infused chocolate bars for packaging.
(Peter DaSilva / For The Times)
A Kiva worker weighs a tin of cannabis-infused chocolate-covered blueberries.
(Peter DaSilva / For The Times)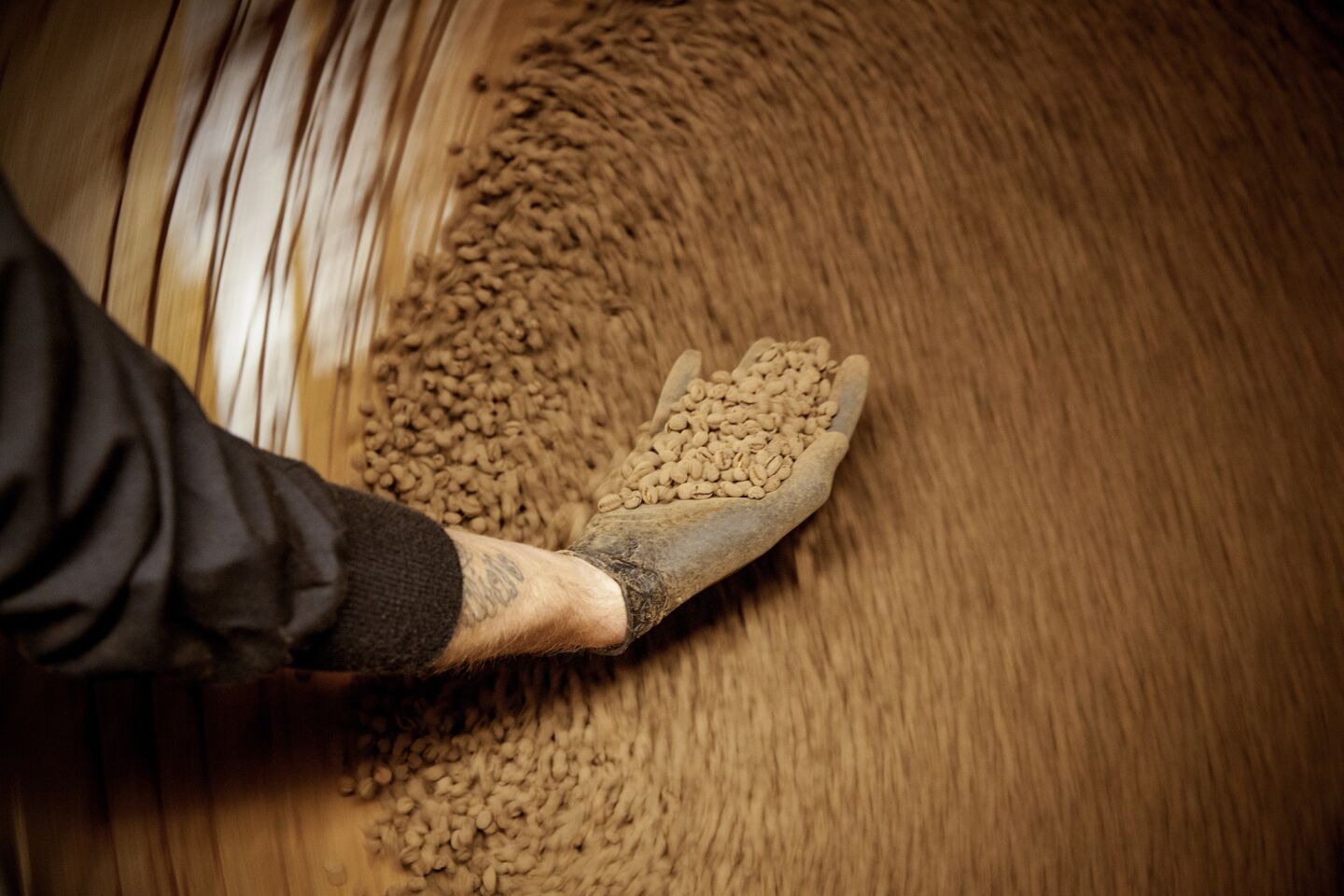 Espresso beans are slowly churned in a panning machine at the Kiva factory. Kiva covers the beans in cannabis-infused chocolate.
(Peter DaSilva / For The Times)
Aaron Butterfield checks the coating on chocolate-covered blueberries. One chocolate-covered blueberry has 5 mg of THC, considered a "starter dose" for an inexperienced user.
(Peter DaSilva / For The Times)
Cannabis-infused chocolate drips in a tempering machine at the Kiva factory.
(Peter DaSilva / For The Times)
Kiva Confections officials say the company's packaging and labels are deliberately designed not to appeal to children.
(Peter DaSilva / For The Times)
A worker prepares Kiva's cannabis-infused chocolate bars, marked with a signature marijuana leaf, for packaging.
(Peter DaSilva / For The Times)
Reporting from Oakland —
The smell inside the production rooms of Kiva Confections, one of California's premier manufacturers of edible cannabis, is, in a word, intoxicating.
You won't just catch whiffs of the powdery hash that goes into Kiva's high-quality chocolate bars. You'll also inhale the scent of dried blueberries and the heavenly aroma of espresso beans, which are slowly being covered with cannabis-infused chocolate as they tumble in big metal machines that look like open cement mixers.
Right now, co-owners Kristi Knoblich and Scott Palmer, who founded the company six years ago when they were 24 years old, are making medicine for patients whose conditions are improved by cannabis — people with cancer pain or nausea from chemotherapy, people with neuropathy or anxiety or post-traumatic stress disorder.
But if California voters approve Proposition 64, the Adult Use of Marijuana Act, next month, Kiva products will be available to anyone 21 and older. Based on what happened in Colorado after voters in that state approved recreational marijuana in 2012, Knoblich said, the couple anticipates a big — possibly huge — growth in sales.
This worries Proposition 64 opponents, who fear that potent edibles, readily available, could fall into the hands of children. They hope that raising these kinds of fears will nudge voters to reject the measure. Given the polling, I think that is going to be an uphill battle.
Proposition 64 includes safeguards aimed at keeping kids safe: Marijuana products and labels cannot be designed to appeal to children, nor be "easily confused" with commercially sold candy. They must be in childproof packages. Items must be scored into standardized serving sizes, and each serving can contain no more than 10 mgs of THC, the primary active ingredient in marijuana. Products must also carry serious warnings urging caution.
Will this be enough to prevent accidental intoxication by children?
"There have been maybe a couple of hundred cases in Colorado, called into the Denver Poison Control Center," said Larry Bedard, a retired Marin County emergency room doctor, former president of the American College of Emergency Physicians and strong advocate of legalization.
"At the same time, there's like 2,500 calls for kids getting into detergent under the kitchen sink," he said. "I have seen kids in the ICU from aspirin overdoses. I have seen someone die of Tylenol overdose.... If you are a responsible parent, you don't have Tylenol or aspirin sitting at the bedside. Same thing with edibles. Like other toxic drugs, they need to be kept under lock and key."
So yes, accidents will happen if Proposition 64 passes, just as they do now.
Is that a good argument against making properly labeled, properly tested cannabis available to consenting adults?
Not in my book.
::
Knoblich and Palmer have deliberately created labels and packages that will not attract the attention of children.
"We do our best to make these not child-friendly," Knoblich said. "There are no animals or cartoon characters on our packages. We try to keep them professional and sophisticated-looking."
But it's important to keep products safe for adults, too. This is where Kiva Confections shines.
The company's success is based on a deceptively simple promise: Kiva products taste pleasant, not skunky, and the company says its edibles contain exactly the amount of active ingredient that each label says. One square of Kiva's signature dark chocolate bar, for instance, contains 15 mg of THC. One chocolate-covered blueberry has 5 mg of THC, considered a "starter dose" for an inexperienced user. (The blueberries are screened for size and the chocolate coating is adjusted accordingly.)
"Our business foundation is predictability and a repeatable experience," said Knoblich, who gave me a tour of the plant Wednesday. "It is all about precision."
Kiva has a rigorous testing program. The hash that is added to chocolate is tested for potency and impurities such as fungus and pesticides. The chocolate is also tested after it is infused; samples of finished products are tested as well.
As it turns out, not every edible manufacturer is as diligent.
In 2014, a group of researchers assessed 75 edible cannabis products from dispensaries in Los Angeles, San Francisco and Seattle. They discovered that only 17% were accurately labeled, according to the study published in the Journal of the American Medical Assn. Twenty-five percent were under-labeled, meaning they contained more THC than the label stated, and a whopping 60% were over-labeled. Some products contained negligible amounts of THC.
"That's a disaster waiting to happen," said Bedard, who helped persuade the California Medical Assn. to endorse Proposition 64. The initiative, he pointed out, includes a requirement for potency testing. "At least you will know if the label says one thing, that's what it will contain."
::
Knoblich would not disclose sales figures, but Kiva products can be found in 900 dispensaries around the state.
The company has a fleet of 17 Priuses and two minivans and is already desperate for more space, one year after taking over this 13,000-square-foot warehouse in an industrial neighborhood west of the 880 Freeway. One industry publication reported in 2015 that Kiva Confections generates more than $10 million a year in revenue.
I know many creaky Baby Boomers who have given up martinis and rediscovered the joys of cannabis through products such as Kiva's low-dose chocolate-covered blueberries.
"Marijuana is so much safer and less harmful than alcohol," Bedard said. "As an emergency physician, if there was a magic shot I could give you to convert you from an alcoholic to a stoner, I would give it every day."
Twitter: @AbcarianLAT
ALSO
Marijuana labs spawn lethal explosions across the country
The push to legalize pot for all has deeply divided the medical marijuana community
Slippery charms of pot-growing brothers in 'Green Is Gold' will keep you invested