California Journal: Trump's accusers are back, and this time they're demanding that Congress do something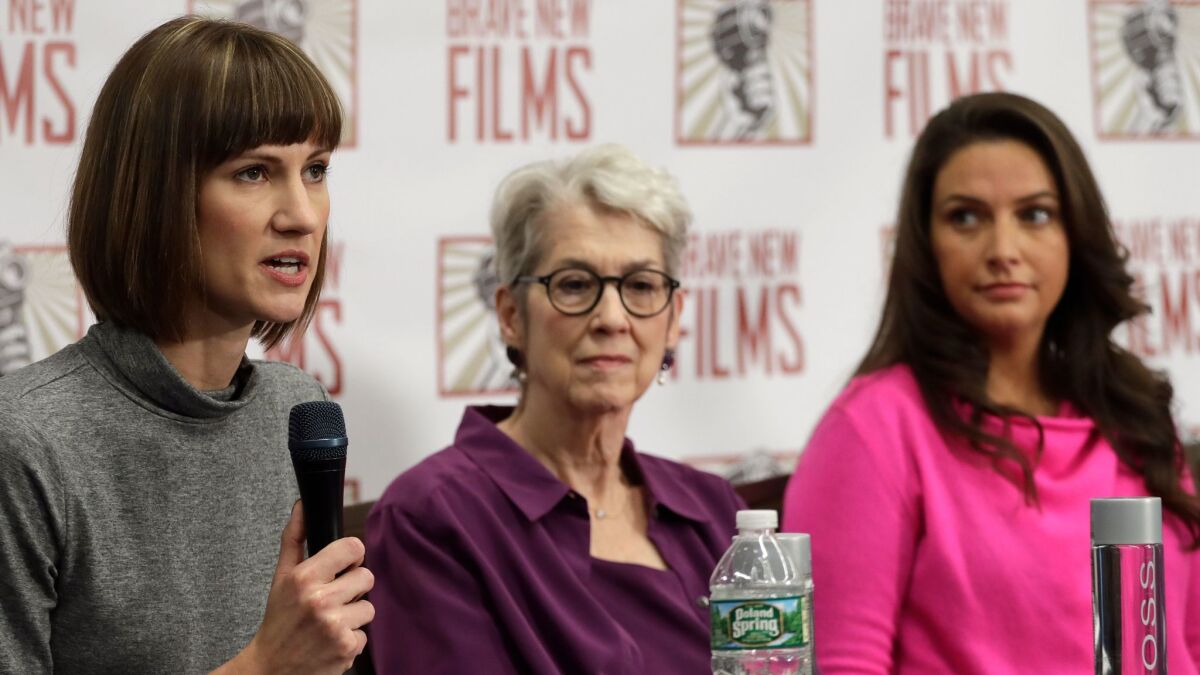 On Monday in New York City, three of the 16 women who came forward to publicly accuse then-presidential candidate Donald Trump of sexual harassment and assault returned to demand congressional action. They have watched a parade of powerful men toppled from exalted positions, and they wonder why Trump has avoided the same fate.
They appeared on "Megyn Kelly Today," and spoke at a news conference afterward, organized by Robert Greenwald, whose studio Brave New Films helped resurrect the charges against Trump with a video featuring 16 women who allege Trump harassed or abused them.
Maybe, in this moment of #MeToo, they will finally be heard.
"I see all these other men resigning or facing some sort of consequences for their actions," Samantha Holvey, 31, told me Sunday night by phone after a dinner with some of the other Trump accusers, who were meeting for the first time. "It's telling men in America, 'Hey, if you want to do and say things that are inappropriate with women, you can't be a Hollywood producer or actor or legislator, but you can be president.'"
Holvey, a former Miss North Carolina who competed in the 2006 Miss USA contest, said that Trump, who owned the pageant, would enter dressing rooms where women were in various states of undress and look them over like they were meat. "It just made me feel so dirty and violated," she said.
On the "Today" show, she was joined by Rachel Crooks, 34, who said Trump held her hands and kissed her against her will when she was a 20-year-old receptionist in Trump Tower, and Jessica Leeds, 76, who said Trump grabbed her breasts and put his hand up her skirt on a flight to New York in the late 1970s.
Leeds told Kelly that she bumped into Trump again in 1983, at a gala for the Humane Society in New York, where he recognized her as "that lady from the airplane" and called her a derogatory four-letter name. "It was like a bucket of cold water being thrown over me," she said.
Predictably, Trump dismissed the women. In a White House statement read on air by Kelly, they were described as being on a politically motivated "publicity tour."
"Laughable," Crooks said. "For me it's just about getting the truth out there."
Listen, you have to be in serious denial to believe that the parade of men who have fallen like dominoes after sex harassment accusations are guilty, but President Trump, with 16 accusers, is innocent.
If Democratic U.S. Sen. Al Franken and Rep. John Conyers faced the prospect of congressional investigations before they put country over party and resigned, so should Trump.
Pacifica Radio's Amy Goodman asked the Trump accusers at Monday's news conference how they felt about his support for Republican U.S. Senate candidate Roy Moore, who has been accused of molesting and assaulting underage girls when he was in his 30s.
"His endorsement of Roy Moore makes perfect sense for him because he was able to deny what we said, and that got him elected just fine," said Crooks, who works as a recruiter of international students at a university in Ohio. "So, it's like passing the torch for Roy to do the same. In terms of resigning, I think it's probably the right thing to do, but I would never imagine he's going to do that. So I think the investigation by Congress is probably the only thing we can ask for."
::
In the last few months, the worlds of media, entertainment and politics have been rocked by the downfall of men like Matt Lauer, Charlie Rose, Harvey Weinstein, and most recently super chef Mario Batali, who stepped down as co-host of ABC's "The Chew" after four women accused him of touching their buttocks and breasts.
American women are having a moment.
"It was like an explosion in a shingle factory," Leeds told Kelly. "Things were flying all over the place. In some areas, the accusations of sexual aggression were being taken seriously."
Leeds said she told everyone she knew about her experience with Trump — her family, her neighbors, her book club — when he became a serious presidential candidate. Then, furious at the way he trivialized his "Access Hollywood" comments in which he talked about sexually assaulting women, she fired off an email to the editor of the New York Times, she said, and was surprised when the newspaper asked for an interview.
"I wanted people to know what kind of person that Trump really is, what a pervert he is," she told Kelly.
Five U.S. senators — Democrats Kirsten Gillibrand of New York, Corey Booker of New Jersey and Jeff Merkley and Ron Wyden, both of Oregon, plus Independent Bernie Sanders of Vermont — have called for Trump's resignation.
Trump's own U.N. ambassador, Nikki Haley, said the president's accusers have every right to speak up. Despite the fact that he won the election, she said, "we should all be willing to listen to them."
It's perhaps too early to call this a chorus, but momentum finally seems to be building that Trump's decades-long history of accused sexual harassment and assault can no longer be ignored.
The president is engaged in all sorts of petty pursuits — tweeting dismissively, for example, about CNN's Don Lemon on Monday morning. The New York Times reported the other day that he spends between four and eight hours a day watching television. He certainly has time to face the torrent of accusations about his mistreatment of women.
President Clinton, after all, was forced to testify under oath in connection with Paula Jones' federal civil sexual harassment lawsuit while he occupied the Oval Office. Perhaps Trump will find himself in a similar position, if a New York state judge allows a defamation suit brought against him by one of his accusers, Summer Zervos, to go forward.
Trump's day of reckoning is already long overdue.
Twitter: @AbcarianLAT
ALSO
Women accusing Trump of sexual misconduct speak at news conference
In Florida, Trump attacks credibility of Roy Moore accuser as he rallies support for Alabama Senate hopeful
Assemblyman Matt Dababneh to resign following sexual misconduct allegations
---
UPDATES:
1:15 p.m.: This article has been updated with Sen. Kirsten Gillibrand calling for President Trump's resignation.
7:08 p.m.: This article was updated with Sen. Ron Wyden calling for Trump to resign.
This article was first published at 10:35 a.m.
Must-read stories from the L.A. Times
Get the day's top news with our Today's Headlines newsletter, sent every weekday morning.
You may occasionally receive promotional content from the Los Angeles Times.