Long overdue: Malibu elitists who impede public access now face fines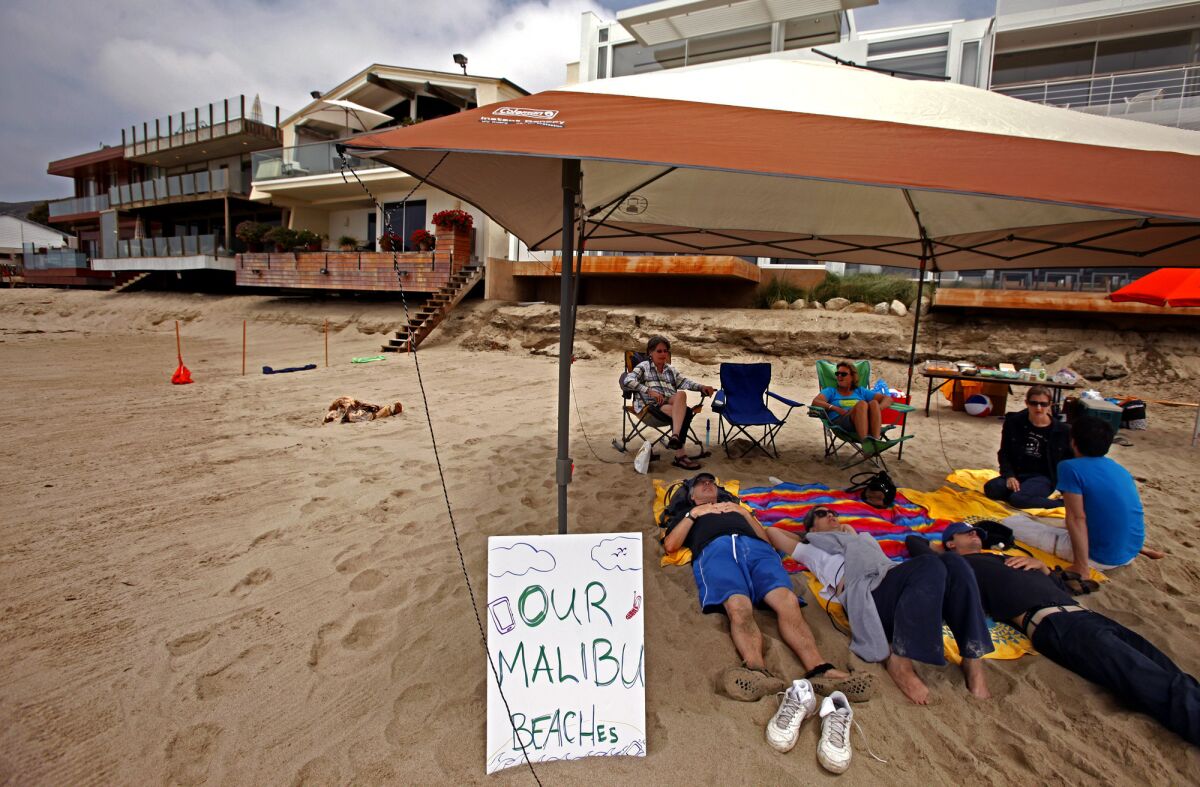 Since summertime is upon us, here is a modest proposal for Malibu: Stop enforcing any "no parking" signs on Pacific Coast Highway. Most of them are probably fake anyway.
Owners of beachside homes in California have gotten so out of control -- posting fake "no parking" signs, along with fake "no trespassing" signs and fake "private property" signs-- that the California Legislature was forced to take action against them last week.
The state budget signed by Gov. Jerry Brown on Friday included a "trailer bill" that gives the California Coastal Commission the power to fine people for violating the public access provisions of the California Coastal Act. From now on, the commission no longer has to file a lawsuit against a recalcitrant property owner that could take years and ridiculous amounts of money to resolve.
Instead, the commission may fine anyone who fails to remove a fake "no parking" or "private property" sign within 30 days. Fines, as I read the new law, can range from hundreds of dollars to around $22,000. That may not be a heck of a lot for a billionaire, but Malibu and other desirable coastal strips are home to many middle-class folks who bought beachfront properties at relative bargains decades ago.
"I think it's pretty significant," said Lisa Haage, the Coastal Commission's chief of enforcement. She said the new law simply gives the commission an administrative penalty authority that many other state agencies -- from air pollution control districts to structural pest control boards -- already possess. Most access violation complaints are settled at the district level, she said. "But there is a certain kind of person who does not respond well to us asking them to do the right thing. This is designed for that population."
(Conservative critics like the Pacific Legal Foundation see the new law as a "power grab" by the commission, and a dark day for property rights.)
The commission has hundreds of backlogged complaints about access violations, Haage said. Many involve curbs painted red by homeowners, parking meters bagged to make them look broken, and of course, fake "no parking" signs. "It's really frustrating," she said. "It's hard for anybody to tell if they are real or not, so people obey them."
The new bill's sponsor, Assembly speaker Toni Atkins, a San Diego Democrat, had proposed an even stronger measure last year, which would have given the Coastal Commission power to fine for other sorts of violations, like unpermitted development or bad environmental mitigation.
Still, giving the commission the authority to fine access violators -- or, more precisely, to threaten to fine them -- is a big deal.
"Hopefully this will be a game-changer," said environmental writer Jenny Price who has championed greater beach access in Malibu. "There are hundreds of illegal signs, and this finally gives the Coastal Commission the power to do something."
Atkins' spokesman, Will Shuck, told me the law goes into effect immediately. I asked if he had any examples of fake signs, and he replied, "You mean the David Geffen collection?"
I'm pretty sure he was joking, but Geffen is infamous among beach access proponents for his long and ultimately failed fight against the public's right to access the public beach in front of his compound at Carbon Canyon.
The true outrage here is that the entertainment mogul agreed to a public right-of-way on the west side of his compound in 1983 as a condition of his building permits. But the right-of-way was never developed, and in 2002, he filed a lawsuit to bar it. Fortunately, he lost that fight, and in 2005, the public accessway was opened.
And yet Geffen, like many of his neighbors, seems to have other strategies to keep the public at bay.
For instance, in front of his Carbon Beach compound, there are curb cuts for wide driveways that lead to fake garage doors. "It's not at all obvious," said Price, who once estimated that the curb cuts take up about four public parking spaces.
(My colleague Martha Groves reported last year that the Coastal Commission had asked the state transportation department to investigate whether Geffen's Pacific Coast Highway curb cuts were valid. The commission, she said, "got no response." Haage told me she the coastal agency has the power to fine over fake curb cuts.)
Once people understand that they can be fined for fake garage doors or fake red curbs, said commission legislative director Sarah Christie, they may think twice before doing something squirrely. As for those who have already tried to foil public access, "right now, a violator can delay indefinitely because there is no penalty associated with it. Now they know the clock is running, I think we will see access restored much more quickly."
If you want to learn more about how to assert your beachgoer rights, or even just get a sense of the battle for beach access without getting off the couch, I urge you to download a wonderful app created by Price and her colleague Ben Adair.
"Our Malibu Beaches," soon to be available in Spanish, is a remarkable little tool that helps users access beaches that beachfront property owners would rather you avoid. "Hey," says the app's welcome message, "did you know there's no such thing as an all-private beach in California?" (More than 40 years ago, California voters enshrined in law the concept that the shoreline is a public trust. Owners of beachfront property can own some sand in front of their homes, but they can't own all of it.)
Price's app identifies "elusive accessways" to little-used beaches, tells you where it's safe to put down a blanket, and also, in some cases, which "no parking" and "no trespassing" signs are fake and can be ignored.
"The beach that's the worst is on Malibu Road," she told me by phone Monday from Germany, where she is spending the summer. "All of the signs are illegal. A lot of signs tell you how far away from the houses you have to be, and every single one of them is wrong."
Follow me to the beach, or on Twitter: @robinabcarian
---
Life is stressful. Our weekly mental wellness newsletter can help.
You may occasionally receive promotional content from the Los Angeles Times.