California winner will have to share $1.5-billion Powerball jackpot
The chances of winning the record-setting $1.5-billion Powerball jackpot were a ridiculous 1 in 292 million.
But on Wednesday, at least three tickets proved golden. California had one of them, sold at a 7-Eleven in a strip mall in Chino Hills.
In a sign of the frenzy caused by the massive jackpot, scores of people swarmed the store's parking lot Wednesday night, cheering, taking photos and trying to take in the historic moment.
"I'm really happy," said an employee of the store at 4092 Chino Hills Parkway, which will receive the maximum bonus of $1 million. "It's very good news."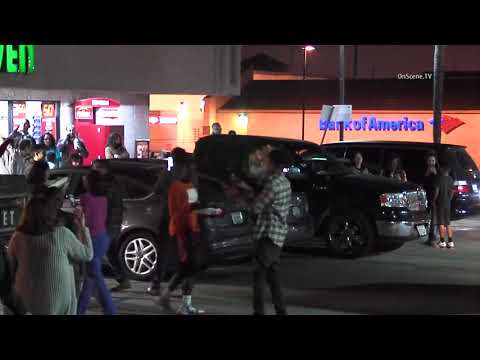 A crowd gathers outside the Chino Hills 7-Eleven that sold a winning Powerball ticket.
The employee, who declined to give his full name because the store owner wasn't present, said the 7-Eleven had been selling about $5,000 worth of tickets daily over the last few days, and on Wednesday alone sold about $12,000 worth.
"People were crazy," he said. "Everyone was paying $200, $300, $400" for Powerball tickets.
Florida and Tennessee also reported one winning ticket each.
The winning numbers were 4, 8, 19, 27 and 34 with a Powerball number of 10. An additional 12 tickets in California matched five numbers but not the Powerball.
According to state lottery officials, those tickets were sold at Primm Valley Lotto in Stateline, a 7-Eleven in Chula Vista, Larkfield Union in Santa Rosa, a Chevron station in Santa Cruz, Jerry's Liquor in Santa Monica, Tustin Fuel and Market in Tustin, Eden Roc Liquor in Pacoima, a 7-Eleven in Vacaville, a Quik Stop in Cloverdale, a 7-Eleven in Redlands, Ted's Liquor in Gardena and Spot Not Auto Wash and Gas in Irwindale.
The Powerball jackpot started at $40 million in November, and as drawing after drawing yielded no winner, it grew to a staggering $1.5 billion, the largest jackpot in U.S. history.
In the four days since the last drawing failed to produce a winner, the jackpot grew by more than $500 million.
Powerball sales totaled slightly more than $179 million in California since Saturday's drawing, making it the highest single draw in terms of sales revenue in the 30-year history of the California State Lottery, spokesman Russ Lopez said.
Since the jackpot began building in November, in-state sales totaled about $386 million, about 93% of the agency's fiscal-year-end sales goal, he said.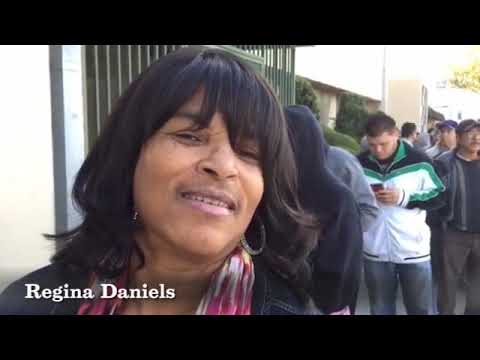 We ask people waiting in line to buy Powerball tickets outside Bluebird Liquor in Hawthorne what they would do if they won the $1.5 billion jackpot.
As the jackpot climbed, the nation was gripped by Powerball fever, as people lined up at convenience stores, gas stations and everywhere else tickets are sold for their chance of becoming a billionaire.
A change in game rules last year changed the odds from 1 in 175 million to 1 in 292.2 million and, as Powerball officials intended, sent the jackpot and ticket sales soaring as it became easier to win smaller prizes but harder to hit the jackpot.
In the hours leading up to Wednesday's drawing, the rush to buy tickets was constant.
At the 7-Eleven at 500 W. Colorado St. in Glendale, customers formed a line that stretched the length of the store.
Target security guard Michael Woods, 39, of Los Feliz, was among them, buying five tickets for his first time.
"I know it's a waste of money, but why not dream a little?" he said.
At the register, one man looked back at the line of Powerball dreamers whose empty-handedness gave them away, and said, "Man, everybody's coming for that, huh?"
Manuel Villanueva, 38, of Glendale, has been playing lottery games for 20 years, ever since the day he turned 18. He's never cashed in a single cent. Still, his dreams of supporting his children entice him, he said.
"It's the 'what if,'" he said. "What if it's me? What if it's my turn? You're playing for the big what if."
For one California player, that "what if" became reality.
taylor.goldenstein@latimes.com
Twitter: @taygoldenstein
Twitter: @JosephSerna
ALSO
Informant in FBI bribery case was Huntington Park councilman
Q&A: Stan Kroenke discusses his picture-perfect vision for the L.A. Rams
Another rare, venomous sea serpent washes ashore in Southern California
Sign up for Essential California for news, features and recommendations from the L.A. Times and beyond in your inbox six days a week.
You may occasionally receive promotional content from the Los Angeles Times.