Master-planned community at risk of losing all water within days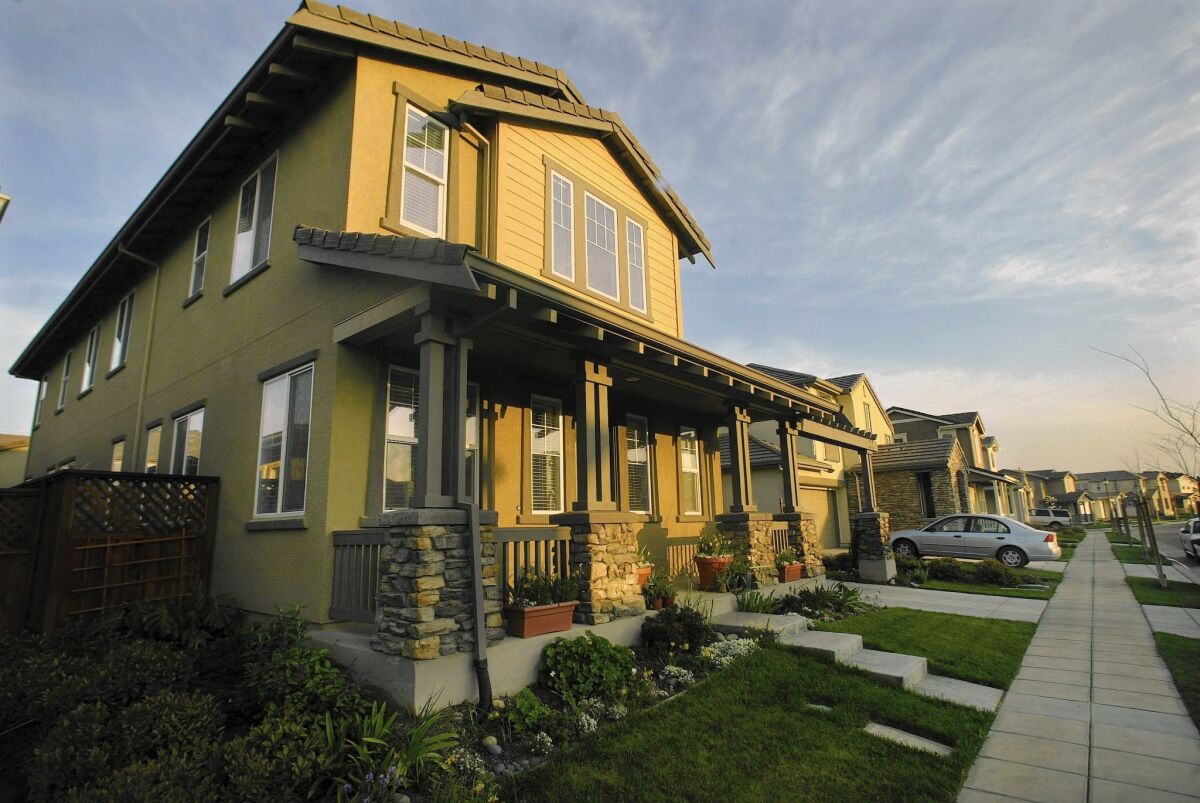 When the state last week took the rare step of curtailing the water rights of more than 100 irrigation districts and growers, it appeared that agricultural areas would be the hardest hit.
But now, an upscale master-planned community of 15,000 residents in San Joaquin County is facing the loss of all water supplies within days — prompting a frantic search for new sources.
Unlike the vast majority of communities in California, Mountain House purchases all its water from a single rural irrigation district. And that agency was covered by the state's order curtailing water rights for some of those who have held them for more than century due to the state's worsening drought.
There has been fear in the community that the taps could run dry. But the situation is not quite that dire.
Even if Mountain House can't find a new supplier, the state could allow the local irrigation district to deliver just enough to maintain "health and safety" in the community, according to a letter from the State Water Resources Control Board.
Still, officials in the town near Tracy say that millions of dollars in landscaping and thousands of acres of crops are at risk.
"If we're unable to procure supplemental supplies, it'll be catastrophic," said Rick Gilmore, general manager of the Byron Bethany Irrigation District, which supplies Mountain House with its water. "Even if we are successful, I don't know how much water we're going to be able to acquire to fulfill our needs.… Some folks are going to feel the pain."
The effects of the drought have been acutely felt across the Central Valley in places such as East Porterville, where groundwater levels have plummeted and wells and faucets have run dry.
But experts said surface water restrictions, like the one Mountain House faces, show just how bad the drought has become in its fourth year.
"This is, of course, every water suppliers' nightmare," said Barton H. "Buzz" Thompson, a water law professor at Stanford University. "We all have come to believe that in California, when you turn on the faucet, water is going to come out of it."
Mountain House learned of its precarious situation last week when the state water board announced the "senior rights" curtailment.
A notice issued by the water board commanded the Byron Bethany Irrigation District to "immediately stop diverting water." It gave the district seven days to submit a compliance form.
The board can fine a water user $1,000 to $10,000 per day for violating the curtailment order or subsequent "cease and desist" orders issued by regulators.
The district will keep supplying water to the town "until we have had the opportunity to fully evaluate the curtailment notice," said Gilmore, adding that it is also considering litigation to protect its water rights.
In addition to Mountain House, about 160 local farmers are affected by the curtailment order, Gilmore said. Without water, the area would lose almost 10,000 acres of almonds, cherries, sweet corn, grapes, tomatoes, walnuts and other crops, he said.
In Mountain House, lawns, shrubbery, parks and athletic fields are at risk, said Edwin Pattison, general manager of the Mountain House Community Services District.
If it loses its water supply, Mountain House could be forced to draw down its storage in a few days and then be without water, Pattison said.
But "that's the worst-case scenario," Pattison added, saying that he believes he will be able to find another water supplier with older water rights that has water in storage that it can sell.
"The reality is we're going to get some water supply," he said. "The question is: Is it going to be enough to maintain permanent landscaping or are we going to lose tens of millions of dollars of value that supports the aesthetics of this community?"
If Pattison fails to find other water, the community and the irrigation district could negotiate with the water board to keep water flowing.
In its letter to the irrigation district, the board acknowledged that "some water users must comply with directives … to provide continued water service to meet minimum health and safety standards." It promises to "carefully analyze" water deliveries for that purpose "on a case-by-case basis."
George Kostyrko, a spokesman for the state water board, said state regulators "should not speculate at this time" on how it will deal with Mountain House situation.
"We don't have enough information on their specific situation," he said in an email.
The fact that the water board decided to curtail some of the oldest water rights in California shows just how severe the drought has become, Thompson said. Regulators are slowly moving toward "a stage where there isn't any water for anyone to take," he said.
But he is also skeptical that the state would leave Mountain House without any water.
"Ultimately," Thompson said, "public health and safety takes precedence over technical water rights."
As it happens, Mountain House is a few miles from Clifton Court Forebay, which holds water deliveries to Southern California and the San Joaquin Valley that have also been drastically cut this year.
"We're standing here at the heart of California water and we're out of water," Pattison said. "We're going to have to stand here, possibly with no taps flowing, and watch it pass by."
Twitter: @ByMattStevens
MORE DROUGHT NEWS:
43 ways to save water during the drought -- while still keeping the lawn
It's wrong to fine owner for not watering lawn during drought
The stories shaping California
Get up to speed with our Essential California newsletter, sent six days a week.
You may occasionally receive promotional content from the Los Angeles Times.