Column: At DWP, cracks in more than just the windows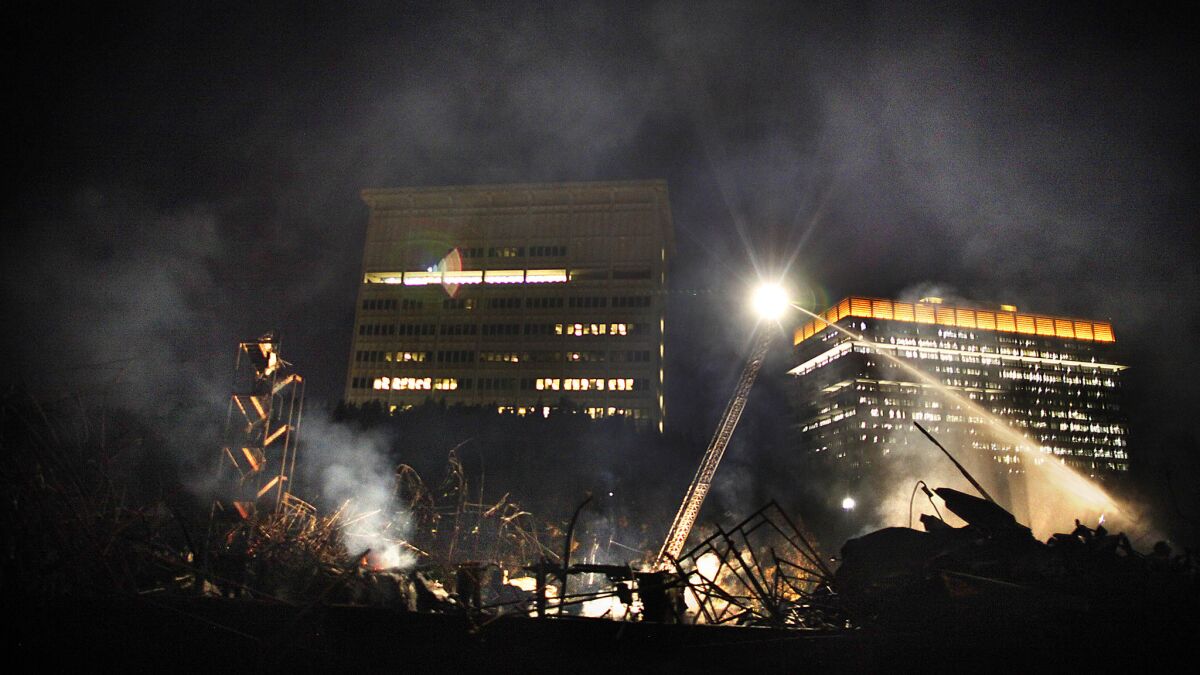 It used to be that if you worked downtown and wanted to go for a stroll on your lunch break, a good destination was the Los Angeles Department of Water and Power, where a concrete apron runs around the headquarters building.
But the concourse of what is officially called the John Ferraro Building has been cut off to pedestrians for months. Ever since December, to be precise, when an arsonist allegedly torched the nearby Da Vinci apartment building and the fierce heat cracked dozens of windows at the offices of nation's largest utility.
"DANGER. DO NOT ENTER," says a sign. "Men working above."
Safety first, for sure. I'd rather not have a cracked window fly off the building and decapitate me.
But here's a curious thing:
I didn't see any men — or women, for that matter — working there. They were not working above. They were not working below. They were not working anywhere.
I know someone who enjoyed hiking around the building, and she asked me why it was taking so long to fix the broken windows. I didn't have the answer, so I asked DWP spokeswoman Michelle Figueroa what was up.
Her written response is a marvel for its level of detail, and it's not like it was a slow week at the DWP.
The historically mismanaged utility was already busy explaining a lawsuit settlement in which it will pay tens of millions of dollars to customers overcharged by its new automated billing system.
Thanks to the mayor and City Council's toothless oversight of the utility, which helped create these problems, the settlement also calls for an independent monitor to review DWP's overhaul of the billing system. The settlement gives the utility 18 months to figure out how to investigate customer billing claims within 30 days.
I think Figueroa should be put in charge of those claims because she got back to me in 24 hours with an email that began like this:
"Replacement of the JFB [John Ferraro Building] windows has been pending development and approval of a customized safety plan with fall protection measures and procedures for the removal and reinstallation of each window panel. The challenge is that we have to complete the work with employees in the building, and we have plenty who sit right against these windows that we need to work on."
Makes sense. You wouldn't want bureaucrats caught by Santa Ana winds and blown out of the building — still at their desks — and splashing down in the moat that surrounds the building even in the middle of an epic drought.
The challenge for me is understanding how it could possibly take so long to develop such a safety plan. This is the DWP. They have guys climbing utility poles all day while juggling live wires. They can't shoot up there in a cherry picker and change out a window?
A city building on Figueroa lost more than 300 windows in the fire, and they were replaced by May, said a property manager who told me it was "a top priority."
Then again, it took two years for the DWP to decide to pay back its fleeced customers.
"Our building's window system is original and is a unitized panel window system," Figueroa's email went on. "The frame is screwed together. The unitized frames were factory fabricated which allowed for better quality control and were dropped in place which made for a faster installation. Although not entirely unique in the window industry, a unitized window pane does make glass replacement more difficult. Each JFB window panel is 4 ft. x 10 ft. and weighs 270 lbs."
This is as thorough as the DWP has been about anything in years.
If only we could have gotten this kind of detail on what happened to the $40 million that went to a pair of mysterious nonprofit trusts run by a crack team of DWP all-stars and union boss Brian D'Arcy's loyal Doberman.
Speaking of the trusts, one of them allegedly focuses on safety, so why couldn't those laggards have gotten off their mitts and come up with a window replacement safety plan?
Figueroa accepted my request for a tour of the building and met me in the lobby with DWP architect Sammy Wong.
I thought this was awfully kind of them, though for a moment I wondered if the plan was to usher me upstairs, throw open a door and then feign horror as a sudden draft sucked me out of the building.
But there were no drafts and not much to look at, really, except for some boarded up windows — 174 in all.
Sutoyo Lim, an engineer stationed on the 13th floor, had a wooden window but said he had no fear that he'd abruptly find himself involuntarily sky diving. He did, however, have a cabinet sign that said "Anti-Stress Kit. Bang Head Here."
They should make those available to angry ratepayers, if you ask me.
Wong said the replacement will begin in September, one window at a time, and take about eight months, or possibly longer because he may get sidetracked to find space for new customer service representatives being hired to speed up response time.
My promise to readers is that I'll check on the progress, and the cost, and keep tabs on what happens first — the windows get fixed or the Rams return to Los Angeles.
On the way out, we bumped into DWP General Manager Marcie Edwards.
That was a little awkward. Last time I mentioned her name, it was in a column suggesting that Mayor Eric Garcetti push Edwards, D'Arcy and DWP Commissioner Mel Levine into the fountain to show his anger at their foot-dragging on reforming the DWP trust.
"Here comes trouble," Edwards said, and when I asked about the hang-up on the window replacement, she had an answer.
They need to get a safety plan in place first.
Yeah, that's what I heard.
---
Life is stressful. Our weekly mental wellness newsletter can help.
You may occasionally receive promotional content from the Los Angeles Times.