LA Pride has sold out and become 'gay Coachella,' critics say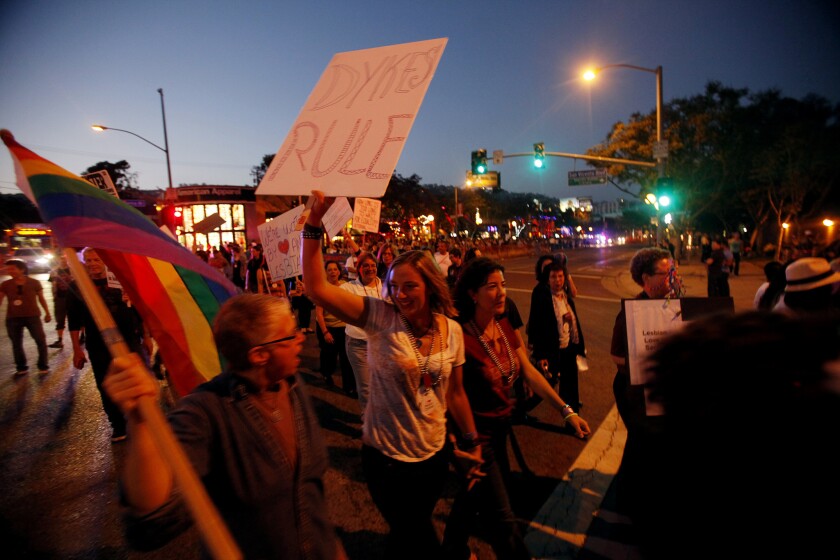 In the beginning, Los Angeles' gay pride parade was a daring political statement. The first parade in 1970 was so controversial that the city's police commission tried to stop it, citing the possibility that those who participated would be attacked.
The march down Hollywood Boulevard to boos and catcalls was for many a giant step out of the closet. For organizer Christopher Street West — named after the New York street where the Stonewall Inn riots sparked the modern gay rights movement a year prior — it was the start of something big.
The annual event, now held in West Hollywood, would grow to include a multi-day festival celebrating lesbian, gay, bisexual and transgender people. And the weekend would become a reliable bellwether of their heartaches and victories, from the AIDS crisis to same-sex marriage.
But lately, critics have been left wondering: Has LA Pride sold its soul?
Christopher Street West this year tried to rebrand the event as a music festival, saying it was trying to appeal to millennials. It raised ticket prices and, until protests grew loud enough, shortened free events dedicated to transgender people and lesbians.
Protesters, deriding the event as a commercialized "gay Coachella," organized under the moniker #NotOurPride.
"What they have done is a blatant commercialization of Pride and a disregard of Los Angeles' LGBT community's history and legacy," said Peter Cruz, associate director of the Asian Pacific AIDS Intervention Team, which has spearheaded the protests.
After weeks of angry protests and threatened boycotts, Christopher Street West backtracked on many of its intended changes, and some #NotOurPride protesters agreed Thursday night to stop their boycotts if the organization promised to get more community input for future events.
Still, the controversy has prompted soul searching and debate about the meaning of Pride. For weeks, people have flocked to protest meetings and West Hollywood City Council meetings to voice their concerns.
What they have done is a blatant commercialization of Pride and a disregard of Los Angeles' LGBT community's history and legacy.
— Peter Cruz, associate director of Asian Pacific AIDS Intervention Team
The Stonewall Democratic Club announced this month that it wouldn't buy a booth at the festival, stating in an open letter that the event's LGBT focus had essentially been stripped from its marketing.
Keeping Pride "an inclusive LGBT event is paramount to our continued visibility and its activism, and it is unacceptable to sacrifice this ... to make it more palatable to sponsors and enhance your bottom line," the group said.
The Varsity Gay League, a sports organization, said it too would consider a boycott and that Christopher Street West had alienated community interest groups and small businesses in favor of corporate sponsors.
But Christopher Classen, the president of Christopher Street West, said evolution is what has helped keep the Pride parade and festival relevant for more than four decades.
In 2015, 80% of the festival attendees were younger than 34, Classen said in a statement last month announcing some of the changes.
"Millennials feel the MOST effective way to connect with them is through live music," Classen wrote. "These demographics are more inclusive on almost every level than the LA PRIDE Festival that I attended in my younger years and that's COMPLETELY OKAY!"
Classen said this year's music lineup, which includes pop singer Carly Rae Jepson and electronic dance music duo Krewella, rivals that of other major music festivals. Booking better talent — along with rising costs for insurance and event security— have raised production costs and led to increased ticket prices, he said.
"Up until last year, we hadn't raised prices for a decade," Classen said in an interview, adding that the cost of producing the event had gone up 74% over the last five years. Christopher Street West, he said, tries to keep a "fair balance between corporate sponsorship and ticket prices."
The city of West Hollywood this year subsidized 500 single-day tickets, at a cost of $15,000, to be distributed to nonprofits and other groups to give out.
This year, single-day festival tickets are $30, up from $25 last year. Christopher Street West had planned to make those tickets $35 a day but lowered the price last week amid intense criticism that Pride was becoming inaccessible to many LGBT people.
This is not the first time LA Pride has become the subject of debate. In 2005, Christopher Street West was blasted for choosing heiress Paris Hilton and her mother, Kathy Hilton, as co-grand marshals instead of an LGBT person. In 2011, West Hollywood Councilman John D'Amico said residents described the festivities as "tired" and irrelevant. And in recent years, the City Council has questioned both the focus of Pride and the abundance of alcohol.
For many, the changes this year were just too much.
Ivy Bottini, an 89-year-old lesbian activist, said she was infuriated by what she called an "ageist" decision to stage a millennial-focused music festival. Pride, she said, has always provided a platform to share the history of the LGBT movement with all ages, and it feels like that's being taken away.
"I feel so bad for the younger LGBT community that, even before they get going, is having their history erased," Bottini said. "To me, it feels like they're being used to make a lot of money."
Numerous transgender people have said they felt particularly excluded from the Pride this year because of what they said was a reduction in transgender events and a lack of communication from Christopher Street West. Many also said that higher ticket prices were a heavy burden for transgender and gender-nonconforming people, and others who face high levels of poverty, unemployment and violence — including killings.
The changes, they said, were particularly hurtful at a time when transgender rights are being challenged amid national discussions about restroom access.
For Jazzmun Nichala Crayton, a transgender activist and actress, Pride is more than a party. It's also an opportunity for people to access needed resources like free HIV testing. A few years back, Crayton tested about 50 people, and one genderqueer person — someone who doesn't identify exclusively as male or female — learned they were HIV positive. Crayton said that might not have happened without Pride.
"I want you to have a good time ... but at the same time, make it accessible for everybody because this actually does mean something," she said. "You can't marginalize communities, and you can't compartmentalize the people who have money and those who don't."
Michael Oliveira, an archivist with the ONE National Gay and Lesbian Archives at USC who has studied the event's history, said there has long been debate over what Pride should represent, which shows it's important to people for many different reasons.
"In many ways, Pride is an introduction to the community, and each person takes away their own memory of the event," Oliveira said. "The most important thing about anybody saying, 'I want to be heard,' is that they have a message, and we as a society need to listen."
ALSO
L.A. City Council approves surge in homeless spending in $8.76-billion budget
Arraignments for ex-Beaumont city leaders accused of corruption are delayed
Racist attacks against L.A.'s black City Council president prompt arrest, outrage
Twitter: @TrevellAnderson
Twitter: @haileybranson
---
The stories shaping California
Get up to speed with our Essential California newsletter, sent six days a week.
You may occasionally receive promotional content from the Los Angeles Times.