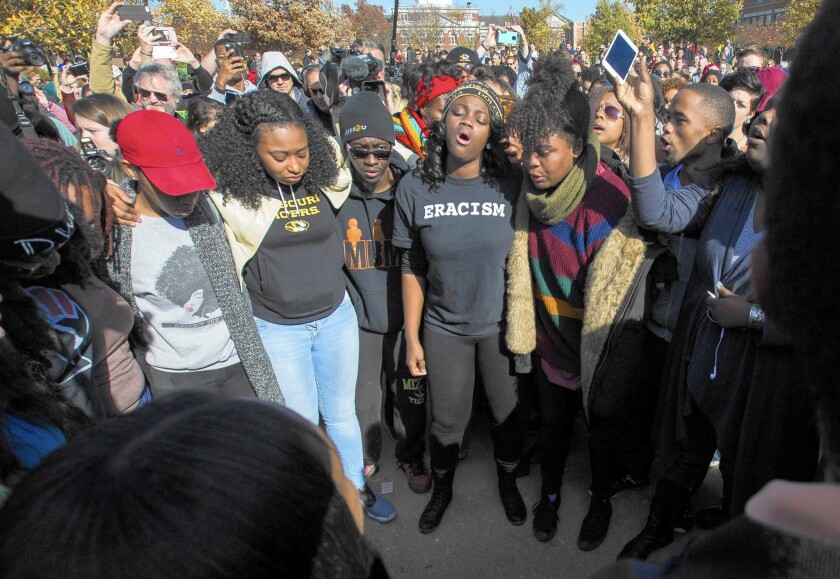 When I attended college in the '70s, microaggression wasn't a thing.
Back then at Ohio State, we were always protesting something — racial discrimination, sexism, the Vietnam War — and there were plenty of ways to offend.
I learned to overlook lame comments from professors amazed that I could hold my own with white classmates. I willed myself not to be hurt when I took a seat in class and the white girl next to me rolled her eyes and moved across the room.
We absorbed the inane and retaliated only against the most grievous insults — not with administrative muscle but with our brothers: brawny black guys who relished kicking butt.
I suppose things are better now; there are forums and committees and official sanctions for everything from inappropriate Halloween costumes to ugly name-calling, condemned these days as "hate speech."
Minority students don't feel the need to be invisible or pretend they don't hear slurs directed their way, as my friends and I often did.
They're fighting back and going beyond obvious transgressions to challenge slights and snubs — even the puny and inadvertent — that challenge their sense of belonging.
"People are going to dismiss us … because they say it's political correctness gone too far," USC student body President Rini Sampath told Times reporters this week for a story on the rising profile of microaggression.
Sampath drew national attention to the issue in September after someone loudly insulted her Indian heritage in a frat house catcall. Every day, she said, "students walk into a room and someone makes fun of their accent or [they get] kicked out of parties, and we have to take those things seriously."
::
Over the last decade, researchers indeed have begun to take those things seriously.
More than 5,000 studies suggest that even minor slights can take a toll on students' performance and mental health. And that doesn't apply just to minorities.
Take James Vaughn, a self-described "50+ year old white, politically independent voter who leans fiscally conservative" and lives in Orange County. He emailed me a few months ago and shared a perspective I hadn't heard before.
He too was a college student in the '70s, and spent a semester studying in Nairobi, Kenya — one of three white Americans among hundreds of black African students.
------------
FOR THE RECORD - A column on "microaggression" that ran in the California section on Nov. 14 incorrectly stated the time period for a college exchange program attended by its subject James Vaughn. Vaughn was enrolled in a university in Nairobi, Kenya, in 1997-98, not in the 1970s.
------------
He still remembers the sting of petty snubs:
"Clerks ignoring me to help black customers first. Cafeteria workers consistently giving more food to the [black] students behind and in front of me in line. People stopping their conversations to silently look at me while I passed by, as if questioning why I was there. Refusing to share a sidewalk as we passed each other, so that I had to step off into the mud."
When Vaughn mustered the nerve to complain to a university dean about "a security guard at the computer lab who ALWAYS demanded to see my student ID even though I knew her by name and was in and out of the lab several times a day," the guard simply shrugged and told the dean "They all look alike to me."
White America doesn't have the experience of the buildup of subtle racism, so they don't know why something that to them seems small is really actually a big deal.
James Vaughn, Orange County resident
Vaughn tried to slough it off.
"It would sound childish to say that other people were getting more food than me in the cafeteria," he said. "But these little things built up and created some resentment."
They also taught him what being the "other" felt like — and how even insignificant social slights can conspire to disenfranchise an outsider.
"If I was so frustrated after just six weeks of this, how would I feel after months, years and generations of this?" he said.
"When a line is so obviously crossed and nothing is done or it doesn't seem to be treated seriously, then I completely understand the outbursts of anger."
::
Vaughn understands why some people consider the concept of microaggression a mere contrivance of the thin-skinned.
"White America doesn't have the experience of the buildup of subtle racism, so they don't know why something that to them seems small is really actually a big deal," he said.
It isn't the act itself, but the accumulation over time that creates frustration, anger and a sense of helplessness.
And it's not just about race or gender or ethnicity or sexual orientation. It's about being continually reminded that you're different, assigned to the outskirts of what's considered mainstream.
When I read the comment that led to the resignation of the Claremont McKenna Dean Mary Spellman, a single word caught my eye: Spellman had emailed a Latina student and promised to work with those who "don't fit our CMC mold."
Our mold. Something that belongs to us. Some place that sees you as misfit or intruder.
That phrase doesn't make Spellman a racist; it does reflect a mindset that's apt to alienate young people trying to find their footing in that world.
So how do we get through this gridlock of reproach and recrimination?
I asked Vaughn, who works as a consultant for a nonprofit that helps members of Congress better relate to and understand their constituents. If he can do that, surely he can help mediate this.
But he sees challenges on both sides.
He can imagine the unease of minority students, trying to forthrightly address an unintended slight at the moment it occurs "without coming across as thin-skinned, strident or making a mountain out of a molehill."
And he understands the angst of well-meaning whites, mentally rehearsing and parsing their words, afraid they'll say something that inadvertently offends.
"This is such a minefield for white people," Vaughn said. "If we could have honest conversations it would help.
"I see the anger and the protests, which I can now feel empathy for. But honestly, I don't have a clue as to what I am supposed to do about it."
Twitter: @SandyBanksLAT
MORE FROM SANDY BANKS:
In L.A. Unified, restorative justice has been slow to take hold
How some teens learn to sustain hope 'when times are hard'
---