The Princeton Review recently ranked Claremont McKenna College as #3 on the list of schools with the happiest students.
But over the last few months, the elite liberal college has been roiled by protests capped Thursday by the resignation of its dean.
Dean Mary Spellman stepped down after campus protests and hunger strikes by two students this week over her email to a Latina student saying she would work to serve those who "don't fit our CMC mold."
But the protests were about more than those five words.
What were students' complaints?
Months of complaints boiled over this week with protests and a hunger strike. Beyond Spellman's comments, students complained that the administration has ignored their concerns over a lack of diversity, demands for a resource center for students and what some claim is "institutional racism" across the campus.
In a YouTube video posted Wednesday, protesting students outlined their concerns about what was going on at Claremont McKenna. Some said they felt professors didn't respect their identity and others said they didn't feel safe on campus.
One protester called for a more diverse range of courses focusing on issues such as social justice and community activism.
The students also said they wanted to be part of the process for hiring new faculty and staff.
In later video from the protest, both Spellman and Claremont McKenna President Hiram Chodosh spoke to the students. Spellman apologized and tried to explain her choice of words.
Here's another video from an earlier protest.
What has been a rallying point for students?
Many protesters pointed to an article written by a Latina student, Lisette Espinosa, who described her struggles on campus:
Whose voices are the loudest on campus? Whose voices are kept at the margins? Who do we look to for knowledge, and whose knowledge is valued? Are our "success" and "leadership" measured in dollar signs? What role do the colleges play in replicating inequality while touting "responsible leadership"? Who is respected, and who is not given a living wage? Whose life is given priority, and whose lives are criminalized, jailed, detained and disposable? What stereotypes and ideologies do we allow in our lives that contribute to the normalization of structural inequality and social suffering?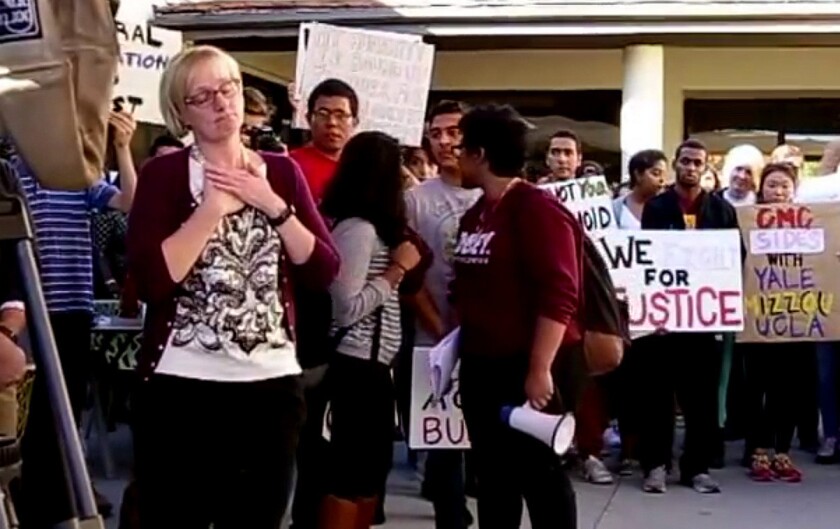 What did Mary Spellman say when she resigned?
She said she felt "sadness beyond words" over he decision to step down.
Here is her full letter to the campus:
Dear CMC Community:
Since 2010 I have been privileged to serve as Dean of Students at Claremont McKenna College. Today I am submitting my letter of resignation, effective immediately. I do so with sadness beyond words, because these nearly six years have been the most rewarding and fulfilling of my life, but also with the conviction that it is the right thing to do for the school and the students I care about so deeply.
I have been grateful for the support of the Administration and the heartening encouragement I have received from so many of my students, former students and colleagues. Among the calls, texts and emails I have received is a student who wrote:
"You've inspired me in my time at CMC. Please stay strong and realize students like me need you to stay here … I will always be honored to consider you a mentor, a role model, and above all, friend."
And a faculty member who wrote:
"I also recognize how much you have worked to make our community more inclusive … I know I join many fellow faculty members and students in expressing my full support and confidence in you as Dean of Students here at CMC."
To all who have been so supportive, please know how sorry I am if my decision disappoints you. I believe it is the best way to gain closure of a controversy that has divided the student body and disrupted the mission of this fine institution. Most important, I hope this will help enable a truly thoughtful, civil and productive discussion about the very real issues of diversity and inclusion facing Claremont McKenna, higher education and other institutions across our society.
How have protesters reacted to Spellman's resignation?
Taylor Lemmons, one of two Claremont student who began a hunger strike this week to draw attention to the demands for Spellman's resignation, told supporters Thursday: "Let this be a message to anyone who sees a wrong and speaks out to make it right. You can do it. All you have to do is speak up, be strong in your convictions and never give up."
Others took a different view. In the Forum, the school paper, student Jessica Jin wrote:
I, myself, see Mary Spellman's resignation as more of a ceremonial sacrifice than a significant step toward substantive change on the issue of race at CMC. I'm not interested in contesting the justification or merits of her resignation. Whether or not she truly was unfit to serve as Dean of Students due to implicit racial bias is a debate that, though important, is beyond the scope of what I see as the real issue at hand. To be distracted by her departure is to take the easy route out by debating extraneous consequences rather than contemplating our own actions and behavior. Dean Spellman has very little bearing on the individual experiences that shape our time at CMC.
What is the university doing?
Chodosh announced that new leadership positions on diversity and inclusion would be created in the offices of academic and student affairs. The administrators will work to increase diversity in hiring and in the curriculum, and a new space will be dedicated for work on diversity, identity and free speech, he said in a letter to the campus community.
"I stand by our students," Chodosh wrote. "I support their right to speak out forcefully, and want their voices to be heard."
What is Claremont McKenna?
Claremont McKenna is often ranked among America's top liberal arts colleges.
Claremont McKenna is part of a consortium of seven campuses that make up the Claremont Colleges and includes Pomona College, Scripps, Harvey Mudd and Pitzer College.
Noted for its highly selective admissions, Claremont McKenna tied with Vassar College as the nation's 10th-best liberal arts college in U.S. News & World Report's 2013 rankings. The campus enrolls about 1,250 students; annual tuition and fees top $44,000.
ALSO:
Amid racial bias protests, Claremont McKenna dean resigns
UC Riverside invokes #Mizzou during a march for free tuition
The tantrums at Mizzou and Yale reveal more than PC problems
---