State officials want these California reservoir owners to warn people not to eat the fish
Ventura resident Robert Hirschhorn fishes along the north shore of Big Bear Lake, not knowing that it is one of 187 reservoirs formally designated by state water regulators this year as "mercury impaired."
(Mark Boster / Los Angeles Times)
Fisherman Aaron Armstrong, owner of Big Bear Charter Fishing, catches and later releases a smallmouth bass on Big Bear Lake.
(Mark Boster / Los Angeles Times)
Aaron Armstrong removes the hook from a smallmouth bass he caught and later released on Big Bear Lake. Lab tests have indicated that older, larger smallmouth and largemouth bass from these reservoirs harbor hazardous levels of toxic mercury compounds.
(Mark Boster / Los Angeles Times)
Fisherman Aaron Armstrong holds a smallmouth bass he caught and later released on Big Bear Lake.
(Mark Boster / Los Angeles Times)
Big Bear Lake is one of 187 reservoirs statewide formally designated by water regulators this year as "mercury impaired."
(Mark Boster / Los Angeles Times)
A great blue heron skims across the water of Big Bear Lake.
(Mark Boster / Los Angeles Times)
Reporting from BIG BEAR LAKE, Calif. —
State water authorities and nine local water quality control boards are developing a statewide mercury control program aimed at reducing mercury levels and limiting consumption of contaminated fish at some of Southern California's most popular fishing destinations.
One hundred and eighty reservoirs statewide are contaminated with excessive levels of mercury, according to studies of fish samples from more than 300 reservoirs conducted by the State Water Resources Control Board.
Mandatory health advisories are at least two years away, state officials say.
But the State Water Resources Control Board is pushing owners of the reservoirs to voluntarily post warnings about eating fish at the top of its food chain such as bass, which accumulate the potent neurotoxin that poses special risks for pregnant women and children.
Mercury advisories would not be good for property values
— Mike Sannes, Big Bear Lake real estate agent
That request is causing nervousness among people who depend on income from sportsmen and tourists.
At Big Bear Lake, in the San Bernardino Mountains, about 18,500 permanent residents live on the shores of the 7-mile-long body of water, some in homes costing as much as $3 million. Millions of people visit the pine-scented lake to sail, jet-ski, wake-board and fish.
It's that last recreational activity that harbors the threat state officials say the public needs to be warned about now.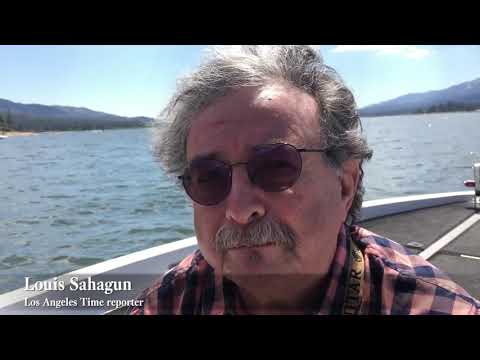 Big Bear Lake has been listed as a "mercury impaired" reservoir by state health and water authorities.
Mercury is absorbed by bacteria and transformed into an organic form known as methylmercury. It then spirals up the food chain from tiny invertebrates to small fish, finally concentrating in the bigger fish that eat them.
Bass are among the biggest and most voracious.
The agencies striving to solve the problem want to increase the abundance of rainbow trout and crappie, which have lower mercury levels because they feed on plants and smaller aquatic organisms.
But some anglers believe that bass -- nonnative, omnivorous fish introduced to California in the late 1800s -- are being demonized as part of an effort to better protect native and endangered species they feast on.
Aaron Armstrong sponsors a bass fishing tournament at Big Bear Lake, with an entry fee of $200. Part of the proceeds going toward stocking the lake with bass.
On a recent afternoon, Armstrong stood on the deck of his boat and cast a lure at submerged rocks that are home to big, fat bass.
I'm worried that a lot of Americans are going to lose out on a traditional way of fishing.
— Aaron Armstrong, bass fisherman
"I'm worried," he said, "that a lot of Americans are going to lose out on a traditional way of fishing."
But Mike Sannes, a Big Bear real estate agent, said it may be time to sacrifice that popular type of fishing.
"Mercury advisories would not be good for property values," he said. "If it came down to it, I wouldn't rule out getting rid of the bass for the greater good."
Mike Stephenson, general manager of the Big Bear Municipal Water District, which operates the 104-year-old reservoir, isn't keen on that idea.
"Since bass anglers release what they catch to preserve the resource, we're not certain anyone is even eating bass caught here," he said.
Beyond that, he's skeptical of state officials' warning against consuming more than 0.2 milligrams of methylmercury per kilogram of fish per week — a quantity that he says may be too low to pose a real health hazard.
"Of course we're concerned about mercury contamination," he said. "But where do you draw the line?"
Other "mercury impaired" reservoirs include such recreational and angling hot spots as Bass Lake, Crowley Lake, El Capitan Reservoir, Lake Hodges, Lake Hughes, Irvine Lake, Silverwood Lake and Lake Arrowhead.
The worst levels of methylmercury in a Southern California reservoir -- 0.65 milligrams of methylmercury per kilogram of fish -- were found in bass at Lake Sherwood reservoir in south Ventura County, said Carrie Austin, an environmental engineer with the state Environmental Protection Agency.
Tom Munley, assistant executive officer of the San Francisco Bay Regional Water Quality Control Board and a spokesman for the statewide program for reservoirs, said his group is asking reservoir operators to "voluntarily partner with us to address the problem."
"Some of these cases may take years to resolve," he said. "Some, we may find, cannot be resolved."
Mercury is a natural element in the Earth's crust. Historically, Mother Lode prospectors coated sluice boxes with it to help coax gold from ore. Much of that mercury slopped out into mountain streams, then cascaded into foothill reservoirs and San Francisco Bay.
Today, coal-fired power plants in developing nations are the largest source of mercury emissions in California and the world, researchers have found. When released into the air, mercury travels great distances, contaminating oceans, lakes and rivers.
Seafood has long been known to be the largest single dietary source of mercury. Mercury levels in yellowfin tuna caught in the Pacific Ocean have been rising at a 3.8% annual rate since 1998, according to a 2015 study published in the journal Environmental Toxicology and Chemistry.
Previous studies by researchers at the universities of Hawaii and Michigan linked the chemical fingerprint of mercury found in fish such as swordfish and yellowfin tuna to coal-burning plants in Asia, where outdated factories pour mercury into air that prevailing winds carry across oceans.
The global nature of the problem makes it particularly daunting, said Stephenson.
Only half-kidding, he sighed and said: "We may have to put a big tarp over Big Bear Lake."
ALSO
Head of DWP is seeking to retire, Garcetti aide says
Stingrays zap nearly 60 on Coronado
Teachers, dishwashers, engineers: Others like Gaspar Marcos who moved to the U.S. without their parents
Sign up for Essential California for news, features and recommendations from the L.A. Times and beyond in your inbox six days a week.
You may occasionally receive promotional content from the Los Angeles Times.