Lucca, a Marine dog who lost her leg in Afghanistan, receives the Dickin Medal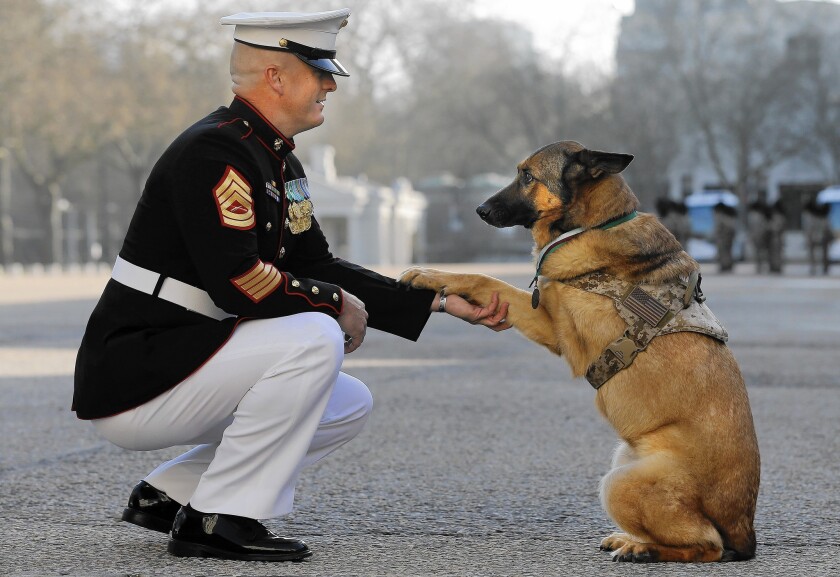 From the moment he saw Lucca, Chris Willingham knew she was special.
The two met in 2006 in San Antonio. Willingham was a Marine specializing in the training of military dogs, and Lucca was a 2-year-old German shepherd and Belgian Malinois mix being taught to sniff out bombs. They came together for their first war-zone deployment.
"She had a lot of expression in her face, with these intently focused eyes. You could tell she was trying to figure me out right away," Willingham, now a gunnery sergeant stationed at Camp Pendleton, recalled about their introduction to each other. "I sensed that she would have a lot of drive and enthusiasm."
See more of our top stories on Facebook >>
Last week Lucca again looked intently at Willingham as he put a medal around her neck. It was the Dickin Medal, billed as Britain's highest award for valor by a military animal.
Trustees of the People's Dispensary for Sick Animals voted unanimously to honor Lucca with the distinction, making her the first U.S. military dog to receive the medal.
Lucca rests after receiving the Dickin Medal, Britain's highest award for valor by a military animal and equivalent to the Victoria Cross, in London on April 5. She is the first U.S. military dog to receive the honor. Now 12, she lost her leg in a bomb blast in March 2012, in Helmand Province, Afghanistan.
(Frank Augstein / Associated Press)
Lucca is shown in 2012 in San Diego as she waits for Marine Cpl. Juan Rodriguez, right, to finish the airport screening process. They were headed to Helsinki, Finland, so she could be reunited with her original handler, Gunnery Sgt. Christopher Willingham.
(Howard Lipin / San Diego Union Tribue)
Lucca, a German shepherd and Belgian Malinois mix, heads to her airport gate in San Diego in 2012.
(Howard Lipin / San Diego Union Tribue)
Lucca, trained to detect trace amount of explosive compounds and warn handlers of their presence, was injured in an IED blast on her last deployment in Afghanistan.
(Howard Lipin / San Diego Union Tribue)
Al Eremita, an American Airlines passenger service representative at San Diego's Lindbergh Field, presents Lucca with a bag of goodies.
(Howard Lipin / San Diego Union Tribue)
Passengers watch and take photos of Lucca as they wait to board a plane in San Diego in 2012.
(Howard Lipin / San Diego Union Tribue)
Marine Corps Cpl. Juan Rodriguez is interviewed by local television prior to Lucca's trip to Finland to join her original handler.
(Howard Lipin / San Diego Union Tribue)
The recognition is bestowed only when the organization's board believes a case merits it, so years can go by without any nomination being approved. In this case, the evaluators cited Lucca's distinguished record of leading more than 400 patrols in Afghanistan and Iraq during three combat tours. She's credited with at least 40 confirmed finds of insurgents, explosives and ammunition — and for having no human casualties during her patrols.
The trustees also noted her physical sacrifice. During a 2012 patrol in Afghanistan, an improvised explosive device exploded after Lucca sniffed it out. The blast burned part of her body and led to the amputation of her front left leg.
Lucca follows an eclectic succession of Dickin Medal recipients.
The dispensary has given the award to 32 pigeons (including G.I. Joe, a member of the U.S. Army Pigeon Service during World War II who became the first U.S. animal honored), 31 dogs, three horses and a cat. The common requirement is that they all served with distinction in some military capacity.
Maria Dickin, founder of the dispensary, created the medal program as a way to spotlight the bravery, loyalty and accomplishments of animals.
When Dean Sienko was a general overseeing the Army Public Health Command, he learned that the U.S. military could nominate animals from its ranks. So he asked for recommendations, and Lucca's story kept coming up.
Willingham and Lucca are back at Camp Pendleton. The family's other members are Willingham's wife and two children, plus a newly adopted yellow Labrador retriever puppy.
"Lucca has embraced her mentor role, and the puppy keeps her spry," Willingham said.
Spry for a 12-year-old dog, that is. Willingham said Lucca may have only a year or two more to live. Between her public engagements, Lucca likes to lounge on the living room floor, wrestle playfully with Willingham and shower love on the rest of the household.
Willingham said she was low-key and relaxed during the entire time in London, true to her humble nature.
"But I know this is a special honor," he said. "I'll give her an extra reward. Probably a piece of steak."
Hieu Tran Phan writes for the San Diego Union-Tribune.
ALSO
Burbank to tackle police staff shortage with new recruitment plan
The LAPD dropped him off at LAX 2 months ago. He's still missing
A disproportionate share of blacks and Latinos lose their driver's licenses because of unpaid tickets, study finds
---
The stories shaping California
Get up to speed with our Essential California newsletter, sent six days a week.
You may occasionally receive promotional content from the Los Angeles Times.