Vacant lots, empty homes and dying orchards on bullet train route attract squatters, vandals and thieves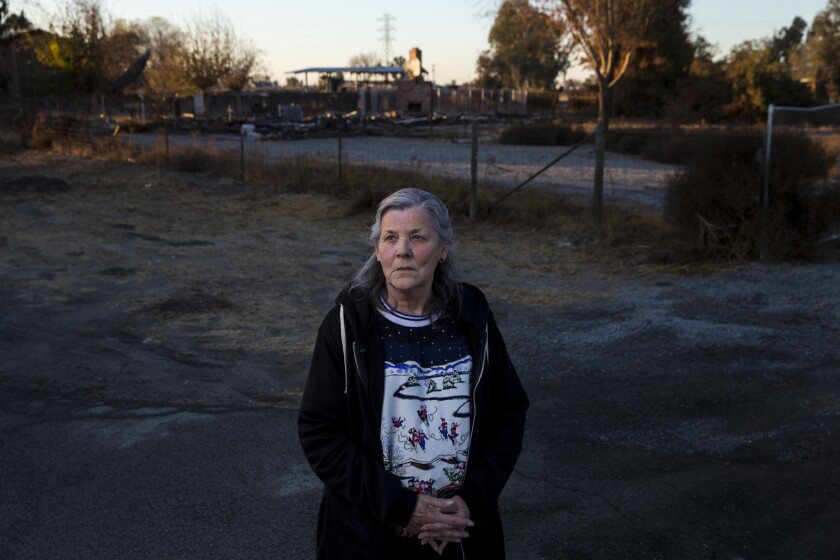 Charlene Hook cherished her home of 30 years north of Corcoran, where pomegranate and pistachio orchards stretched for miles. So choosing to burn it down last year was a difficult decision.
She and her husband had no plans to leave their 2½ acres until the day the state bullet train authority said its rails would go through their bedroom.
Not long after the couple moved out, thieves broke into the house and stripped almost everything of value — even taking the doors off her husband's shop where he restored classic cars. Soon her former longtime neighbor's homes were being burglarized and vandalized.
After all the frustration of losing her home and indignation of it attracting criminals to her old neighborhood, she convinced her brother-in-law, a battalion chief in the city fire department, to burn it down for firefighting practice — and to let her light the match.
"It was hard to burn down," she said. "I thought it would bring me closure."
What happened to Hook is a part of a painful spectacle up and down the Central Valley. The California High-Speed Rail Authority now owns more than 1,272 parcels stretching from Madera to south of Wasco, a 119-mile corridor of abandoned commercial buildings, vacant lots, dying orchards, boarded up homes and construction sites.
Some day it may be the path for a gleaming bullet train system, but today much of it is an eyesore and a magnet for criminal activity that is affecting the surrounding areas. It has put stress on already hard-luck communities that grapple with poverty, homelessness and crime.
The problem that vacant properties create when the government takes private land is not new, but the massive scope of the bullet train project has birthed a problem unprecedented in recent California history: The current construction program is creating a corridor 100 feet or more wide through the Central Valley. Many of the land takes are stuck in protracted litigation, creating a patchwork of property ownership and leaving lots vacant for a long time.
One veteran rail designer who works on the high-speed rail project said it has created "a linear ghetto."
The rail authority does not deny that a problem exists, but says it is doing everything it can to address it.
Fresno Fire Chief Kerri Donis said that since the bullet train authority began acquiring land in her city in 2013, there have been 38 arsons on the properties or adjacent to them. To help reduce the problem, the rail authority allowed the city to use a dozen of its other properties, including the old Internal Revenue Service office building, for firefighting and rescue practice.
The city's statistics do not break down all the causes of the fires, but Donis said they cover the gamut from squatters trying to stay warm at night in fields to structure blazes.
Along the freight train tracks south of downtown is a strip of garbage-strewn lots, graffiti-tagged industrial buildings and burned-out homes. South Fresno's Railroad Avenue was never a garden spot to begin with, but now the rail authority owns the blight.
Asked about the arsons and crime, Fresno Mayor Lee Brand, a longtime skeptic of the rail project, said, "I have no control over it."
Brand said the state's business plan is not following legal mandates, but he is hoping the project will be completed and ultimately provides a new transportation system to connect his city to the state's coast.
"If done right, it can be a catalyst for improving downtown Fresno," he said.
The project has removed some rundown and crime-ridden properties, said Melissa Figueroa, a spokeswoman for the state transportation agency. A strip of tawdry motels was torn down in north Fresno. Some abandoned industrial buildings were removed near downtown. Businesses in many cases moved to better locations.
High-speed rail spokeswoman Lisa Marie Alley said the authority is working with law enforcement officials to control crime and ordering its contractors to secure job sites. She said the authority was aware of a dozen arsons in Fresno.
"High-speed rail has to acquire significant amounts of property to advance construction," she said. "It is unprecedented for the state. We are working with our partners in the California Highway Patrol and local fire departments."
The responsibility for protecting the rail authority's property falls to the Highway Patrol, which operates out of Fresno and Hanford along with several other small cities. Since January 2015, the CHP has received 392 calls involving problems on high-speed rail property, according to statistics provided to The Times under the California Public Records Act.
It has made 58 arrests for trespassing and a smattering of others for vandalism, arson, petty theft and psychiatric detention. A lot of offenders are let off. Capt. Eric Walker, commander of the Fresno-area CHP station, said the arrests are mainly for repeat offenses.
"People are just trying to stay warm," he said. "If it is 30 degrees outside and somebody is holed up in a building, we are just going to tell them to move on. We are trying to have as much compassion as possible."
In some neighborhoods, such as Hook's old street, the criminal activity became such a nuisance that the rail authority hired private security to patrol the area 24 hours a day.
"They took so long to tear it down, dragging their feet," said Hook, who retired from the state prison staff in Corcoran. "It created a big problem in the neighborhood. People were breaking into the houses and stealing wire or anything else they could get out.
"I told high-speed rail, 'Don't mess with me, I work for the state and I know how you people operate.' But the bottom line is, you will never win. They are going to get it one way or another. The governor will never see that train, but people's lives are torn to hell."
Hook was particularly sorry for the problem it left her neighbors.
"Squatters, looters, we have had them all," said Michelle Soliz, who lives in a tidy home across the street that was not taken by the state. "It all started from Day 1 when they boarded up the houses."
Mary Jane Fagundes and her husband left the log home in rural Hanford that they built 32 years ago. After five months, it is still boarded up, along with other homes in the area. Fagundes remembers the day a family showed up with a loaded pickup truck to move into a neighbor's backyard playhouse. The police sent them away.
Officials in Kings County, a center of opposition to the project, say they deal with its impacts on a daily basis.
"Once they buy properties and board them up, the transients come in looking for a place to sleep," said Doug Verboon, a county supervisor. "The state doesn't have a plan that works."
Alley, the spokeswoman, responded, "Those [Kings County] supervisors are the same ones who oppose the project. No matter what we do, they are going to find a problem."
The crime could get worse before it gets better, because the authority has sharply increased the number of properties it will need to build the 119 miles of rail line in the Central Valley.
In late 2014, its documents projected the need for 1,327 parcels. But today that has grown to 1,827, an increase of 500 properties, or 38%.
The rail authority's chief engineer, Scott Jarvis, said the additional land is needed for construction activities along the route and in some cases for contractor-proposed changes that save money.
Jarvis said the rail alignment has not changed since it was certified under federal and state environmental documents, but that rail design — such as the need for viaducts versus embankments — drives the need for additional land.
Construction experts close to the project say the rail authority's environmental consultants years ago should have done more preliminary design before issuing contracts, which would have made clear much earlier exactly how much land it would need and would have allowed for a faster construction schedule.
The rail authority asked construction firms to bid on the project when just 15% of the design for bridges, trenches, viaducts and other structures was completed, far less than the 30% to 60% seen on some big design/build contracts, said the veteran rail designer, who spoke on condition of anonymity because he fears repercussions.
"It is a creation of bad government policy," he said.
The underestimate of land needs also lowered the rail's projected cost by hundreds of millions of dollars.
The rail authority's senior official for property acquisition, Alan Glen, left his job last summer and has not been permanently replaced. Glen did not return phone calls asking for comment.
While the rail authority has increased the number of properties it needs, it is also finding itself with huge amounts of excess property that will sit unused and vacant indefinitely — extending the crime problem.
The rail authority has nearly 400 properties that have surplus land not needed for the future route, meaning the agency will have a long-term caretaker job — mowing weeds, shooing away intruders and dealing with all the nuisances of land ownership.
The surplus parcels were disclosed in a bidding document last year when the authority issued three $1-million contracts for companies to manage its property — including, for example, collecting rent and fixing toilets in homes that were purchased but then leased back to the former owners. A plumbing contractor recently made the rounds in Corcoran.
The surplus land is mainly bits and pieces left over from larger parcels, said Diana Gomez, the rail authority's regional director in the Central Valley.
The rail diagonally bisects many farm fields, creating triangles that are either too small to farm or inaccessible to farm equipment. In other cases, commercial lots were taken that had more land than the state needed. In many cases, there are structures on the surplus land that may have to be demolished.
Gomez said the state hopes to ultimately sell the surplus properties, but it does not yet have a plan or an end date for getting rid of the land.
Land acquisition has been a longstanding and difficult problem for the rail authority. It issued a $1-billion contract to construction giant Tutor Perini in June 2013, but it didn't have enough land for Tutor to start construction in Fresno for almost another two years, a hiatus that has cost the state tens of millions of dollars in delay claims by the company. The same delays have left some homes and commercial buildings standing long after the occupants moved out.
"The vagrancy and the arsons are a consequence of the delays," said Assemblyman Jim Patterson (R-Fresno), a longtime opponent of the project. "They say everything is fine and under control, when obviously it is not."
Alley, the rail spokeswoman, said that before the rail authority can tear down a structure, utility companies have to disconnect gas, water, sewer and electrical lines. The authority also has to conduct environmental assessments to determine whether abatement is necessary for asbestos or other toxic materials before demolishing structures.
Another source of delay is the fight that property owners are putting up. Alley said the rail authority has 530 eminent domain legal proceedings against land owners in the Central Valley, indicating that a high percentage of all the purchases get into a dispute. None have made it through the entire legal process, but many have settled.
A lot of the rural homeowners don't bother with expensive and nerve-racking litigation. Mike Whitlatch, a communications specialist at J.G. Boswell Co. farm, voluntarily struck a deal for his home six months ago, after the authority said it urgently needed it for construction. The home is still boarded up. Whitlatch built the home to accommodate his ailing wife, working late hours after his regular job and on weekends. Though he is not resentful and praises the assistance of Gomez, the Central Valley chief, he vows to never set eyes on it again.
"High-speed rail is a waste of taxpayers money and I don't think it will ever be finished, but I don't have any bitterness," he said. "I learned a lot by building the house."
Follow me on Twitter @rvartabedian
---
The stories shaping California
Get up to speed with our Essential California newsletter, sent six days a week.
You may occasionally receive promotional content from the Los Angeles Times.