Bullet train contractor seeks state compensation for project delays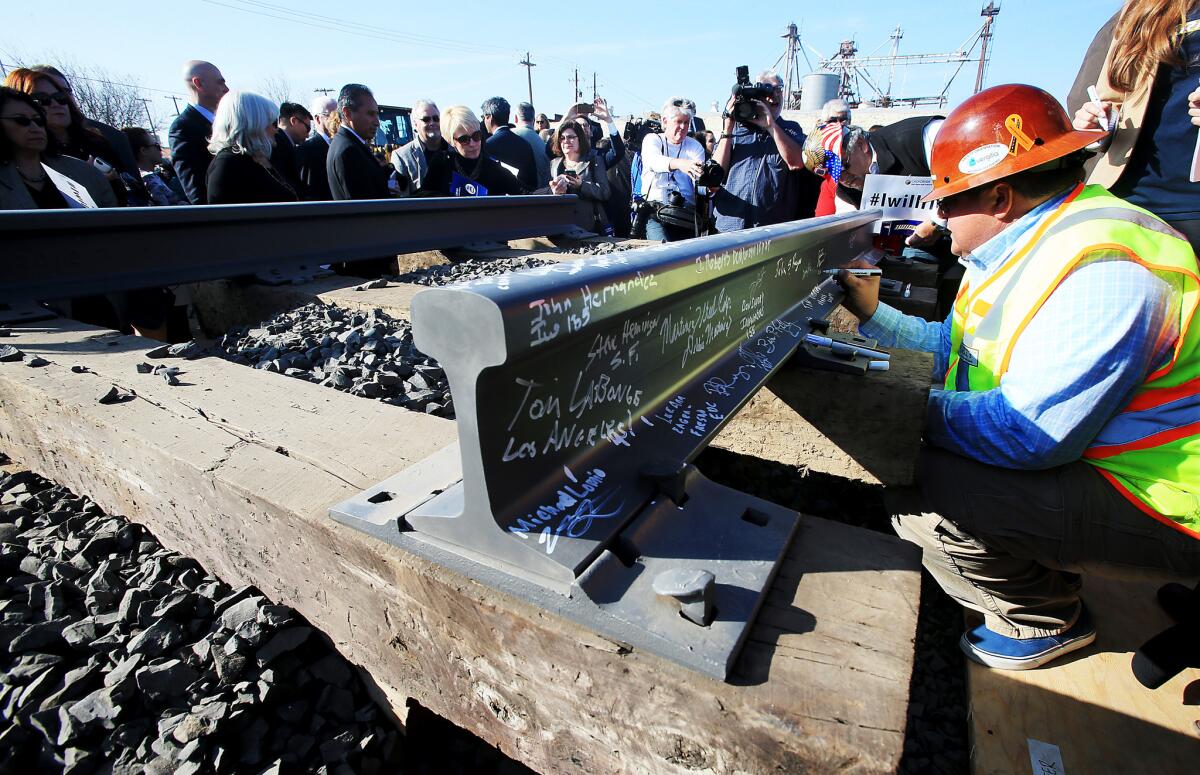 The contractor building the first segment of the California bullet train system said Monday it is seeking compensation for delays in the project and is not likely to start any major construction until June or July — months later than state officials said just weeks ago.
Ronald Tutor, chief executive Tutor Perini, said Monday the Sylmar firm has begun discussing compensation for a 1 1/2-year delay, but so far he has not filed a formal claim against the state.
"We are just talking," said Tutor, whose company leads a three-member consortium. "There is no agreement."
The state has asserted that growing delays in acquiring land for the route will not have any effect on its ability to complete the project on time, even though it is more than two years behind the original schedule and is now facing financial claims by the contractors that have been idled.
About $2 billion of the $3.2 billion in grants for the project from the Obama administration came under the stimulus program for so-called "shovel ready" projects. But the rail project has been hobbled by lawsuits, slow contract negotiations, environmental reviews and, most significantly, by the slow rate of land acquisitions by the California High-Speed Rail Authority.
Nonetheless, the state said Monday it doesn't see trouble ahead.
"We do not believe we are behind schedule," said project spokeswoman Lisa Marie Alley. "We do not believe those will have any impact on the program delivery."
Tutor disclosed the discussions about a potential claim in a conference call with securities analysts last week, when he said the delays were affecting his company's revenues and profits.
Tutor did not say how much he is expecting in compensation for the delays, but construction industry experts said a 1 1/2-year delay would impose significant employee, material and equipment costs.
Under Tutor's $1-billion contract, he is liable for up to $100 million for delays that he might cause the project. Industry experts say the state could face just as much exposure for delays that it causes. Robert Bea, a professor emeritus of civil engineering at UC Berkeley and a member of the National Academy of Engineering, said $100 million is a distinct possibility for such a long delay.
"It is not a good sign," he said. "A year and a half of delay is substantial."
As he has waited for land on which to build, Tutor created a 9-acre storage yard in Fresno packed with idle multimillion-dollar equipment.
Executives at other firms involved in the project estimate that Tutor could have to pay about 140 construction managers for the job at a cost of up to $40 million a year. Material prices, idle equipment, insurance, performance bonds and a wide range of other cost factors could be at issue.
Alley said the state will increase its rate of spending on construction to make up for the past delays. So far, the state appears to be cutting its spending, internal budgets show.
Under federal law, the state must spend all of its federal grants and matching state funds by Sept. 30, 2017, or be potentially forced to give back the federal share. In its most recent "funding contribution plan," the rail agency reported that it had cut its expected construction spending in the current fiscal year by about half and will spend that additional money next year.
The state now intends to spend about $2.2 billion in the fiscal year that starts in July, implying that it will spend an average of $6 million every calendar day. Construction industry experts said they have never heard of any project achieving even half that rate and are doubtful it can be accomplished even with multiple contractor teams working over the 130-mile Central Valley route.
The state is still moving slowly in obtaining land and is facing a growing volume of litigation by property owners.
When the state held a groundbreaking ceremony in January in Fresno, rail authority chairman Dan Richard said the project would begin major construction activities in February or March and no later than April. But Tutor asserted he is not going to start any major construction until this summer. Such miscalculations in the starting date have been made repeatedly over the last two years.
The most serious risk that critics of the project foresee is the loss of federal funds because the state fails to spend grants by the 2017 deadline, coupled with growing claims by contractors over delays and increasingly successful litigation by property owners. Such a combination could leave the project without enough money to complete the 130 miles of track through the Central Valley and leave much of Fresno torn up, they say.
"The risk is that this project is going to run out of money before anything is completed," said Elizabeth Alexis, co-founder of a San Francisco Bay Area group that has long opposed the project. "They knew they could not deliver the land that they had promised Tutor on the day they signed his contract" in 2013.
Richard said in a recent interview that he was confident the authority would be able to spend all of the federal money and not have to return any.
Follow @RVartabedian for more news about the bullet train.
Sign up for Essential California for news, features and recommendations from the L.A. Times and beyond in your inbox six days a week.
You may occasionally receive promotional content from the Los Angeles Times.