A toll crossing between the U.S. and Mexico is slowly taking shape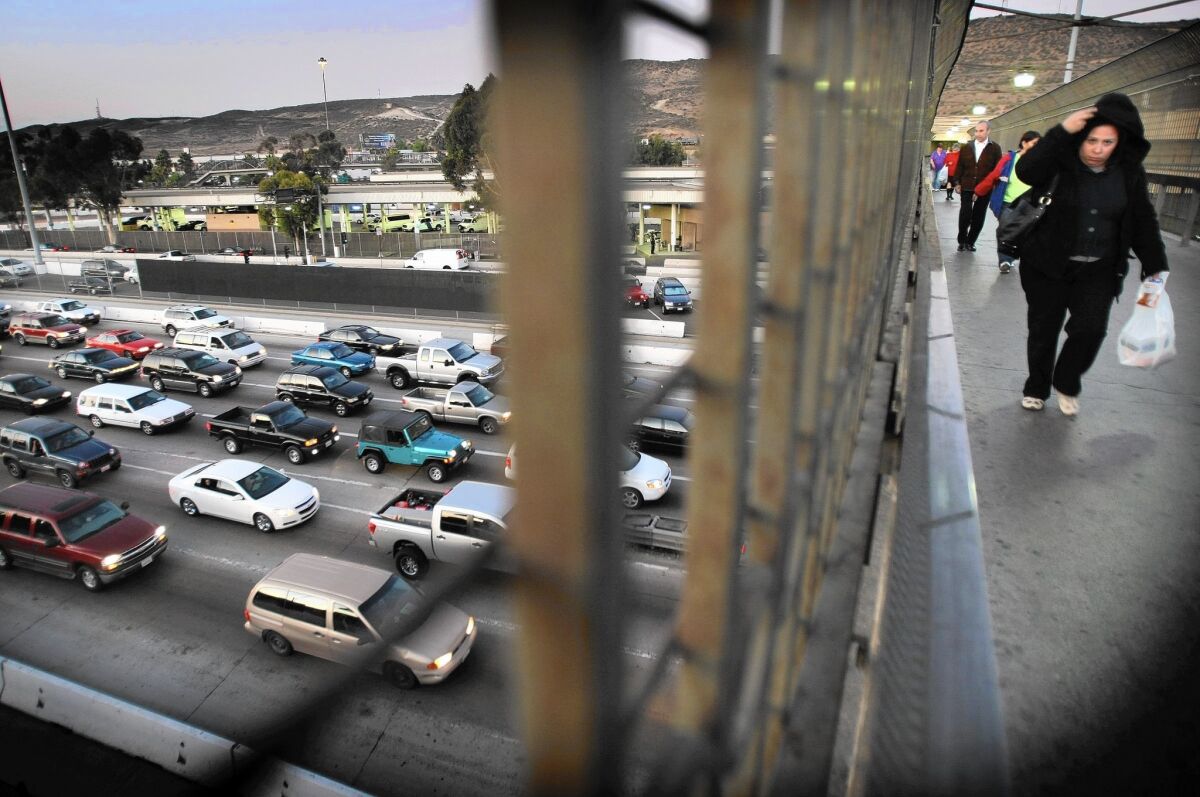 At a time when border waits can stretch for hours, the plan seems almost too good to be true: a major new international crossing between Tijuana and San Diego, where trucks and passenger vehicles would wait no more than 20 minutes to reach the border.
Planners in the United States and Mexico are thinking big as they envision Otay Mesa East, a future port of entry that would serve both passenger vehicles and commercial trucks.
Otay Mesa East would be California's first tolled vehicle border crossing, incorporating binational lane management and toll collection. It would be privately financed through bonds in a plan where San Diego Assn. of Governments, or SANDAG, would play the central role.
Join the conversation on Facebook >>
Though years away from being a reality, the SANDAG vision has grabbed the attention of top federal officials in the United States and Mexico. They are touting the proposal as an example of a "21st century border" promoted by the U.S.-Mexico High Level Economic Dialogue, which seeks to strengthen the two countries' economic and commercial ties.
"We're seeing it as a new paradigm in the way in which Mexico and the United States finance, build, operate and administer border infrastructure," said Marco Antonio Frías, an official with the federal Communications and Transportation Secretariat in Mexico City.
Earlier this month, a pedestrian port of entry, the Cross-Border Xpress, launched operations at Otay Mesa, linking Tijuana's A.L. Rodríguez International Airport with San Diego. Privately built and operated, the facility is the only U.S. crossing that connects directly to a foreign airport, offering ticketed airline passengers who pay a toll a chance to cross faster.
Next month, U.S. and Mexican federal officials are preparing for another first on Otay Mesa: the opening of a joint inspection facility for fruit and vegetable shipments where customs officials from both countries are preparing to work side by side. The facility is in Tijuana, near the Otay Mesa commercial port of entry.
For Mexico, the Otay Mesa East port of entry project is "the most important project in the bilateral agenda on border infrastructure," Frías said.
For now, nothing in the landscape of eastern Otay Mesa hints at this vision that has slowly been taking shape in low-key discussions and planning documents. In San Diego, a flat expanse of undeveloped land stretches to Otay Mountain. Across the border, boxlike factory structures, storage yards and small makeshift houses of Tijuana's outlying colonias press against the U.S. border fence.
It's the need for a third crossing between Tijuana and San Diego and the scarcity of federal funds that are driving plans for the future port. According to SANDAG, the aim is to build 10 northbound commercial vehicle lanes, doubling the region's trade capacity. It would also include 10 northbound passenger vehicle lanes, with the option of converting lanes in both categories depending on demand.
Last year, more than $39 billion in goods passed through Otay Mesa, and SANDAG expects the volume to steadily increase in coming years. Even with the $741-million expansion and redesign of the San Ysidro Port of Entry, which is scheduled for completion by 2019, the expected growth of the region will require more border infrastructure for passenger traffic as well.
"For the first time, we're not going to the federal government and saying, 'Hey, where do we get money for this new border crossing?'" said Gary Gallegos, executive director of SANDAG. "We might grow really old waiting for the federal government to solve our problems."
Otay Mesa East is a plan that has taken years to evolve — and is continuing to take shape through discussions among a host of federal and state agencies from both countries. Locally, SANDAG has been working closely with the California Department of Transportation, or Caltrans, because a planned toll road, state Route 11, is key to the overall project.
"This whole project is based on the value of time for each individual," said Mario Orso, the Caltrans corridor director. "We have learned that a border crossing cannot be created as an island. It's a system of border crossings with their companion transportation facilities."
The idea for a third border crossing dates to the 1990s, but it gained traction following a border-wait-times study by SANDAG that found inadequate infrastructure on the U.S.-Mexico border "cost the U.S. and Mexican economies an estimated $7.2 billion in forgone gross output and more than 62,000 jobs in 2007."
SANDAG found a supporter in Denise Moreno Ducheny, then a state senator, who agreed to sponsor Senate Bill 1486, the Otay Mesa East Toll Facility Act, aimed at creating a financial framework for the project. The legislation gave SANDAG the authority to build a toll road extension to the border, issue bonds and seek private investment funds. The measure became law in October 2008. The following month, a presidential permit was granted for the project.
Interested in the stories shaping California? Sign up for the free Essential California newsletter >>
"Everybody talks about building a 21st century border, but this is in fact the first real 21st century border facility," said Ducheny, now a senior policy advisor at UC San Diego's Center for U.S.-Mexican Studies. "The same thing that makes it exciting, its innovation aspect, is what makes it challenging."
The estimated price tag is about $900 million — with the bulk of it, about $700 million, on the U.S. side, where the facilities would include a new California Highway Patrol inspection station. The estimate also incorporates the cost of access roads on both sides of the border.
Authorities from both countries said they are working on acquiring land for the facility. U.S. planners are moving forward on another key component — developing accurate border wait time measurements so that users can decide whether it's worth their while to pay the toll at Otay East.
A SANDAG study last year of the project's economic viability projected a median toll of $2.35 for passenger vehicles and $15.45 for commercial vehicles. The opening date hinges on many factors, but planners are hoping to see the project underway by 2018.
Next month, Caltrans intends to open a 1 1/2-mile stretch of State Route 11 that connects to State Route 905, which connects Otay Mesa to the 5 and 805 interstates. A second stretch of State Route 11, connecting to the future Otay East port of entry, would not be built "without knowing that the port of entry is coming," Caltrans' Orso said.
Dibble writes for the San Diego Union-Tribune.
Twitter: @sandradibble
ALSO
In downtrodden San Bernardino, immigrants find a place to start
For Sikhs, often mistaken as Muslims, it's 'a hostile time, a scary time'
L.A. County jail inmates were handcuffed to a wall for hours on 'potty watch'
The stories shaping California
Get up to speed with our Essential California newsletter, sent six days a week.
You may occasionally receive promotional content from the Los Angeles Times.