After deadly Camp fire, Northern Californians open their homes to evacuees
Reporting from Los Molinos, Calif. —
The day of the Camp fire, Gina Muse got a voicemail and a few texts from a friend, asking: "Can you take in a family of six?"
Muse, who works as a counselor for the California Department of Rehabilitation, is used to helping people. But she wasn't sure she was up for the task this time.
It had only been two months since she moved from Chico to a 1,500-square-foot house in the Los Molinos countryside. The 51-year-old had moved to Tehama County for peace and quiet, and she hadn't even unpacked.
Muse said she prayed. "What am I supposed to do?" she asked. The answer came quickly. She called her friend back half an hour later. "Yes. Give them my address."
In the aftermath of the deadliest and most destructive wildfire in state history, ordinary Californians are opening their doors and welcoming in strangers who have lost everything. Across the region, homeless fire evacuees have been invited to live in spare bedrooms, sleep on couches or park their RVs and trailers in backyards and driveways.
Often, these strangers are finding each other online, via social media posts and websites that have sprouted up to place evacuees with people committed to sheltering them.
Created by the North Valley Property Owners Assn., CampFireHousing.org has hundreds of listings from people offering temporary, short-term and permanent housing, often at no cost.
Airbnb's Open Homes program, where hosts can offer fire victims free housing on a temporary basis, has helped accommodate about 700 people in Northern California, according to a company spokesperson.
The outpouring of generosity has come amid a severe housing crisis that existed even before the Camp fire but has been worsened by the influx of tens of thousands of residents who evacuated the towns of Paradise, Concow and Magalia. Hotels are full, the rental market is virtually nonexistent, and scams attempting to take advantage of the desperate have proliferated. The worst of human nature is on display — but so is the humanitarian spirit.
"It seems like every other person I talk to is living with someone or has someone living with them," said Kyle Abraham, who listed his own property on CampFireHousing.org. "I know people who have multiple families in their home, multiple trailers on their property," he said. "And it's really cool to see."
Abraham and his wife, Marek, are hosting two Paradise residents. Rose Lucas, 62, and her 23-year-old daughter Colleen arrived a little over a week ago and have been living in a travel trailer in the couple's backyard.
Rose lost her rental home and almost all of her belongings in the fire but was able to keep her job as a nanny. Colleen's house was spared, but her work at a Paradise preschool ended when the families it served fled town. The Lucases have a key to the house and the Abrahams' word that they can stay as long as they need to.
"I think we'll make it a family in some ways," Rose said. Overwhelmed by the couple's generosity, she is already looking for ways to be useful. "Like I picked up the mail today. I might pull a few weeds."
There were some in the Abrahams' circle who were leery of their decision to allow strangers to move in.
"People were like, 'Oh really, that doesn't make you nervous?'" said Marek Abraham. But she and her husband readily admit they are the trusting sort. They both work at Enloe Medical Center — she is an emergency-room nurse, he is a physician assistant — and the urge to help people in crisis is practically second nature. Even now, they still feel as though they aren't doing enough. "This feels so easy," she said. "It doesn't feel like we've done anything."
"Well, it's huge to us," said Rose.
In Capay, a rural area of Butte County just west of Chico, Rebekah McCorkle surveyed her 10-acre ranch and decided to get to work.
As a general operations manager for a real estate company, McCorkle understood the effect an influx of wildfire evacuees would have on the housing market before most could see it coming. She knew many Paradise residents were retirees on fixed incomes that wouldn't go far in Chico — she had family members among them.
First, she and some friends laid down gravel to create a pad for RVs, then she listed her property on CampFireHousing.org. Her cousins, a couple in their 70s whose home burned down, arrived first. Then she got word that a young couple with a 10-year-old son needed a place to put their camper, so she raised her hand. She figures she has room for more.
"Every day, I've gotten calls," she said. "People are just trying to figure out what they're supposed to do. They need options. This gives them a Plan B."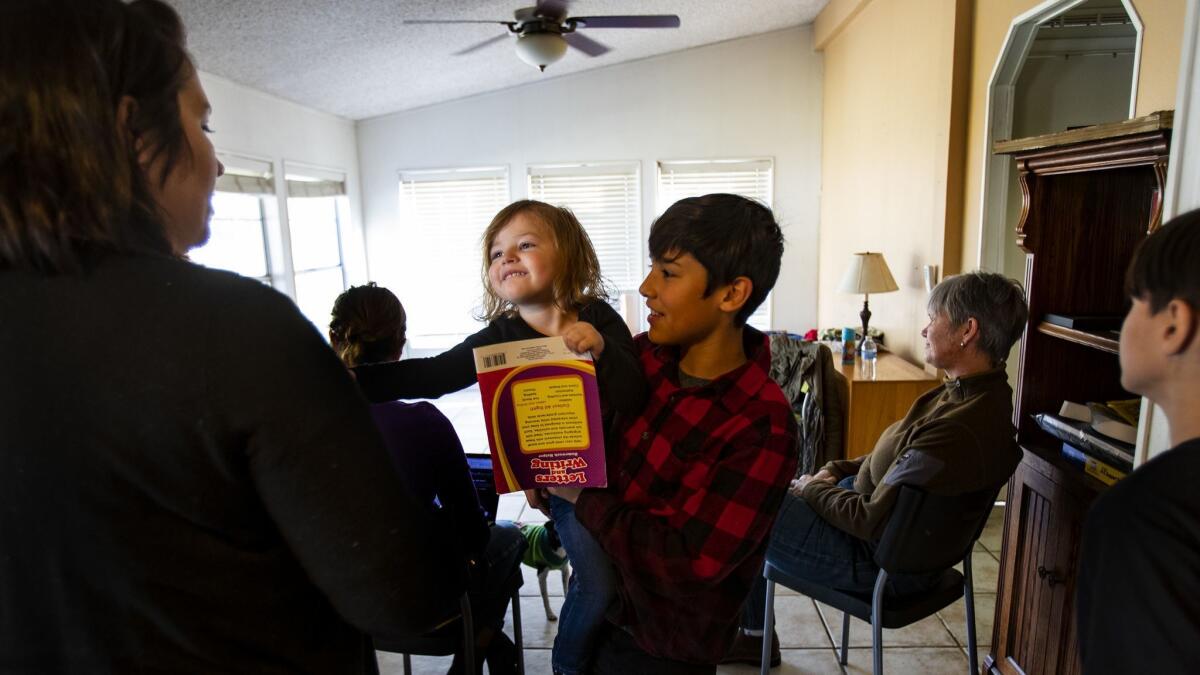 Hours after Gina Muse told her friend yes, Jeff Wood and Desiree Kilpatrick, along with their four kids and Chihuahua-mix Dolly, moved in with her.
By then they were almost certain that their mobile home off Bille Road had burned. They had driven through a funnel of flames and spent hours in a Walmart parking lot waiting to reunite with friends.
Asking for help is hard for Jeff Wood. He's good at overcoming obstacles; In the past four years, he lost a job, got evicted and experienced the death of his dad. He knew Desiree and the two boys, 10-year-old Colton and 11-year-old Gage, were tough. They would be able to sleep in the car for a few days. But there was also Ronin, only 7 weeks old, and 2-year-old Willow. So here he was, at a friend of a friend's place.
The strangers warmed to each other quickly. On their second night together, they had a big spaghetti dinner. Muse, used to living alone, was at first worried about noise. But they're a quiet, considerate family. The boys take out the trash, rake leaves, stack wood. Willow loves to pet the horse, Gracin. Muse taught Gage how to ride the lawn mower.
Jeff Wood spends half the day working as a production analyst for a solar company in Chico and the other half filling out FEMA applications and searching for housing. The couple have been outbid repeatedly. They were almost ripped off by someone requesting a deposit for a home that, it turned out, had already been occupied.
Muse has helped them look for housing, too. She's stopped at shelters to pick up clothes for the kids and diapers for the baby.
Jeff Wood notes that he is not quick to open up to people. His circle of loved ones is small. But Muse is family now. She'll be getting Christmas cards for years, he said.
"We're used to seeing all the bad things in the world, and then you meet people like Gina," he said as he bottle-fed baby Ronin in the living room. Willow climbed onto Muse's lap with a picture book.
For Muse, it has been a crash course in building an unexpected friendship, and in opening her heart and home to strangers.
"It's worth it," she said. "I feel humbled and blessed."
Twitter: @annamphillips
Sign up for Essential California for news, features and recommendations from the L.A. Times and beyond in your inbox six days a week.
You may occasionally receive promotional content from the Los Angeles Times.