Call it the Southern California drought. Rain and snow end Northern California water woes
As a series of storms have hit Northern California this winter, the drought picture there is improving.
What was once a statewide drought this week became a Southern California drought.
A week of powerful storms has significantly eased the state's water shortage, pulling nearly all of Northern California out of drought conditions, according to the U.S. Drought Monitor.
The report underscores what experts have been saying for several months. As a series of storms have hit Northern California this winter, the drought picture there is improving, but water supply remains a concern in Southern California and the Central Valley.
More than 40% of the state is no longer in a drought, according to the data released Thursday.
Perhaps most striking, a giant swath of the state was declared to have no signs of abnormal dryness at all. The percentage of the state that fell into that category nearly doubled from 18% last week to almost 35% after the storm.
Still, the drought monitor's map and its array of colors — from white to dark red — provide a stark illustration of the disparity between hydrologic conditions in the north and south.
RELATED: Is the great California drought over?
A Guernville resident walks down steps toward the foodwater surrounding his home.
(Justin Sullivan / Getty Images)
A portable toilet is submerged in floodwaters at a vineyard in Forestville.
(Justin Sullivan / Getty Images)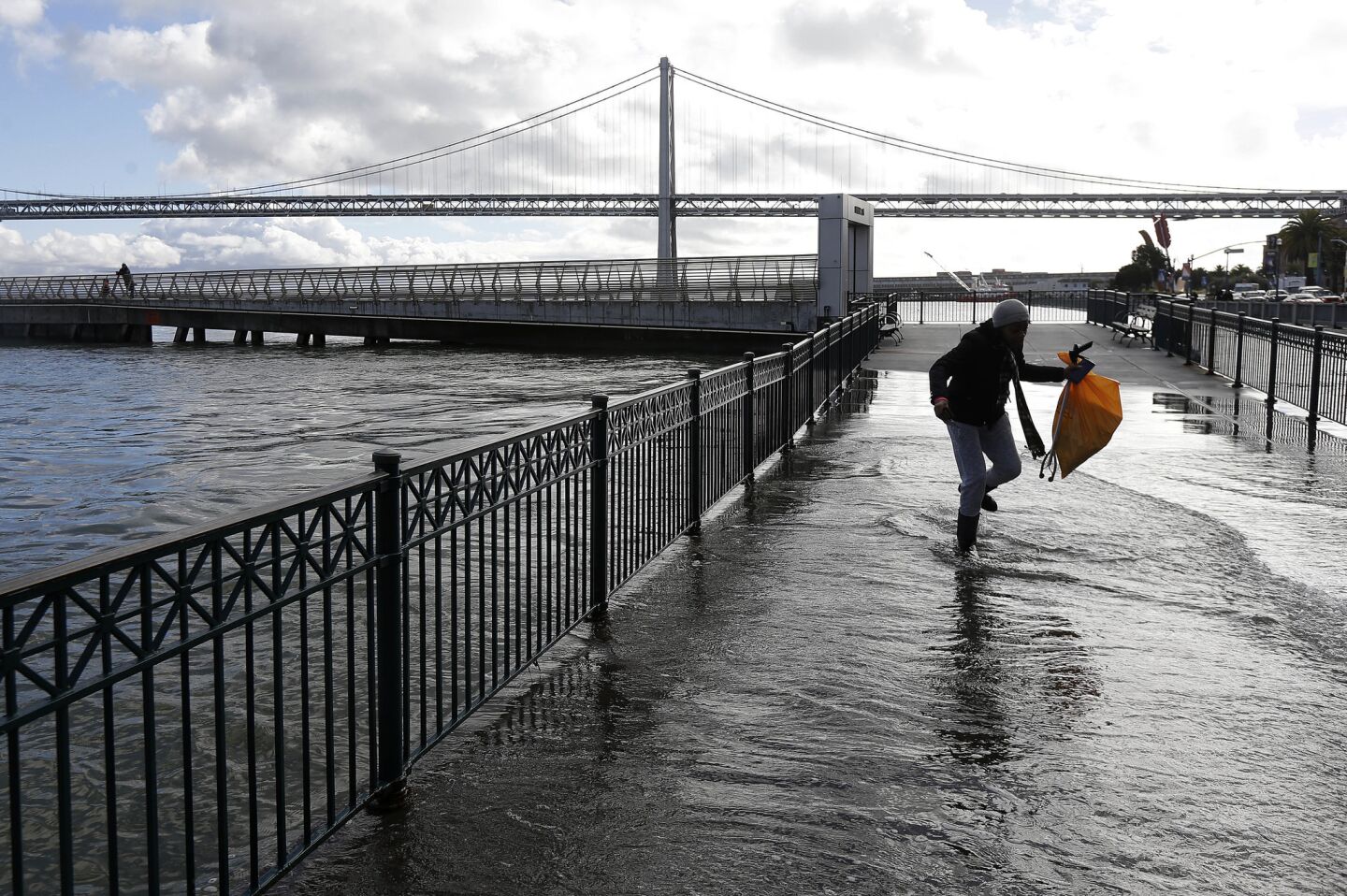 A woman walks through water from a king tide that flooded onto the Embarcadero in San Francisco on Wednesday.
(Jeff Chiu / Associated Press)
Storms drenched the San Francisco Bay Area and created blizzard conditions in parts of the Sierra Nevada over the last week. They dramatically boosted the Sierra snowpack — a key source of water for California — to 161% of normal and helped rectify the state's water shortage.
But the weather systems also carved a path of destruction. The storms likely caused at least four deaths.
Since Oct. 1, total precipitation in the Sierra Nevada has been soaring at rates similar to the wettest winters in the modern record: 1982-83 in the northern and central Sierra and 1968-69 in the southern Sierra.
Lake Shasta, the state's largest reservoir and a major source of water for San Joaquin Valley agriculture, is 82% full and releasing water to create more storage room. Oroville, which supplies the State Water Project, is 77% full and also making releases.
At present, conditions are considered normal in almost all of the state north of the Bay Area, according to the new federal drought report. (Authors use measurements of climatic, hydrologic and soil conditions and consider reported impacts and observations to create the map.)
Thursday's assessment was less rosy for Southern California.
Los Angeles and Orange counties, along with much of Central California, are locked in what officials classify as "extreme drought" — or worse.
Chunks of Ventura and Santa Barbara counties remain in "exceptional drought."
Lake Cachuma, a barometer of Santa Barbara's severe water shortage, has received relatively meager rainfall since the start of the month, and as of Thursday, it was filled to only about 11% of its historical average.
Officials said it held only a bit more than 8% of its capacity.
See every week of California's multi-year drought here »
"The drought has not let up on the Central Coast," said David Matson, assistant general manager of the Goleta Water District.
Matson said Santa Barbara County has gotten about 130% of its normal rainfall, which has increased the moisture in the soil. The rains in the north will also feed the State Water Project, which the district now relies on for about half of its supply.
Still, he noted that Wednesday marked the first day this winter that Lake Cachuma received inflow — and even then, it was a meager 180 acre-feet.
"We're optimistic, given that we've had more rain than normal and the ground is getting wet," Matson said. "But until we see appreciable inflow into Lake Cachuma, the drought is going to continue as it has the last several years."
Part of the problem is that the lake is wedged into a corner of a valley shielded by the Santa Ynez Mountains, said Scott Sukup of the National Weather Service's Oxnard station.
Storms typically squeeze out the bulk of their moisture in the hills before crossing over and raining onto the lake, Sukup said.
The Santa Barbara County area would have been downgraded from "exceptional" drought to the less severe "extreme" category had the rain runoff been greater, said David Miskus, who authored Thursday's report.
Drought also continues to plague much of Central California.
For example, New Melones Lake, east of the San Joaquin Valley, has collected more than 180,000 additional acre-feet of water since Jan.1, but it is filled to only about 60% of its average.
"Just because it's raining doesn't mean the drought is solved," said Jenny Rempel, spokeswoman for the Community Water Center, which helps provide water for southern San Joaquin Valley residents in need. "In the Central Valley where we work, communities are still relying on bottled water for drinking and cooking."
Skeptics need look no further than East Porterville, where Rempel said residents are still feeling the effects of a severe water shortage.
"Tulare County is still absolutely the epicenter of the drought," she said. "Even if its pouring rain in the valley, that doesn't mean it's getting to the communities who need it most."
Still, the drought monitor showed that this week's storms did aid many parts of Central and Southern California. And Miskus, the author of the report, said the drought outlook should continue to improve because of this week's rains and additional storms forecast for the next two weeks.
Only about 2% of the state remains in "exceptional drought," compared with 18% last week, the drought monitor reported. A much smaller sliver of Los Angeles County, for example, is classified as such.
Deven Upadhyay, the Metropolitan Water District of Southern California's water resource manager, echoed many state water officials when he told The Times that it was too early to say the drought is over.
"Later this year, we may be able to say that we've really turned the tide," he said earlier this week. "But we're not there yet."
Richard Harasick, senior assistant general manager of water for DWP, said the city does not plan to relax its outdoor watering restrictions.
"We are still encouraging water conservation as a way of life," he said.
Times staff writer Bettina Boxall contributed to this report.
ALSO
Flooding, stranded livestock and at least 4 dead as storms hit Northern California: 'They can't handle any more'
Storm slams into Southern California, bringing flood risk, snow, mudslide warning
Will a surf gang allow the integration of Palos Verdes Estates' waves on Martin Luther King Jr. Day?
---
UPDATES:
4 p.m.: This article was updated with addtional reaction from water managers and nonprofit leaders thrroughout the state.
11:40 a.m.: This article was updated with additional details about Southern California's drought status.
9:15 a.m.: This article was updated with additional drought and precipitation statistics.
This article was originally posted at 7:30 a.m.
---
The stories shaping California
Get up to speed with our Essential California newsletter, sent six days a week.
You may occasionally receive promotional content from the Los Angeles Times.