'Struggling' with LAUSD teachers' strike means starkly different things depending on your income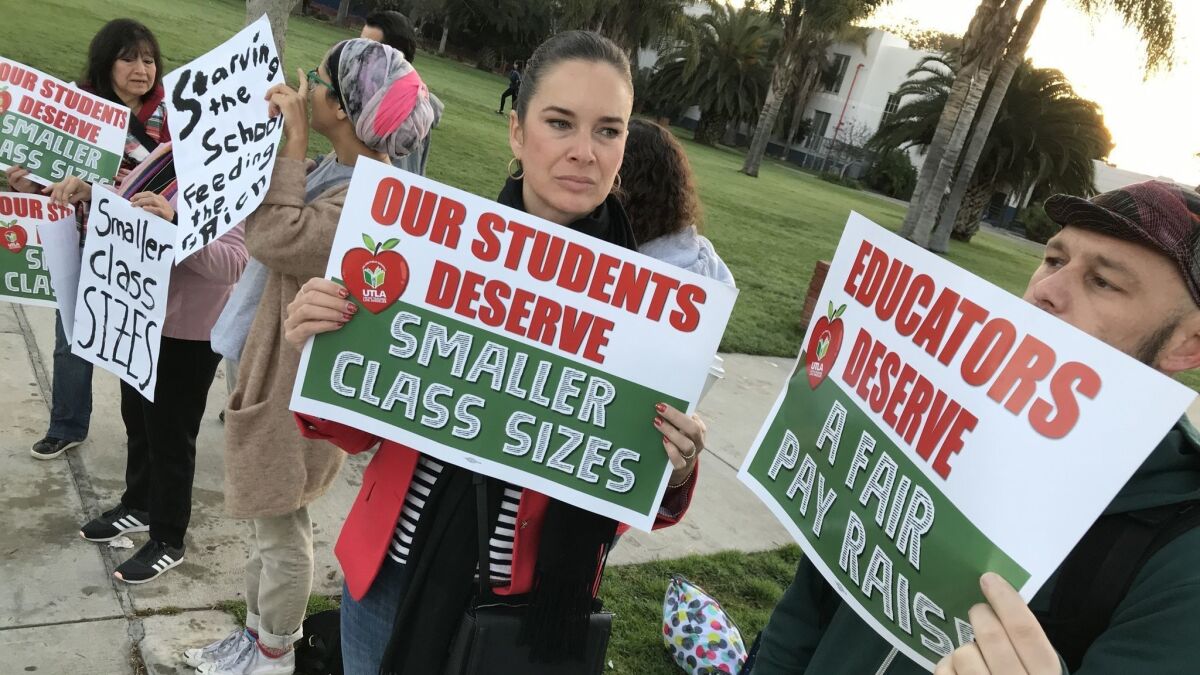 In a good month, Jose Velasco, a painter, and his wife Maribel Cruz, a baker, make about $1,000. They have little left after they pay the rent on their El Sereno apartment.
The thought of possibly having to hire someone to watch their 9-year-old son during a teachers' strike upsets and overwhelms them.
In Pacific Palisades, Shannon Soller, who runs a beauty and skincare business, would be able to work from home to care for her second- and fourth-graders — or potentially count on a nanny. Still, she's struggled to decide whether keeping her kids home is the right thing to do.
"If you send them to school, will that mean you don't support teachers?" she said. "But if you don't send them, each day the school loses money."
In a district as big as L.A. Unified, a massive teachers' strike is sure to cause disruption for its 500,000 students and their families — but more for some than for others.
The nation's second-largest school district includes schools in more affluent areas that can count on tremendous support from parents. But the vast majority of the students it serves are low-income. More than 80% of its students get free or reduced-price lunches.
Twenty-five miles from each other, on opposite ends of the district map, El Sereno and Pacific Palisades are different worlds. Parents in both areas expressed plenty of angst over the complex fight between the district and the teachers union.
Supporters of LAUSD teachers staged a rally to show their solidarity with the educators and UTLA's call for lower class sizes in front of Venice High School. (Brian van er Brug / Los Angeles Times)
Pictures in the News | Thursday Jan. 10, 2019 »
Some parents in both neighborhoods also had not heard about the strike. They included Velasco, 36.
"We didn't know anything about this," he said on a recent afternoon at his son's school, Cesar Chavez Elementary.
Tucked in a cul-de-sac five miles from L.A. City Hall the campus serves El Sereno's large Latino population. About 95% of its students receive free or reduced-price meals.
Residents of El Sereno on average make about $45,000 per year, often working two or three jobs to stay afloat.
Cruz is out the door to her bakery job by 5 a.m. and Velasco works into the evening.
On Monday, the couple said they hadn't received any emails or phone calls from the district or the teachers' union.
When they tried the school office that afternoon, they didn't get far.
"They simply told us they weren't sure if it was going to happen or not because they're still negotiating," Velasco said.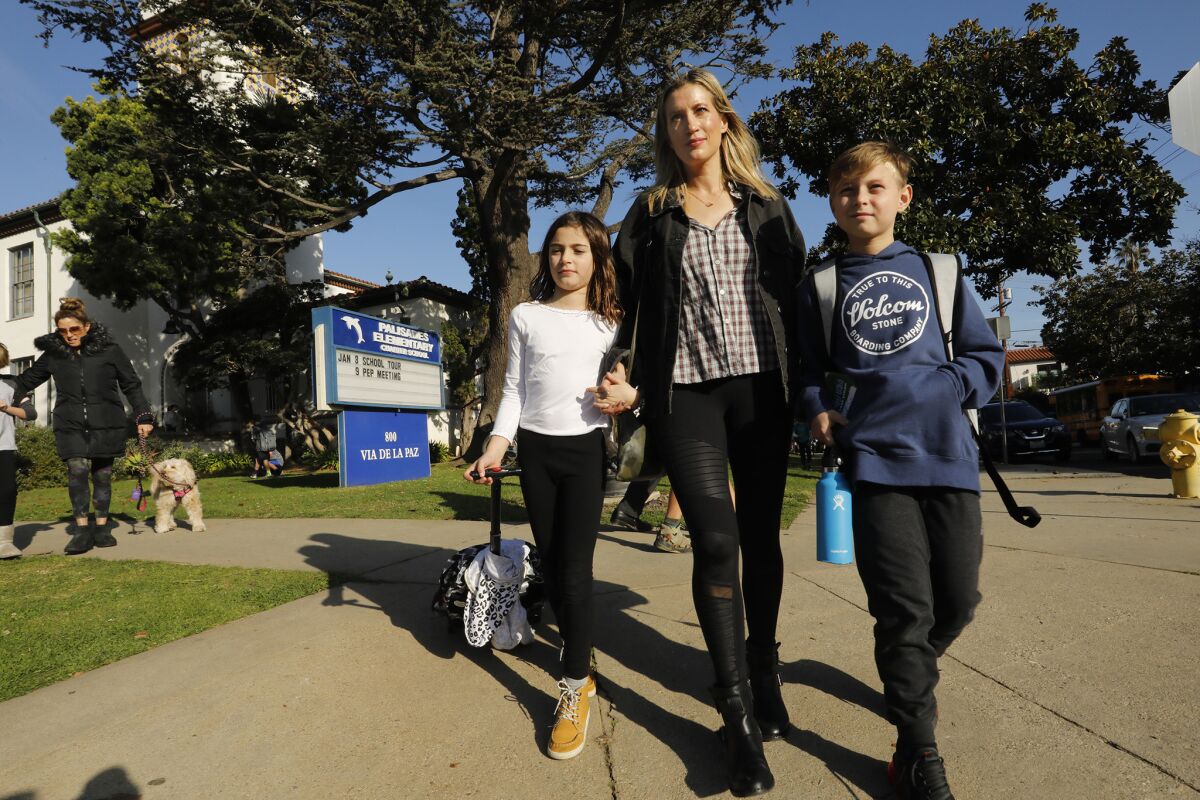 Soller, in Pacific Palisades, has kept up with news of the stalled negotiations over wages and the union's push for smaller class sizes and more nurses, counselors, librarians and teachers. But she said the more she learned from newspapers, the district and school websites and other parents, the more she questioned things — and the greater her dilemma grew.
She said she strongly believes in supporting the teachers, but also understands how precious every dollar is to her children's district-run campus, Palisades Charter Elementary School. Schools get funding based on attendance, so absences can hurt.
The Spanish-style campus is located down the road from little shops that cater to high-end tastes. The area is about 83% white, with a median income of about $168,000.
At Pali, as locals call the school, about 8% of children are on free or reduced-price meals. Parents tirelessly raise funds each year to fill in wherever the school district falls short.
This year donors provided more than $500,000 to help pay for additional teachers, instructional aides and coaches — as well as ballroom dancing, a technology lab and a garden club.
Even so, the school faces plenty of bureaucratic hurdles when it comes to getting things done, Soller said. And the district's budget is crucial to every program.
For Soller, that means keeping her kids' absences to a minimum — which makes the question of the picket line tricky.
As time has gone by, many parents in her neighborhood have picked sides. Some have been making signs for the picket line, planning outings to entertain their kids during a strike, calling on senators and writing op-ed pieces.
On the northeast end of Pacific Palisades at Paul Revere Charter Middle School, Colleen O'Mara-Diamond decided early on to protest with her boys. The single mom thinks it's crucial to support teachers, even if it's inconvenient.
"My mother and aunt were also teachers," she said. "Education is a core value and what teachers are asking for is very reasonable."
The owner of a public relations and marketing business, she planned to take her oldest, a sixth-grader with special needs, to work with her each day. Her youngest, a third-grader at Walgrove Elementary in Venice, will attend a free all-day camp offered by the city's Department of Recreation and Parks.
Her plan would work a couple of days, she said, but if the strike dragged on, she'd be in trouble. And O'Mara-Diamond thinks it could, given what she's hearing from the district.
"The messaging is, 'Everything is fine. The classrooms and schools will be run by administration'," she said. And she thought that might make a strike stretch on.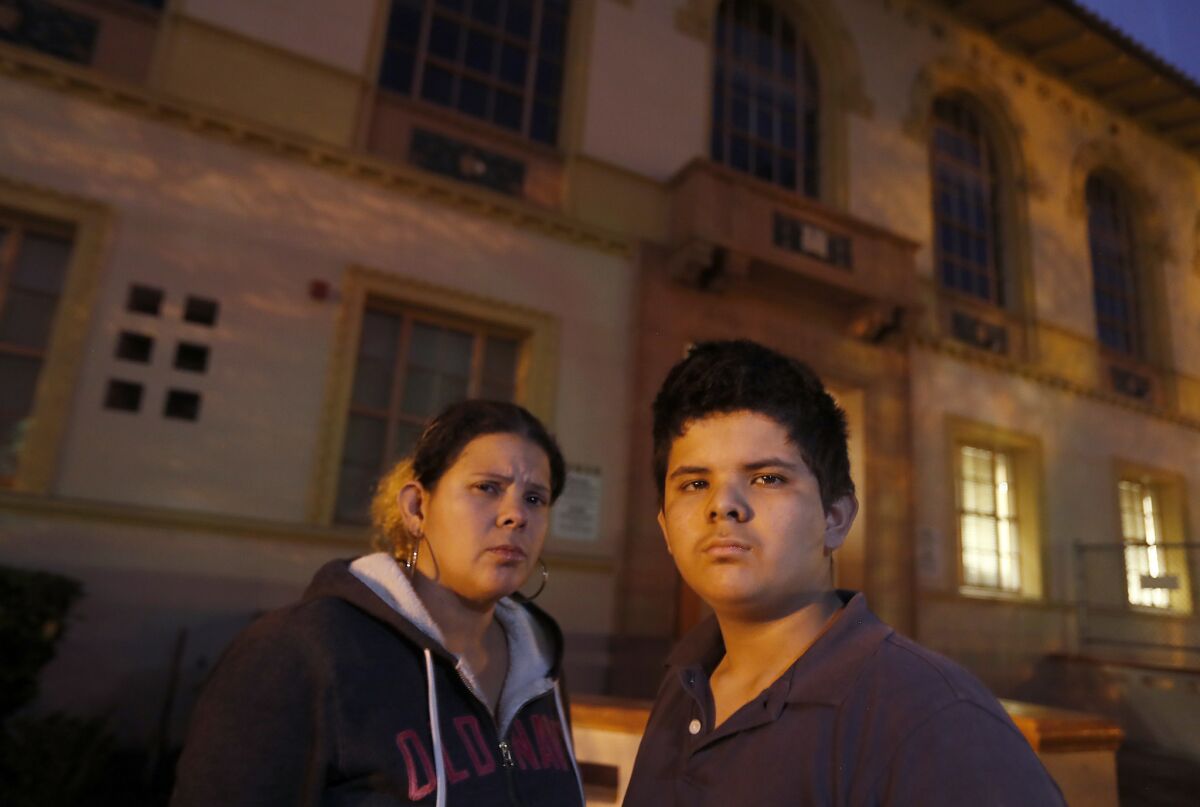 That would be difficult for everyone, but especially in schools in poorer areas such as El Sereno that serve as safe havens, providing the most basic necessities — food, medical assistance, crisis counseling.
In El Sereno, most parents were sympathetic to the teacher's demands, despite how little they knew.
"I owe so much to this school," said Maria Chilin, who has an 11-year-old at Multnomah Street Elementary School. "My son, who was born in El Salvador, learned English here really quickly and they taught him so much."
The cafeteria worker, who also cleans hotels on the weekend, has relied on her husband, Santo Chilin, to keep up with the strike. He's been following the news and attended a big rally in downtown L.A.
In the end, the couple will leave the decision up to their son. If David doesn't want to go to school because his teacher is not there, he will stay home with dad, who is disabled.
Others aren't as flexible — because of work and lack of childcare.
Maria Espinoza, 36, said she can't imagine keeping her son at home, though she's home on disability. Michael, 12, is enrolled at El Sereno Middle School in special-needs classes that are crucial to his learning.
Some mornings, if they miss the school bus, it takes the mother and son up to two hours on two city buses to get to school from their South L.A. home.
Some of Michael's teachers may be on strike. Espinoza isn't sure if the school bus would come during a strike. The more she's thought about it, the more concerned she's grown.
"It's gonna be hard managing," she said, "but I'd rather he get here late than miss class."
esmeralda.bermudez@latimes.com
---
The stories shaping California
Get up to speed with our Essential California newsletter, sent six days a week.
You may occasionally receive promotional content from the Los Angeles Times.