El Niño may trigger floods, famine and sickness in much of the world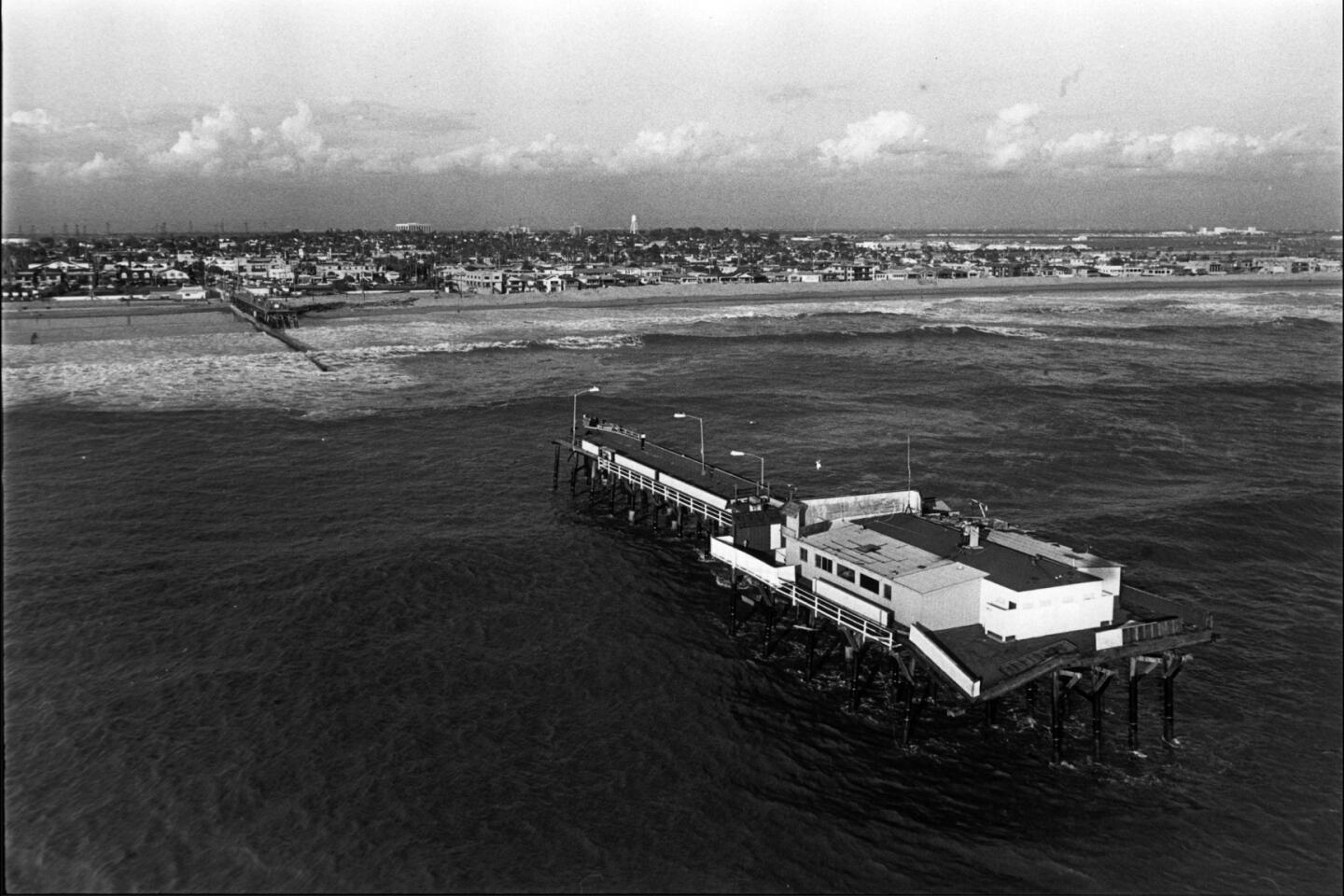 The Seal Beach Municipal Pier was destroyed during the winter of 1982-1983.
(Don Kelsen / Los Angeles Times)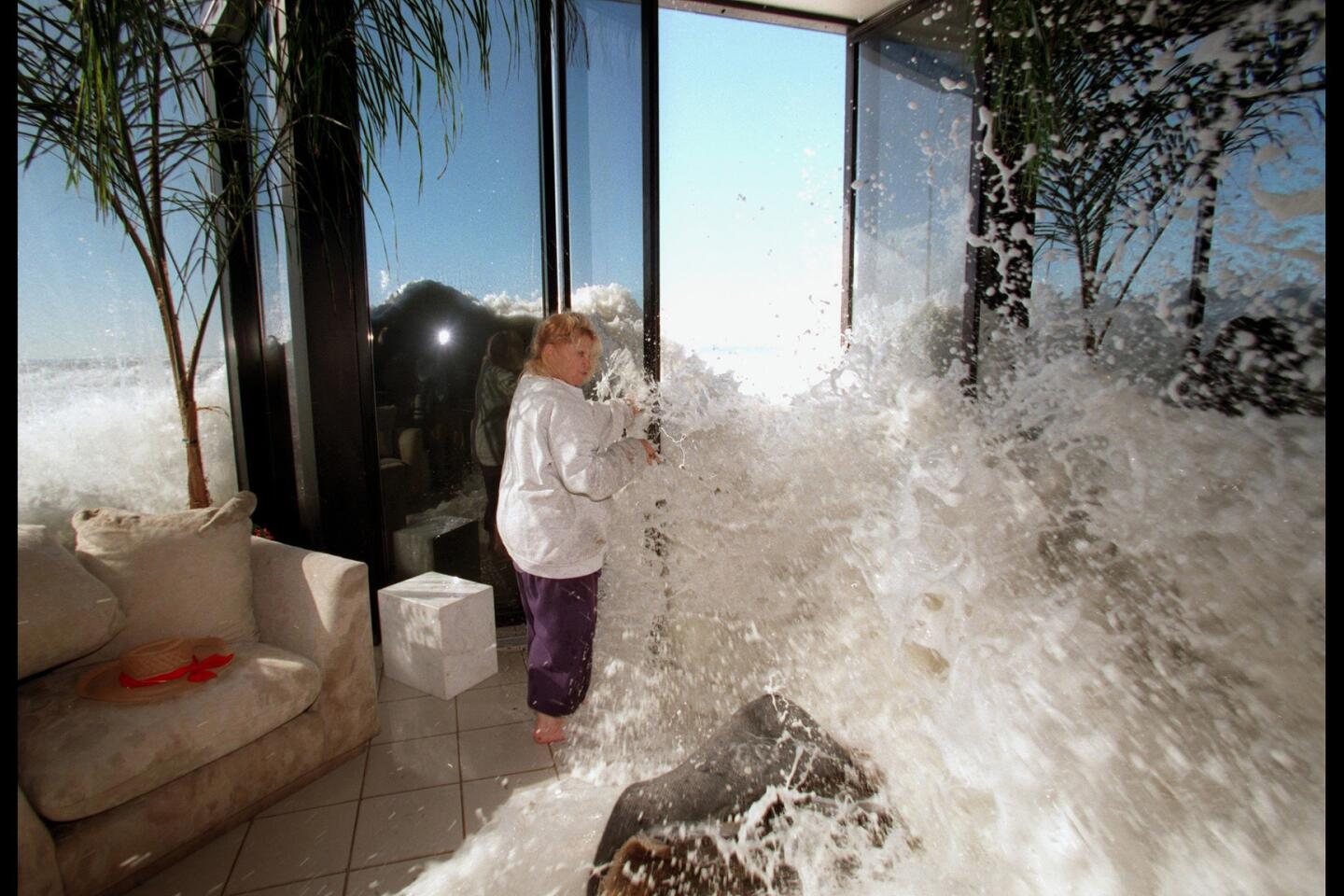 Marilyn Lane tries to shut a door as a wave rushes into her Solimar Beach home during a January 1998 storm.
(Alan Hagman / Los Angeles Times)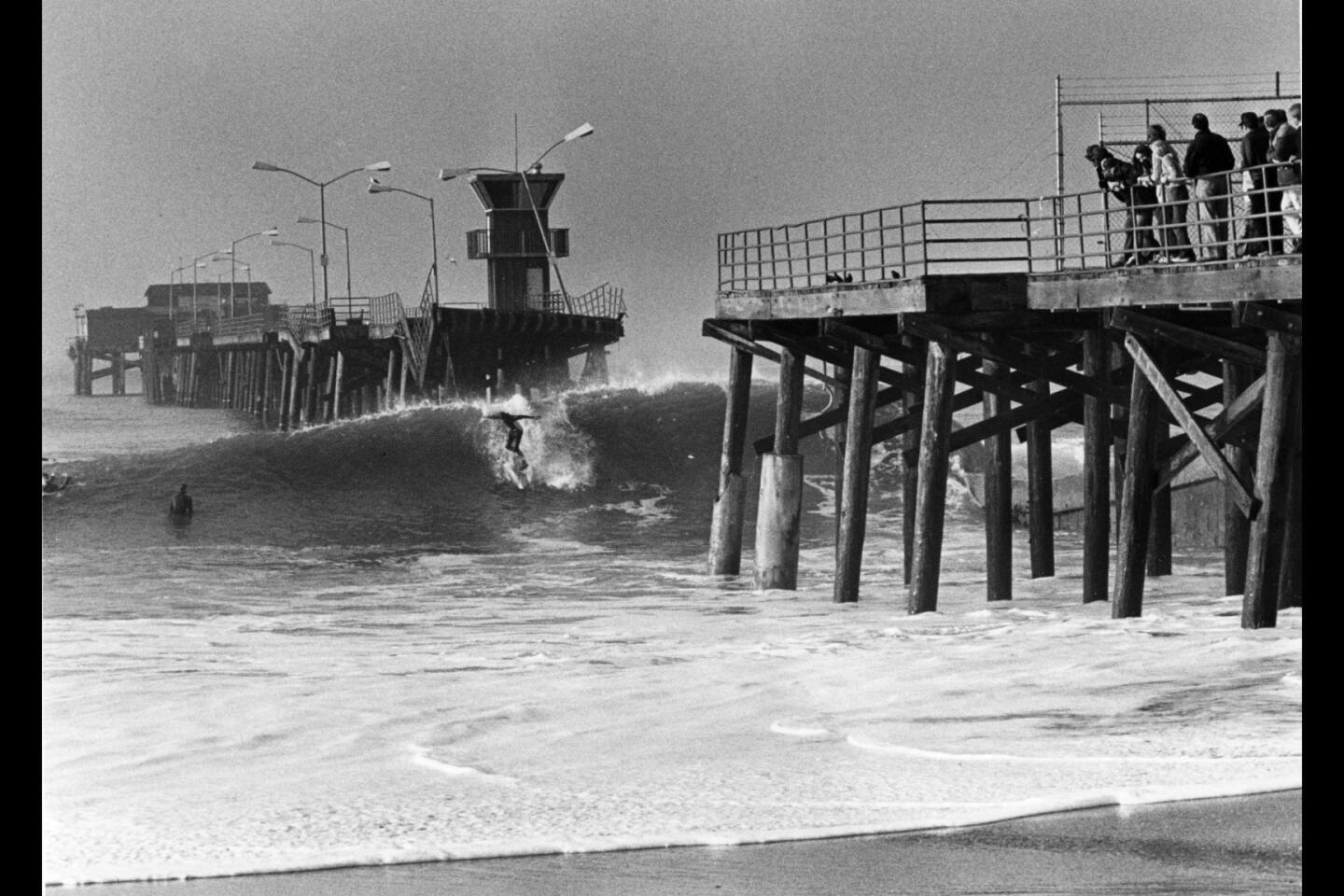 A surfer shoots the missing section of Seal Beach Municipal Pier, washed out by a 1983 storm.
(Cliff Otto / Los Angeles Times)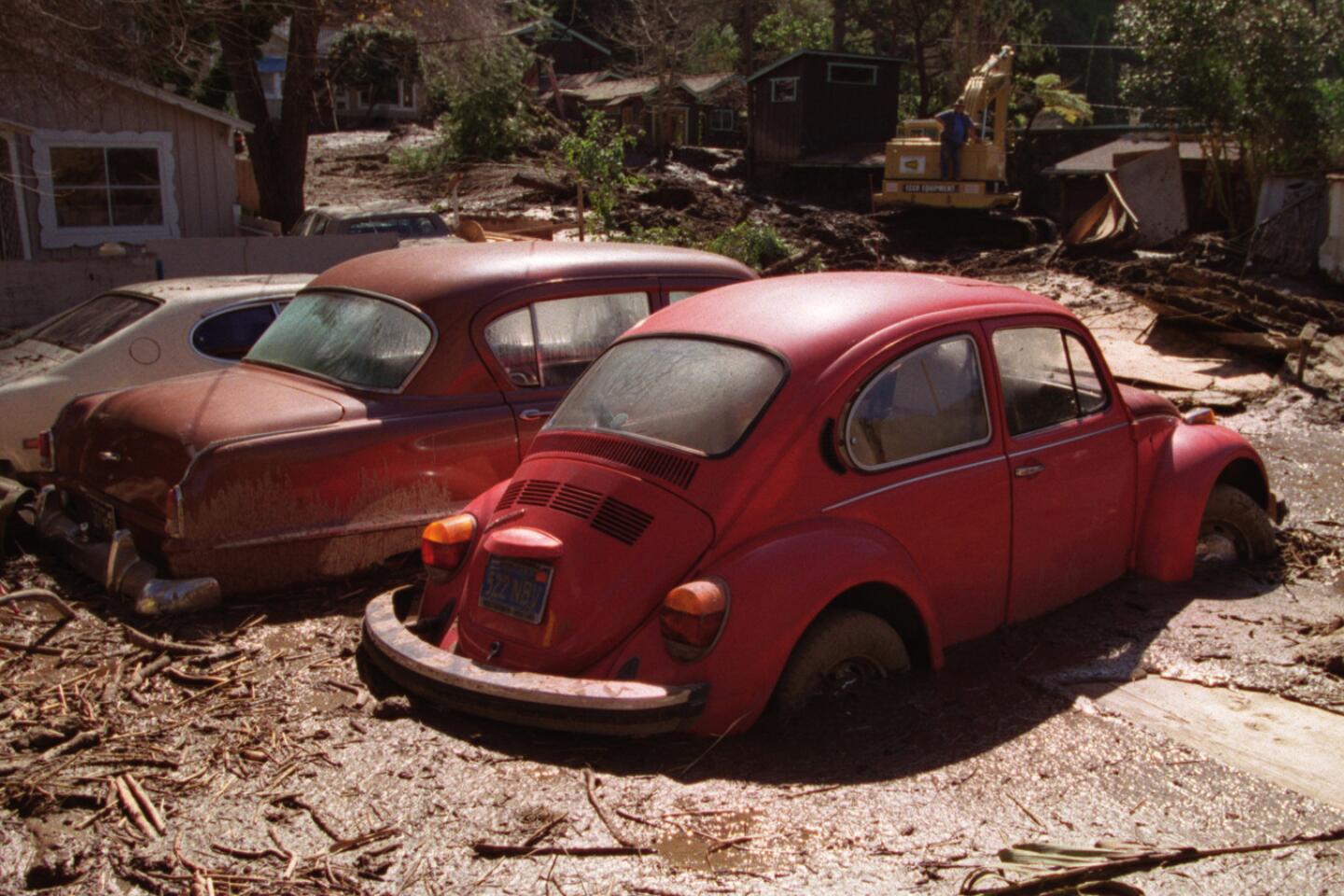 Mudslides after heavy rain destroyed property in Laguna Canyon in 1998.
(Alexander Gallardo / Los Angeles Times)
The Ventura River overflowed after heavy rains in 1998, closing the 101 Freeway for several hours.
(Mel Melcon / Los Angeles Times)
The Santa Monica Pier was wrecked during the winter of 1982-1983.
(Rick Meyer / Los Angeles Times)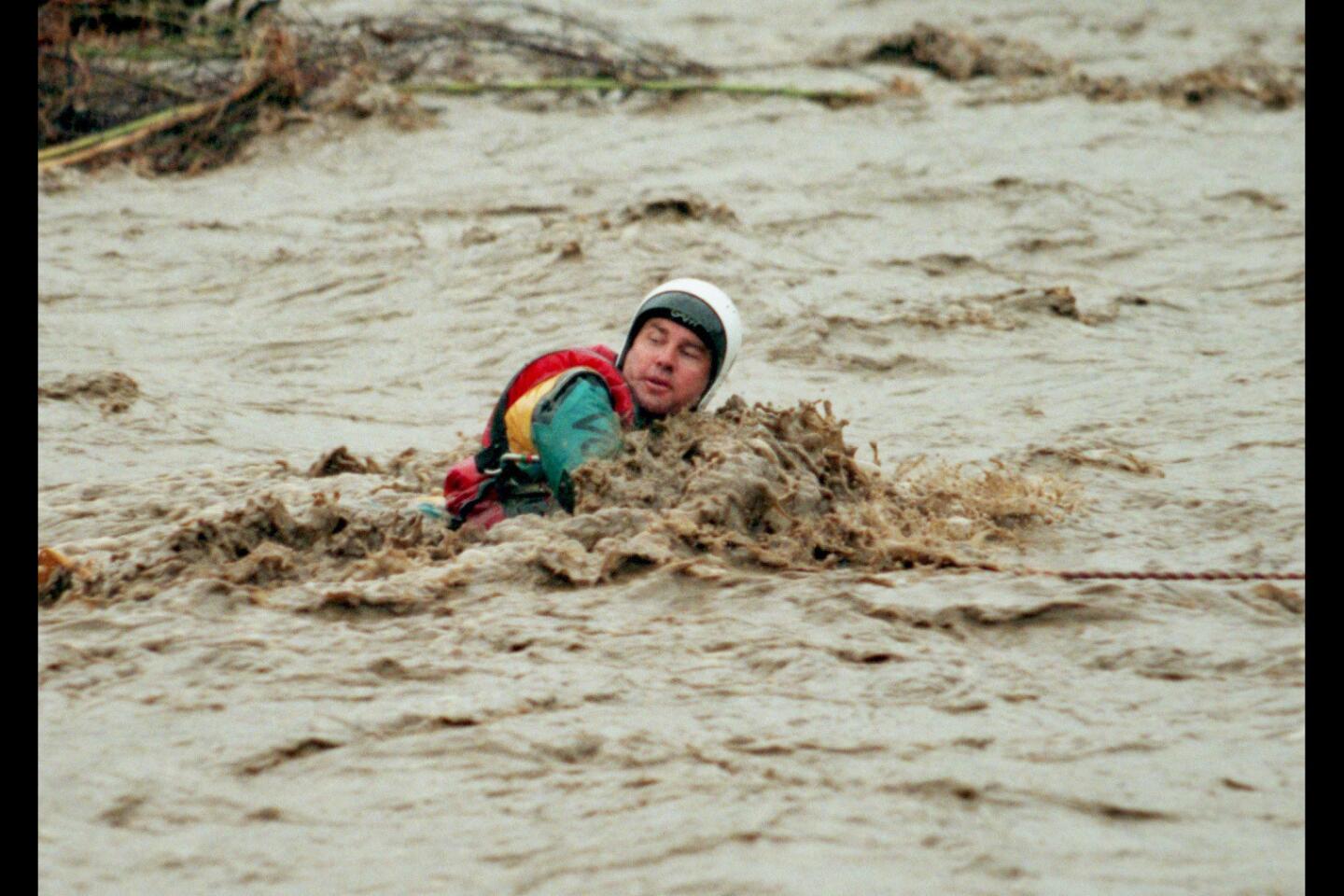 Andy Harvey, a Ventura County sheriff's search and rescue team member, swims to a partially submerged vehicle that washed down the Ventura River during in 1998. The vehicle turned out to be unoccupied.
(Steve Osman / Los Angeles Times)
An apartment building in Ventura collapsed after heavy rains in 1998.
(Spencer Weiner / Los Angeles Times)
A fog of suffocating smoke settles over the Indonesian countryside, sickening hundreds of thousands of people and triggering an environmental crisis.
In Peru, officials abandon plans to host the lucrative Dakar Rally and prepare instead for torrential rains and devastating floods.
And in Ethiopia, crops perish for lack of seasonal rain as United Nations officials warn of imminent famine.
Although many Californians hope forecasts of a "Godzilla" El Niño will deliver drought-busting rains this winter, mention of the mysterious climate phenomenon inspires dread in much of the world.
Its long-distance, or teleconnected, effects are so great that some researchers argue it doubles the risk of war in much of the Third World.
"It's a spawner of hazards everywhere," said El Niño researcher Michael "Mickey" Glantz, director of the Consortium for Capacity Building at the University of Colorado, Boulder.
"Some people like to say it has positive aspects, but generally speaking it's doom and gloom," said Glantz, who operates the website elninoreadynations.com. "It's more damage than success."
Periodic warming of the Pacific Ocean has occurred for thousands of years, but only recently have scientists come to appreciate its global reach, or even recognize its telltale signs.
In its simplest sense, El Niño's effects are like placing a large stone in a shallow river, according to David Pierce, a climate researcher at the Scripps Institute of Oceanography. "It causes ripples that run far downstream," he said.
Normally, the hottest ocean surface temperatures on the planet are found in the western Pacific, near Indonesia. During an El Niño, however, these warm, rain-generating waters slide east, creating conditions for large storms.
This can also alter the path of powerful jet stream currents high above the Earth, disrupting seasonal weather patterns in profound ways.
Seasonal rains can fail to arrive in parts of India, Africa and Southeast Asia, killing crops and stoking wildfires. In parts of North and South America, a succession of pounding storms can roll over the landscape, as if delivered by an atmospheric conveyor belt.
Interested in the stories shaping California? Sign up for the free Essential California newsletter >>
In Southern California, El Niño is best known for traffic-halting downpours, overflowing rivers and debris flows. Yet El Niño's ability to steer rain away from agricultural fields has earned it the greatest infamy.
"It's the intense drought that causes the greatest human casualties and crop devastation," said writer and historian Mike Davis, author of "Late Victorian Holocausts: El Niño Famines and the Making of the Third World."
In fact, a series of catastrophic famines that killed more than 30 million people in India and China in the late 19th century caused researchers to first take note of the phenomenon we now call El Niño.
Using his Indian clerical staff as a virtual human computer to parse weather data, British mathematician Sir Gilbert Walker correlated recurring monsoon failures and drought to seesawing atmospheric pressure in the eastern and western Pacific.
Today, U.N. officials insist the world is better prepared than ever to deal with the consequences of El Niño, yet they still warn that 11 million children are at risk from hunger, disease and lack of water in eastern and southern Africa alone.
The U.N. World Meteorological Organization co-hosted an international science conference last week at Columbia University to boost preparedness.
"This El Niño is going to tell us a lot about the state of food security across the globe," Davis said.
Drought causes other dangers as well. In Indonesia, slash-and-burn clearing of agricultural land has given rise to rampant forest fires. These massive fires, which have occurred during every El Niño since 1982, have sickened hundreds of thousands of people and killed 19 already this year.
The smoke, which has spread to Malaysia, Singapore, the Philippines and Thailand, has also released enormous quantities of the greenhouse gas carbon dioxide, according to researchers.
El Niño-inspired drought or flooding can have other health effects: Outbreaks of cholera, typhoid and other diarrheal diseases can occur in areas where flood waters have been contaminated by human or animal feces, health experts say.
El Niño's damaging effects are not confined to land.
Warming Pacific waters can generate an increase in hurricanes, and El Niño was cited as a possible factor in the creation of Hurricane Patricia, one of the strongest hurricanes ever recorded.
"Warm water is kind of rocket fuel for those hurricanes," said Josh Willis, a climatologist at NASA's Jet Propulsion Laboratory in La Cañada Flintridge.
Similarly, researchers at the National Oceanic and Atmospheric Administration cited the warming effects of El Niño as a factor in a recently declared global coral bleaching event. Temperature change is one of several factors that can cause coral reefs to lose their coating of algae, turning them white and endangering their survival.
The first time a global bleaching event was declared was in 1998, during another strong El Niño.
But El Niño's effect on fisheries gave it its unique name. Before it was understood to be a global event, fishermen in Peru and Ecuador used the term to describe the warm currents that sometimes arrived around Christmas time and seemed to drive fish away. El Niño, Spanish for "the child," was a reference to the birth of Christ.
Normally, trade winds that blow from east to west cause an upwelling of deep, cold, nutrient-rich water along the coast of South America. This cool water sustains fish like anchovies, which are used internationally to feed livestock. During El Niño, however, the trade winds slow, or collapse entirely, putting an end to the upwelling — and the anchovy fisheries.
Glantz said that this not only affects the Peruvian anglers but also sends shock waves through the commodities market as the price for soybeans — another source of livestock feed — rises.
"It kind of starts a chain reaction around the globe," Glantz said.
Twitter: @montemorin
ALSO
California outlaws recreational and commercial bobcat trapping
Records give a glimpse into the mind of a man accused of killing his three sons
Sign up for Essential California for news, features and recommendations from the L.A. Times and beyond in your inbox six days a week.
You may occasionally receive promotional content from the Los Angeles Times.