L.A. County set to build its first new freeway in 25 years, despite many misgivings
The California Department of Transportation will in June begin buying land to build a 63-mile high desert freeway.
When the Century Freeway opened in 1993, officials said it would almost certainly be the last of the great Southern California freeways, the final chapter in a romance with fast lanes that began just before World War II.
It offered a good example of why the ardor faded. The 105 violated environmental laws, displaced more than 25,000 people and left behind a legacy of noise and pollution in some of Los Angeles County's poorest neighborhoods. After decades of delays and bitter litigation, its price tag rose to $2.2 billion, making it the most expensive roadway ever built in the United States.
But now, with little fanfare, officials are again laying the groundwork for the construction of a new freeway.
The California Department of Transportation, in cooperation with a joint powers authority, will in June begin buying land to build a 63-mile high desert freeway connecting the Los Angeles County communities of Palmdale and Lancaster with the San Bernardino County communities of Victorville, Apple Valley and Adelanto.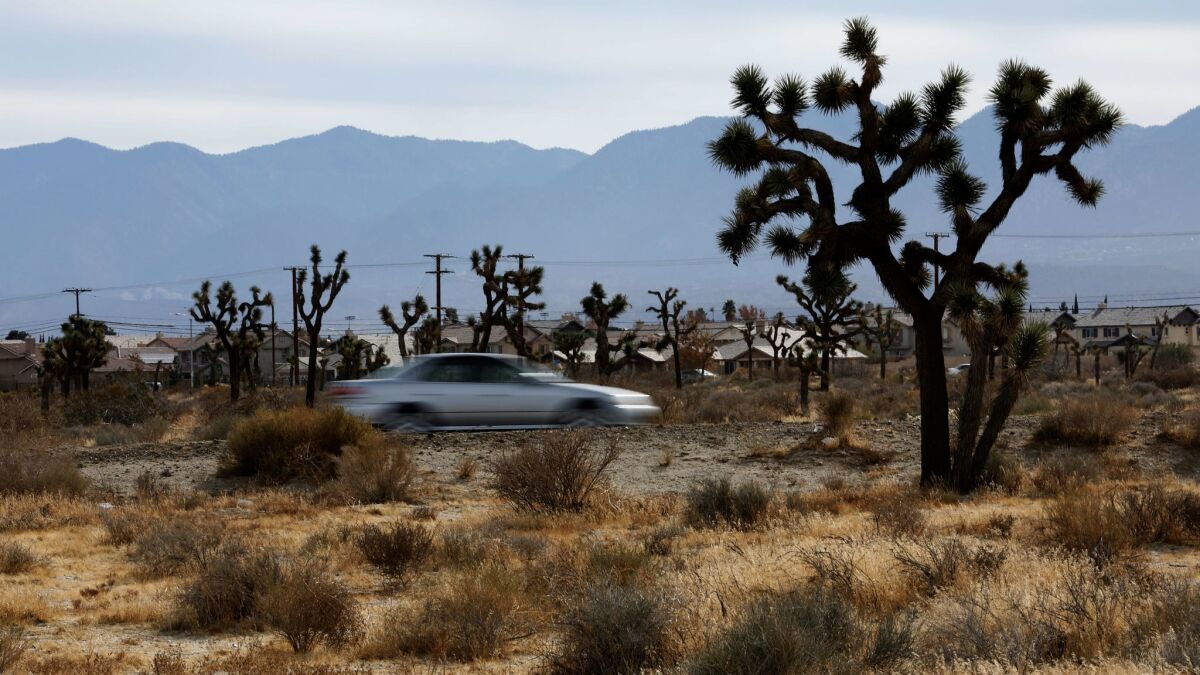 Officials say the $8-billion project north of the San Gabriel and San Bernardino mountains would relieve anticipated traffic congestion in the fast-growing region by creating a link between State Route 14 and Interstate 15, and reduce gridlock on Los Angeles-area roads including the 210, 10 and 60 freeways.
But like its predecessor, it's already raising questions about its environmental toll, impact on communities and funding.
The county's first new freeway in a quarter-century is something of a throwback, as regional planners have shifted their focus in recent years toward mass transit and infill development to combat snarled traffic and housing shortages. Yet it serves as a reminder that even as Los Angeles moves to encourage more density in its urban neighborhoods, development continues to push into the scrublands on the county's fringes.
Since the completion of the 105, Palmdale and Lancaster have seen their populations surge — even landing among the nation's 10 fastest-growing cities in 2007, according to the U.S. Census Bureau. Though the Great Recession slowed their boom, the expanse of desert has "the most space and long-run growth potential in the county," said Robert Kleinhenz, executive director of research at Beacon Economics, a consulting firm whose clients include UC Riverside.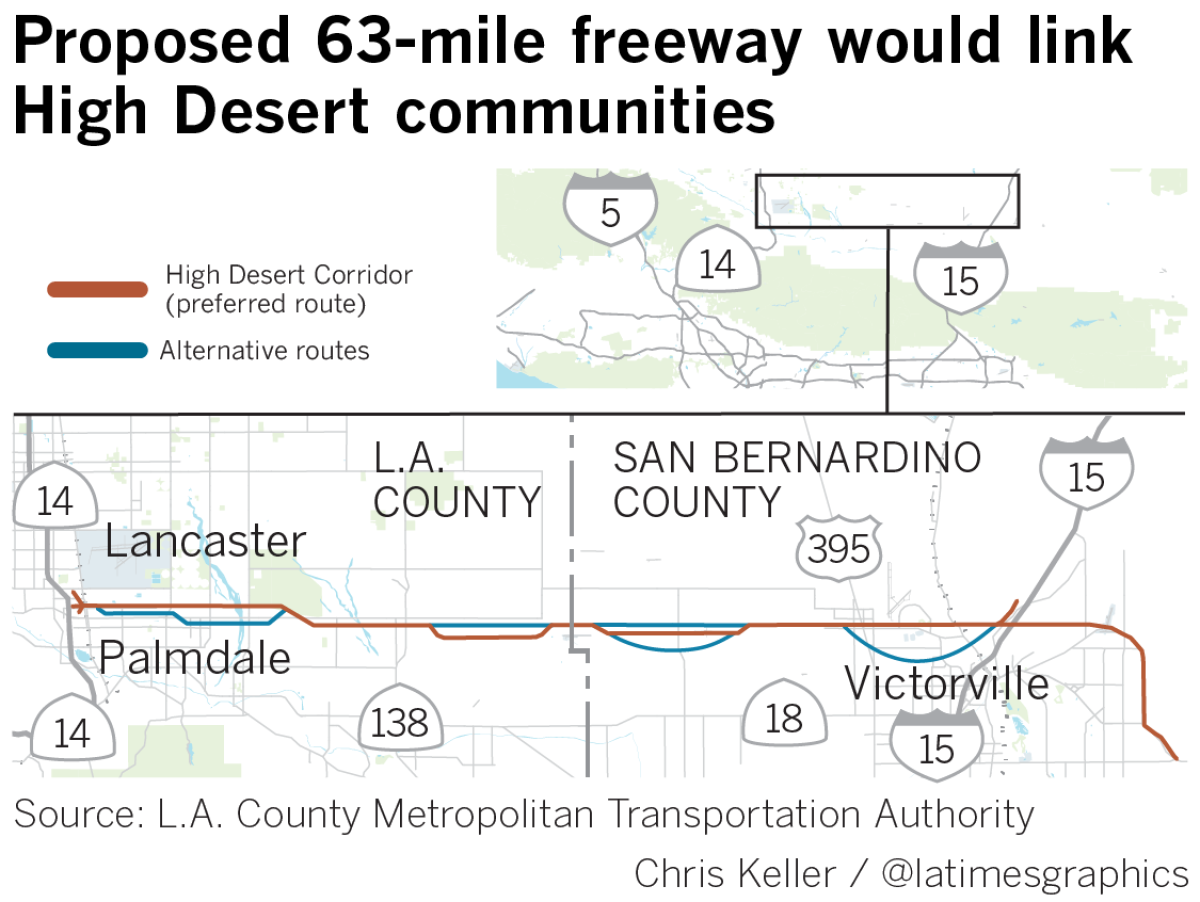 The freeway would be part of a High Desert Corridor with a rapid-transit rail, linking to a proposed high-speed rail to Las Vegas, and a bikeway. Funded with public-private partnerships, it could be in operation within 20 years, Ryan McEachron, coordinator of the joint powers authority, said.
"This is an exciting, high-priority project," McEachron said. "Some would argue we need it immediately, given the traffic congestion on existing freeways, which is only going to get worse."
The environmental impact report has already been approved, paving the way for right of way agents to begin acquiring land this spring with $274 million generated by Measure M, a sales tax increase approved by Los Angeles County voters in 2016 to build transportation projects over the next 40 years.
How much of the Mojave Desert terrain in the vicinity of the project would survive as it is today — fragile ecosystems interspersed with ranches and isolated communities far removed from the confines of city life — is an open question. Critics argue the project would induce sprawl, traffic congestion and air pollution. Developers, they say, want to build up the area for profit and not necessarily to reduce commute time.
On a trail wending under canopies of angular Joshua tree branches a few miles east of Palmdale, Bryn Lindblad, associate director of the nonprofit Climate Resolve, lamented the ecological destruction that would come with freeway construction.
The area is part of an arid empire of Joshua trees, cactus, bobcats, tortoises and kangaroo rats hemmed by steep slopes, dry lakes and arroyos fringed with creosote bush.
It is also within proposed right of way for the freeway's six to eight lanes.
"You're looking at the proposed site of a freeway off-ramp," Lindblad said, nodding further up the trail. "It would be one of several that would overnight become hives of gas stations, fast-food restaurants and motels."
"It would destroy some of our last open space to create more suburban sprawl, undermining efforts to reduce congestion and making climate goals a farce."
A lawsuit filed by Climate Resolve in Los Angeles Superior Court challenging the validity of corridor's environmental impact report is expected to go to trial later this year.
However, the most serious obstacles in the path of the project seem to be financial.
How or when San Bernardino County would be able to pay for its stretch of right of way, which must be 500 feet wide in order to accommodate the freeway and rail, hasn't been settled.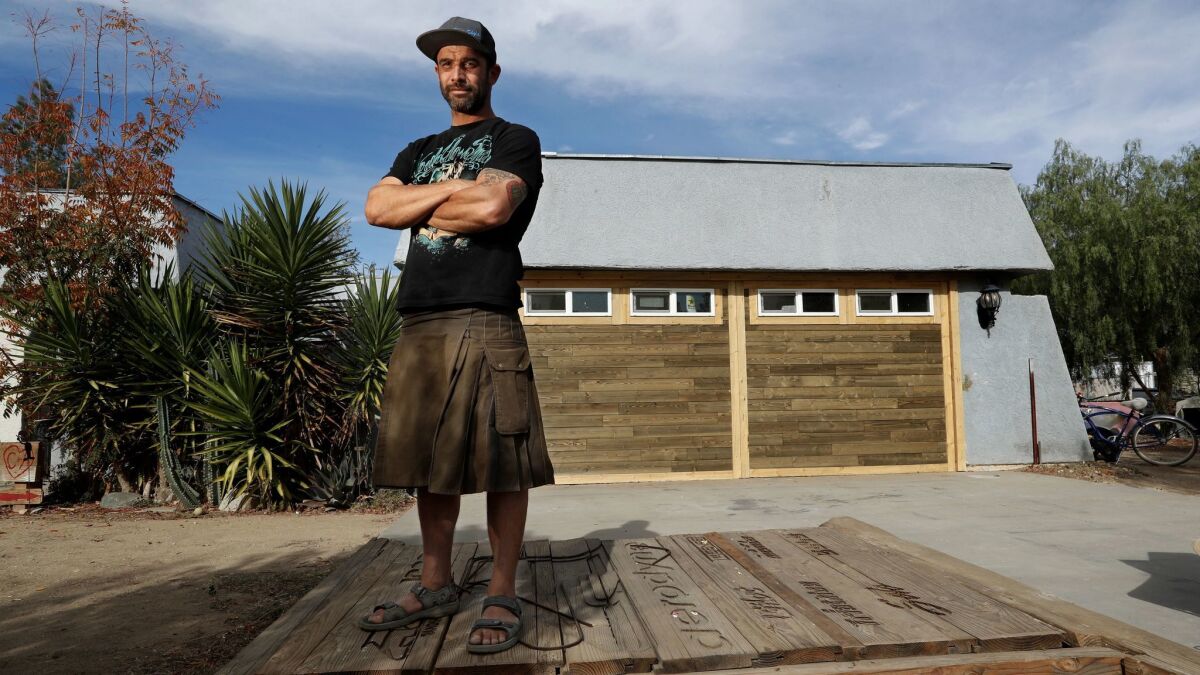 State and county officials say they may decide to build in phases as funding becomes available. Proposals to make certain stretches of the freeway, or its entire length, a toll road are also under discussion, officials say.
Whether or not the freeway gets built at all, they say, may hinge on the pork-barrel largesse and private investment spurred by the Trump administration's highly touted plan to renovate the nation's crumbling roads, airports, bridges and railways.
"Private investors probably won't want to put their money into the corridor without assurances of significant federal support," McEachron said.
In a letter to Trump in April, Robert Lovingood, a San Bernardino County supervisor and chairman of the joint powers authority, was more blunt: The corridor will not succeed, he said, without credit assistance from Department of Transportation loan programs.
The administration has yet to respond. But Brian Taylor, director of UCLA's Institute of Transportation Studies, described the situation as "the freeway builder's dilemma: Construction in advance of anticipated demand is a risky proposition, and investors want to see immediate returns."
Still, Taylor said he was surprised "that things have progressed so quickly on this project up to this point."
Now, high desert cities are jockeying for control of adjacent land where off-ramps and rail stations could produce lucrative income streams.
In unincorporated, low-income areas with little clout in the speculative maneuvering, residents worry their proximity to the corridor will make them attractive to developers, leading to the displacement of neighbors. Others look forward to new development and jobs fanning out across an arid landscape they say has been largely ignored for decades by county agencies.
The route would run roughly parallel to State Route 18 and State Highway 138, also known as Pearblossom Highway. Congestion is a problem on Highway 138 thanks to big rigs, commuters and travelers to Las Vegas.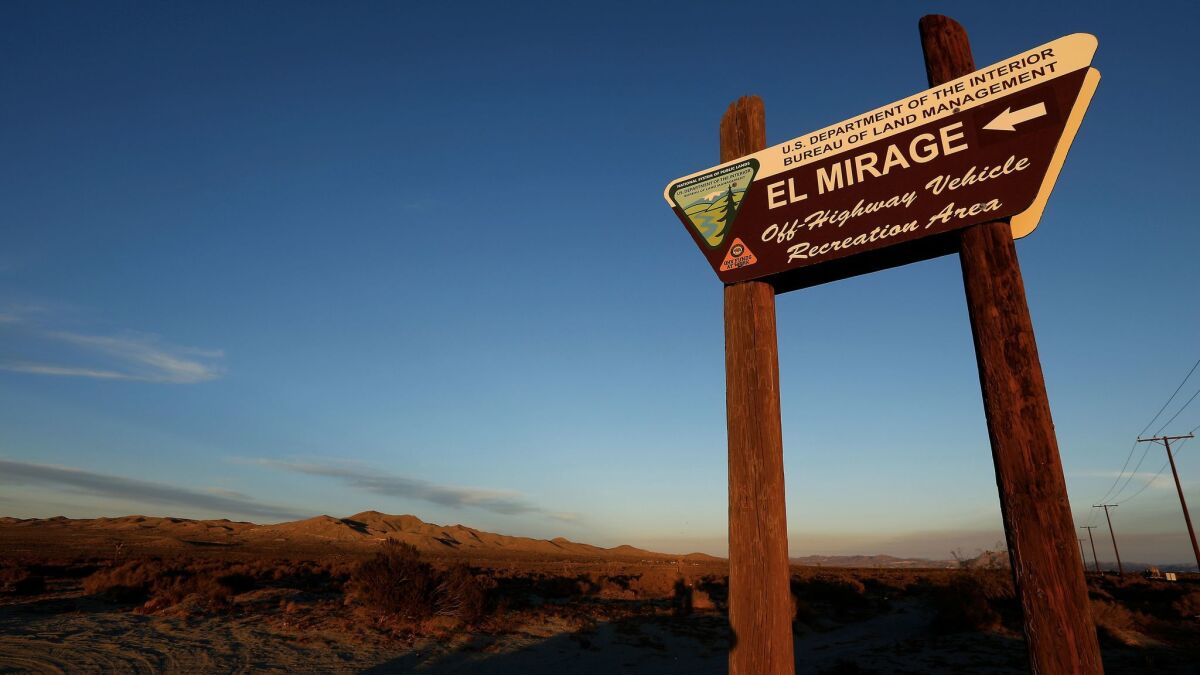 These tensions converge in El Mirage, a solitary enclave of 1,000 surrounded by barren hills, about 10 miles west of Adelanto. Its convenient desolation has made it a place where city dwellers come to run wild, myriad movies and commercials are filmed and experimental military drones soar in the sky.
But that's not what Jessie Flores, economic development director for Adelanto, saw through the windshield during a tour in November.
"El Mirage is a land of opportunity for Adelanto," he said.
Adelanto wants to annex El Mirage and 62 square miles surrounding it because it may eventually provide new economic opportunities, including millions of dollars in corridor-related development surrounding as many as three offramps, Flores said.
In El Mirage, where the median price of a home is $120,000, compared with $200,000 in Adelanto, community activists are "fighting for the best deal we can make," said Debra Hill, a spokeswoman for the El Mirage Improvement Assn.
"Suddenly, we're seen as a cash cow for Adelanto — and that's our leverage," Hill said. "This could be our chance to land some local development and jobs, and maybe even make enough money on rising property values to move someplace else."
However, preliminary annexation discussions came to an abrupt halt in November after Adelanto Mayor Pro Tem Jermaine Wright was arrested for allegedly accepting a bribe from an undercover FBI agent and plotting to burn down a local restaurant. Wright, 41, pleaded not guilty to the federal charges and is awaiting trial.
In the meantime, "We're cooling our jets on annexation until we figure out whether the FBI has completed its investigation at Adelanto City Hall," she said. "But overall, I'd say things are finally looking up a bit for El Mirage."
"Let me tell you a story," he said. "On a spring day 25 years ago, I was in my first car — a blue 1964 Volkswagen — and at the head of a line of vehicles waiting for the Century Freeway's grand opening ceremony to end."
"Moments after officials cut the red ribbon," he recalled with a smile, "I put my car in gear and rolled onto the new freeway thinking, 'Thank God, I'll get home on time."
---
UPDATES:
For the record:
11:54 a.m. An earlier version of this article said Bryn Lindblad was a resident Apple Valley. She lives in Los Angeles.
---
The stories shaping California
Get up to speed with our Essential California newsletter, sent six days a week.
You may occasionally receive promotional content from the Los Angeles Times.