More homeless camps are appearing beyond downtown L.A.'s skid row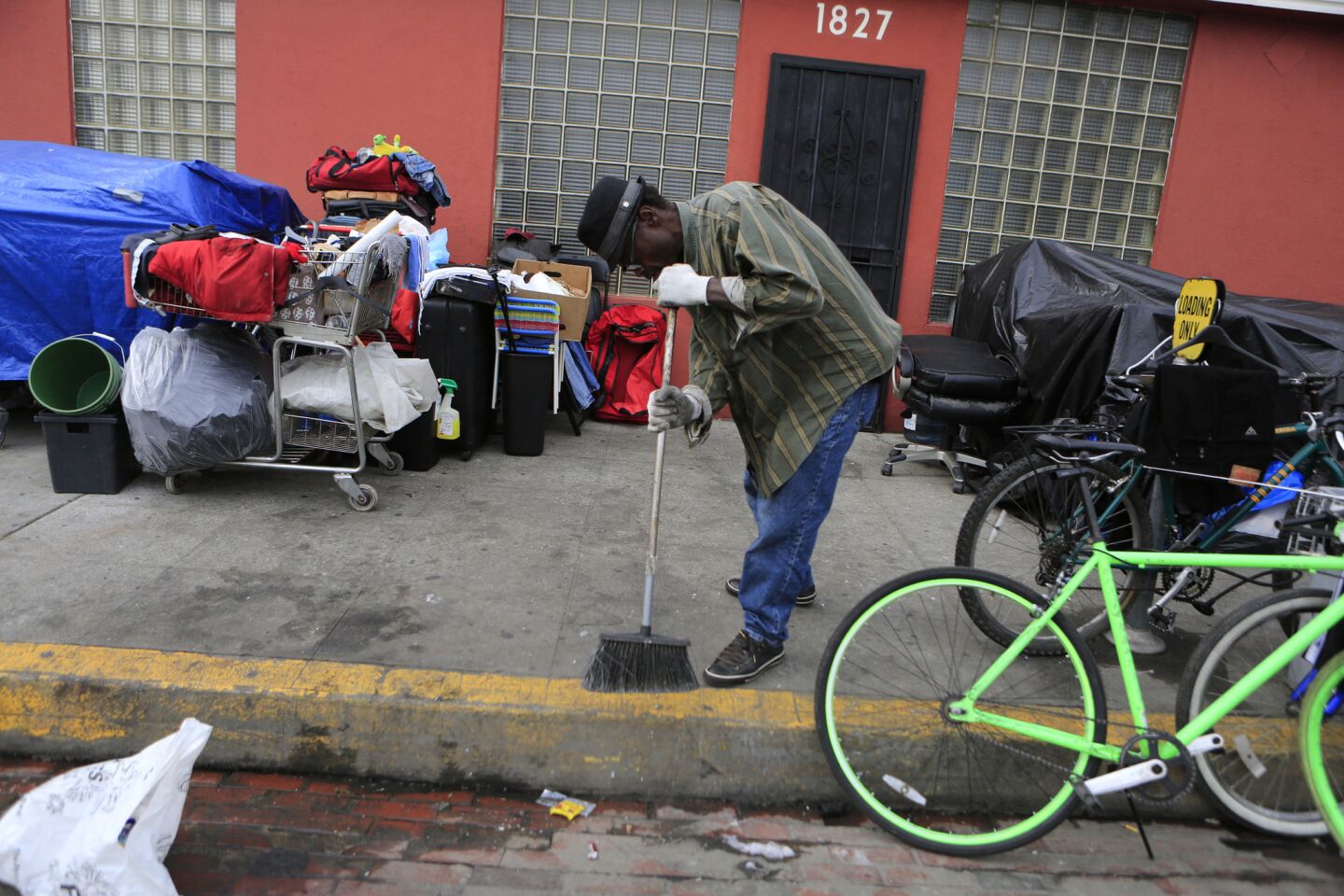 Roy Carter, 57, sweeps the sidewalk where his belongings are gathered on South Hope Street in downtown L.A.
(Brian van der Brug / Los Angeles Times)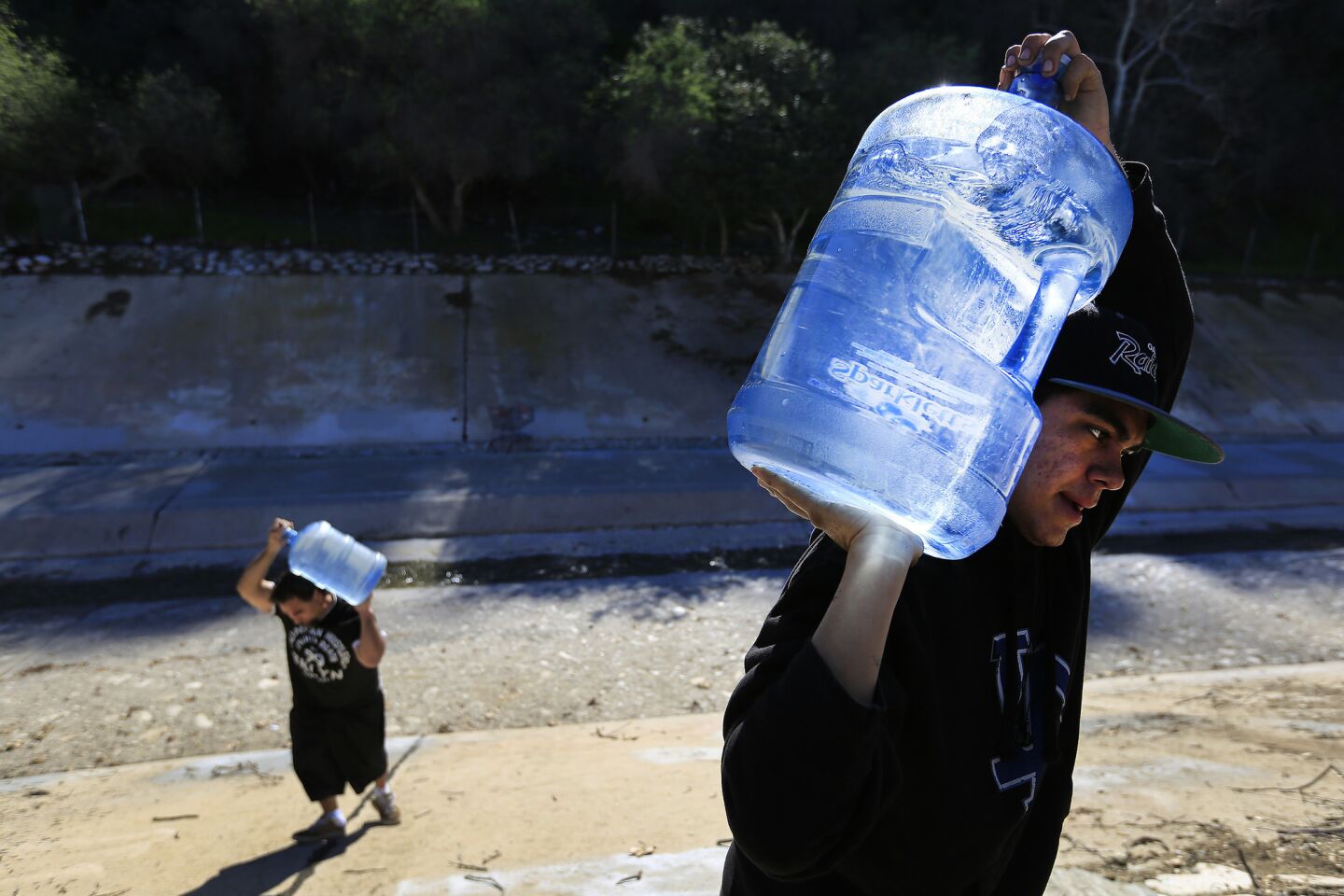 Arthur Valenzuela, 18, right, and Miguel Hernandez, 50, left, haul water to their tents in a homeless encampment near the Arroyo Seco riverbed.
(Brian van der Brug / Los Angeles Times)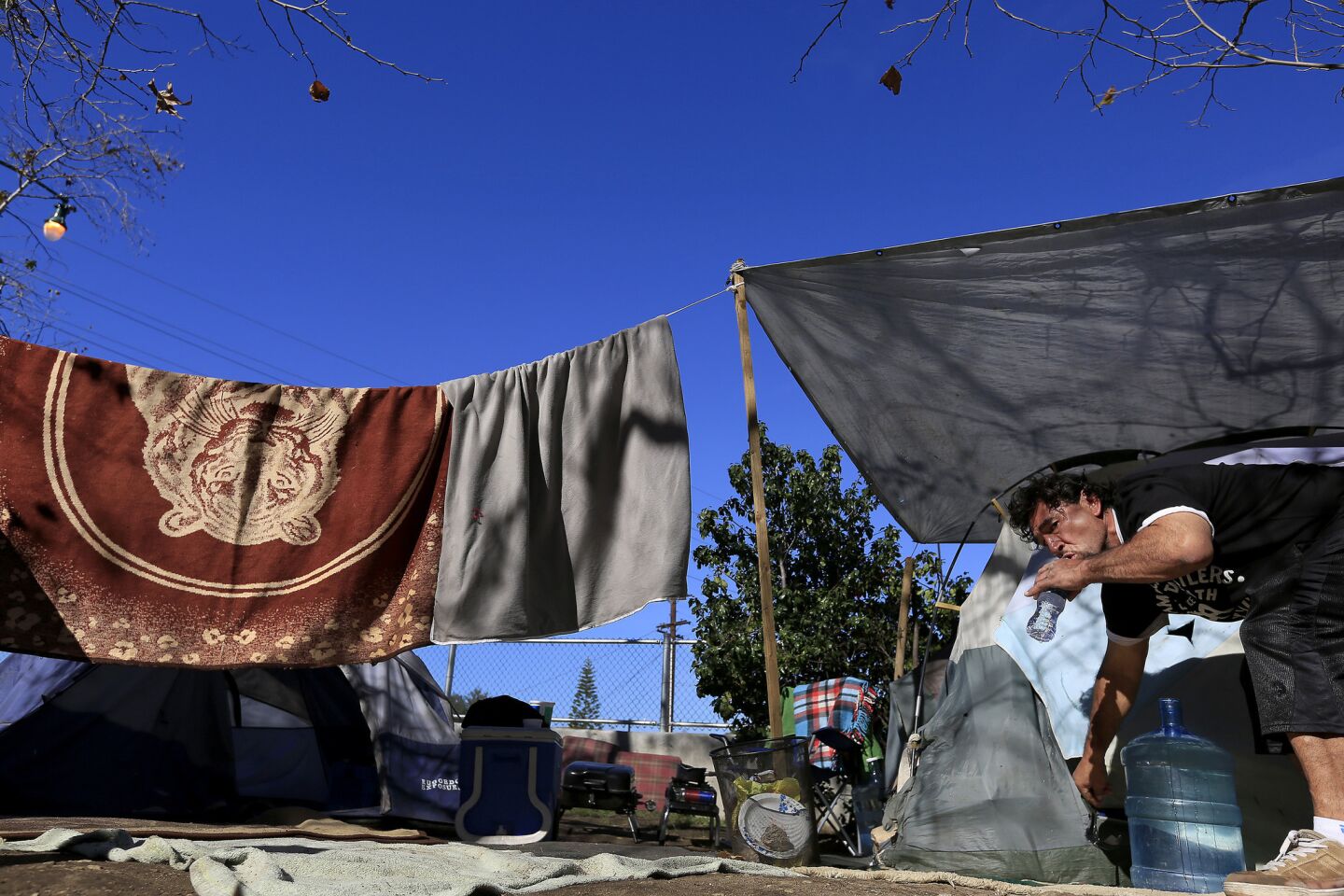 Miguel Hernandez, 50, drinks water outside his tent.
(Brian van der Brug / Los Angeles Times)
Miguel Hernandez, 50, hangs blankets to dry on a line in the homeless encampment where he lives. The Los Angeles Homeless Services Authority, a city-county agency, received 767 calls about street encampments in 2014, up 60% from the 479 in 2013.
(Brian van der Brug / Los Angeles Times)
Miguel Hernandez, 50, holds a Bible inside the tent where he lives, near the Arroyo Seco.
(Brian van der Brug / Los Angeles Times)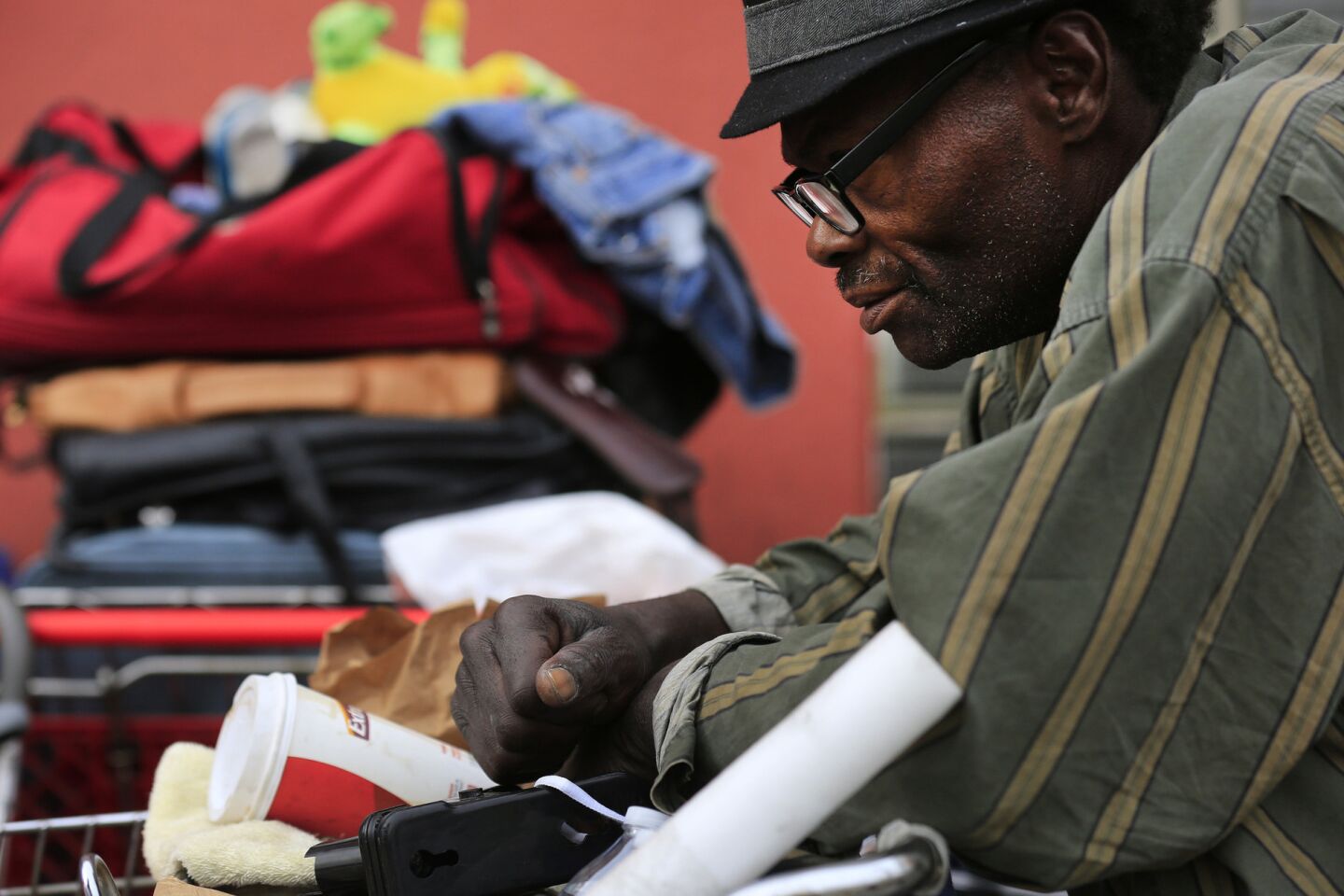 Roy Carter, 57, leans on a shopping cart that he stores his belongings in. New development has crowded downtown L.A.'s population, forcing some of them to migrate beyond skid row.
(Brian van der Brug / Los Angeles Times)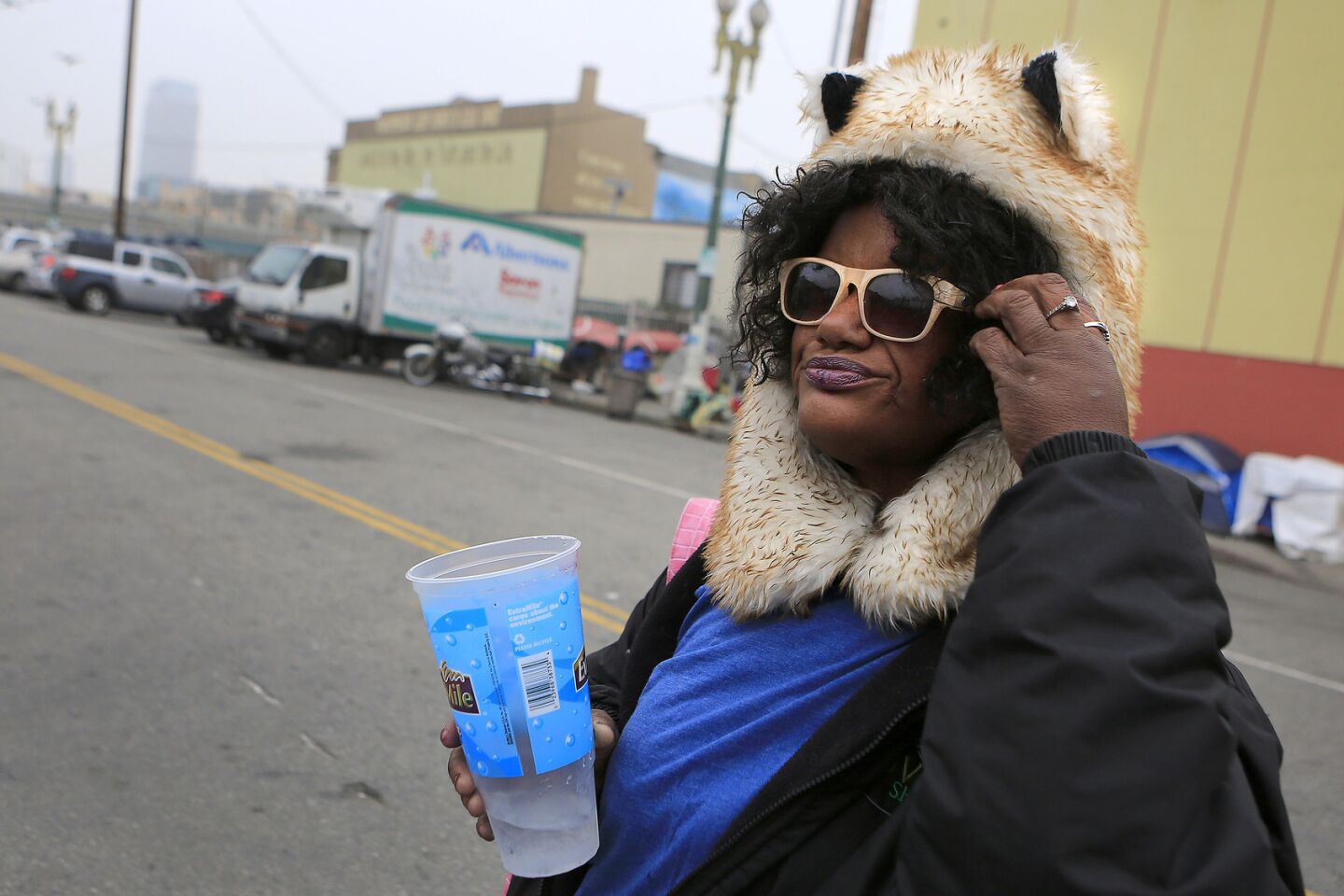 Kelly Green, 49, a homeless woman, stands on South Hope Street.
(Brian van der Brug / Los Angeles Times)
Evicted four months ago from their Highland Park apartment, Louis Morales and his 18-year-old stepson, Arthur Valenzuela, live half-hidden by brush along the nearby Arroyo Seco riverbed.
Morales, 49, keeps a framed bible verse and a stuffed monkey in his tent. Water hauled by bike from a park heats up on the camp stove.
Next door, their friend Johnny Salazar fixes bikes and shattered computer screens on the cheap for people who live in the neighborhood. A brother and sister Morales has known for years live up the river, and three couples stay down by the bridge.
"Everybody here is from Highland Park," Valenzuela said. "We don't allow other people."
Over the last two years, street encampments have jumped their historic boundaries in downtown Los Angeles, lining freeways and filling underpasses from Echo Park to South Los Angeles. The Los Angeles Homeless Services Authority, a city-county agency, received 767 calls about street encampments in 2014, up 60% from the 479 in 2013.
Some residents believe the city is exporting its downtown homeless problem to their neighborhoods. But social service agencies and volunteers say it isn't that simple. They say that although downtown development and skid row cleanups are squeezing out some homeless people, many camps are filled with locals.
Soaring rents, closed shelters and funding cutbacks are pushing residents from neighborhoods such as Highland Park and Boyle Heights into the streets, where they cling to familiar turf.
"Homeless people, especially the mentally ill, they don't like new," said Senior Lead Officer Gina Chovan of the Los Angeles Police Department's Northeast Division. "They want to stay where they know all the nooks and crannies."
Bound by court decisions, the city has largely quit breaking up homeless groups and confiscating their trash and belongings, leaving the camps to grow and multiply.
Whether homeless people are more numerous or simply more visible could be answered by the biennial tally taking place this week.
As many as 6,000 volunteers will go out Tuesday through Thursday searching for homeless people living in alleys, riverbeds, cars and RVs. For the first time, homeless people will be asked about their gender identity, domestic violence and prison histories, and years of military service — information that could better track where they came from and why.
Mayor Eric Garcetti raised the stakes by pledging to get the city's 3,400 homeless veterans off the streets by the end of the year. The count two years ago found 38,000 homeless people in Los Angeles County. The census does not affect homeless services funding, but it influences policymakers and politicians.
Although authorities are not forcing homeless people out of downtown, redevelopment has made it harder for some to live there.
Nursing a beer one morning by a street fountain on Sunset Boulevard, Eric Warner said he generally stays in Silver Lake, getting by as a handyman or caretaker.
When jobs dried up, he used to grab a cheap hotel room downtown. Now those rooms are gone, converted to homeless housing, tourist hotels, lofts or market-rate rentals.
"The Alexandria, the Rosslyn, the Cecil … there goes that idea," he said.
People like Warner have always gone back and forth from skid row to residential areas, where many feel safer and can maintain a semblance of normalcy, said Natalie Profant Komuro, executive director of Ascencia, a Glendale homeless services agency.
But as long as shelters, food lines and other relief programs remain concentrated in skid row, downtown will be continue to be a homeless magnet.
"Many people in skid row end up there because they couldn't find help in their home community," Komuro said in an email. "Or were too ashamed to look for it there."
Salazar said he feels a piercing stigma when he goes out for groceries or bathroom runs in Highland Park, his longtime home.
"You tell them 'hi,' they ignore you," Salazar said, tears skidding down his cheeks. A life-sized Hulk dummy glares out of the gloom of his workshop to keep the thugs away.
"A lot of people don't want us here," Salazar said.
Rebecca Prine of Recycled Resources for the Homeless, a northeast Los Angeles neighborhood group, said most of the arroyo refugees want housing but can't find it.
"We would love to get out of here," Valenzuela said.
As downtown development continues to spread, more homeless people may soon be on the move. Two years ago, cardboard mats and shopping carts began to build up at 18th and Hope streets at the southern edge of downtown. The street was like a mini-skid row, with meals, showers and mail service at the St. Francis Center and a branch of the Calvary Chapel.
Soon, the tents stretched around the corner, in part because of overflow from the real skid row, said Jose Ramirez, the St. Francis Center's executive director. Now development is marching east from Staples Center, closing in on the still sizable Hope Street encampment.
In late December, Calvary Chapel's Hope Street outpost closed down for financial reasons. Police showed up this month checking for people with arrest warrants and announcing an impending street cleanup, the homeless people said.
A nearby church strung yellow police tape across the sidewalk where tents once stood — a bid to reclaim part of the neighborhood.
"Now that we're fixing up our communities, we're actually seeing a problem that's been there in plain sight for decades," said the LAPD's Chovan. "Gentrification just brought it to light."
Twitter: @geholland
The stories shaping California
Get up to speed with our Essential California newsletter, sent six days a week.
You may occasionally receive promotional content from the Los Angeles Times.