Lawsuit launched against Los Alamitos' anti-sanctuary law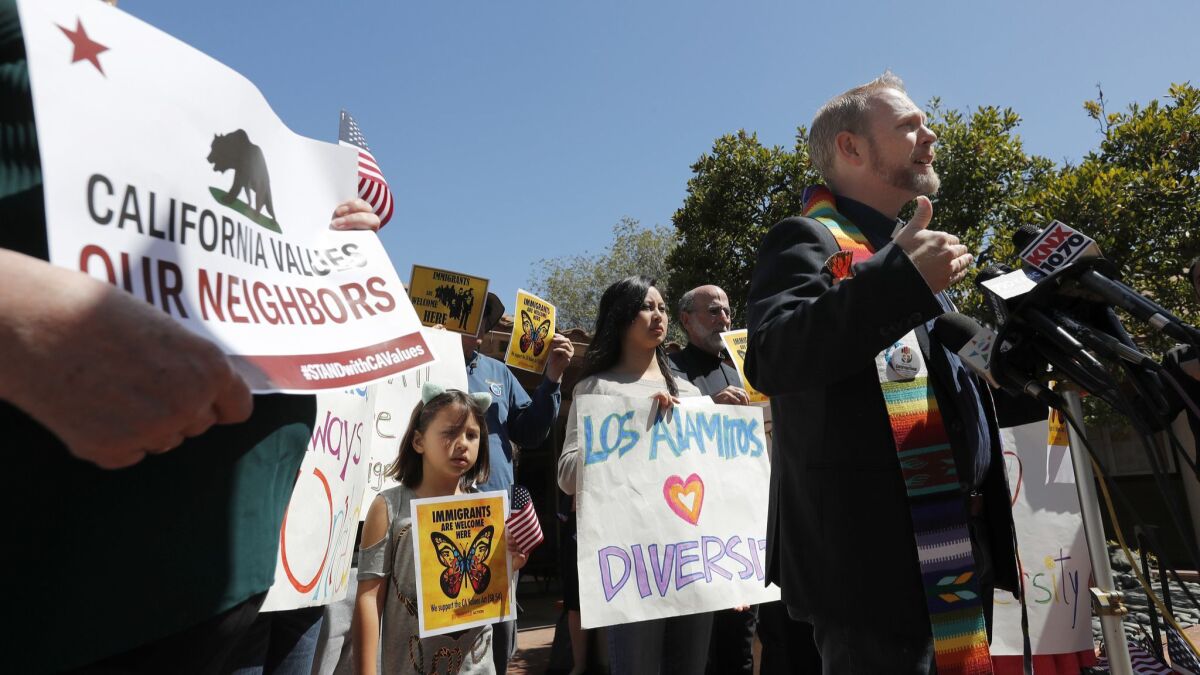 A small Orange County city at the center of the anti-sanctuary movement in California has been sued for enacting an ordinance that exempts it from the state's sanctuary laws, which were designed to protect immigrants in the country illegally.
On Wednesday, a Los Alamitos pastor, an attorney who lives and works in the city and a group of concerned residents called Los Alamitos Community United joined forces with several immigrant rights groups — including the American Civil Liberties Union — to launch the lawsuit.
"Los Alamitos' illegal ordinance causes serious harm to my ability to serve my congregation," the Rev. Samuel Pullen of Community Congregational United Church of Christ in Los Alamitos said. "Immigrant worshippers are less likely to come and participate in church services because of their fear that Los Alamitos and its law enforcement officials are helping deport members of our community."
The lawsuit asks the court to declare the city ordinance illegal and to order Los Alamitos leaders to comply with the California Values Act, which took effect Jan. 1 and limits local law enforcement's cooperation with federal immigration authorities in most cases.
The litigation comes just two days after the Los Alamitos City Council gave final approval to a law allowing city residents and agencies to ignore the state's sanctuary laws.
Los Alamitos Mayor Troy Edgar said he could not comment on the pending lawsuit but stated that it will prompt him to focus on promoting a GoFundMe page that he launched last month to help pay for legal costs.
"Although we are not dependent on this funding approach, I do want to do my part to help our city," Edgar said.
As of Wednesday, the city had raised about $11,000 of its $100,000 goal.
First introduced in March, the ordinance sparked an anti-sanctuary movement, prompting at least nine other Orange County cities and the Board of Supervisors to voice similar grievances and pass similar resolutions.
The Trump administration has gone to federal court to invalidate the state laws, claiming they blatantly obstruct federal immigration law and violate the Constitution's supremacy clause, which gives federal law precedence over state measures. That case is pending. Los Alamitos leaders also voted to file an amicus brief to the Justice Department's lawsuit.
Some Orange County cities have filed an amicus brief in support of the federal lawsuit against the state's sanctuary laws. Orange County voted to join as a plaintiff in the suit.
Mayor Pro Tem Warren Kusumoto, who proposed the initiative that thrust the city into the national immigration debate, declined to comment on the lawsuit Wednesday.
Earlier, Kusumoto said he was compelled to introduce the measure because he said he believed the state's sanctuary laws are in violation of the U.S. Constitution.
He then told The Times that he did not consult with the city attorney, city manager, police chief or any other member of his staff before introducing the ordinance.
Kusumoto and other Los Alamitos city leaders have been critical of SB 54, which Gov. Jerry Brown signed after the Legislature passed it last year. It prohibits state and local police agencies from notifying federal officials in many cases when immigrants who potentially are subject to deportation are about to be released from custody.
The initiative is in addition to sanctuary city laws passed by numerous communities and other state laws that protect those without legal residency, including one that makes it a crime for business owners who have been notified of a workplace audit to voluntarily help federal agents find and detain unauthorized workers without having given employees prior notification.
Councilman Mark A. Chirco, the lone dissenter on the eventual vote, had warned his fellow council members that the ordinance likely would results in costly lawsuits, begging them to wait for the federal lawsuit to make its way to the court.
Follow Cindy Carcamo on Twitter @thecindycarcamo
The stories shaping California
Get up to speed with our Essential California newsletter, sent six days a week.
You may occasionally receive promotional content from the Los Angeles Times.