At Boyle Heights arts show 'We Never Needed Papers to Thrive,' immigrants are the focus — and the stars
Julie Yeeun Kim pulled the gum out of her mouth and reached out to grab the microphone as soon as the MC called her name.
The 24-year-old Korean singer and songwriter had performed to crowds before, but never in the public role she was about to play on a rainy night in Boyle Heights inside a nearly century-old building with brick walls and an exposed roof.
"This is a special night for me," Kim told the cheering crowd of about 200.
President Trump's latest vows to crack down on illegal immigration and a series of arrests by immigration officers have prompted some people in the country illegally to step back in the shadows. But for others, including a group of artists who gathered in this Eastside neighborhood a week ago, the time was right to be open about their place — at least legally — in America.
The art show in Boyle Heights, "We Never Needed Papers to Thrive," featured artists who are in the country illegally, down to the DJ.
"Most of the voices speaking on immigration were not centralized around folks that were dealing with this firsthand," said Yosimar Reyes, one of the co-organizers of the show. "We haven't really seen a space or event where the focal point has been the voices of actual undocumented people that are living this day to day."
"We've had to turn some artists away," says Alessandro Negrete, who co-founded the show. He and Reyes received more than 100 notes from undocumented artists who wanted to be part of the show. Negrete says he is now exploring a second show with a larger gallery. He's also talking about having the show travel to other places, including the Bay Area.
One of the show's goals was to highlight the different people affected by immigration policies, beyond Latinos.
"Representation does matter," said Denea Joseph, who is black and came from Belize, formerly British Honduras. "Immigrants come from all over the world. It's important that more than one face be given to that narrative."
For the 22-year-old MC, who was born in the Central American country and came to the U.S. when she was 7, going public about being in the country illegally had a silver lining.
"The second that I began to be more open to myself, to my family, to my friends, about what being undocumented looked like, felt like ... I got more support," Joseph said. "The black community often likes to say 'a closed mouth doesn't get fed.' If you don't tell me what you're going through, how can I help you?"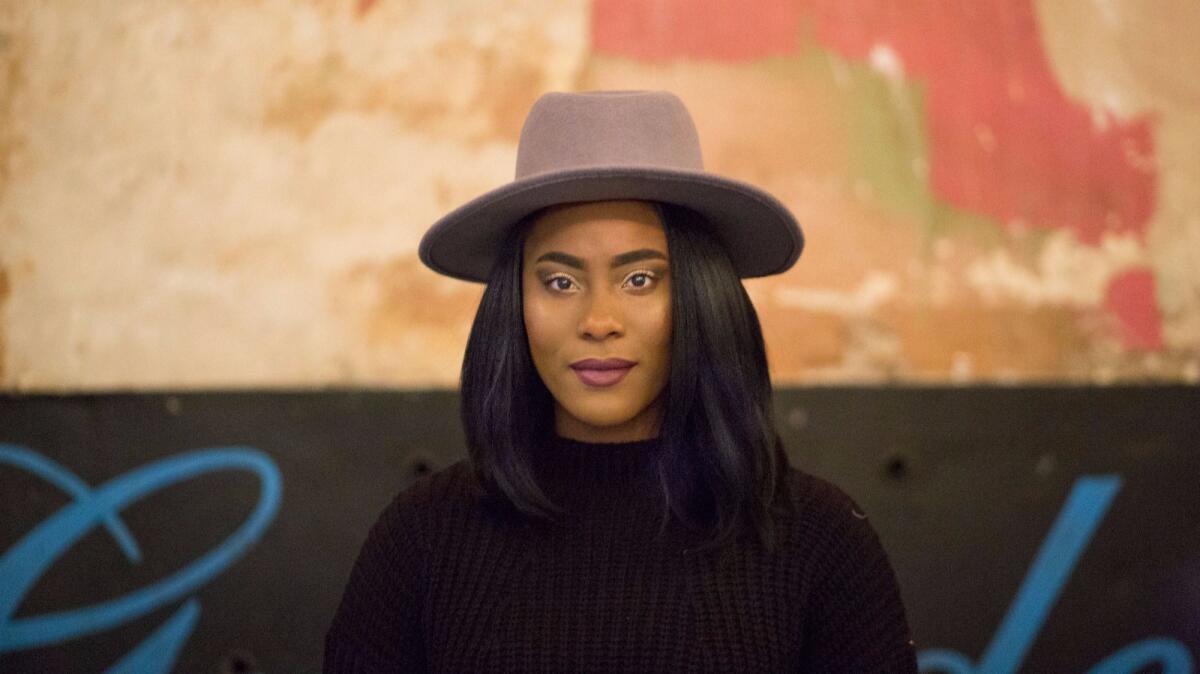 Kim, who opened up publicly about her immigration status the week of the event, said she found strength in coming out during Immigration Customs Enforcement's recent arrests in Southern California.
"These things are going to continue to affect me whether or not people know about my situation," said the Cal State Long Beach student, who had kept her status private for years. "To make sense of my life it was necessary to come out and join the people in the front lines who have been for years fighting for me. I decided it was my turn as well."
At the show, Kim sang a rendition of "We Shall Overcome" in Korean, before switching to Spanish and then ending in English.
The 15 artists, singers, poets and painters who came to the Boyle Heights Arts Conservatory were Asian, Latino and black.
The celebratory mood in the space was mixed in with some anxiety about the future.
Negrete had some lawyers in attendance and also some on call in case they were visited by immigration officers that night.
"There's nothing that could make you ever feel completely safe," said Negrete, who is also in the country illegally. "This is where we also have to think about, like, are we going to let the administration put us back in the closet?"
For Negrete and Reyes, the art exhibit and spoken word performances were about showing the creative resilience of people in the country illegally — often because they were brought to the U.S. as small children.
Negrete fielded some requests from artists who wanted to be part of the show but were hesitant to make their immigration status public. He followed up with them but said he never heard back from some.
"The reality is the undocumented community is under attack, and I can't change that," he said. "What I can do is provide a space for people to remind themselves that they have strength and a voice."
Correction: a previous version of this article listed Denea Joseph as the DJ. She was the MC.
Twitter: @stevesaldivar
ALSO
Trump's border wall may be controversial, but some Southern California firms want to build it
Architecture's highest honor goes to Catalan trio, with a nod to the forces that gave rise to Brexit and Trump
Iranian director Asghar Farhadi, who boycotted the Oscars in protest of Trump's travel ban, wins for foreign film
Sign up for Essential California for news, features and recommendations from the L.A. Times and beyond in your inbox six days a week.
You may occasionally receive promotional content from the Los Angeles Times.