California measles cases reach 38, with outbreaks expected to keep growing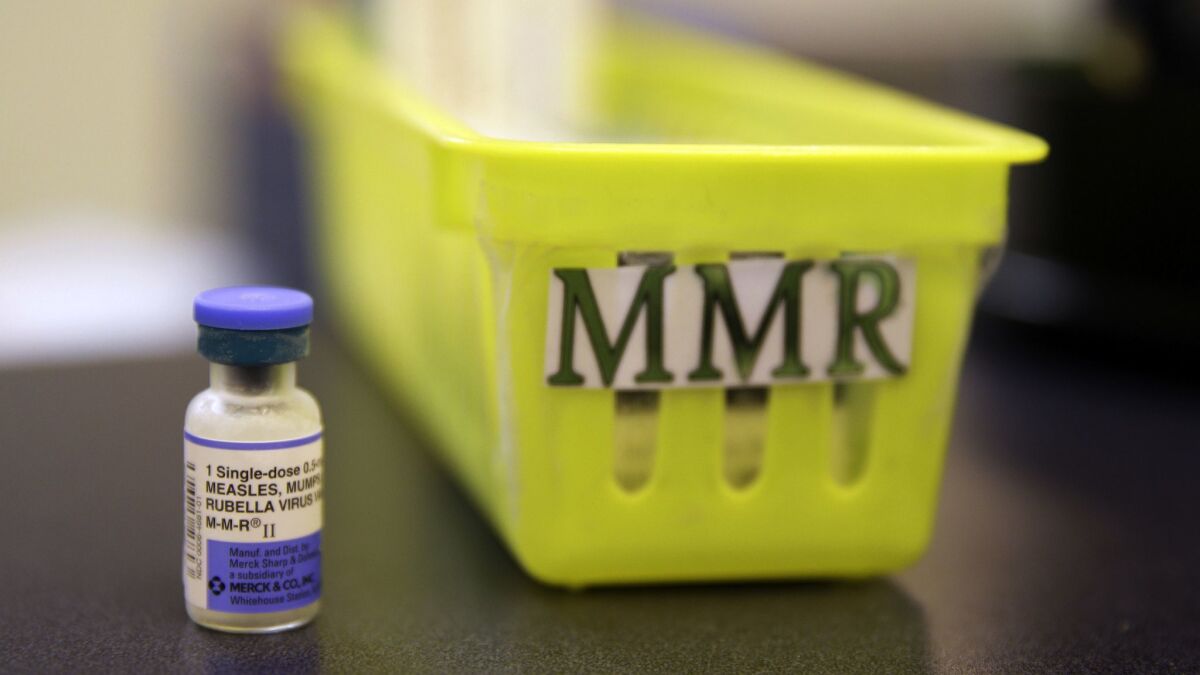 California health officials announced Thursday that 38 people had been infected with measles so far this year, a tally expected to rise in the coming weeks as outbreaks grow in the state.
The news comes amid a nationwide surge in measles, with 695 cases in 22 states this year as of Wednesday evening, the most reported in the U.S. since 2000.
In California, the measles count jumped 15 in a week, said Dr. Karen Smith, director of the state Department of Public Health. Health officials have declared new outbreaks in Sacramento and Los Angeles over the last few days.
Overall, California's high vaccination rates seem to have prevented small outbreaks from mushrooming the way they have elsewhere, experts say. California's largest outbreak, in Butte County, has spread to 16 people. By contrast, an outbreak in New York City has infected more than 320.
Still, pockets of unvaccinated people in California are susceptible, experts say. When a traveler contracts measles abroad and brings it back to the U.S., the disease can start spreading among groups that aren't immunized.
Fourteen of the 38 people with measles in California caught the illness while visiting other countries, including Thailand, the Philippines, Vietnam and Cambodia, Smith said. Four of those infected 22 other people in the state, likely living in areas with lower-than-average vaccination rates.
"While we have very high rates of vaccination overall in the state, we do have pockets where communities have very low vaccination rates," Smith said in a call with reporters Thursday. "We have schools where less than 50% of the kids are vaccinated."
Three-quarters of the measles patients in California were not vaccinated at all or only had one of the two recommended doses of the measles vaccine, said Dr. Gil Chavez, deputy director for the state health department's infectious diseases center. Some people fell sick despite being vaccinated because the shot is estimated to be 97% effective, he said.
"That means that even in the best of cases, 3% of people who are immunized are not fully protected," Chavez said.
The measles vaccine is still considered highly effective and officials recommend it to anyone who has not been immunized yet. People who contract measles after getting the shot tend to have a less severe form of the illness and are less likely to transmit it to others. The measles vaccine is believed to work for a lifetime.
Measles patients in California ranged in age from 5 months to 55 years, Smith said. Some have been hospitalized, she said.
Though measles is most deadly for babies under a year old, children younger than 5 and adults older than 20 are more likely to suffer from other serious complications, such as pneumonia, brain swelling and ear infections that can lead to permanent hearing loss.
"Contrary to what some people think, measles is not a benign childhood disease," Smith said.
Measles outbreaks have been increasing in the U.S. and abroad as vaccine coverage falls. Measles is one of the most contagious diseases in the world, and the first to come back when vaccination rates dip. For the first time, the World Health Organization in 2019 named vaccine hesitancy one of the world's greatest health threats.
In 2016, California implemented a law requiring that all students have their shots unless a doctor says otherwise. The law has pushed up vaccination rates, but unvaccinated pockets remain.
On Wednesday, California lawmakers held a hearing for a bill to tighten the law, which was attended by thousands of protesters opposing the bill.
At 785 of the 6,500 elementary schools in California, the percentage of kindergarteners with all their required shots at the start of the 2017-18 school year, including the measles vaccine, fell short of 90%. Officials say a community needs 95% immunity to prevent a contagious illness like measles from taking hold.
"Children are very, very good at transmitting diseases, particularly diseases like measles," Smith said. "Every person with measles, if they're in an unvaccinated population, will spread it to 10 other people.... Once that starts to happen, we can't stop it easily."
Measles spreads through coughing and sneezing. Even after a sick person leaves a room, the virus can linger in the air for as long as two hours, able to infect an unsuspecting victim.
California officials say they are particularly worried about adults who finished their schooling before the strict vaccination requirements took effect and never got their shots, she said. Three-quarters of the measles patients in California this year were 18 or older, Chavez said.
Officials said they are recommending that people who are planning to travel abroad check whether they have been vaccinated against measles. People who are unsure whether they are vaccinated can safely get another dose of the vaccine, officials say.
"We are very focused right now on the people who are at risk of bringing measles back to California — that is the unvaccinated travelers," Smith said.
So far, the cases in California this year do not warrant the declaration of a statewide outbreak, but there have been four local outbreaks, Smith said. The U.S. Centers for Disease Control and Prevention defines an outbreak as three or more linked cases.
The signs of measles are a lot like cold symptoms, including fever and cough. They usually start about two weeks after exposure. But measles patients also get a characteristic red rash that typically begins on the face and spreads downward toward the feet.
Patients with a rash are advised not to visit the ER or urgent care, but instead to call their doctor first so the doctor can make special arrangements for the visit to avoid infecting others.
Measles cases by county
Los Angeles: 6
Placer: 3
Sacramento: 3
San Francisco: 1
San Mateo: 4
Santa Clara: 4
Santa Cruz: 1
Butte, Calaveras, Shasta and Tehama counties: 16
soumya.karlamangla@latimes.com
Twitter: @skarlamangla
The stories shaping California
Get up to speed with our Essential California newsletter, sent six days a week.
You may occasionally receive promotional content from the Los Angeles Times.