Across L.A. County, law enforcement looks for resources to deal with the mentally ill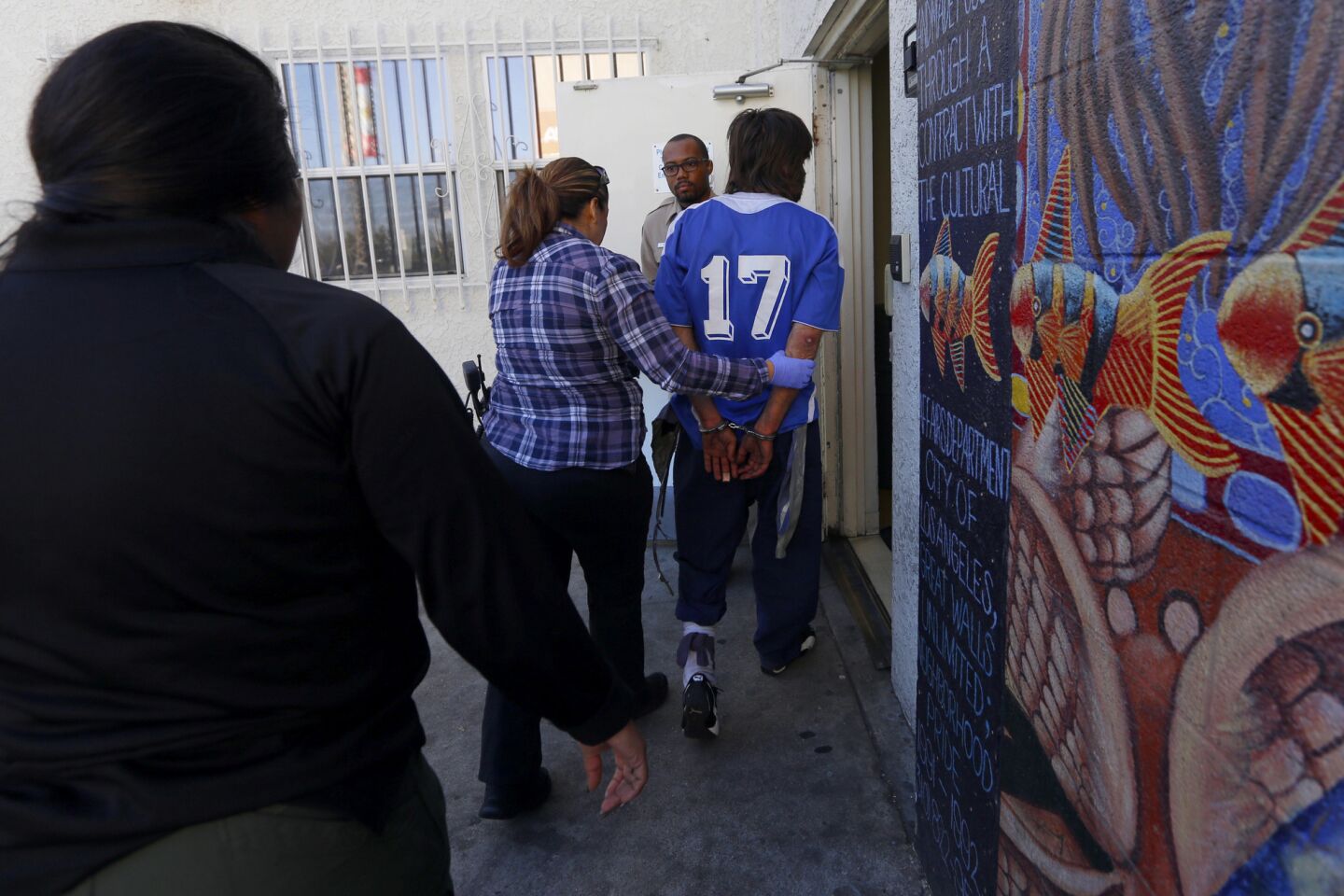 Sheriff's Sgt. Annadennise Briz, left, and Deputy Gabriela Ververa walk a man into Exodus, a mental health urgent care center near L. A. County-USC Medical Center.
(Francine Orr / Los Angeles Times)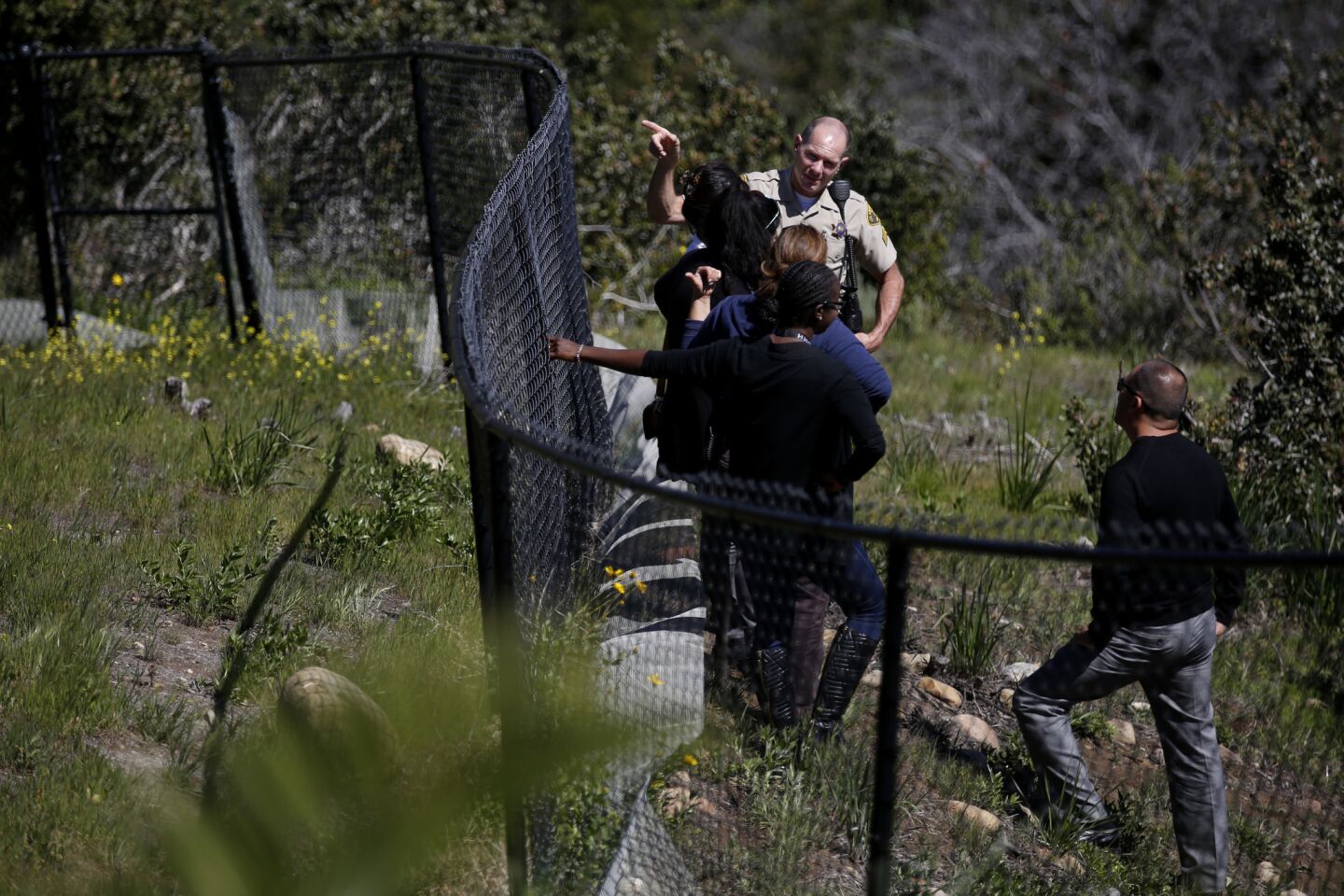 Los Angeles County Sheriff Deputy Michael Treinen works with the mental health evaluation team in Malibu after negotiating with a man who was suffering from delusions.
(Francine Orr / Los Angeles Times)
Los Angeles County Deputy Sheriff Gabriela Ververa, left, part of the mental health evaluation team, at Rose Hills Memorial Park in Whittier, where they were called when a man showed up at the grave of his son with a gun.
(Francine Orr / Los Angeles Times)
Los Angeles County Sheriff Deputy Michael Treinen speaks with the mental health evaluation team in Malibu
(Francine Orr / Los Angeles Times)
Mental health evaluation psychiatric social worker Brittaney Dennis, enroute to a call in Los Angeles.
(Francine Orr / Los Angeles Times)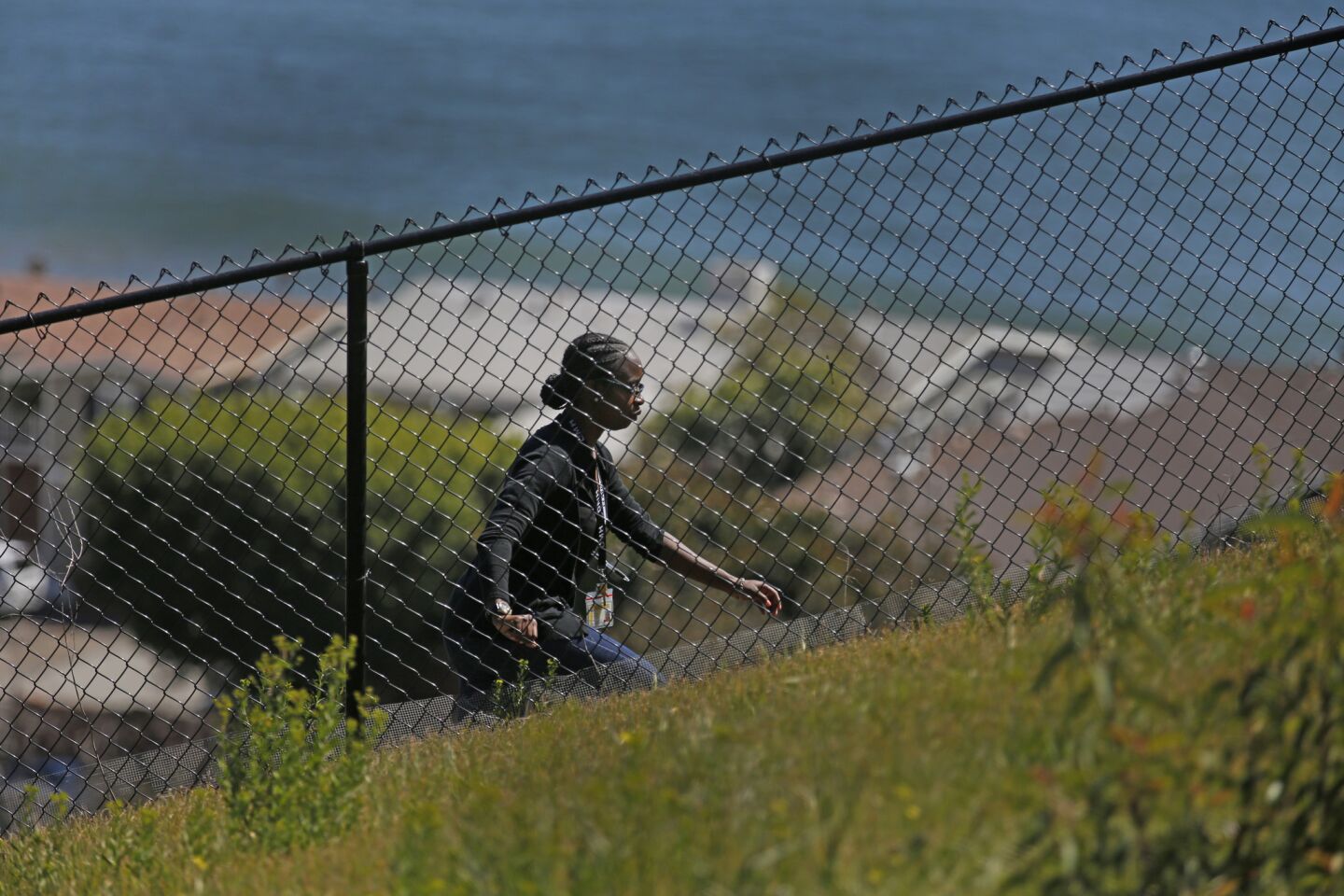 Mental health evaluation psychiatric social worker Brittaney Dennis walks up a steep hill side in malibu after talking with a man who was suffering from delusions.
(Francine Orr / Los Angeles Times)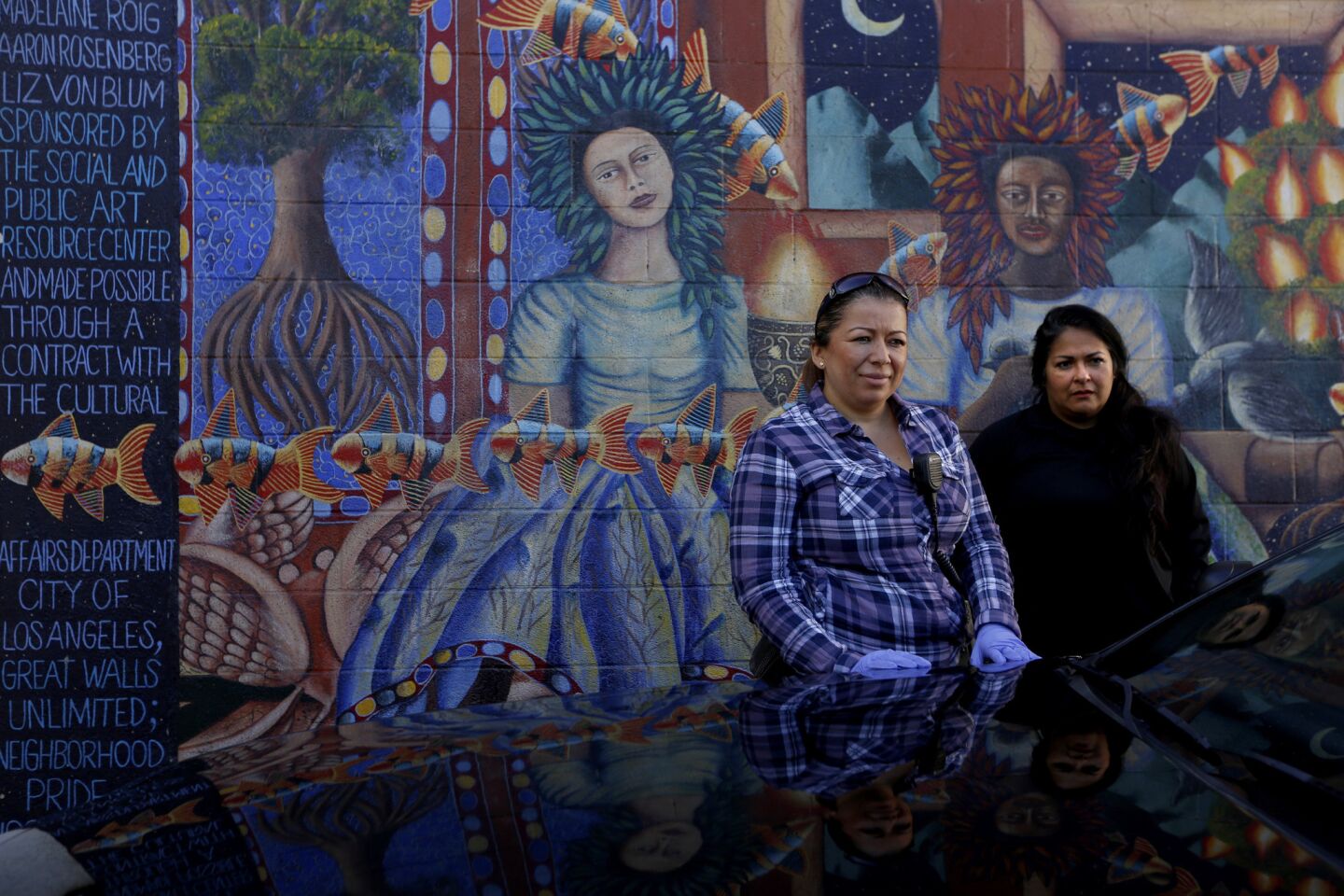 Los Angeles County Sheriff Deputy Gabriela Ververa and Sergeant Annadennise Briz at Exodus, a mental health urgent care clinic in Los Angeles.
(Francine Orr / Los Angeles Times)
A slender young woman with brown hair stood on a Commerce street in early March, ignoring a driver's pleas to move.
She reached down and bent his front license plate, asked him for money and then yanked his windshield wiper off.
She appeared agitated – from drugs, mental illness or both. As Los Angeles County sheriff's deputies prepared to use physical force to subdue her, a plainclothes deputy and a social worker, both specially trained in mental health intervention, arrived.
Instead of trying to wrestle the woman into submission, they called an ambulance to take her to a psychiatric ward.
Gabriela Ververa, the deputy on the mental health team, contrasted the differing responses.
"When I worked patrol, I was taking people to jail. Can you say you're really helping people?" she said. Now, she said, "for the most part, we hospitalize them and avoid the crisis."
NEWSLETTER: Get essential California headlines delivered daily >>
At a time when law enforcement is under intense public scrutiny for high-profile shootings of civilians, the Los Angeles County Sheriff's Department is one of many agencies nationwide looking to better equip officers to handle the mentally ill people they face on the streets every day.
In some places, the changes have been in the works for years but have been hampered by a lack of funding.
Within a patchwork mental health system that offers little in the way of long-term care, law enforcement is a crucial first line of defense. Police are often the first to arrive when a mentally ill person is acting disruptively, yet few have formal training in defusing such situations.
The mentally ill are especially at risk for violent encounters with law enforcement. In Los Angeles County in 2014, nearly 30% of the incidents where sheriff's deputies used physical force while on patrol involved someone with a mental illness.
Meanwhile, the need is growing: The number of 911 calls involving mentally ill people in sheriff's territory has surged by 55% since 2010. The LAPD saw a 30% increase over the same period. Sheriff's officials cite factors such as the shortage of treatment options and the prevalence of synthetic drugs like methamphetamine, which can mimic the effects of mental illness.
As part of an ambitious new plan, sheriff's officials are hoping to increase the number of mental health teams and to put many of the agency's 9,000 deputies through a week-long training to better deal with the mentally ill. The changes, they say, are long overdue but have gained renewed urgency with the recent spotlight on police use of force.
To move forward, the Sheriff's Department is seeking $2.8 million in funding from the county Board of Supervisors. As line items in the annual budget, the requests are likely to be approved later this month, but more money will be required over the next several years to fully implement the new mental health initiative, officials said.
The stakes are high.
"When you receive as many calls as we do about people affected by mental illness, you have to train people to deal with them, or you have outcomes unfair to the mentally ill," said Louis Dekmar, second vice president for the International Assn. of Chiefs of Police and the police chief in LaGrange, Ga. "The family who calls you for help ends up with a violent encounter with the police. We have a moral obligation to learn how to deal with these incidents."
::
In 1993, the Sheriff's Department became the first law enforcement agency in the Los Angeles area to deploy Mental Evaluation Teams. The LAPD and the Long Beach Police Department soon followed suit.
The teams patrol Los Angeles County, talking people out of jumping off freeway overpasses and getting help for others who are brandishing knives or running naked through the streets.
Twenty-one local police agencies now have the teams, which have been praised by both law enforcement leaders and advocates for the mentally ill.
The officer-and-clinician duos "take a step back and provide someone the space they need to feel safe. They take a slower approach," said Mark Gale, criminal justice chair for the National Alliance on Mental Illness' Los Angeles County Council.
But there is a chronic shortage of teams.
Long Beach Police Chief Robert Luna said staffing reductions prevent him from expanding his mental health teams beyond the single one on duty each shift.
In sheriff's territory, there are only eight teams, with fewer on duty at a given time, for the more than 4,000 square miles patrolled by the Sheriff's Department. Often, deputies don't bother to call because it can take hours for a team to arrive.
Last year in Lakewood, a federal law enforcement officer tried to summon a team to help his mentally ill brother, but all were busy on other calls. Sheriff's deputies fatally shot the brother when he refused to get out of his car and drove it towards them.
In Long Beach, though, when a woman who had been brandishing a hunting knife locked herself in a McDonald's restroom, Long Beach Police Officer Chris Costa spent 10 minutes coaxing her to slide the knife under the door. The effort may have avoided a violent encounter with other officers, said Costa, who has worked as the law enforcement half of a mental health team for nearly two decades.
The LAPD's mental health teams are relatively well-staffed but still have only been able to respond to about a third of mental health calls, said Det. Charles Dempsey, who heads the department's mental evaluation unit.
With a recent expansion from eight to 17 teams on duty, Dempsey anticipates that up to 70% of mental health calls will now be answered by specialists.
In August 2015, an advisory board convened by Dist. Atty. Jackie Lacey produced a long list of recommendations to improve mental health care in the county, among them nearly tripling the number of sheriff's mental evaluation teams to 23. Sheriff's officials hope to reach that target by gradually obtaining more funding from the county, adding two additional teams this year and more in the future.
"Our struggle has been we don't have enough teams to handle the need, especially for the geography we serve," said Chief Stephen Johnson, who heads the new mental health initiative. "The ones we have don't have the capacity to move around the county and really be a resource to deputies."
See the most-read stories this hour >>
The LAPD and the California Highway Patrol are among the estimated one-third of police agencies nationwide that have some form of mental health training for officers. Both recently upped the length of their courses to 40 hours.
Officer Edgar Figueroa, a spokesman for the CHP, said his agency's move was prompted in part by a 2014 incident in which an officer was captured on a cellphone video repeatedly punching a woman who was walking on the 10 Freeway in Los Angeles.
In L.A. County, jail deputies recently began taking a 32-hour course on mental illness and de-escalation tactics. Many patrol deputies will eventually take a similar course if the funding is approved by the supervisors.
Some deputies have already gone through a one-day training that teaches them how to act less threatening: Don't rest a hand on a gun; avoid sudden movements; build a rapport with mentally ill people. Using simulators, other deputies train in realistic scenarios involving people who are agitated and threatening violence.
As the training takes hold, sheriff's officials expect that use of force by deputies against the mentally ill will decrease. Dekmar, the George police chief, said officers in his department who have received similar training have been involved in 50% fewer use-of-force incidents than before.
The decrease is "absolutely because of the training," Dekmar said.
::
On a recent morning in Malibu, Ververa and mental health clinician Brittaney Dennis tried to coax a homeless man to abandon his camp on a hillside with a sweeping ocean view.
A sheriff's deputy had summoned the team after negotiating with the man, who was suffering from delusions, off and on for several days. His elaborate campsite, which included a large patio umbrella and a grill, was a fire hazard and risked eroding the fragile landscape.
"Hi, my name's Gabby," Ververa said, using her first name to seem more approachable.
"I'm kind of busy right now," said the man, tanned and bare-chested with a blond pompadour that made him a ringer for James Dean.
Before long, he loosened up, explaining that he was guarding Medusa, the snake-haired monster of Greek mythology, and gesturing at the bites she had supposedly inflicted on his hands.
Ververa and Dennis listened sympathetically, but when they suggested that he leave, he became agitated.
The team retreated. Despite his delusions, the man did not meet the criteria for being involuntarily committed to a mental hospital because he was able to take care of his basic needs and was not a danger to himself or others. He showed no inclination to leave on his own, and the hill was too steep for him to be forcibly removed.
A Times reporter was allowed to shadow the team on the condition that the names of the Malibu man and others not be used. They are considered patients under the care of the county Department of Mental Health, which is bound by confidentiality laws.
On another day, Ververa and Dennis arrived at an East Los Angeles McDonald's where a 39-year-old man with disheveled hair in a blue soccer jersey had been banging on car windows.
He said his name was Julius Caesar.
As Ververa guided him to the back seat of her unmarked car, she explained that he was not under arrest. He did not resist.
Once at Exodus, a mental health urgent care clinic near Los Angeles County-USC Medical Center, he spouted racial slurs against African Americans who were present. A security guard put his sunglasses, coins, broken earphones, rags and other possessions in a paper bag.
"He's in their hands," Ververa said as she left the clinic.
Twitter: cindychangLA
ALSO
Did bullet train officials ignore warning about need for taxpayer money?
High temperatures and wind feed nearly 8,000-acre fire in Santa Barbara County
Disgust and dismay over Oakland police sex scandal as department is called 'a cesspool'
The stories shaping California
Get up to speed with our Essential California newsletter, sent six days a week.
You may occasionally receive promotional content from the Los Angeles Times.