Mass shooting in Thousand Oaks eclipsed by huge wildfires, families and friends of victims say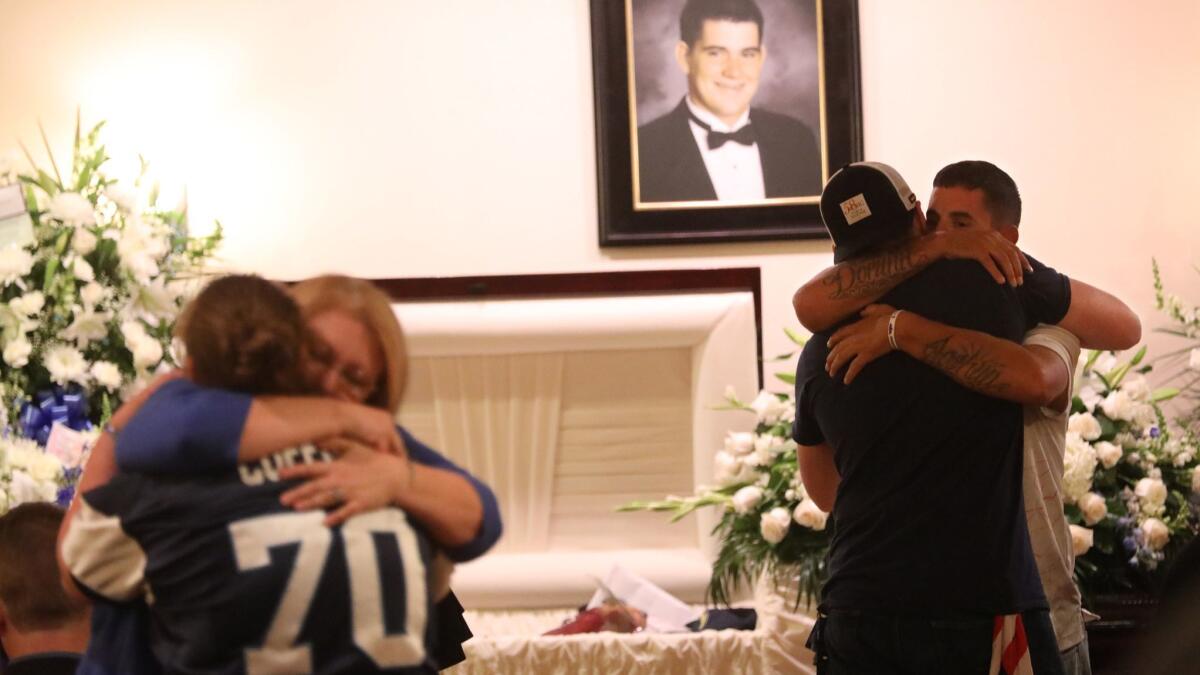 Scrolling through his Twitter feed last week, David Clayton-Ready spotted a fundraiser for people who lost homes or belongings in the fires ravaging California. He felt a jolt.
Less than a week earlier, his friend was gunned down in a mass shooting in his hometown of Thousand Oaks. But outside the city, and sometimes even inside, the massacre seems to have faded from focus.
Clayton-Ready, 39, tapped out a reply: "Please don't forget about the families of the #BorderLineShooting ... These fires are tragic but things can be replaced. The people that lost their lives can not."
It's been just 10 days since the shooting, the third-deadliest in California history. A sign on the 101 Freeway reminds drivers approaching the suburb from Los Angeles: 1000 Oaks Strong. Borderline 12.
But the fires that broke out less than 24 hours later seem to have eclipsed the tragedy, all but making it vanish from the national spotlight. The shooting did not spawn a gun control debate. Most journalists have already left town, headed to the devastating wildfire in Northern California.
Still grappling with what feels like the worst thing that could happen to their community, many in Thousand Oaks are left wondering: How has the country moved on already?
For them, the fires' arrival so soon after the shooting probably has made it even more difficult to stop thinking about the first tragedy, experts say. When two traumatic events are that close together, said mental health expert and USC professor Lawrence Palinkas, it's possible that "the effect is not simply additive, but could potentially be exponential."
In his tweet, Clayton-Ready included a picture of his friend, Sean Adler, grinning with his two blond-haired, giggling sons. Adler, a bouncer at Borderline Bar and Grill, the site of the shooting, was "just the sweetest man ever," he said.
"When I heard he was one of the victims" — Clayton-Ready's voice began to trail off, still processing the new reality — "it's unbelievable."
The Nov. 7 shooting rattled Thousand Oaks, a sleepy town of 120,000 people that has a reputation as one of the safest cities in America. Many people who grow up here return years later to raise their kids.
The morning after the shooting, Google searches for "Thousand Oaks shooting" skyrocketed nationwide, as people woke up and heard the terrible news, according to Google Trends.
Scenes of Thousand Oaks, with its wide streets and mountainous backdrop, played on TVs across the country. But the next afternoon, people began seeking information about "Thousand Oaks fire." As residents fled their homes in the dead of night from the fast-moving blaze, those Google searches became more popular — and stayed that way. The flip happened just 27 hours after the shooting.
Kim Paolini's daughter Kayla was supposed to go to Borderline the night of the shooting, but she changed her mind at the last minute. Her friend who was there, 21-year-old Noel Sparks, was killed.
"Here's this mass shooting, and when it would've been talked about two, three, four days, it fell off the face of the planet," said Paolini, 47. "The story never got out about those people and what happened."
President Trump traveled to California on Saturday to visit those affected by the fires. But before returning home on Air Force One, he met with families who lost children in the shooting.
"That was a horrible thing," said Trump, according to a White House pool reporter. "It's one of the safest places in America, and it happened there."
The shooting has not become a political football in a fierce gun control debate, as others have. In a statement released after the shooting, Janet Eckhouse, head of the Ventura County Chapter of the Brady Campaign to End Gun Violence, said: "Don't wait for this to happen to you and your community — demand action from your elected officials."
Eckhouse could not be reached for an interview, in part because her home was evacuated due to the fires, a Brady Campaign spokesperson said.
Even without the fires, some say the nation is numb to these shootings. The Thousand Oaks shooting is tied — with the one in Aurora, Colo., in 2012 and the one in 2013 in the Washington Navy Yard — for the 14th-deadliest in modern American history.
Samantha Heller, a 17-year-old senior at nearby Oak Park High School, said she was disturbed by the killings but wasn't necessarily shocked. She can recall a series of mass shootings in her lifetime, starting with the Sandy Hook Elementary School shooting when she was 11.
"To me, it didn't seem like it was never going to happen here," Samantha said, acknowledging that her perspective is grim. "We should be rocked to our core, not just casually horrified."
But just last year there was a far deadlier mass shooting — the worst in modern U.S. history — at a Las Vegas country music festival, where 58 people died. The massacre that left 11 dead in October at a Pittsburgh synagogue occurred 11 days before the Thousand Oaks shooting, yet it was already old news.
The nation no longer experiences the full grieving process — all five stages — for these horrific events, Clayton-Ready said. There's often not enough time between national tragedies to do so. "The population only goes through one or two stages nowadays, and then goes back to life as usual," he said.
Outside Borderline, at what was once an empty intersection between mostly doctor's offices, 12 crosses line the sidewalk, one for each of the victims gunned down. Bouquets of flowers stack up in front of them, the piles growing daily.
Throughout the day, people come and kneel before the makeshift memorial. Some sit for hours, gazing at photos of their lost loved ones. On one cross, for 21-year-old Jake Dunham, a note: "Mom loves you forever."
There were memorial services for the victims across Ventura County every day last week. Friday alone, there were at least three. The day before, thousands of people showed up at a church, jamming traffic nearby, to pay tribute to Sheriff's Sgt. Ron Helus, who was killed while trying to save lives at Borderline.
Yet even here, fires have interrupted the grief.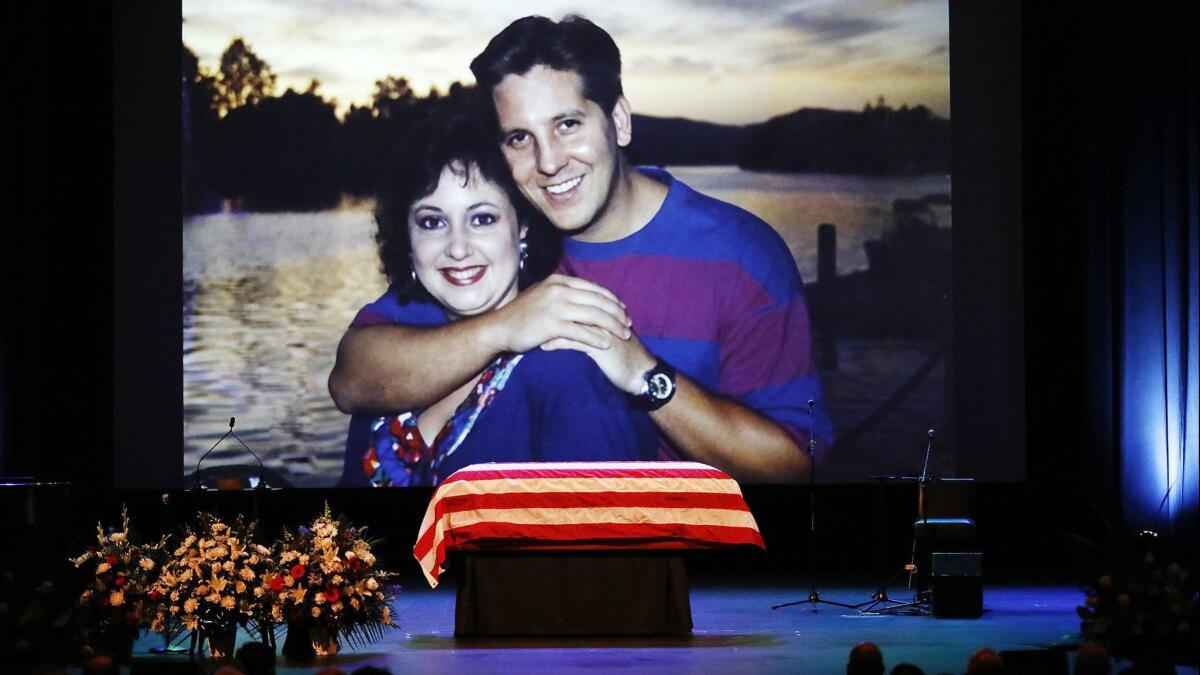 Ian Bradley, a reporter with a local newspaper, the Acorn, found out while he was covering a vigil that a family friend had been among those killed. Telemachus Orfanos, 27, survived the Las Vegas shooting but was gunned down at Borderline.
But shortly after Bradley found out about his friend, his parents had to evacuate their homes, and he's been covering the blazes since. Bradley, 28, knows the days after the vigil should have been the time for the city to process and heal.
"That completely got interrupted by the evacuations," he said. "There just hasn't been time."
Many in Thousand Oaks say the widespread fire evacuations have actually led to a sense of community that probably would not have been cultivated after the shooting alone. People were pushed out of their homes — at one point, 75% of the city was evacuated — and forced to bond and commiserate with one another.
Some have even speculated, with hope, that the fires allowed the city to skip over dealing with the horror of the shooting.
But Palinkas, the USC professor who studies the psychological effects of disasters, said that although the fires may have provided an immediate distraction, people won't be able to put aside their feelings about the shooting forever.
"Eventually the combination of the two will catch up with them," he said.
Meeting for the first time since the twin tragedies, the Thousand Oaks City Council last week held a special meeting to declare a state of emergency due to the fires. At the time, the Woolsey fire had destroyed 100 structures in Ventura County and was still burning.
But after the pressing matters were finished, Mayor Andrew Fox adjourned the meeting in honor of the victims of the Borderline shooting, one of "two significant tragedies" in the city. The TV in the council chambers displayed a collage of their 12 faces, all smiling, as he began to read:
"Ron Helus. Cody Coffman. Alaina Housley. Justin Meek. Sean Adler. Blake Dingman," said Fox, enunciating each syllable of each name. "Noel Sparks. Daniel Manrique. Tel Orfanos. Kristina Morisette. Jake Dunham. And Mark Meza.
"May they rest in peace."
soumya.karlamangla@latimes.com
Twitter: @skarlamangla
Sign up for Essential California for news, features and recommendations from the L.A. Times and beyond in your inbox six days a week.
You may occasionally receive promotional content from the Los Angeles Times.