Advocates and county residents ask for changes to Metro's $120-billion transit plan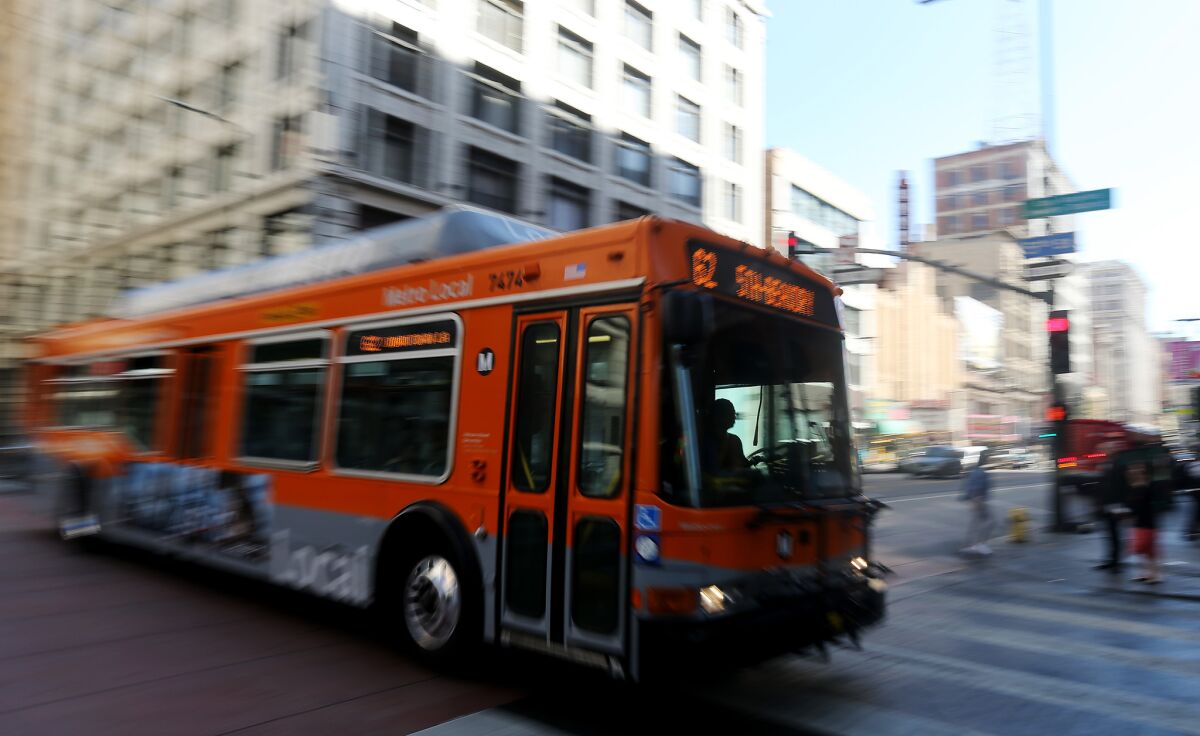 Los Angeles County residents on Thursday had their first chance to address transportation officials about their ambitious, $120-billion plan to raise taxes and dramatically expand mass transit in the region.
Much of the two hours of public testimony at the Metropolitan Transportation Authority's downtown headquarters focused on how quickly the agency could build and open major projects if the tax proposal were approved.
The rough plan, released earlier this month, calls for more than three dozen mass transit and highway improvements over the next four decades, including a rail tunnel through the Sepulveda Pass, the San Fernando Valley's first light-rail line, and a series of extensions of existing routes.
"I'm young now, but I won't be young forever," said Karina Macias, a councilwoman from Huntington Park, as she urged Metro directors to accelerate the timeline for a transit link between Union Station and Artesia, currently slated to open in 2049. "I want to see this project become a reality."
She added: "We are unified, and we are prepared to organize against the measure if the needs of our cities are not met."
It's a familiar refrain for Metro officials working on the political balancing act of getting the ballot measure passed.
To meet the two-thirds voter threshold required to raise taxes, Metro will need buy-in from virtually every area of the county. The agency's rough proposal reflects that, with rail lines and highway projects stretching from the South Bay to northern L.A. County and from Westwood to Claremont.
The current plan, expected to appear on the Nov. 8 ballot, would raise about $120 billion by extending a current sales tax for 18 years and raising the sales tax rate by an additional half-cent for at least four decades, boosting the county's base sales tax rate to 9.5%.
Of the $120 billion in revenue, $42 billion would fund new transit routes, $20 billion would go toward highway projects, and $19.2 billion would be returned to cities for local projects, including filling potholes and fixing sidewalks.
Metro staff will be able to make changes to the proposal until June, when the agency's directors are expected to approve the measure for the November ballot.
The agency's top officials are pushing to extend the new tax to five decades, rather than four, which could raise an additional $11 billion. Of that, about $3.85 billion would go toward transit construction.
Los Angeles Mayor Eric Garcetti, a Metro director, told the crowd Thursday that the timelines included in the agency's rough proposal could be sped up with funding from the federal government or the private sector.
Interested in the stories shaping California? Sign up for the free Essential California newsletter >>
"Money leverages money," Garcetti said. "We need to get something passed. We should figure out a way that we can have a pot of money that we're actually fighting over."
He added: "It's the goal of everyone here to see these things open before we die."
The transit link between Artesia and Union Station drew some of the strongest support. Representatives from cities along the route, including Artesia, Huntington Park and Downey, urged Metro to speed the timeline on the project.
The proposal currently calls for two phases of construction: The first, from Artesia to the Green Line along the 105 Freeway, is slated to open in 2031. The second, north to Union Station, would open by 2049.
The line was one of a dozen rail projects to be funded through Measure R, the half-cent sales tax that county voters approved in 2008. Under that expenditure plan, the route would have opened in 2027.
That delay, among others, drew criticism from three Metro directors— Inglewood Mayor James T. Butts, Los Angeles County Supervisor Don Knabe and Lakewood Councilwoman Diane DuBois — who said the needs of the southeast cities of the county had been overlooked.
The agency's recommendation, DuBois said, "extended some of the project … completion dates into the future so far that no one can see it."
Advocates for bicyclists, pedestrians and the disabled also urged elected officials to dedicate more funding for those groups.
The current proposal allocates 2% of the revenue, or about $2.4 billion, to improve accessibility for seniors and the disabled, and the same amount for so-called "active transportation" projects, including crosswalks, sidewalks and bike lanes.
"We will build a fantastic system that people won't feel safe walking and biking to," said Eric Bruins, the policy director of the Los Angeles Bicycle Coalition.
Officials from West Hollywood and central Los Angeles urged the board to start construction earlier on the northern extension of the Crenshaw Line, which would go through Mid-City, Hollywood and possibly West Hollywood.
Metro's draft plan says the line would open in 2055, which is "much too late," Nicole Shahenian, a Hollywood Chamber of Commerce representative, told the board of directors.
The Crenshaw Line, which will stop at Aviation and Century boulevards, will eventually connect to Los Angeles International Airport through a people-mover, a small train similar to what's used in San Francisco and Denver.
"It's imperative that we provide linkages from LAX to the place our visitors want to go: Hollywood," Shahenian said.
For more transportation news, follow @laura_nelson on Twitter.
See more of our top stories on Facebook >>
ALSO
Fire at homeless encampment creates smoke visible for miles
San Gabriel Valley doctor agrees to plead guilty to drug trafficking
With sister in tow, an albino teen maimed in a grisly attack in Africa gets a new limb and life in L.A.
The stories shaping California
Get up to speed with our Essential California newsletter, sent six days a week.
You may occasionally receive promotional content from the Los Angeles Times.