As the nation mourns a president, Los Angeles County honors 1,457 unclaimed dead
This burial ceremony in Los Angeles makes sure no one dies alone. This year's unclaimed dead ceremony honored 1,457 people.
On Wednesday morning, about 200 strangers gathered under stormy skies to pay their respects at a Boyle Heights cemetery. Few people in the crowd knew anyone who had been buried, but that did not stop them from remembering the dead.
The annual graveside event honors those whose bodies go unclaimed following their deaths, a practice that dates to the 1890s, when Los Angeles County first began burying indigent and other unclaimed individuals. This year's ceremony honored 1,457 people, whose ashes were buried earlier in the week.

For the record:
11:05 a.m. Dec. 6, 2018An earlier version of this article said the remains of 1,467 unclaimed dead in Los Angeles County were buried this week. L.A. County USC Medical Center officials say 1,457 unclaimed dead were buried.
County Supervisor Janice Hahn noted how the event coincided with the funeral service of President George H.W. Bush, who was remembered at a 2 ½-hour ceremony in Washington, D.C.
"It's just as appropriate that on the same day we mourn the loss of our commander-in-chief, we also mourn the loss of individuals whose deaths did not receive national attention or much attention at all, but whose lives were no less worthy of our recognition," she said.
"Some of these individuals were homeless. Many were poor. And tragically, many of them have no loved ones to grieve for them."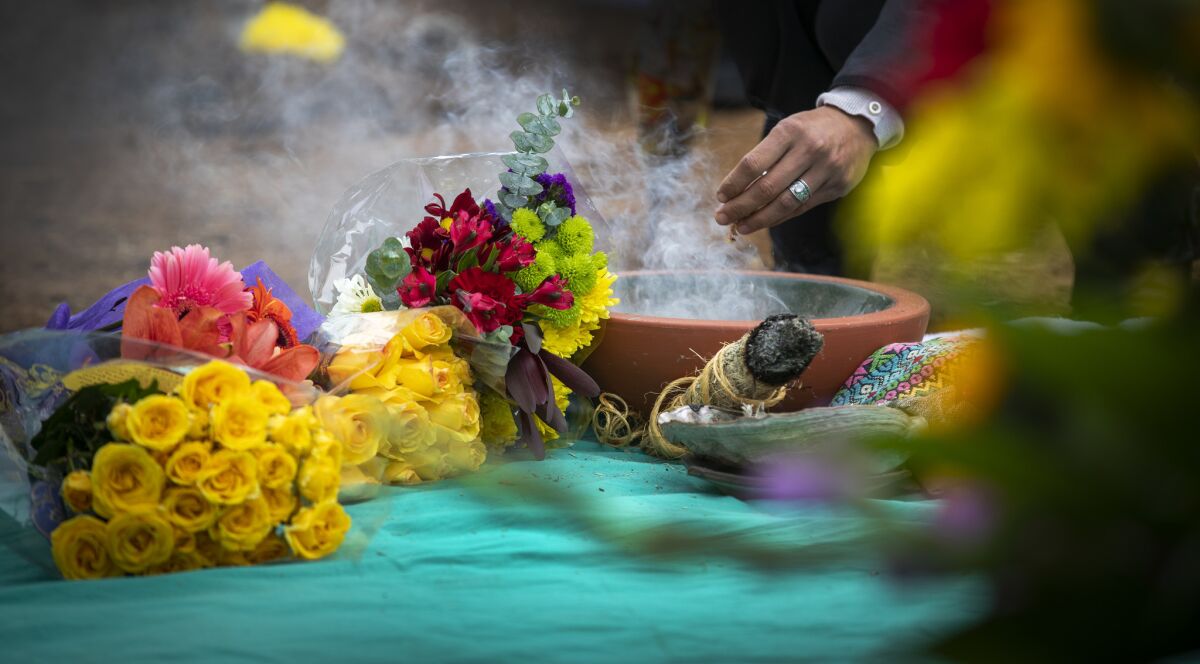 The bodies of hundreds of men, women and children go unclaimed every year in L.A. County. Some are the last of their families and die peacefully in nursing homes. Others are from families too poor to claim them. Some are stillborn babies.
But they are not nameless.
The county has a list of unclaimed dead dating back to 2012. If bodies at the morgue and coroner's office are not claimed, they are cremated at the county's expense. Officials hold onto the cremains for three years, waiting for someone to claim them and reimburse the county for its services. If the ashes are not picked up, the county buries them in a single grave.
On Wednesday, the interfaith service incorporated prayers in English, Korean, Spanish and Fijian. A Muslim text was read. A rabbi read Psalm 23 in Hebrew and English. A woman sang a Native American hymn four times, turning 90 degrees and singing to each direction of the globe.
Among those gathered was a man dressed in black, who played Bach on an oboe. A woman in a Hello Kitty hat clutched two bouquets just beyond the grave. An older man with a white beard, gold bifocals and a red Santa hat wished people Merry Christmas and handed out candy canes.
Wearing a black hat and sunglasses and gripping yellow flowers, Irene Ng pointed to the neighboring Evergreen Cemetery, where headstones and grave markers stood several feet high.
"The thing is, out there, everyone's buried alone," said Ng, of Alhambra. "Here you're with 1,400 others. You're buried, but you're not alone."
Ng, who also came to last year's service, said attendance at the ceremony is important, "to let them know they're not forgotten."
"It should not be viewed negatively and sad," she said while pausing to listen as a small chorus began singing "Amazing Grace."
"I once was lost but now am found ..."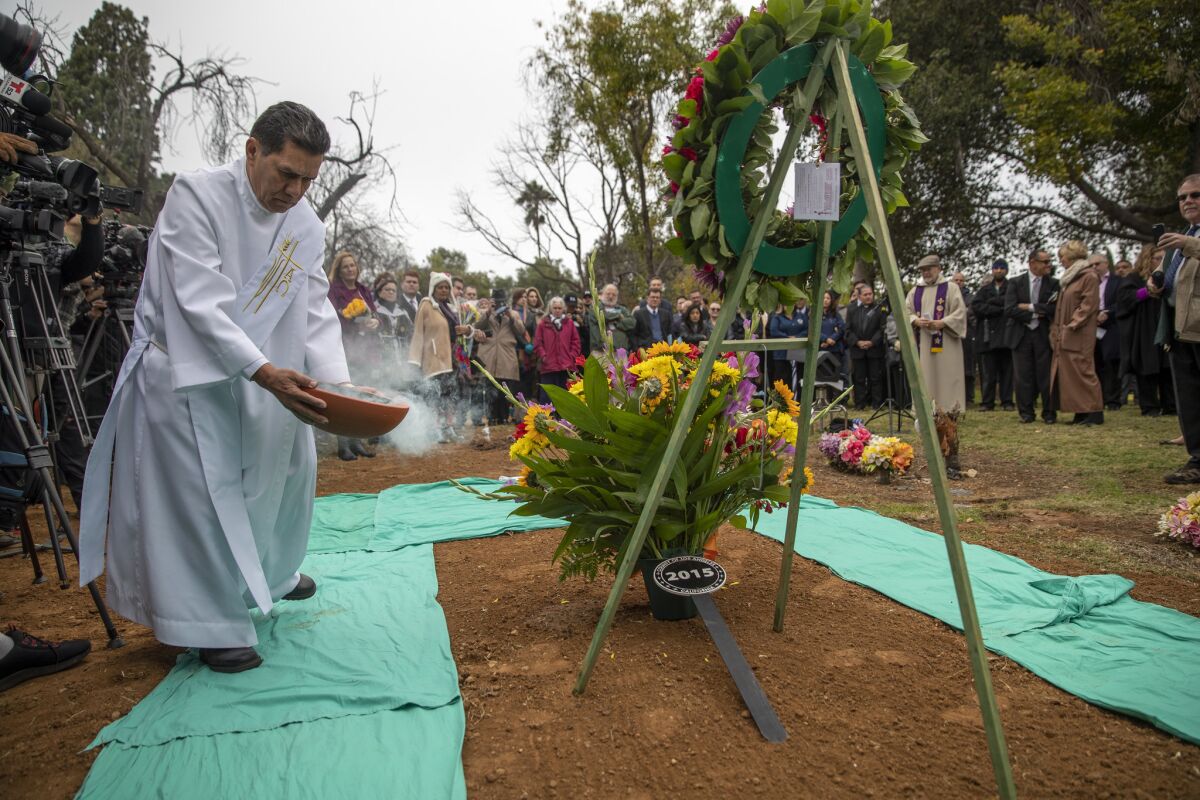 Wednesday's predicted rain held off, but a chilly wind pushed against the crowd, which encircled the freshly dug grave. No large monuments were erected. Only a wreath, some flowers and a small stone with "2015" — the year those being remembered were cremated — marked the site.
Susan Rorke of Reseda stood among the mourners, wrapped in a pink coat and weeping. Her sister was cremated by the county a few years ago and she wasn't able to pay for the services. The county eventually waived the fees, and she was able to get her sister's ashes before the group burial three years ago.
Through tears, Rorke said she thinks she will end up alone and in a mass grave, like the people here. "The odds are getting higher and higher as I get older," she said.
"I'm glad that the county does something," Rorke said. "These were human beings that mattered."
The stories shaping California
Get up to speed with our Essential California newsletter, sent six days a week.
You may occasionally receive promotional content from the Los Angeles Times.