Orange County baby dies of whooping cough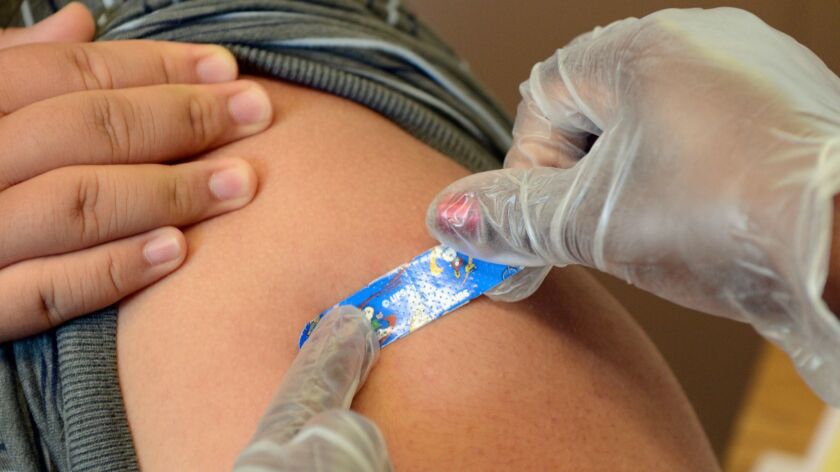 A baby in Orange County has died of whooping cough, marking the first death from the disease this year in the state, California health officials said Thursday.
Whooping cough, also known as pertussis, tends to be most dangerous in babies, killing one out of every 100 infants infected, according to the U.S. Centers for Disease Control and Prevention.
Health officials recommend that pregnant mothers get a dose of the pertussis vaccine to protect their newborns before they are old enough to be immunized themselves. The last person to die from pertussis in California was a baby in San Bernardino County in 2018.
"To give babies the best protection, I urge all pregnant women to get vaccinated against whooping cough as early as possible during the third trimester of every pregnancy," state public health officer Dr. Karen Smith said in a statement.
In 2016, only 52% of new mothers were vaccinated against pertussis, according to a report from the department.
Health officials did not provide any further information about the baby or the mother.
Whooping cough is highly contagious and spread by coughing, sneezing or simply breathing air around an infected person. The name comes from the noise people make when they're coughing so much they start gasping for air.
The death comes amid warnings that California could be in for an outbreak in 2019. Whooping cough outbreaks tend to hit every three to five years, and California's last were in 2010 and 2014.
Los Angeles County officials announced several pertussis outbreaks this year, including one centered on Harvard-Westlake School.
soumya.karlamangla@latimes.com
Twitter: @skarlamangla
---
The stories shaping California
Get up to speed with our Essential California newsletter, sent six days a week.
You may occasionally receive promotional content from the Los Angeles Times.