Column: Dodgers done them wrong, and they're still in love but oh so blue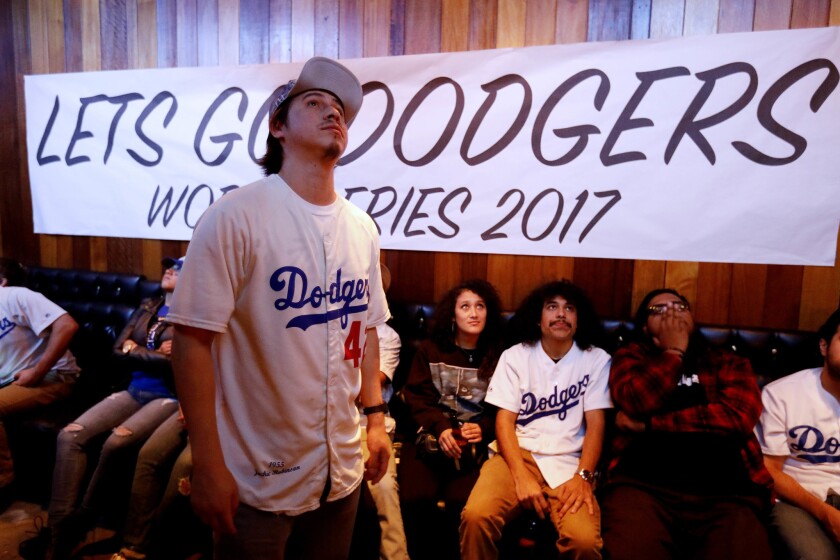 In Yucaipa, Peter and Cathy Bond feel abandoned.
They can't get the Dodgers on TV because of a blackout now in its fifth season, the signal on radio broadcasts doesn't carry into their neighborhood, and ticket price increases have put a trip to Dodger Stadium out of reach.
In defiance, they did not raise their Dodgers flag in the front yard this year.
In Mar Vista, Anne Goldfarb spent many years watching Dodgers games on TV with her husband, Jack. She's now a widow, legendary broadcaster Vin Scully is retired, and Goldfarb is indignant about not being able to see the team she's watched since the days of Sandy Koufax and Don Drysdale.
In Chinatown, Sheila Boyd is a Dodgers die-hard who went to her first game in 1969, with her grandfather. At the World Series last year, she went to Game One wearing a locket with photos of her deceased grandparents. But as a fed-up blackout victim, she's no longer making a point of listening to games on the radio.
In Encino, Josh Weisel is no longer a Dodgers fan after 50 years of loyalty to the team, and he is convinced he knows the reason for the Dodgers' horrible start this season.
"It's karma," said Weisel, who is in direct communication with the baseball gods. "It's a curse on the Dodgers, and they won't win until the fans can watch the games again."
He may have a point. If you take fans for granted, year after year, the bill eventually comes due.
In the previous four seasons, the Dodgers were winners, and for fans, missing out on televised games was painful.
So far this year, the team is a smoldering wreck, hovering near last place in the division and getting kicked around by the worst clubs in baseball.
Finally, the interminable TV blackout is a gift.
I began wondering, though, if this could be the year when greed inflicts mortal wounds on one of L.A.'s most beloved institutions.
In the entertainment capital of the world and one of the largest media markets in the hemisphere, six or seven households out of 10 can't get Dodger games on TV.
The Dodgers broke hearts in Game Seven of the World Series, but the owners jacked up ticket prices more than any other team.
And this year the Dodgers are lousy.
That's three strikes, and the curse theory isn't so crazy.
"When you start losing the DNA … and when you screw around with the nature of the universe, you can be in big trouble," said Andy Dolich, a marketing consultant who grew up as a Brooklyn Dodgers fan and worked as an executive for several professional sports teams.
Dolich said the Dodgers could turn it around and still win the division, and they have the luxury of a huge fan base and loyalties passed down from grandparent to parent to kids to grandkids. But if you can't see the games on TV, and you don't get to know the players, there may be fewer Dodger Dogs in your future.
"More and more people have a nanosecond attention span, so if the Dodgers are not in first or second place in people's minds as far as how to spend their time, that can be almost more negative than the fact that they're increasing ticket prices," Dolich said.
"My whole life, I always looked at the Dodgers as the ultimate example of how to run a quality professional sports franchise," he said. "That being said, in today's world the defining fluid that runs through the veins of professional sports is green."
The Dodgers have plenty of that, thanks to the $8.3-billion deal they struck with Time Warner Cable. Time Warner was bought by Charter Communications, whose cable service is called Spectrum.
If you've got Spectrum, you get Dodgers games broadcast on the team's own SportsNet LA. But DirecTV and other carriers have refused to pay Spectrum's asking price for the right to broadcast games, so millions of Southern California households are left off the roster.
The Dodgers still lead the league in ticket sales, but that's largely because a zillion people live here, and tens of thousands of seats were sold before the season even began. Many of those seats now sit empty.
Once upon a time, the Dodgers were owned by the O'Malley family, which knew how to earn loyalty and patience in Los Angeles, in good seasons and bad.
The Guggenheim gougers dumped some of that $8.3 billion into the roster and fielded a contender, at least for a while. But the owners' good fortune was a bum deal for the millions of working folks who got left in the dark, and the Dodgers management attitude is that the media and the fans need to take it up with the cable companies, not them.
"Guggenheim is basically a finance company whose interest is not the fans, it's the bottom line," said Tom Wilson, a Dodgers fanatic who made a documentary about the team called "Moneyball Too," which you can see on YouTube.
Wilson said he thinks the business model will fail, because the Dodgers stand to lose future fans unable to follow the team on TV. But if the owners run into trouble, he said, they'll probably just sell. At a huge profit.
"It's a microcosm of what happens in a society where greed leaves people behind," Wilson said.
In Yucaipa, Peter Bond said the absence of the Dodgers gives him more time to devote to his work as a Catholic deacon.
In Mar Vista, Anne Goldfarb said the fact that the Dodgers can't get out of their own way "doesn't bother me at all," and she's tuning in to the Angels this season.
In Encino, Josh Weisel said he's got plenty of entertainment options, and the Dodgers are no longer one of them.
But most of the disappointed fans I spoke to said they'll never give up on their team, even if they can't watch on television.
"I bleed blue," Sheila Boyd said.
Tom Wilson still goes to the ballpark, but only because his brother-in-law gives him tickets. He refuses to buy any food or drink, or support the owners in any way.
But those are still the Dodgers on the field, he said, and he refuses to let Guggenheim or anyone else "run me off the game I love."
"I'm still here," he said. "Me and the fans."
Get more of Steve Lopez's work and follow him on Twitter @LATstevelopez
---
The stories shaping California
Get up to speed with our Essential California newsletter, sent six days a week.
You may occasionally receive promotional content from the Los Angeles Times.