Column: Couple invested $50 million in L.A.'s neediest kids and it made them richer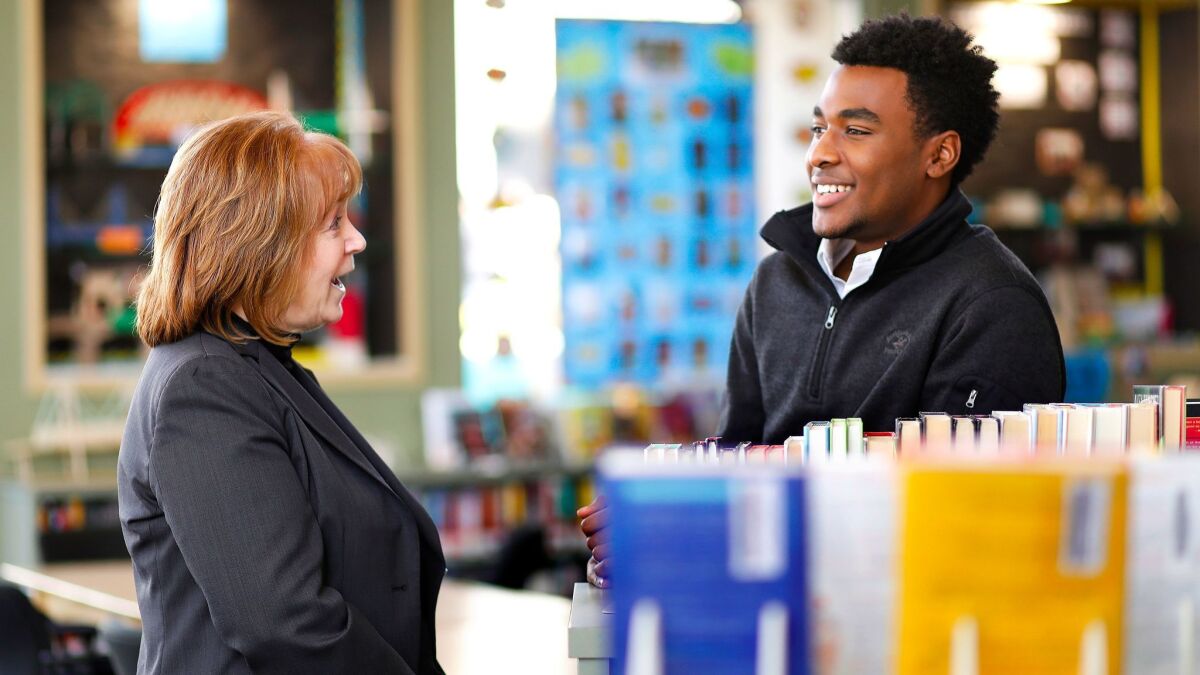 Melanie Lundquist, a philanthropist from Palos Verdes Estates, stood in the hall near the principal's office at Santee Education Complex near downtown Los Angeles.
Jaden Pitts, a 17-year-old senior from South L.A., happened to be walking by. He is a Lundquist fellow, which means he's no slouch. The young man has served as student body treasurer, was a member of the committee that chose the current Santee principal, plays guard on the basketball team, runs sprints on his track team, and started a campus club — Brothers and Hermanos — to explore why male students lag behind females in school performance.
Lundquist was curious about his college plans.
"Stanford is my first choice," said Jaden, who's also interested in Chapman and Loyola, among other universities.
"And what do you want to study?" Lundquist asked.
"Business," Jaden said.
Lundquist, whose husband, Richard, runs a commercial development company, beamed. The business school at the University of Oregon is named after her father-in-law, she told Jaden. If he ever wanted to explore the possibility of going to school in Eugene, she told the student, she could make a connection for him.
Jaden thanked her and walked away with a smile.
Melanie and Richard Lundquist are not walking away.
Ten years ago, they pledged $50 million to schools in some of L.A.'s most impoverished neighborhoods. Some of their friends questioned their sanity, given school district bureaucracy and politics and the socio-economic challenges of students.
But the Lundquists, who both attended LAUSD schools in their youth, stuck with their plan to write a $5-million check every year for 10 years to fund campus improvements, teacher development training and additional resources. And now they're signing up for 10 more years of giving to the Partnership for L.A. Schools.
The Lundquists were scheduled to announce Thursday that graduation rates and test scores have improved at a majority of the 18 Partnership campuses, and they're making an additional $35-million commitment to keep the momentum going.
"I don't think our young people have the opportunities I had growing up, and a lot of people think I must have grown up rich, but no I did not. Quite the opposite," said Lundquist, a graduate of the University of Southern California.
It bothers Lundquist that her well-endowed alma mater met a $6-billion fundraising goal way ahead of schedule, even as California's public school funding per pupil lags in the bottom tier nationally. In the Partnership, she said, donations from the Lundquists and others have added about $650 in spending for each of the roughly 14,500 students.
"Richard and I like to go where most people don't," said Lundquist. "I could've given $50 million to USC, but they've got deep-pocketed donors all over the place."
The nonprofit Partnership grew out of an attempt by former L.A. Mayor Antonio Villaraigosa to take over the school district, which he thought would benefit from his control. As a consolation for his failed coup, Villaraigosa's team got a chance to see what it could do with 10 of the district's lowest performing schools, and eight campuses have been added since then. These are not charter schools, which operate with public funding but are self-governing. The Partnership schools are sort of a hybrid. They have nonprofit administration but play by the same rules as traditional neighborhood schools and must abide by LAUSD's union contracts.
From the beginning, there were those who wondered about the fairness of offering a financial advantage to a select few schools. Critics, especially early on, included teachers who claimed they were not getting the bigger leadership roles they'd been promised.
Although almost all Partnership schools have shown improvement on statewide proficiency tests and some have seen gains that outpace other district schools, many of the nonprofit's students remain in the lower ranks, and five Partnership schools were on a 2016 list of the 20 LAUSD schools with the lowest performance.
"Everybody, I think, has a sense of urgency about our problems and what can and can't be done about them," said Melanie Lundquist, who was inspired to directly support schools after hearing Villaraigosa talk about the state of public education when he was a mayoral candidate. "And if something after two or three years hasn't been fixed, they want to move on to the next thing. Well, I've watched this break for 50 years, and I knew it wasn't going to be fixed in five or 10 years."
She said she knew early on that she wanted to add another 10 years of commitment, and if there's still work to be done a decade from now, maybe she'll be in this for 30 years, still visiting campuses regularly and finding inspiration from principals, teachers and students.
For the Lundquists and the Partnership, the goal has always been to create a model to transform schools into safer, more collaborative environments in the hope that all schools could adopt the same strategies. A parent college brings moms and dads onto the campuses. Community and business leaders are engaged as partners. Schools get report cards.
John Rogers, who runs UCLA's Institute for Democracy, Education and Access, said the appointment of Joan Sullivan as the Partnership's chief executive in 2013 led to sharper collaboration with the district and greater support for principals and teachers. He said that aside from positive trends on student performance, the Partnership's notable success has been in turning some of its schools into healthy havens, safe from surrounding crime, poverty and blight.
"The Partnership gets credit for taking on some of the most challenging schools in Los Angeles … as opposed to picking off easy wins, so to speak," said Rogers. "When people around the country talk about models of restorative justice and peaceful environments, I point them to some of the Partnership schools."
There are no hidden solutions to improving the nation's schools, said Sullivan.
"Our gains have accelerated over the years, and continuity of effort makes the difference," she said.
The Lundquists have helped make that continuity possible, but Melanie prefers to credit teachers, principals and students, and to talk about what the Lundquists are getting rather than giving.
"We couldn't be more thrilled with our investment," she said.
Motivated students like Jaden Pitts are at every school, Lundquist has learned, and their potential is unlimited.
"You just need somebody to believe in you," she said after her chat with Jaden. "They soak it up like a sponge. I've never seen so many bright kids as I have since I've been in the Partnership."
Get more of Steve Lopez's work and follow him on Twitter @LATstevelopez
The stories shaping California
Get up to speed with our Essential California newsletter, sent six days a week.
You may occasionally receive promotional content from the Los Angeles Times.