Column: It wasn't just the rich who lost homes in the Malibu area. Is fire California's great equalizer?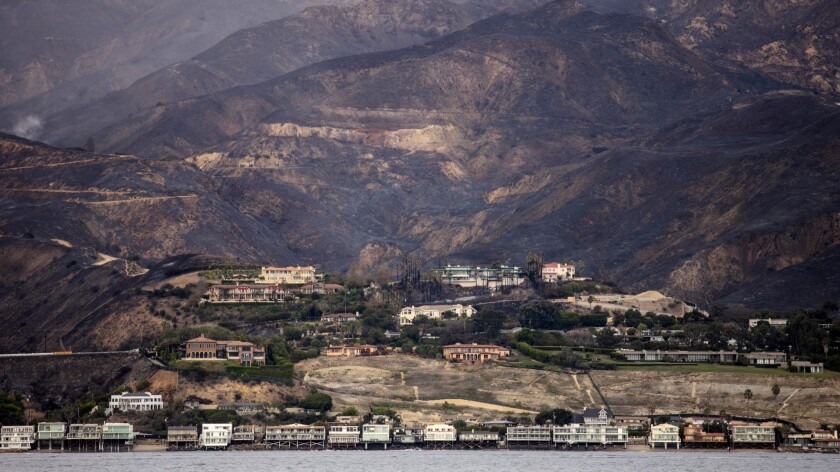 In the same week, millionaires, celebrities and fixed-income pensioners have all lost homes to fire in California.
Miley Cyrus, Neil Young and Gerard Butler now own ashes in Malibu.
Up north, people we never heard of lost homes, and lives, in Paradise.
Fire, in that regard, is an equalizer in a state of great disparity. By the laws of nature particular to the landscape and climate, California was made to burn, and it has for centuries. It gives no consideration to where you've been or what you've done, how important or anonymous you might be. It's entirely indifferent, predictable as the winds that drive it, and seems to keep asking with greater intensity and urgency:
"What were you expecting?"
"Fire doesn't particularly care whether you live in a mansion or a trailer park. It doesn't care. It doesn't feel our pain. It just does what it does," said Steve Pyne, a fire historian at Arizona State University.
Pyne has argued that given the inevitability of fires, we need to be smarter about land management, the ignition of fires from power lines and other sources, and the ferocious advance of infernos on communities without enough safeguards to prevent incineration.
I didn't make it to a mansion Tuesday but I spent some time at the Seminole Springs mobile home park off Mulholland Highway.
I should say I spent time at what was left of it. Almost half the 215 homes burned to the ground.
California fires live updates »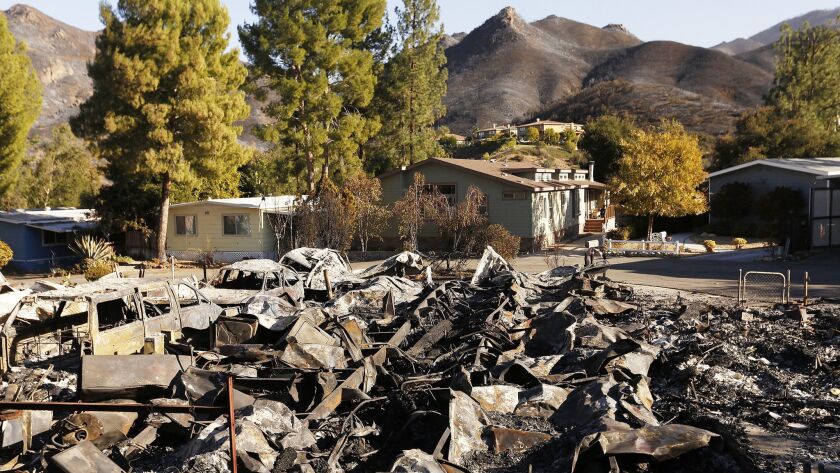 "There's a lot of poor people that lost houses there," said resident manager Doug Olson, who told me that as the fire approached late last week, he knocked on every door and said, "Do you wanna stay and die or do you want to leave? It's up to you."
Everybody left, including a woman in her 90s.
"It's a total tragedy," said Olson. "People were asking me where they were going to go, what they were going to do."
A few of them were back Tuesday to inspect the rectangular ash boxes that used to be their homes.
The setting is stunning, with a small lake near the lower half of the park, and now-blackened slopes rising all around, like mounds of coal. You could easily see what had drawn people here, to prime California real estate not far from the coast, where a few hundred thousand dollars gives you a stake.
Michelle O'Wings told me she moved in 45 years ago.
"It was just so nice here," said the realtor, who later married a water company laborer named Ron Glover.
On Tuesday, they sifted through the remains of their home. O'Wings used gloves and Glover's face had a smudge of soot.
"I'm trying to find pictures," O'Wings said, but nothing in the rubble suggested there was much of a chance.
The box spring made it through, and a Pyrex bowl was almost in good enough shape to keep. Everything else was dust.
These are the victims of the California wildfires »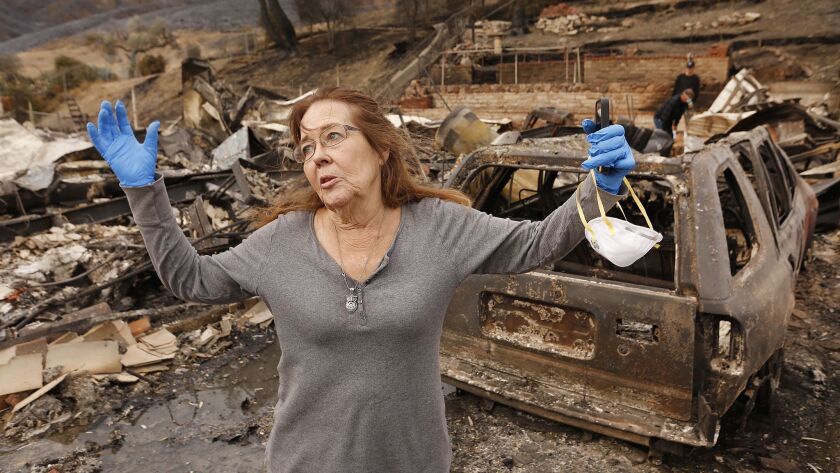 Glover stood on the edge of the property for a while, somewhere between shock and grief.
"I spent 20 years fixing this up," he said.
His son, Kodi, wanted to elaborate on that.
"He built this with his HANDS," Kodi said. "You know what I mean? Like dads do. Dads build things, right? Twenty years, he put into this. And it goes up in smoke in a day!"
Glover said he suspected the terrain, the vegetation and the winds were always conspiring to ruin this patch of affordable heaven.
"I knew one day it'd be coming through," he said, but he accepted the terms of the bargain. "You're living around all these million-dollar homes in a tin can."
O'Wings said she was doing her best to keep it all in perspective. If you have family and friends, she said, you've got what matters.
"I could sleep on a park bench and be happy," she said.
She's doing better than that. She and her husband are staying with Kodi at his place in Ventura for the time being.
"I'm the type, I don't like to cry," she said. "Give me a month and I'll cry, or maybe six months from now."
Six months from now, one can only hope we'll have seen some rain, and that the hundreds of people who have lost their homes will be able to rebuild their lives in new places.
But my notion of fire being an equalizer is naive, to be honest. Some of the celebrities who lost their homes have other homes, and those who were already living on the edge may have trouble re-creating what they had.
"While it may be true that a fire disaster does create a kind of egalitarian equality, what follows is anything but," said Mike Davis, author of "Ecology of Fear." The book included a chapter titled "The Case for Letting Malibu Burn," a stinging critique of fire suppression mismanagement that leads to catastrophic fires and expensive efforts to save castles where none should have been built.
"Fires tend to gentrify areas," said Davis, "and what follows a huge fire is not just the rebuilding, but rebuilding on a larger scale, with more expensive structures than before."
If they're able, Michelle O'Wings and Ron Glover said they'd sure like to go back to Seminole Springs one day. It won't be easy to find anything like that, at anywhere near the price.
Glover and his son rooted around near what was the rear of the house and found a scorched bag. Glover used to empty his pockets after work and put bills in the sack, saving up for a vacation or an unexpected bill. There were thousands in that stash.
No more.
"It was still in stacks," said Kodi, like blocks of ash. "It's only money. It's nothing that matters."
Closer to the front of the house, Kodi came upon a tin can.
"Those are the photos," O'Wings said.
Kodi pulled open the lid, and there was nothing inside but thin, photo-size squares of ash. He tilted the can, and O'Wings silently watched the photos fall like dust into the rubble.
"They're old photos," Kodi said. "Take some new photos. New memories."
Get more of Steve Lopez's work and follow him on Twitter @LATstevelopez
---
The stories shaping California
Get up to speed with our Essential California newsletter, sent six days a week.
You may occasionally receive promotional content from the Los Angeles Times.