Column: Inglewood is gentrifying fast, but this girls' softball team faces bleak conditions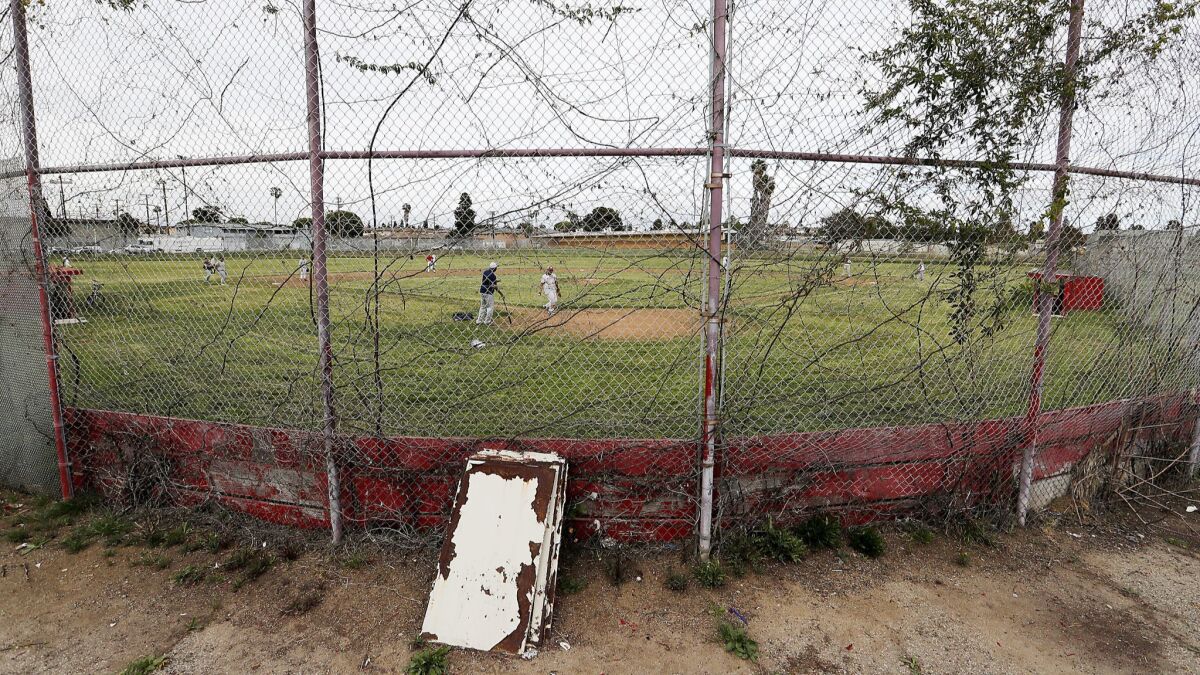 Several hundred yards away from the site where billions of dollars are being plowed into a new stadium for the Rams and Chargers, athletic field conditions are bad and getting worse at Morningside High School in Inglewood.
On March 22, the girls' softball team was set to host North High of Torrance, and players went through their customary pregame warm-ups.
"We were all prepared and psyched to play, and we were stretching," said freshman left fielder Alexis Campos.
But she and her teammates noticed the meeting of umpires and coaches, and had a hunch they wouldn't be getting any at-bats. Then came the bad news:
Game canceled on account of a crummy, unsafe field.
"We were mad but couldn't be all that mad, because of the conditions," said Campos.
"The field is really hard, so it could be dangerous," said Ezkarlet Camarillo, a sophomore who plays second base.
The softball field has no bleachers and no dugouts to speak of, and the team benches aren't big enough for everyone to have a seat. The field has no sprinkler system, said Morningside athletic director Daniel Campbell. It's been broken for a while, and a skimpy Inglewood Unified maintenance crew can barely keep up with demands in a district long plagued by financial woes and crumbling facilities.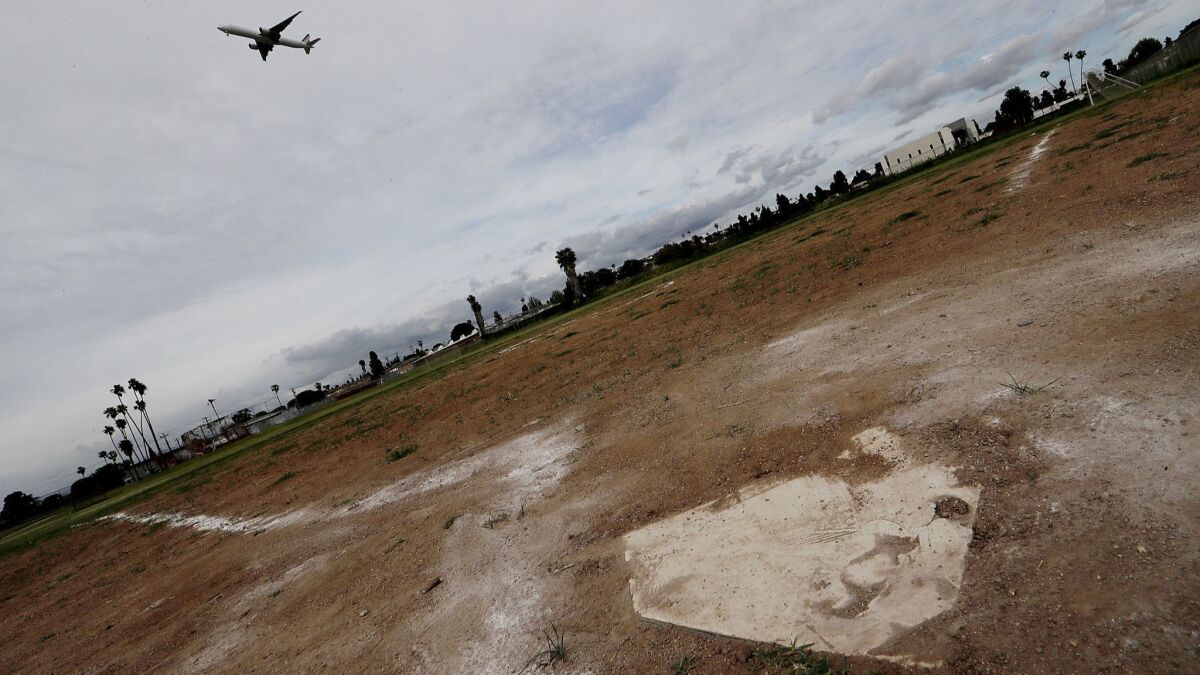 I spotted a guy on a tractor lawnmower as he cut grass in the center of campus, and he said a crew of just four people splits time across 17 campuses. A couple decades ago, he said, the crew had 22 people. At the moment, the district does not have a building and maintenance supervisor, an administrator told me.
"The boys' baseball field isn't much better," Campbell said, and it has no working sprinklers, either.
Ed Mashman was one of the umpires who was supposed to work the softball game against North High.
"That's the first time I've been to a field where we said, 'Hey, you can't play on this one,' " said Mashman, who compared the compacted infield dirt to concrete.
"As it turned out, both managers and the athletic director agreed with us that it was too dangerous...and a ground ball could bounce up and kill somebody," Mashman said.
"We were ready to get out the rakes, because we always want to get the innings in for the girls," said North High coach Lindsay Mann, who told me she had never seen a field that bad in all her years as a player and coach. "But once we saw that there was broken glass on the field, that was it."
Mann said the trip to Morningside "was a sobering experience" for her girls, who enjoy nicer facilities at their school and in the nearby beach communities.
"We have luxuries we might not see as luxuries, but they are," said Mann.
Last week, the Monarchs had another home game scheduled, but had to play on the road, instead, at Inglewood High. And that might be the drill for the rest of the season: playing home games on someone else's turf.
To add to the woes, the softball team hasn't won a game this year and lost their coach because of a paperwork glitch on his application. Coach Marcus Muhammad stepped in, but didn't have practice Thursday when only five girls showed up, with the softball field still considered unsafe. He held a team meeting instead.
The boys' baseball team hasn't won a game in two years. Campbell said it's hard to recruit players when the facilities are so bad year after year.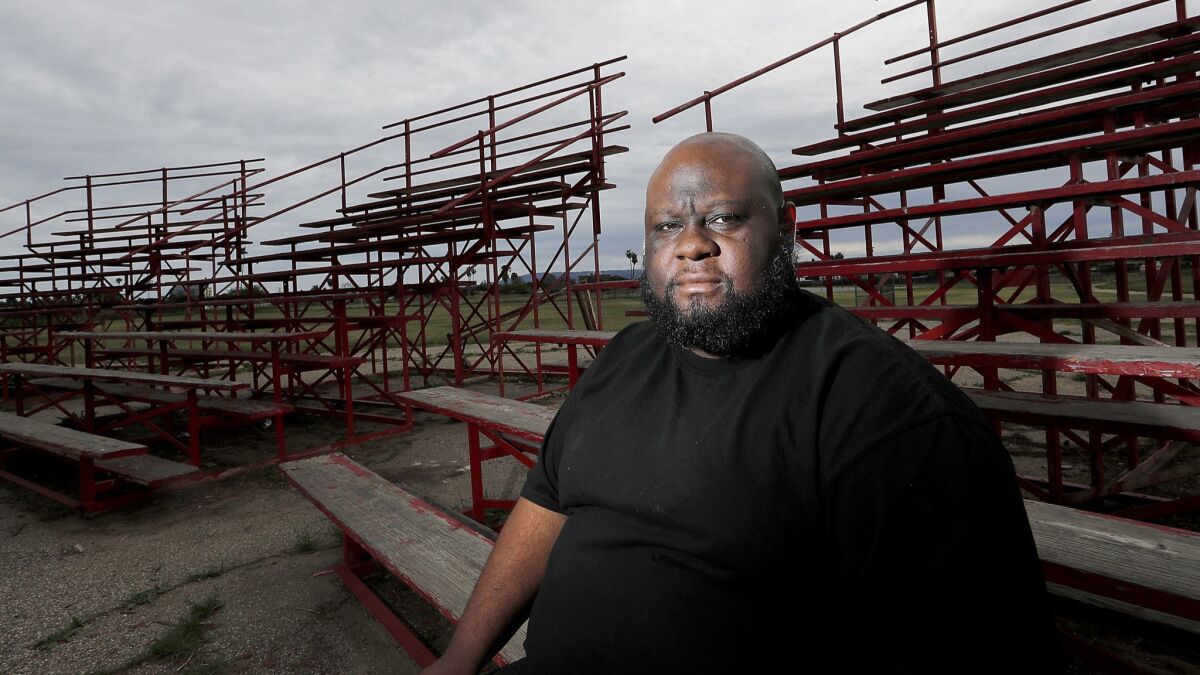 "I guess they want me to be the gardener too," said boys' coach Bryant Fort as his team assembled on a field that resembled a cow pasture.
The bleachers were splintered and thirsty for paint, and untrimmed vines climbed the backstop fence and extended onto the field.
"When it rains hard, the dugouts flood profusely," said Fort.
He stood at home plate and hit grounders for infield practice under the roar of jets soaring overhead on their LAX landing approach. A third baseman turned his head for protection when a ball took a crazy jack rabbit bounce.
The good news was that the grass had finally been cut. It had been so high, batted balls disappeared, and they got chopped up by the mower blades, Fort said.
"They're lazy," shortstop Jesse Lizarraga said when I asked why he thought the field was allowed to deteriorate. Another player said the problem was about a lack of funding.
The Inglewood Unified School District's woes have been well-documented. The district has gone from roughly 18,000 students to half that number in just over a decade — about 80% of them poor enough to qualify for free or reduced-rate meals at school — and lost a ton of state funding as a result. Bad management led to a takeover by the state seven years ago, but repeated leadership turnover has resulted in limited progress as the deep-rooted financial challenges persist.
"I don't know what they're going to do, honestly, especially with the high schools. We lack so much in resources, I'm not even sure we should be a district with high schools," said Maria Gray-McKinley, former president of a district-wide parent-teacher association, who put three kids through the district and still has one in eighth grade.
"We've been fighting to get the internet at that school for four years now," she said. "How do you teach children in this day and age with no Wi-Fi?"
Against this gloomy backdrop, Inglewood is gentrifying, with property values going up because of the privately financed football stadium and surrounding development and the possibility of a move to Inglewood by the Clippers. That will be a benefit to some, but not to everyone.
"So Inglewood has all these teams coming, but that hasn't done anything for the schools," said Gray-McKinley. "Even if people move here, but they don't send their kids to Inglewood schools, we're going to have the same issue — declining enrollment and declining funds."
Reginald Sirls, who is director of secondary education and has been in the district for 35 years, is not without hope. The Rams and Chargers have offered support for things such as a college readiness program, he said, focusing on academic rather than athletic investment. Morningside High classrooms are about to be refurbished, he said, and some of the athletic fields will be relocated to make room for the possible lease of school property to generate more revenue.
"Things will be nice and brand new, but the challenge will be to maintain it," Sirls said, citing a multimillion-dollar debt the district still owes to the state, which ponied up when Inglewood Unified was unable to make payroll several years ago.
Despite it all, it's hard to believe the district can't do a better job — with more support from the community — of providing a decent experience to students who take the time to participate in a staple of the high school experience. This is a school with a proud history and alums including Lakers Byron Scott and Elden Campbell and Dodger Jim Lefebvre. Also, WNBA stars Lisa Leslie and Tina Thompson, and billionaire Silicon Valley developer John Arrillaga.
Sirls said the condition of the fields "would not be acceptable for any school, in any district," and he still thinks improvements will be possible in time.
It's not the responsibility of private pro sports teams to bail out struggling public school districts, but there's something obscene about a multibillion-dollar sports and entertainment colossus rising in a city of falling-apart schools, here in a state of remarkable wealth that has plummeted in national rankings of funding per student.
From the shamefully run-down fields at Morningside, you can see the cranes in the distance as the nation's most expensive stadium in history takes shape.
As I drove away, I noticed that the five members of the softball team had gathered on a grassy patch near the football team's practice field. They were tossing a ball around, trying to stay in shape for what's left of the season.
Get more of Steve Lopez's work and follow him on Twitter @LATstevelopez
---
The stories shaping California
Get up to speed with our Essential California newsletter, sent six days a week.
You may occasionally receive promotional content from the Los Angeles Times.