Column: Hey President Trump, leave the San Gabriel Mountains alone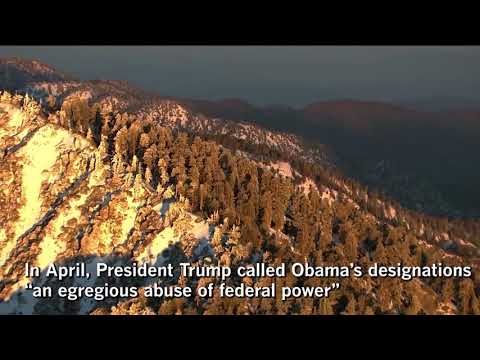 President Trump has threatened to scale back the national monuments designated by his predecessor. (Aug. 30, 2017) (Sign up for our free video newsletter here http://bit.ly/2n6VKPR)
When the temperature hits 100 degrees in Southern California, lots of people think beach. On Tuesday morning, as the asphalt began to cook under a stubborn late-August sun, I went north, instead. To the mountains.
You can find relief there, too, in the San Gabriel Mountains National Monument.
"This feels like air conditioning, right?" asked the Wilderness Society's Daniel Rossman, my hiking partner, as we walked the West Fork of the San Gabriel River. "You've got the breeze coming off the river, and the shade."
To be fair, there was no such respite where the sun knifed down into the canyon, unfiltered. It felt like you could scramble an egg on a lizard's back. But then we were strolling under the trees again, or dipping our toes in cool, clear running water. It was hard to believe we were so close to the steaming metropolis, and yet so distant from the built environment; it felt as if we'd traveled back in time. Cellphones were useless. Land sculpted over the centuries by natural forces was unspoiled. The air was pine-scented and the sign said watch out for bears.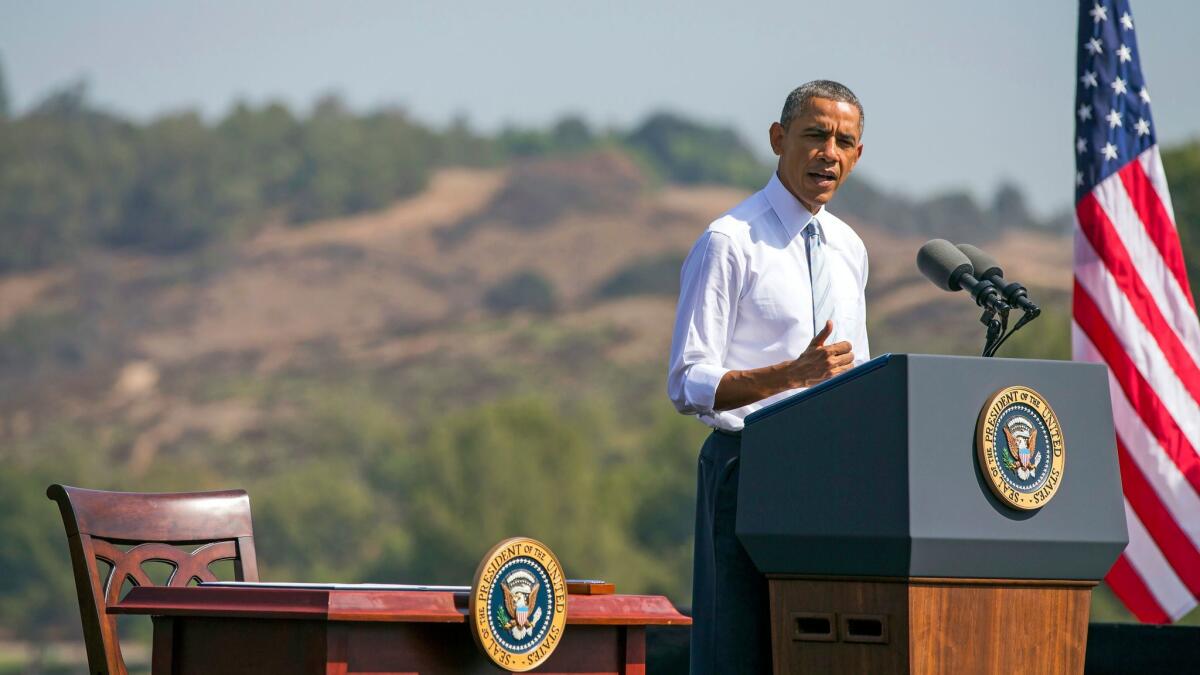 In 2014, President Obama visited the San Gabriels and announced his decision to designate the federal land a national monument, assuring added protections.
"Over 15 million people live within 90 minutes of the San Gabriel Mountains," said Obama. "These same mountains provide residents with roughly 30% of their water and 70% of their open space."
Obama used the same authority, granted him under the Antiquities Act, in other parts of the country. Before leaving office he made a flurry of monument designations to prevent mining, drilling and other commercial operations on environmentally sensitive lands.
But in April, President Trump called those designations "an egregious abuse of federal power" and announced a review of more than two dozen of them by Interior Secretary Ryan Zinke, former board member of a Santa Barbara-based oil company.
"We're going to free it up," Trump said of the protected land, this being a man whose privileged sense of a recreational outing is to board Air Force One at taxpayer expense, fly to a country club and play another round of golf.
By some news accounts, we may soon know what Zinke comes up with. He's said no sites will be eliminated, but there may be a scaling back in some locations. On the list, and on the chopping block for now, are California's Berryessa Snow Mountain, Carrizo Plain, Giant Sequoia, Mojave Trails and San Gabriel Mountains.
They're California treasures, all of them, and one can only guess whether Trump's motivation is to punish a state that voted overwhelmingly for his opponent, to throw a bone to buddies who'd frack Yosemite if given the chance, to take a bulldozer to all that Obama built, or all of the above.
"This is nothing more than tossing red meat to the extractive industries and anti-public land legislators that have been champing at the bit to make private profits off public lands for decades," said Casey Schreiner, who's been covering the fray on his Los Angeles-based blog Modern Hiker.
Schreiner called Zinke's brief "review" of monuments a sham, noting that years of research went into the protection of those sites, and Zinke hasn't even taken the time to visit all of them.
It's unlikely that the San Gabes would be in for any major scarring by commercial enterprise; other monuments around the country appear to be in far greater danger. But some San Gabriels boosters remain worried, with possibilities that include expansion of a ski resort into the monument, erection of cellphone towers and tunneling for the bullet train.
But Schreiner is adamant about preserving rather than chipping away at the San Gabes, and he's equally passionate about the other national monuments, calling them "a sacred part of our shared heritage as Americans…. Over more than 100 years, the Antiquities Act has provided dozens of forward-thinking presidents of both parties the opportunity to preserve the places, landscapes and stories that make America special."
Long before the Trump-Zinke threat, the local chapter of the Wilderness Society was working with U.S. Reps. Adam Schiff and Judy Chu and other national and local leaders to enhance services in the Angeles National Forest, educate people on the history and environmental significance of the region and rally support for more legislative protection. You can learn more about those efforts at San Gabriel Mountains Forever, or sangabrielmountains.org.
On Tuesday morning, when I headed to the mountains for a hike with the Wilderness Society's Rossman, the first person we bumped into was Jorge Arrillaga. He said he left his home in Azusa at 4:30 a.m. and biked up the mountain to pick up cans for recycling, a daily six-hour routine that lets him get a workout while enjoying the mountain, keeping it clean and making a few bucks.
At mid-morning, Mario Gomez and his wife held the hand of their 4-year-old granddaughter, Andrea, and walked over the bridge that spans the West Fork of the San Gabriel. Gomez said he's been visiting the park for 20 years.
On the East Fork, Luis Roman and Cesar Flores settled in for the day with friends and family from Santa Ana and Garden Grove, 28 of them altogether. They set up for a picnic and swam in clear-water creek pools to cool off and celebrate the last days before the start of school.
"What's not to enjoy?" said Roman, who added that the beach is too crowded in hot weather and a place like Yosemite is too far and too expensive.
"What I do most appreciate is that so many people enjoy this," said Rossman, who noted the range of income levels and backgrounds. "If you go on a weekend you'll see baptisms happening in the river, families enjoying the respite from the hustle and bustle of the city, and I've seen groups of Korean hikers in their 60s passing me on the mountain."
As we hiked, Rossman pointed out how diverse the terrain and vegetation can be. Conifers and big pines on north-facing walls of the mountain. Yucca and chaparral on south-facing cliffs. Sun-dappled riparian vegetation along the river where, several years ago, I went on a trout fishing expedition.
On a sandy beachfront at a gentle bend in the river we came upon James Gladden of North Hollywood and his 4-year-old son, Zen. They visit a couple times a month and camp overnight to slow down and escape the bonds of the wired world, said Gladden.
"I'm usually playing the guitar and he's usually burying himself in mud," said the father.
We talked briefly about the possibility of protections being scaled back in many places across the land.
"That'd be sad," said Gladden. "We've got little enough left."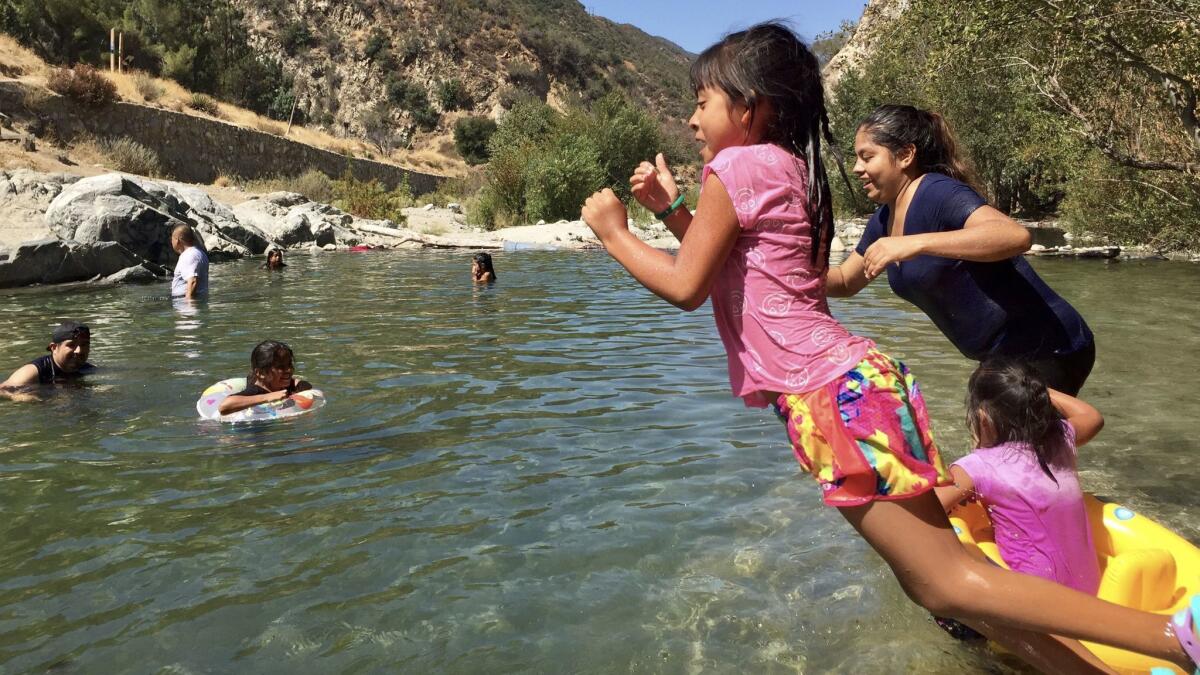 Get more of Steve Lopez's work and follow him on Twitter @LATstevelopez
ALSO
Under Obama, a gold mining firm was fine with a Mojave Desert monument. Under Trump, an about-face
Newest cougar cubs in Santa Monica Mountains, P-59 and P-60, are ready for their closeups
Interior Department identifies 'a handful' of national monuments to shrink in its report to Trump
Sign up for Essential California for news, features and recommendations from the L.A. Times and beyond in your inbox six days a week.
You may occasionally receive promotional content from the Los Angeles Times.