Column: He never gave up on Santa Barbara's homeless people, even as many looked the other way
As late as Memorial Day weekend, the United States Marine and Vietnam veteran still thought he had a chance. But the hope soon faded, and it was time for hospice care.
I don't imagine that when the end draws closer, there's a particularly good place in which to spend your last moments on Earth. But Ken Williams could not have found a more fitting location.
He and his wife, Donna, left City of Hope and drove to the Santa Barbara home of Chuck Blitz, who lives on the Mesa with a stunning ocean view. From the backyard or even from the living room, you feel as if you're drifting into heavenly haze above a miraculous sea, launched into the unknown.
Williams and Blitz got to know each other in the 1980s by way of a mutual passion. Williams was a Santa Barbara County social worker who tried to help each and every homeless person he encountered. Blitz was a hands-on philanthropist who donated to homeless services and got to know many of the people Williams tried valiantly to rescue during a 35-year career.
Williams kept a journal in which he inscribed the name of every homeless person who died in Santa Barbara, and he could tell you things about each and every one of them. In 2009, he updated me by email as the body count rose, along with Williams' sense of moral outrage. I toured Santa Barbara with him and felt as if I was with a Marine still on active duty, determined to leave no soldier behind. He told me then that a local artist was writing the names of the deceased on the wall of Blitz's home "as a way of remembering."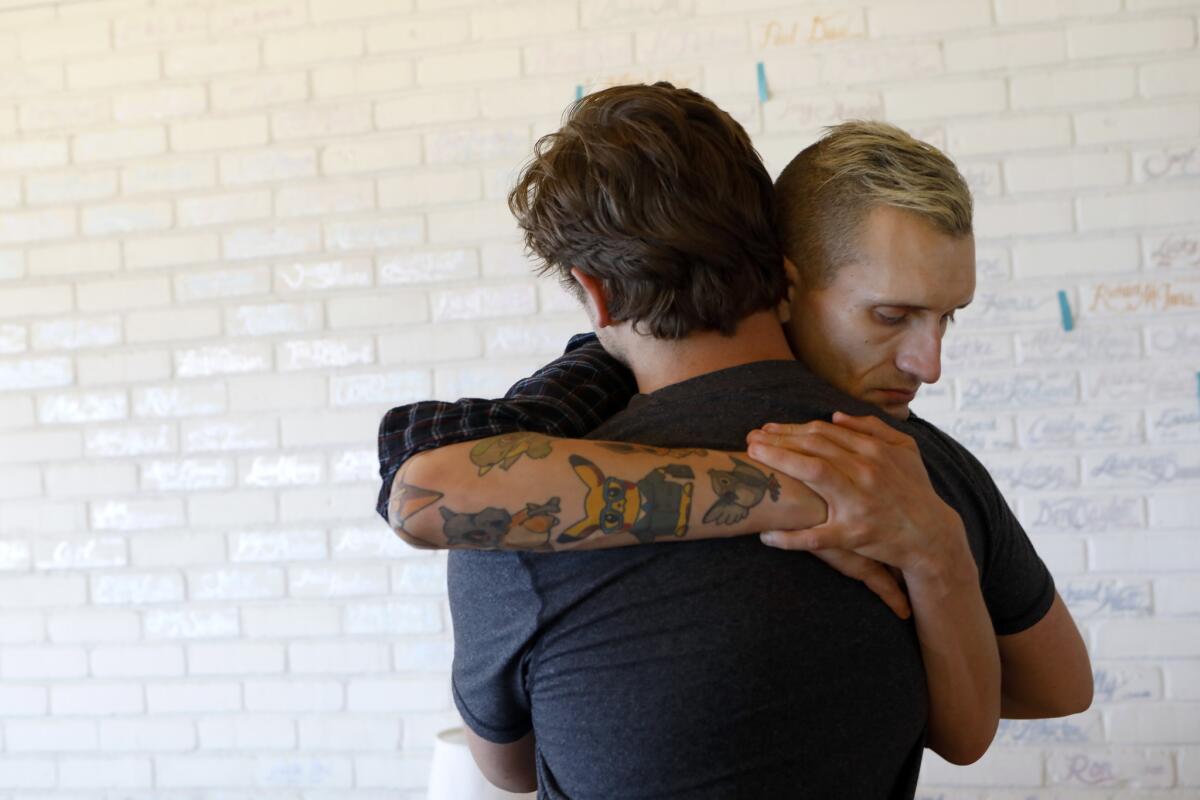 That is the very spot where Williams spent his last days, his last hours, slipping in and out of sleep as his body slowly shut down.
He fought in Vietnam and believed his exposure to Agent Orange caused the blood cancer that raged just after his retirement.
He fought to bring attention to the many lives wasting away on the streets of Santa Barbara, even if it meant taking on local leaders in person or in his passionate jeremiads for Noozhawk.com.
Then he fought the disease and battled to get the medicine he needed as he suffered through chemotherapy and pneumonia and infection.
This was where a lifetime of battles would end, in a bed facing the sea, next to the names of people he knew and tried to help.
The names are painted with cursive flourishes onto white bricks, one name per brick. Artist Margaret Matson told me she used metallic pearlescent paint to give the memorial an ephemeral quality, "like it was floating through the room." The silver-green names reflect the changing light of day as marine hues filter into the room.
There's "Big Red" and Randy Rivette and Connie Bobbit, some of the deceased listed by first name only or by nickname. Some of the bricks include date of death or other details. Randy S. died in 2011 at a shelter "in the early morning hours." Mitch McCrea died May 28, 2009, in his mid-50s and was a vet with "multiple medical problems."
Charles Johnson was killed in June 2007, Old Man was found dead "in his camp" the same day. And Joshua, who was 4 months old when he died in 1986, is listed as "Littlest Hobo."
Williams, his hair white and his body frail, recalled the case of the infant death.
"It was a real cold winter," he said, speaking lucidly and with a tone of sadness. "Mom and dad were less than stellar. That was the first time we got the churches together to house homeless families, and they housed little Joshua."
But it was too late.
"I remember when we had just a few names on the wall," said Blitz, who sat at the foot of Williams' bed. "Now it's over 400."
I suggested that Williams had rescued a few souls too. Not all of them had been lost.
"I have seen lives transformed," he said. "But I've seen a lot more death. I don't know why I gravitate towards the poor…. It was just something I wanted to do…. I wanted to help them. I wanted to be their friend. I don't know why."
"Can I have an opinion?" Blitz asked as Donna held her husband's hand.
"Because you didn't ever see somebody NOT as a person," Blitz said. "Because you were always a voice … that stopped us from [judging] guys because they were addicts. You slowed us down a bit and said, 'Wait a minute, what about them?' What about the moms and the babies? What about the vets?'"
One of the people Williams helped rescue was David "Hopper" Hopkins, who'd been on the streets for many years and couldn't kick his drug and alcohol addiction.
"He knew what I was feeling," Hopkins said. "He could stand there and say, 'You know, come on, Hopper. We can do this together.' He said, 'You know damn well I'm not gonna buy you another beer, but I'll stand with you on everything else.'"
Hopkins cleaned up, relapsed, then finally broke through. He's now been off the streets for years and works in homeless outreach, trying to follow in the footsteps of the man he calls his idol.
"In Santa Barbara," Hopkins said, "every homeless person had the highest respect for that man."
Peter Marin, a writer and friend, got to know Williams when Marin was writing about the Vietnam War many years ago.
"I think there's a lot to say about what he learned in Vietnam, how it changed him and many other vets I knew, and what it does to you to come close to the heart of tragedy," Marin said in an email to me. Williams understood "the absolute value of every living creature," he said.
"Ken stood for something because he actually was something, the embodiment of human empathy, clearly a soul … wearing the troubled body of a man who was also for us a comrade, a guide, an example and … a teacher."
I visited Williams on Friday. He was sleeping when I left, and I drove back to Los Angeles thinking about his service, his gentleness and humility. It's tragic that a man who devoted his life to easing the suffering of others spent his last years doing his own suffering. But Williams knew, as well as anyone, the grace in living a life of relevance.
Donna Williams texted me Monday morning to say her husband had passed Sunday evening.
"He is free," she said.
Get more of Steve Lopez's work and follow him on Twitter @LATstevelopez
Sign up for Essential California for news, features and recommendations from the L.A. Times and beyond in your inbox six days a week.
You may occasionally receive promotional content from the Los Angeles Times.