Congress launches probe on why Texas and EPA stopped NASA from tracking Harvey pollution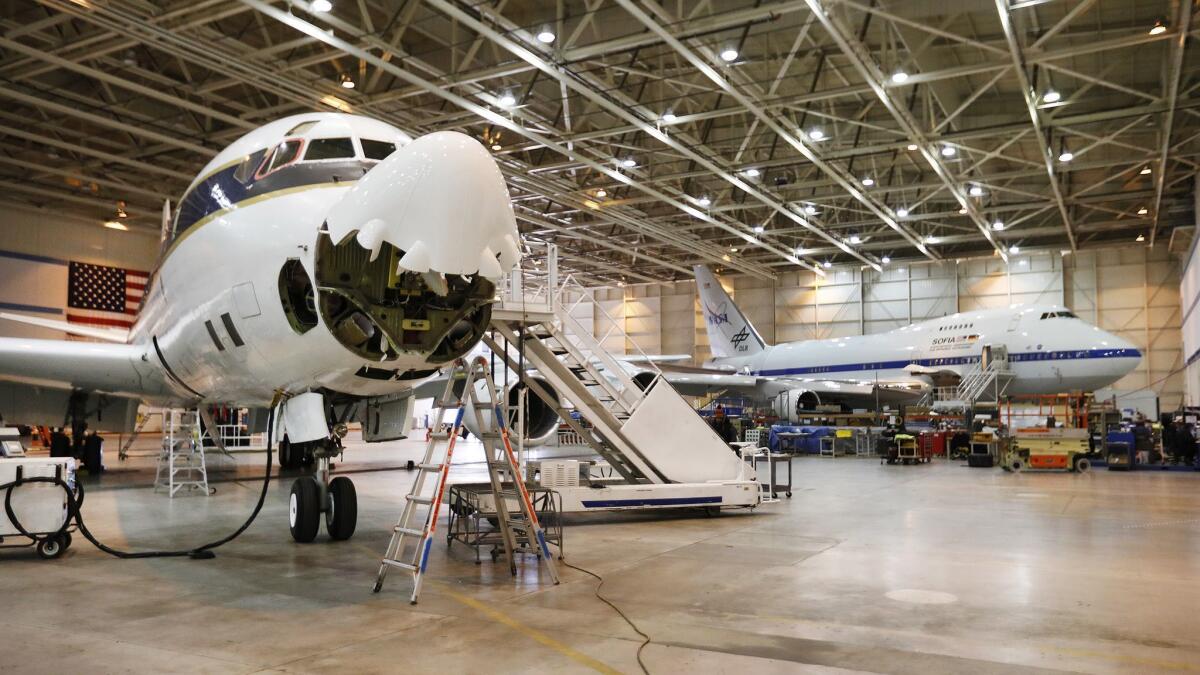 Congressional Democrats are launching an investigation into the fate of NASA's offer to fly a pollution-analyzing jet over the Houston region in the aftermath of Hurricane Harvey.
The investigation was spurred by a Los Angeles Times report Tuesday revealing that officials from the U.S. Environmental Protection Agency and Texas Commission on Environmental Quality declined the NASA offer, arguing data collected by the space agency could cause "confusion" and might "overlap" with their own analysis — which was showing only a few, isolated spots of concern.
On Wednesday, members of the House Committee on Science, Space and Technology sent letters to the EPA, NASA and Texas environmental officials asking for all documents relating to the agencies' decision not to fly.
"Instead of gathering the most accurate air quality data possible, State and Federal officials apparently decided they would rather not know about potential toxic chemical releases," wrote Reps. Eddie Bernice Johnson (D-Texas), Lizzie Fletcher (D-Texas) and Mikie Sherrill (D-N.J.) in a letter to EPA Administrator Andrew Wheeler, NASA Administrator Jim Bridenstine, and Michael Honeycutt, the Texas environmental agency's director of toxicology.
"If this is true, it is not only an embarrassment, it is unacceptable," they wrote.
Reached Wednesday, EPA spokesman John Konkus said that his agency did not decline the offer. He said the the EPA was there to assist state environmental officials, who thought the NASA monitoring would be redundant to its own efforts.
However, emails obtained via a Times public records request to NASA show that David Gray, deputy administrator for the EPA's Texas region and chairman of the agency's Emergency Response Center after the storm, declined the offer.
In a Sept. 11, 2017, email to Honeycutt, NASA and EPA officials, Gray wrote, "EPA concurs with your assessment and we will not plan to ask NASA to conduct this mission."
It is also clear from emails that NASA officials understood Gray's response to mean they could not fly.
In an email from later that day, Barry Lefer, the NASA program manager for the jet, wrote to NASA officials that Gray had contacted the space agency "to indicate EPA's desire that the NASA DC-8 not conduct air quality measurement flights in Houston."
Officials from NASA and the state environmental agency could not be reached for comment Wednesday evening. At least one environmental group criticized Texas and the EPA for not welcoming the assistance.
"EPA and the Texas Commission on Environmental Quality knew air pollution was one of the unseen dangers of Hurricane Harvey but chose not to use every available tool to discover it," said Elena Craft, senior director of health and climate at Environmental Defense Fund, a group that coordinated air pollution sampling in the Houston region after Harvey.
Jennifer Horney, a professor of epidemiology at the University of Delaware who conducted research about the environmental impacts of Hurricane Harvey on local neighborhoods, also welcomed the congressional investigation.
"It is critical that we have a better understanding of the environmental contamination and long-term health effects associated with natural disasters," she said.
Twitter: @susrust
Sign up for Essential California for news, features and recommendations from the L.A. Times and beyond in your inbox six days a week.
You may occasionally receive promotional content from the Los Angeles Times.