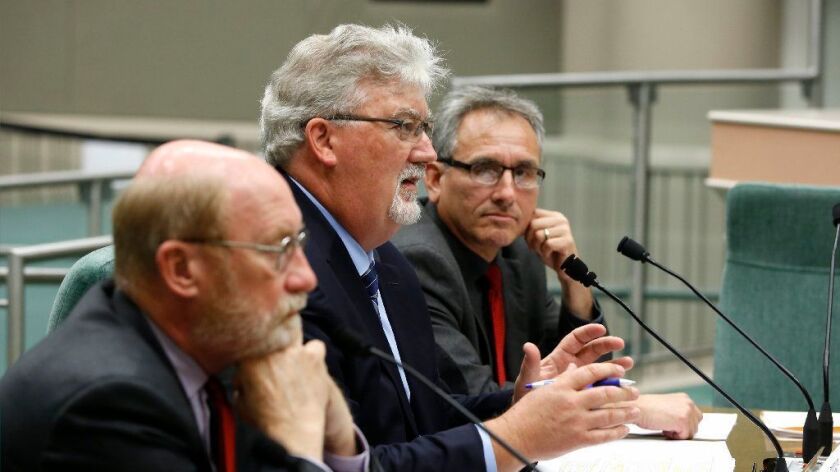 The California Department of Water Resources came under blistering criticism at a hearing Thursday in the Legislature for its management of the Oroville Dam, three months after nearby residents were evacuated out of concerns about possible flooding.
State dam officials reminded the critics that no one had died and that people's property had been protected even as water that was released during a historic storm in February virtually washed away the dam's 3,000-foot spillway.
They told members of an Assembly committee that they wanted to wait until the completion of an investigation next fall before making any major judgments about the dam's condition.
But critics at the hearing said DWR had ignored obvious warning signs that the spillway's design and maintenance made it vulnerable to a catastrophic failure.
Some of the toughest criticism came from Butte County Supervisor Bill Connelly, who said DWR had broken promises with Oroville for 50 years and badly damaged the city's economy.
The county has to spend $5.3 million annually for road maintenance, fire protection and other dam-related services but gets no compensation from the state, he said.
"This is terrible how they treat us," Connelly said. "I don't trust DWR. They can't keep their story straight."
The hearing, conducted by the water and budget panels of the Assembly, was an attempt by the Legislature to get a grip on the failure and understand what needs to be done in the future, said Assemblyman Eduardo Garcia (D-Coachella).
David Gutierrez, one of the state's top dam safety experts who retired from the Department of Water Resources and is now consulting on the safety investigation, told the committees that half of California's dams are 50 years old and not designed to current standards.
"We have to go a little further," he said. "California is doing what is done nationally. Maybe that isn't good enough."
Assemblyman James Gallagher (R-Yuba City) said even before the spillway failure the dam complex was "rife with problems," citing a 2012 fire that destroyed the power plant at a lower diversion dam and a 2009 incident involving a failure in a river valve.
Gallagher, who was among the residents who were evacuated in February, called it "very harrowing."
Assemblyman Jim Frazier (D-Oakley) said the reports so far indicate that the concrete spillway had only 4 inches of concrete in some sections, which he called terrifying. "It's a mess that has to be fixed now," he told DWR officials.
Other witnesses said they didn't think the department was taking safety seriously.
Robert Bea, a UC Berkeley professor emeritus and co-founder of the school's Center for Catastrophic Risk Management, said replacing the spillway is not enough.
He said the gate structure that controls releases from the dam has cracks and broken anchor points. He also said the state needs to pay closer attention to wet spots on the face of the earthen dam to make sure it is not seeping through the structure.
Connelly said DWR's community outreach program in Oroville manipulates residents. He said he would like another agency to take over management of the dam.
"I would like my community to be safe and made whole," he said.
Follow me on Twitter @rvartabedian
MORE ON THE OROVILLE DAM
The way California runs the Oroville Dam causes risk of flooding, area mayors say
Water under Oroville spillway probably caused February collapse, state consultants say
Serious design, construction and maintenance defects doomed Oroville Dam, report says
---