Villaraigosa must decide on business deals as he mulls Senate run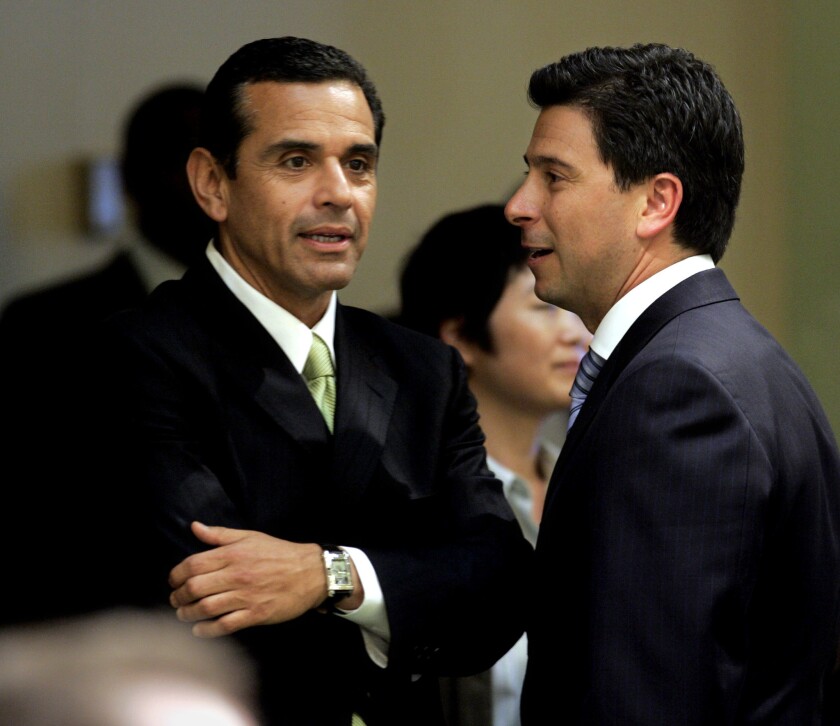 As Antonio Villaraigosa weighs whether to mount a U.S. Senate bid, he faces a complication that his top rival doesn't have to worry about: How will he make a living during a campaign that could last as long as 21 months?
Since he left office in 2013, the former Los Angeles mayor has taken on consulting jobs and other work that a grueling Senate race would force him to scale back or abandon.
Kamala Harris, a fellow Democrat who would be his leading opponent, holds a $154,000-a-year job as state attorney general that provides not just a steady paycheck but also constant opportunities to draw media coverage that serves her political needs.
A Villaraigosa spokesman declined to comment on the former mayor's multiple jobs or his plans for earning money if he gets in the race.
Former Assembly Speaker Fabian Nuñez, a close friend of Villaraigosa's, said he did not expect personal finances to be a challenge for the former mayor.
"He left the mayor's office with just the clothes on his back, literally," Nuñez said. "But I think he's done well in the private sector."
Villaraigosa, 62, who lives in a one-bedroom apartment overlooking the Pacific in Santa Monica, collects an annual city pension of $97,832.
He has not disclosed how much more income his consulting business produces. But as mayor for eight years, he became accustomed to a high-end lifestyle, including living in Getty House, the official mansion, personal drivers, court-side seats at Lakers games and the occasional private jet trip.
As he weighs which jobs to keep and which ones to shed, political appearances will be a factor.
"If you're the executive vice president of Enron, that's a problem," said Dan Schnur, head of the Jesse M. Unruh Institute of Politics at USC. "If you're a minister or a rabbi, you're probably OK. Just about any job in between means that the candidate is going to have to explain what he or she was doing and why."
One of his jobs could pose a serious political challenge: his work as an advisor to nutritional products company Herbalife Ltd., which faces multiple regulatory investigations.
Brent Wilkes, national executive director of the League of United Latin American Citizens, a civil rights group, has criticized Villaraigosa for advising the company. It has been fighting allegations that it runs an illegal pyramid scheme and preys on Latino entrepreneurs.
Villaraigosa has defended Herbalife, saying it was "a solid member of the Los Angeles business community and a strong presence within the Latino community."
Another post could raise questions about potential conflicts with Senate business: Villaraigosa is a member of the board of counselors for McLarty Associates, a global consulting firm.
The firm's chairman and co-founder is Thomas F. McLarty III, who was chief of staff to President Clinton, a longtime Villaraigosa ally. The firm includes former high-ranking diplomats, elected officials and intelligence officers. It helps clients, mainly large companies, navigate complex political climates around the world.
A phone call seeking information about Villaraigosa's work with the firm was not returned.
Villaraigosa's political bind is a familiar one. After term limits forced him out of the Assembly at the end of 2000, he needed to earn a living during his unsuccessful 2001 campaign for mayor and his winning bid for City Council in 2003. Both times, his top opponent was employed as an elected official. Villaraigosa, now divorced, was married and raising two young children at the time.
He wound up doing consulting work for politically connected companies that could now provide fodder for opponents in the Senate race. One was Ameriquest, a major home mortgage company that would later collapse in the economic crisis.
Another was Cadiz Inc., whose co-founder, Keith Brackpool, has stirred controversy with proposed water projects in the Mojave Desert.
Villaraigosa also served as a consultant to the California Teachers Assn., a powerful union that would later turn against his mayoral agenda for schools.
In addition, he worked for Yucaipa Cos., an investment firm founded by billionaire supermarket magnate Ron Burkle, a longtime patron of Democratic elected officials.
Since he left office as mayor, Villaraigosa's other jobs have included consulting work for the global public relations firm Edelman and Banc of California.
At the bank, he has been a strategic advisor to the chief executive, focused mainly on expanding its business. Billboards featuring Villaraigosa with black football paint under his eyes, tied to the bank's relationship with USC athletics, were seen around town last year.
In January 2014, Villaraigosa signed on as a senior advisor to Spanish-language Estrella TV, a Burbank-based network trying to heighten its visibility and compete with established giants such as Univision and Telemundo.
Six months later, he joined the board of directors of Georgia Holdings, which is the parent company of McGraw Hill Global Education, for which he earns $60,000 annually, according to Securities and Exchange Commission filings.
Daniel Sieger, vice president of communications for the company, said Villaraigosa offers advice and attends board meetings, helping to set strategic direction.
Sieger said the company would review the relationship if Villaraigosa launches a Senate campaign, but he added that the company does business with states, not the U.S. Senate.
Villaraigosa is also a part-time public policy professor at USC, where he leads a think tank called the USC Villaraigosa Initiative for Restoring the California Dream. He is a senior fellow at the Bipartisan Policy Institute in Washington, D.C., and was a visiting fellow at Harvard University in 2013.
Twitter: @LATseema
Twitter: @finneganLAT
---
For reporting and exclusive analysis from bureau chief John Myers, get our California Politics newsletter.
You may occasionally receive promotional content from the Los Angeles Times.