Rick Walters, grizzled sage of Southern California tattoo culture, dies at 73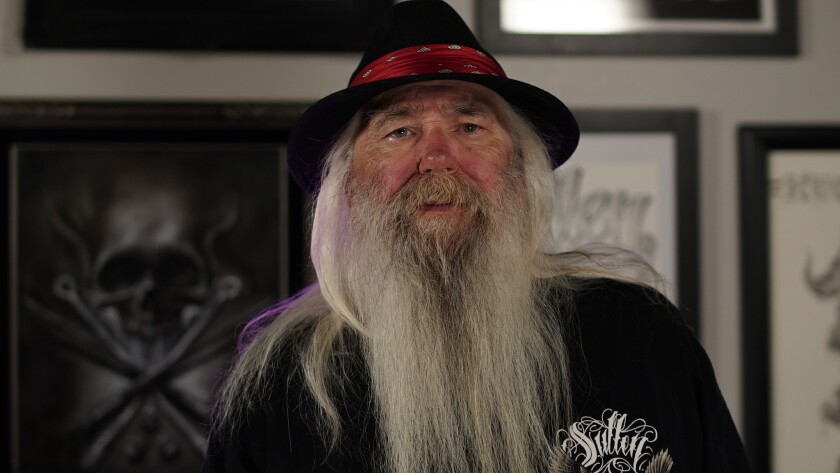 In 1959, 14-year-old Rick Walters went to Long Beach with his dad to get a tattoo.
It wasn't his first. At 10, he poked out "Born to Raise Hell" on his leg. He had already scrawled out so many hearts and crosses on himself and other neighborhood kids that Walters' mother, he'd tell an interviewer decades later, "was just bummed."
So father and son ended up at the Pike, Long Beach's waterfront amusement zone that was also the tattoo capital of the West Coast. A professional put a black panther on Walters' leg to cover up the teen's crude attempts — and an acolyte was born.
Walters went on to tattoo at the Pike, eventually becoming the torchbearer for its history and vibe once the original pioneers died. As tattoos became mainstream, and a new generation of artists tried to reconnect with their trade's outlaw days, they flocked to Walters for equipment advice and style tips as well as uproarious tales of years past, all told in his laconic, foul-mouthed style.
"Rick became a father- or grandfather-like figure for so much of the community," says Josh Chesler, a journalist who interviewed Walters multiple times over the years and sports a Walters-inked rose on the inside of his ankle. (Note: Link contains profanity.) "No one who met Rick ever forgot him, and even those who never got the chance to meet him have heard his tales for long enough to draw inspiration and feel like they knew him."
Walters died on March 4. He was 73.
Born in Chicago, Walters grew up in the Hawthorne area and found work as a machinist and welder after high school. But in his off time, he tattooed at his house and haunted the Pike to learn under icons such as Bob Shaw, Owen Jensen and Hong Kong Tom.
After running his own shop in Gardena and moonlighting at others across the Southland, Walters came to Long Beach in 1978 to become the manager at Bert Grimm's World Famous Tattoo, the oldest continuously operated tattoo parlor in the United States.
FROM THE ARCHIVES: A Tattoo landmark fades along with Long Beach's naval operations »
He arrived just as the Pike's glory days were fading. The naval shipyards were dying, robbing tattooists of the sailors who had long served as their lifeblood. The parlors closed, one by one, until Bert Grimm's — which at one point had 10 artists — was the last survivor, reduced to a staff of two full-timers.
"She's not making the money she did back then, but she's not going broke," Walters told the Times in 1995. "She's doing all right."
Walters turned Bert Grimm's into not just a living museum, but also a finishing school for generations of Southern California artists. They learned from him the intricacies of so-called American traditional, characterized by stark black lines, basic colors and classical nautical motifs including mermaids and anchors.
He remained in charge until Bert Grimm's closed for good in 2002. But Walters persuaded Kari Barba, who had apprenticed under one of his disciples, to take over the space and remodel it. Her shop, Outer Limits Tattoo, still exists in the same location.
"He came across as hard, but he was a gentle soul," Barba said. Longtimers initially grumbled about a woman — a lesbian, no less — taking over such hallowed grounds, but the complaints stopped once Walters publicly gave Barba his blessing. "I will always be so appreciative of that," she said.
Walters retired briefly but after having a heart attack decided to go back to work. He opened Rick Walters World Famous Tattoo Parlor in Sunset Beach earlier this decade, where he displayed historic flash sheets from the original Bert Grimm's and worked on clients as recently as Saturday.
"Tattooing gave him the ability to be his true self," said his stepdaughter, who goes by KJ and will take over Walters' shop. "He liked to play with his customers, he liked to clown them. But if you moved around, he'd say, 'Shut the ... up and sit the ... still.'"
FROM THE ARCHIVES: How tattoos have grown as an art form »
In recent years, Walters reveled in his role as the Gandalf of the Southern California tattoo world, always wearing his hair long, with a long beard and a stylized fedora. He handed out stickers and posters that featured a black-and-white photo-booth portrait of his younger, angrier self, captioned with "Rick Walters Hates You." They now hang in tattoo shops around the world, a sign that they had earned Walters' respect.
And he loved to expound on the modern scene, which Walters felt had strayed too far from its hardscrabble roots
"Every 15 to 20 years, we get some art kids who think they can tattoo like they oil paint," Walters told OC Weekly in 2015. "Just because you can paint a picture doesn't mean you can tattoo." (Note: Link contains profanity.)
"People come into the shop and ask me how far in advance I am booked," he told another publication in 2015. "I tell them that I'm not a ... hairdresser, I don't make appointments. I make tattoos. Bring some money, tell me what you want and we'll make it happen."
Walters is survived by his wife, Robin, five children, three stepchildren, 19 grandchildren and eight great-grandchildren.
There will be a celebration of life March 30 at Collective Ink Gallery in Garden Grove that will also serve as a fundraiser to help Walters' family with his funeral expenses and medical bills.
Twitter: @GustavoArellano
---
Life is stressful. Our weekly mental wellness newsletter can help.
You may occasionally receive promotional content from the Los Angeles Times.