A school district found out about an apple farmer's controversial tweets. He sued when they canceled their field trips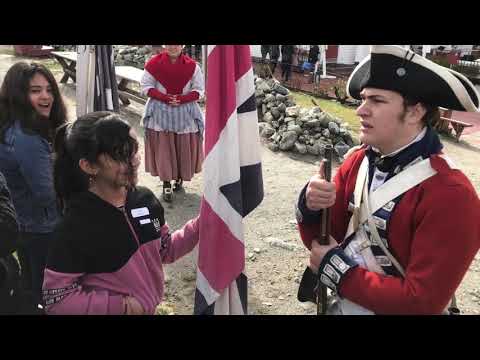 After James Riley's controversial tweets surfaced and caused backlash, Claremont Unified School District told him they would no longer send students to Colonial-era reenactments staged at his apple farm. In response, Riley filed a lawsuit against Cl
Reporting from Oak Glen, Calif. —
A dense fog hung over James Riley's homestead in this apple-growing community as the platoon of buses, carrying 150 mostly Latino and black fifth-graders, pulled up.
Here in the foothills of the San Bernardino Mountains, about 80 miles from downtown L.A., the 59-year-old Riley and his employees grow fruit and vegetables through most of the year. But their main crop is living history: musical theater, educational workshops and historical reenactments of everything from the Gold Rush era to the Civil War — all centered on a mock 1770s-era New England town that Riley designed.
College-age actors in three-cornered hats and bonnets, nattering away in faux-British accents, teach life lessons from the Revolutionary War: how to spool thread, roll a hoop with a stick and not run afoul of the Quartering Act of 1765, the Parliament diktat that forced Americans to house and feed British soldiers.
"Fifth-graders are sort of the magic age," Riley said. "They're not too cool yet, they still like to pretend."
Even so, Riley said, his liberty to pursue this unique form of happiness is under attack.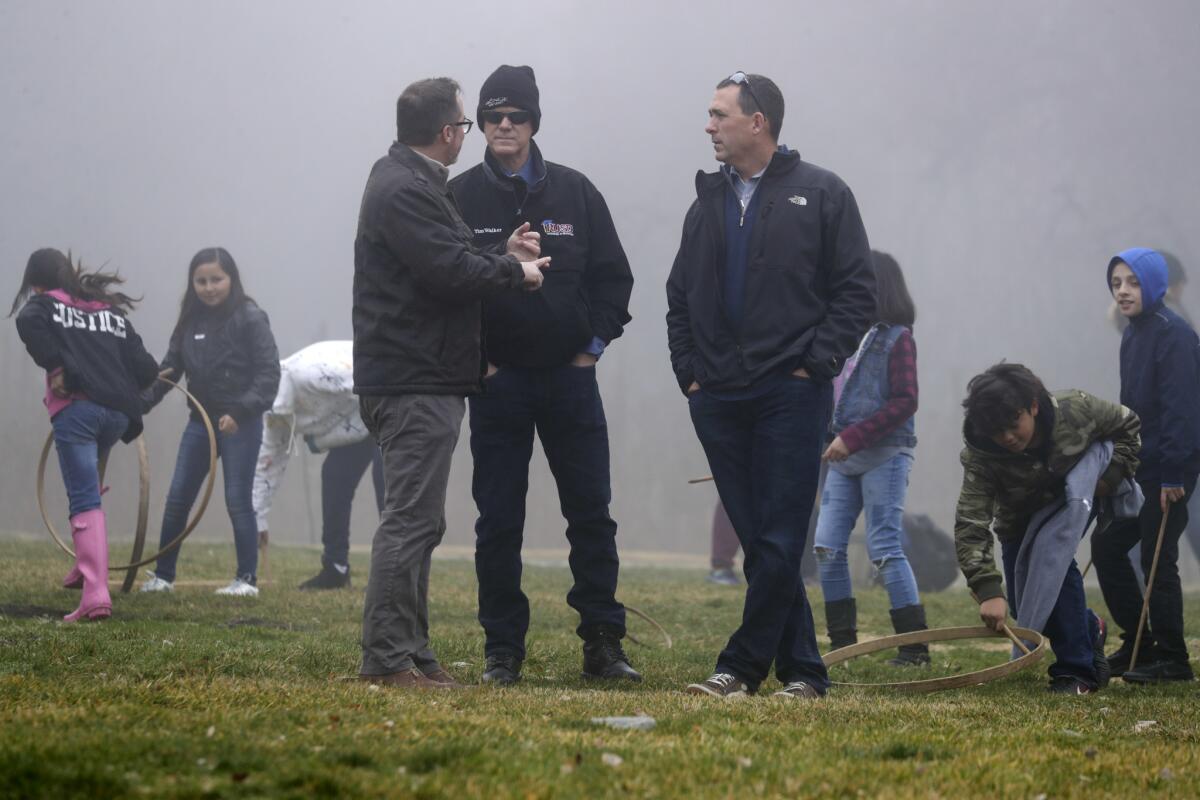 Earlier in the day, officials with the Riverside Unified School District had been poking around the farm, wanting to see for themselves if the rumors were true: that Riley's Farm was an unsafe environment for kids because of its owner's alleged racism, misogyny and homophobia.
Last September, someone had uncovered tweets from Riley in which he stated that "black supremacy" was as problematic as white racism, Massachusetts Sen. Elizabeth Warren's Native American heritage was bogus and that his generation may be the last one "born with only two genders."
"White supremacy?" he tweeted on Feb. 18 last year. "If there's a problem in America today, it's BLACK supremacy. Farrakhan, Obama, LeBron James, etc."
Soon the backlash landed on Riley and his farm. Parents and activists called for a boycott, in Facebook and Twitter posts shared by thousands. His own brother and nephew, who run nearby apple farms, distanced themselves.
Deana Olson, a mother of five whose sons had visited Riley's Farm as fifth-graders in the Menifee Union High School District, shared the tweets.
"You shouldn't have to think about those things when sending your children on field trips," she said. "He's like a wannabe Trump, and that's not OK. And if you think you can get away with it, then you're not a good businessman."
The Claremont Unified School District told Riley in a letter that they would no longer send students to his farm and were under "no obligation to expose children to an individual who engages in these crude and tasteless comments."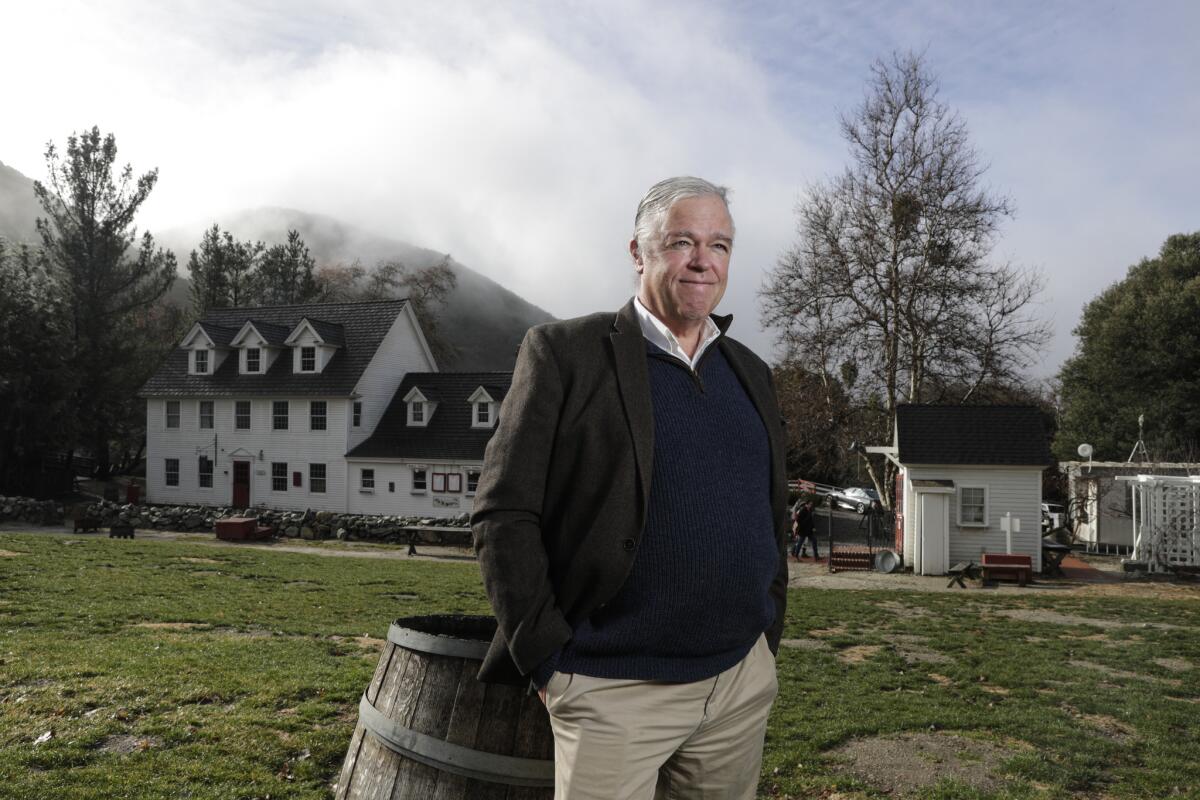 In response, Riley has sued Claremont Unified, its superintendent, board trustees and two district principals, alleging they had violated his 1st (free speech) and 14th (equal protection under the law) Amendment rights. He is seeking more than $10 million in damages.
The controversy prompted Riverside Unified to dispatch the team of observers to Riley's Farm.
"District officials, alongside legal counsel, are doing our due diligence to ensure that we're doing what's best for our students, our families and the staff," a district spokesperson said in a statement.
As children outside practiced how to march in formation, Riley — a father of six — promised to put more "fear in public officials."
"If there is any other district that pursues defamation of me," Riley said, "that has been in a long-term relationship with us and has basically made a decision based on my political expression, then we will sue them."
Tall and pensive, with gray hair pulled into a ponytail so he can better impersonate Patrick Henry, Riley arrived in town in 1994, following his older brother Dennis, who bought a three-acre orchard in 1978 and revolutionized the local industry.
Under Dennis' "U-Pick" program, customers could wander among the trees and pick the fruit themselves instead of buying from roadside stands.
Soon Riley's family — a sprawling clan originally from Arcadia — settled in Oak Glen, taking jobs as cooks and tour guides and teaching the public how to make apple cider and other treats; James estimates about 40 relatives remain in the industry. By the late 1980s, Dennis and his other siblings persuaded their parents to buy what's now Riley's Farm.
Around that time, a group of Civil War aficionados asked if they could reenact a battle in the farm's upper meadows. James Riley said he was opposed at first, finding "shades of stolen valor in some of that stuff."
But the Stanford history major and lifelong conservative quickly realized that "there are people who are good at defending their country, and there are other people who are good at talking about what [soldiers] had done."
Riley wrote scripts that relied as much as possible on primary sources such as journals and letters to ensure no historical biases seeped into his productions. Actors came from his family as well as local high school and college drama departments. He trained everyone in era-appropriate diction and dress.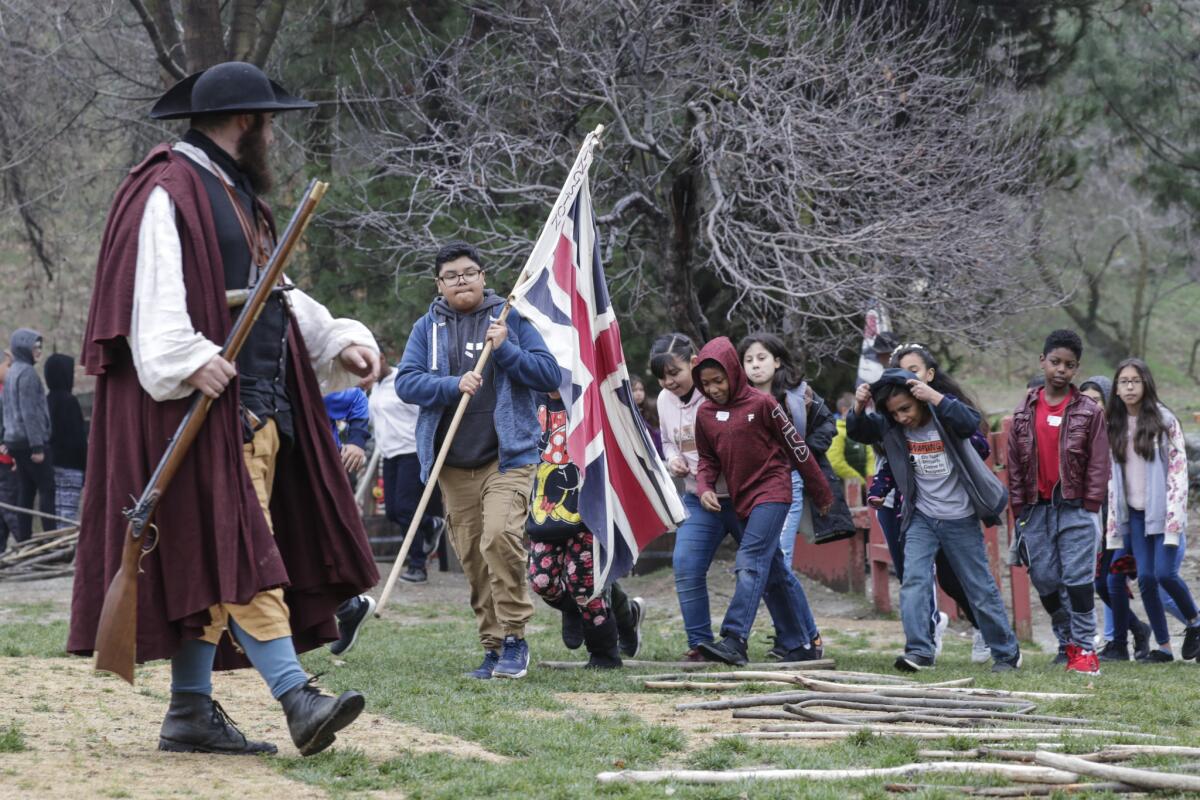 Teachers suggested Riley offer field trips. The idea proved wildly popular, with students coming from throughout Southern California.
In the early 2000s, Oak Glen residents complained that the smell of black powder from fired guns and the screams of schoolchildren were ruining their idyll — and their property values.
A petition presented to the San Bernardino County Board of Supervisors in 2006 asked that Riley be forced to muffle the shots and limit the field trips.
After some negotiations, Riley's Farm agreed to have actors fire only six shots per day, between 10 a.m. and 3 p.m.
Over the last decade, Oak Glen residents have grudgingly accepted that Riley's vision has boosted tourism. He diversified Riley's Farm to include overnight stays, group retreats, weddings and even quinceañeras.
"Jim is one of the consummate marketers up here," said Nina Foster, a former vice president of the Oak Glen Apple Growers Assn. who worked for Riley for two years as a Revolutionary War reenactor. "He has a heart as big as all outdoors."
But the school field trips are vital to Riley's bottom line, making up $2.1 million out of total revenue of $4.2 million in a "typical recent year," according to court filings.
While not busy tending to his business, Riley has attended tea party rallies dressed as Patrick Henry to stir up crowds, as well as launched a blog and Twitter account to express his political views.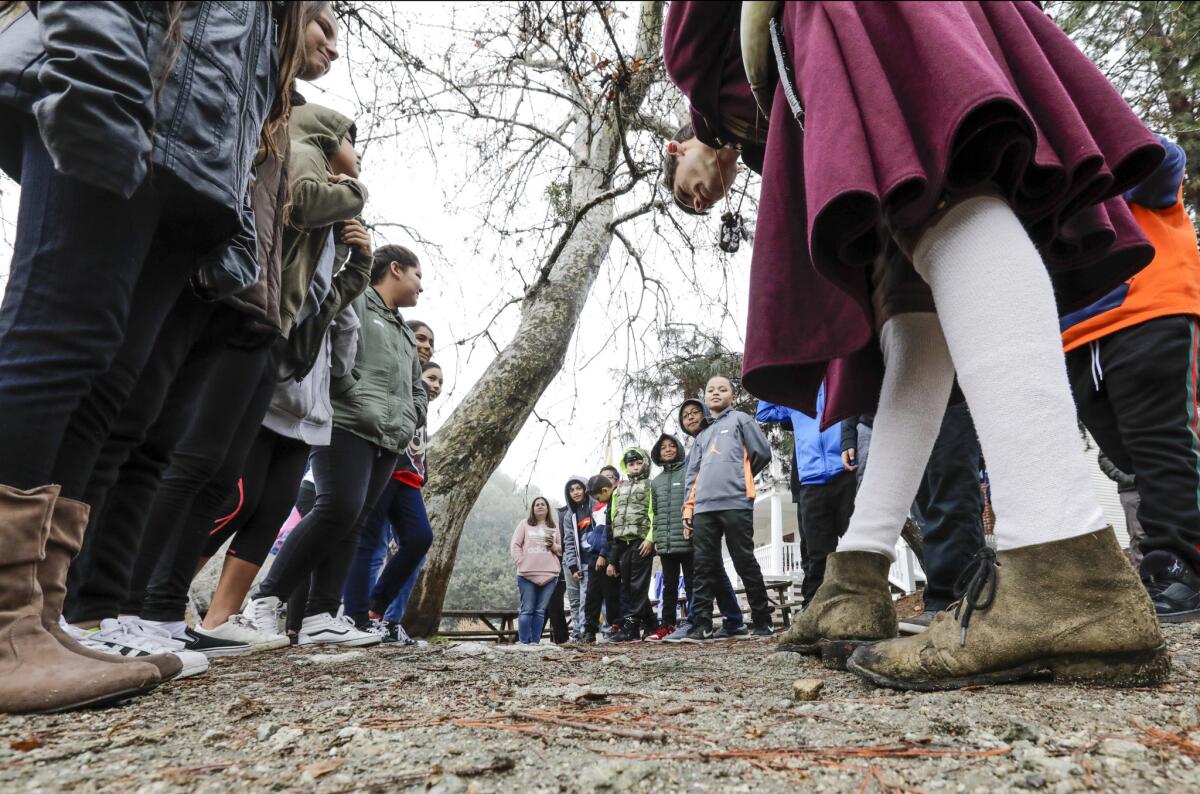 He said he remembers only two significant clashes with customers before the tweet backlash: He dropped a depiction of the Great Awakening, the 18th century evangelical revival that swept the American colonies, because too many teachers complained about its religious overtones. And, he said, a Muslim group walked out during a speech that concludes every field trip because of this line: "There are places in the world right now where a woman can't even drive a car, much less vote."
"It's been kind of a Hank Fonda-Jimmy Stewart type of relationship," Riley said of serving people who don't share his beliefs. "We may agree to disagree on contemporary politics, but the binding affection that binds our guests to the farm is a common love for history."
But after the spread of his tweets, Riley said, he has been turned into a "conservative Christian strawman that has to be burned in public."
Riley claims business has actually improved amid the controversy, as private schools and parents groups have organized trips in support. Nevertheless, he sued Claremont Unified.
"Government can't chill the exercise of free speech indirectly or directly," said his lawyer, Thomas Eastmond.
Claremont Unified declined to comment, citing the ongoing litigation.
Barry P. McDonald, a Pepperdine University law professor who teaches a course on the 1st Amendment, thinks Riley's case is "interesting" but probably a "loser."
"The court would likely say the government's job is to teach kids appropriate values," he said. "In [Riley's] instance, to force the school district into a business transaction where such offensive things are being tweeted, would be inimical to the school's intent to teach respect and tolerance for others."
But Riley argues that his conservative beliefs have not filtered into the farm's programs.
"These are stories that are safely wrapped up in the events of the past," he said. "If you want to come to a conclusion about them one way or another, that's up to anybody."
One concerned parent, Ridgecrest resident Becky Hilliker, accompanied her daughter to the farm after learning about the controversy. What she saw made her think Riley's program should continue.
"It's important for the kids to see this," Hilliker said, adding that the tweets were "not something he said to the kids" and "it would be a shame to deny [them] the educational opportunities" with a boycott.
If he were to lose his lawsuit, Riley said, he was willing to sell the farm — or at least the part that belongs to him — to fund any appeal.
Around 2 in the afternoon, the field trip's grand finale — the staging of the fictional Battle of St. George's Tavern, where students split into teams of redcoats or colonists, armed with sticks bent to resemble muskets — was nearing its end.
One set of fifth-graders shouted "Free-dom! Free-dom!" as their classmates lay prone in a muddy field.
Soon, everyone gathered to hear the speech that has concluded the tour for more than a decade. Riley used to give it more often, but a young African American woman had the duties this day.
"They say that liberty is a chain," she told her rapt audience, "and you are the next link in that chain. The freedom of this nation is very much in your hands."
"I'm a crybaby every time," Riley said, as his employees handed out caramel apples to students.
The script was done for the day. And the Riverside Unified School District officials who had come to make sure nothing went awry left Riley's Farm. But not before walking away with a bag of goodies from its bakery.
Twitter: @GustavoArellano
Sign up for Essential California for news, features and recommendations from the L.A. Times and beyond in your inbox six days a week.
You may occasionally receive promotional content from the Los Angeles Times.