The biggest controversies in Rose Parade history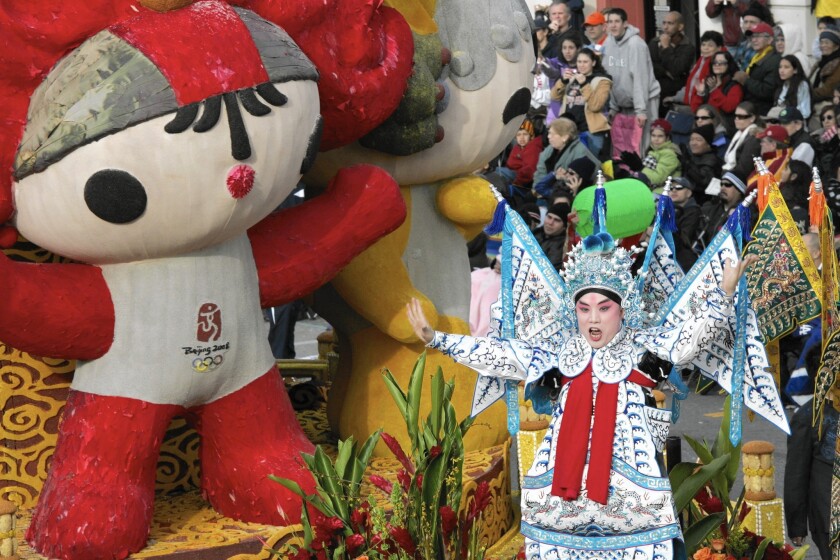 For tens of millions of people each year, the Rose Parade is an escape — two hours spent in a world of floral fantasy. But real-world issues sometimes disrupt the New Year's Day party.
The parade has, on occasion, been marked by protests, including during the civil rights movement of the 1960s and the Vietnam War in the 1970s. None dramatically altered the parade, but they did generate headlines.
Here are some incidents from the last two decades, compiled from Times archives:
AIDS awareness
1990: AIDS activists held a sit-in, managing to briefly halt the parade.
"As several hundred spectators and a handful of network television crews watched," The Times reported, "the protesters emerged from the crowd of spectators on the sidewalk and unfurled a banner declaring: 'Emergency. Stop the parade. 70,000 dead of AIDS.'"
The demonstrators were booed by some in the crowd and at least one TV broadcaster cut to commercials. Police quickly moved in and the parade continued.
Grand debate
1992: Officials named Christopher Columbus as grand marshal — part of the parade's "Voyages of Discovery" theme to mark the 500th anniversary of Columbus' arrival in the New World. The decision generated much criticism, particularly from Native American groups.
Animals act out
1992: This protest is best known for a bunny, a pig and a rat.
"An hour into the parade, members of People for the Ethical Treatment of Animals launched a spirited protest against General Motors," The Times reported. "Ingrid Newkirk, the organization's national director, leaped out of the crowd wearing a pink bunny suit, and was joined by two men in pig and rat costumes."
Other protesters held up signs reading: "Animal Crash Tests Keep GM in the Dark Ages," "General Murderers" and "Cut Animal Tests, Not Workers."
Diversity rules
1993: There was much discussion about what critics said was a lack of diversity at the Tournament of Roses that year. The Los Angeles City Council threatened to pull its float from the parade unless the organization diversified its all-white-male executive committee, The Times reported.
"We don't stand for all-white-male country clubs," Councilman Mark Ridley-Thomas said.
The tournament agreed to a diversity effort, appointing two African Americans, a Latino and an Asian American to the board.
A cry for human rights
2008: A float celebrating the 2008 Beijing Olympic Games — outfitted with fireworks and accompanied by 124 costumed Beijing opera singers, acrobats, traditional dancers and plate-spinners — generated controversy.
Critics of China's communist government hoped to use the float, and the parade's worldwide stage, as a rallying point for protests over that nation's human-rights record. Some demonstrators handed out leaflets on the parade route, but their complaints went largely unnoticed.
shelby.grad@latimes.com
Twitter: @shelbygrad
---
Get breaking news, investigations, analysis and more signature journalism from the Los Angeles Times in your inbox.
You may occasionally receive promotional content from the Los Angeles Times.