San Francisco will allow noncitizens to vote in a local election, creating a new immigration flashpoint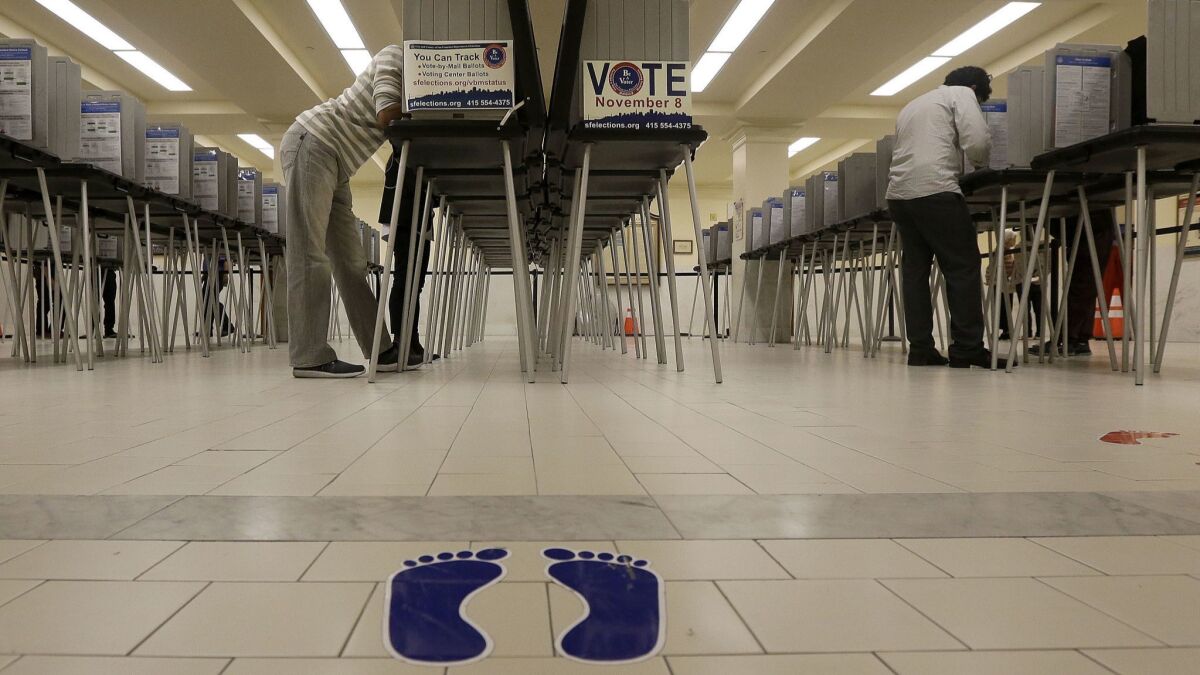 San Francisco in November will become the largest city in the nation to allow noncitizens the chance to vote in a local election, making the city once again a flashpoint in the debate about immigration.
Noncitizens, including those without legal status, will be allowed to vote only in a school board race and just a little more than 40 have registered to vote so far.
Still, the decision carries major symbolic force and has become the latest punching bag for conservatives who already are using California's efforts to protect people in this country illegally from President Trump's immigration crackdown as a political issue in the midterm election.
California has gone further than any other state in offering opportunities to those here illegally, including providing special driver's licenses, college tuition breaks and child healthcare. Voting has been a more sensitive topic, but experts said it fits both the larger political trends in California as well as the conservative backlash.
"It will speak to that sort of sense that change is coming to the United States and that change is being done extralegally somehow," said Louis DeSipio, a professor of political science at UC Irvine.
It's no surprise San Francisco's action will further rally conservatives, who are also using the exodus of thousands of Central Americans headed to the U.S. border en masse as an issue, said Robin Hvidston, executive director of We the People Rising, a Claremont organization that lobbies for stricter immigration enforcement.
"Noncitizen voting is a very contentious issue," Hvidston said. "The move to extend voting rights to those illegally residing in San Francisco has the potential to backfire among citizens with a moderate stance on illegal immigration."
In the last week, alt-right publications, anti-illegal immigration activists and nationalist online chat rooms have grabbed on to the issue. A tweet posted this week by World Net Daily to promote a story about the election reads: "The gates have now been opened to letting non-citizens to vote. Is this the beginning of the end?"
Conservative Assemblyman Travis Allen chimed in, tweeting: "****ILLEGAL IMMIGRANTS NOW VOTING in @GavinNewsom's San Francisco**** Non-citizens now 'eligible' to vote in November's local election due to Democrat ordinance. The CA Democrat Party has gone too far. It's time we TAKE BACK CALIFORNIA!!"
Shamann Walton, a San Francisco Unified School District commissioner who introduced a resolution to the school board in support of the measure in 2016, said he doesn't buy into the rhetoric from the right.
"At the end of the day, for me it's important that families who have children in our schools … have a say," he said.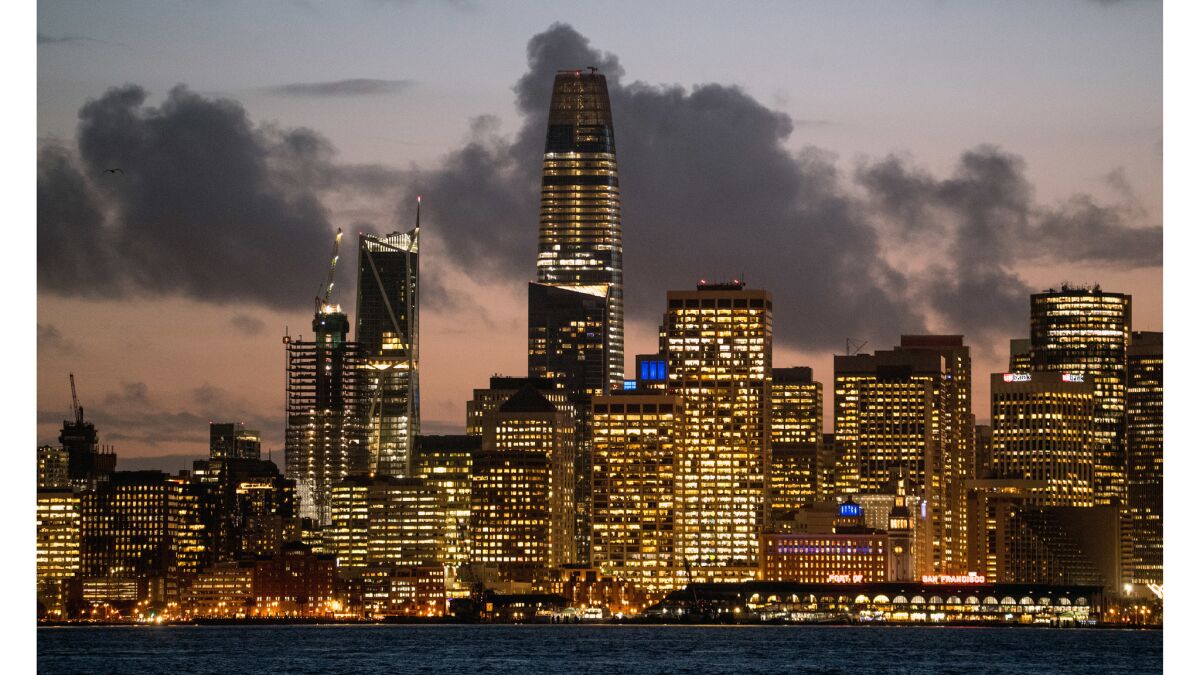 The San Francisco Unified School District doesn't keep track of how many of its students or parents are noncitizens. The district website reports that 29% of its 54,063 students are English-language learners — an indication of the size of the district's immigrant population. An estimated 35,000 people without legal status live in San Francisco, according to a 2017 Pew Research report.
The city's voters approved the measure two years ago during the same election as Donald Trump's presidential victory that would lead to an immigration crackdown and intensified rhetoric against people living in the country illegally.
As a result, the San Francisco Board of Supervisors passed an ordinance in May requiring a notice to be included with every registration affidavit and other election material that informs voters that their information could reach U.S. immigration officials, said John Arntz, director of San Francisco's Department of Elections.
"I share the same fear [as] our undocumented residents," Walton said. "I don't expect people to rush to the polls and give the federal government the opportunity to attack our city residents."
As of Tuesday afternoon, 42 noncitizens had registered to vote in the local election, Arntz said. The registration deadline was Monday, but the state also allows people to conditionally register and vote on election day.
Noncitizens who register to vote in the school board race must give their name, address and date of birth. They can't vote in state or federal elections and are listed on a separate roster from U.S. citizens. Noncitizens are given a ballot with only the school board contest.
Noncitizen voting has been an issue for the last several years, especially in communities with large immigrant populations.
Advocates who support giving noncitizens the right to vote in local elections have said it gives this population more of a stake in their communities. Voter apathy is high in some of these areas, a condition that can allow corruption to run rampant, as shown in the Southern California city of Bell, which was marred by scandal and criminal convictions of city leaders nearly a decade ago.
Los Angeles and Orange counties are home to an estimated 1 million people who are in the country illegally, according to a 2017 Pew Research Center study. In California, it's about 2.35 million.
San Francisco's expansion of voting rights follows similar actions in several other cities, said Joshua A. Douglas, a professor at the University of Kentucky College of Law who specializes in election law and voting rights
For years, Takoma Park in Maryland has allowed noncitizens to vote in all city elections. Two years ago, the Hyattsville City Council in the same state unanimously voted to allow noncitizens to vote in local elections, Douglas said.
Some Massachusetts towns, such as Amherst and Cambridge, have passed resolutions to support noncitizen voting in local elections, though the changes haven't gone into effect. They are still waiting for approval of state lawmakers, he said.
Noncitizen voting is nothing new, and has a long history in the United States.
"Noncitizen voting was not considered at all that radical until a backlash during post World War I," Douglas said. "It was really the anti-immigrant sentiment that pulled back against noncitizen voting."
Ever since the nation's founding up to the 1920s, many states allowed noncitizens to vote in all elections. States amended their laws to take away voting rights in the aftermath of World War I. Still, noncitizens could participate in city and school board elections in many areas.
Slowly, there's been a resurgence to allow noncitizens to vote in more local races, Douglas said.
For now, it seems, San Francisco's move turned out to be largely symbolic. Walton said the resolution was supposed to lead to real change. He said he never imagined the American people would elect Trump, who has been so stridently against both legal and illegal immigration. But, Walton said, it won't always be this way.
"Trump will not always be president," he said. "Hopefully we'll have leaders who are inclusive and really believe that if you are a resident of this country, you should have the same rights as other people. I'm looking forward to a time when our families will have a bigger voice."
Follow Cindy Carcamo on Twitter @thecindycarcamo
The stories shaping California
Get up to speed with our Essential California newsletter, sent six days a week.
You may occasionally receive promotional content from the Los Angeles Times.